It all comes flooding back . . . .
Today my cousin gets married to the love of her life and yet I woke up excited!  Why?  I think it just brought all the memories flooding back of the morning that I woke up to marry my (now) husband.
Surprisingly (or not) I don't think I slept very well that night, I had hung my wedding dress on the front of my wardrobe so that it was the last thing I saw when I went to sleep and the first thing I saw in the morning.
Its funny isn't it, planning your wedding can take months or years, depending on how early you booked it and then all of a sudden that day is here and gone in a flash.
On the morning of our wedding, I remember my house filling up very quickly with bodies (live ones of course).  My Mum, my bridesmaids – sister-in-law and two cousins (one of which gets married today) and the hairdresser who was doing all the bridesmaids hair.
I ate as much breakfast as I could possibly manage because I knew that I would either be too nervous to eat at the wedding breakfast or talking too much (mainly the latter).  I had a shower and hated the fact that I wasn't allowed to wash my hair (I love washing my hair) because the hairdresser said it would be easier to put up if it was dirty.  Then off I went to the hairdressers to get my "do" done.  It was a scorching hot day, one that had followed a week of torrential rain so I wasn't going to complain.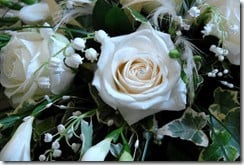 By the time I had returned home, my brother-in-law had arrived with the flowers – they were gorgeous and they made the house smell beautiful.  He also came bearing gifts from my husband to be.  A beautiful diamond bracelet from him and a jewellery box from my stepson Curly.  Curly was in his element having lots of people around to fuss over him and then the photographer arrived so Curly jumped to it and began with the posing.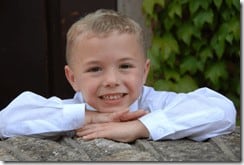 All too quickly the morning had gone and it was time to get my dress on, the moment I had been looking forward to had arrived, finally I would get to wear the beautiful dress I had chosen.  I put the dress on and turned into a teary mess, I really hadn't expected that as I'm usually a pretty down to earth sort of person but not today – emotions were running very high and I felt completely overwhelmed.
We had photographs taken in the garden with my Mum, Curly and the Bridesmaids before heading out into the street to a waiting party of my neighbours all wishing me well.
The drive to the venue seemed like forever, we even stopped at one point so that me and mum could have a chat in the car and to make sure that we didn't arrive too early.  As we pulled up outside, there were guests stood on the road waiting to see me.  And being the lady that I am, as I raised myself ungracefully from the car, I hit my shoulder on the door frame and yelled out in pain!  Yes this was more like the old me!
We were getting married in a civil ceremony at an old Coach House.  I had to go upstairs first to meet with the Registrar so that I could confirm once again that I was who I said I was.  The Registrar then told me that she would go downstairs and I would be called in a few moments.  Those few moments were probably only 5-10 minutes but it felt like I had been left alone in that room for half an hour.  Its a good job that I was so sure I wanted to marry him or I think I would have done a runner as my nerves were so high.  Suddenly there was a knock at the door, it was Jo, the Wedding Co-ordinator ready to take me down for the ceremony.  Pause for a few more photographs on the stairs and with the Bridesmaids. 
Mum
Hand on my Mums arm, the doors opened wide and "oh shit" – yes those were the words that came out of my mouth!  As the doors opened I was greeted by 60 faces staring back at me and I suddenly felt very small, very red and very very hot!  I was told to start walking, so I put one foot carefully in front of the other.  As I walked down the aisle I vaguely remember smiling and saying hello to a couple of people before seeing my Auntie, face crumpled with tears and then . . . . the most handsome man staring back at me with a smile so big it took over his face and tears welling up in his eyes.  No it wasn't the photographer, it was my Husband to be!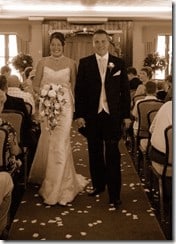 Yippee, we did it!
Three years on I still remember the ceremony like it was yesterday, ok so I have watched the DVD a couple of times with Curly but its etched on my mind.  We had an extra vow added to our ceremony to include Curly as we felt that the day was just as much about him as it was about us.  Our little family were officially joining as one.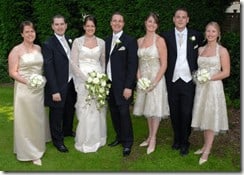 C n Hubby to be far right
Afterwards we had photographs in the grounds and a lovely meal (I think – honestly I can't remember what we ate).  The speeches all went down a storm, in particular my Brother-in-Laws (Best Man) as he has a wicked sense of humour and was very close to the bone with a couple of his one-liners.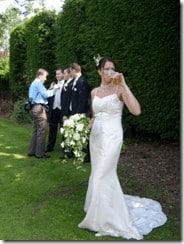 Sneaky, sneaky!
After some down time in the Courtyard and gardens, came the part of the day which I was dreading the most.  The first dance!  In our stupidity wisdom we had decided to take dance lessons to have a "proper" first dance.  We chose "Can you feel the love tonight" by Elton John from Lion King as OH had taken me to see it in London on our first Valentines date.  The lady had taught us a kind of waltz I think, it went ok but the day before whilst dropping off the table decorations I had walked into a table and split my little toe open so being stuffed into pointy toe cream silk shoes was not exactly comfortable and I was petrified that Hubby was going to stand on it.  I think I only made one mistake during the dance and hopefully no-one noticed.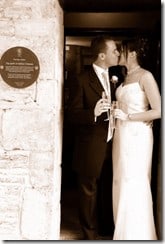 Our day was magical, everything that we had wanted it to be and if anything did go wrong, then I don't think we noticed.  Afterwards everyone complimented us on what a lovely day/venue it had been and how they had thoroughly enjoyed themselves.  So to my cousin, C – I hope that your day is as magical for you both as it was for us!  Sadly at 7 months pregnant I cannot get drunk today like you did at mine, but one day I shall return the favour ;-)  
Love you lots xxxx