Tesalate Beach Towel – Look no sand!! #ad
I have been invited to review a Tesalate beach towel, something I have been considering buying for some time. What's so special about a Tesalate beach towel I hear you ask? Let me tell you . . .
What's so special about a Tesalate Beach Towel?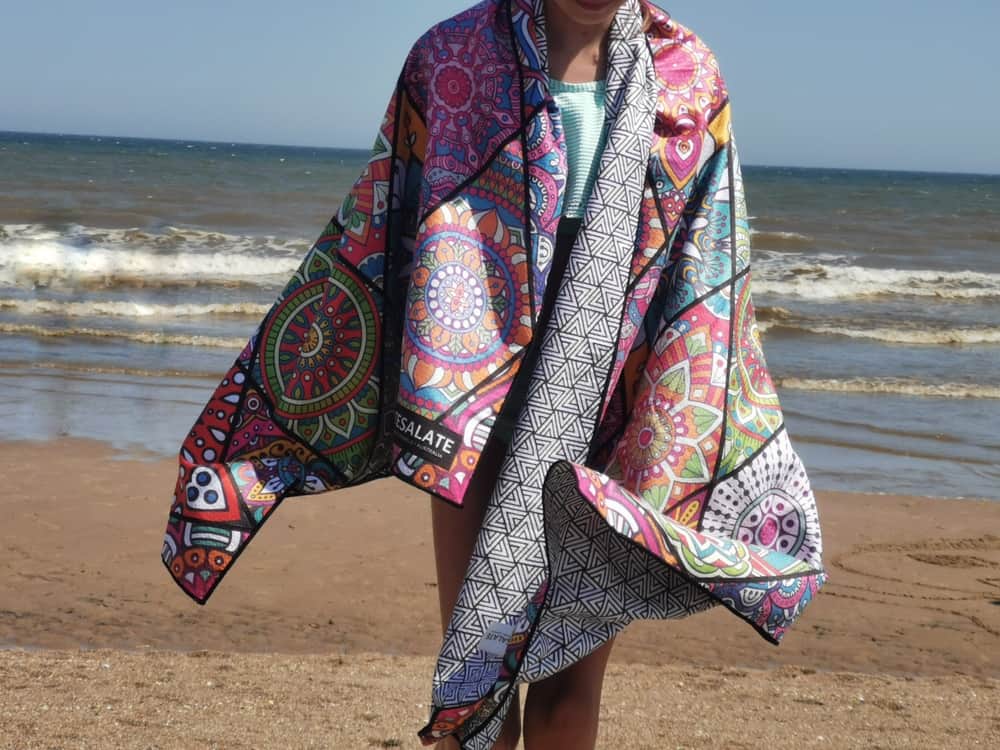 The Tesalate beach towel isn't like any regular beach towel, it's a sand free beach towel which means the sand doesn't stick! It doesn't get caught up in the fibres of the towel and yet it's still super absorbent, incredibly compact for a beach towel, fast drying and they are available in such beautiful designs you'll find it hard not wanting to buy more.
All the sun of the beach without the sand
Having grown up just 7 miles from the coast, I spent a lot of time playing at the beach. When I moved out of home I moved to Skegness and had the beach right on my doorstep but 22 years ago I moved inland and whilst I love where I live, I miss the coast and nearly always gravitate to one of Englands beautiful coastlines for holidays and days out. There's just one problem with the beach for me . . . the sand! I hate the stuff, probably why I like the beaches on the south coast so much because they are more pebbly than sandy.
Sand dries your skin out, gets in your picnic and well, it just gets everywhere and makes me feel all dirty and horrible. The only thing sand is good for in my book is exfoliating my feet but I can do that perfectly well at home.
Australian Design
Tesalate is the brainchild of two Australians who had hiked to a secluded beach at the Royal National Park in Sydney. As their day drew to an end and they were faced with carrying back the heavy, wet, sandy towels they questioned whether they could make something better and the answer, quite simply, was YES!
Over 18 months they designed, tested and launched the towels at the Bondi Beach Market and in their first 12 months increased sales to over 70 countries, today they sell to more than 135 countries including the United States.
Back to the beach towel review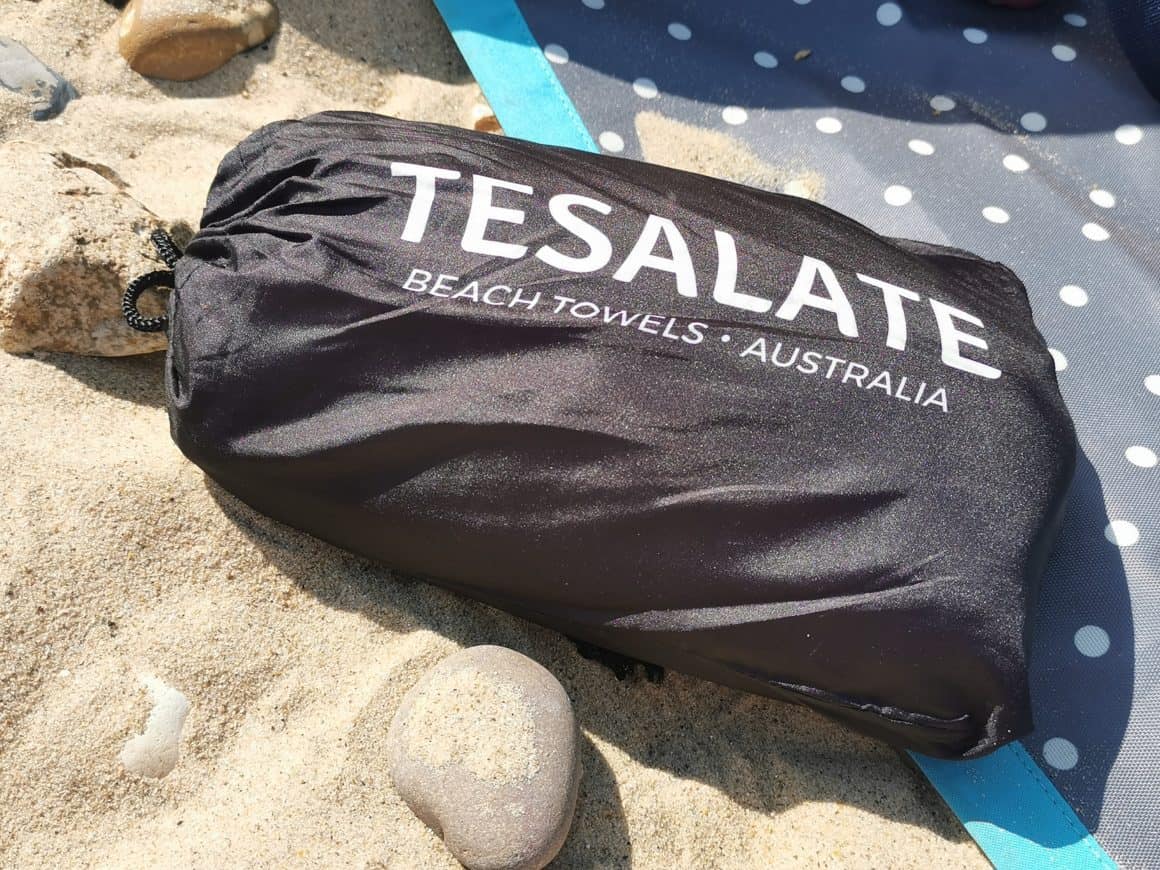 There are so many beautiful designs of the Tesalate sand free towel that it took me a week to make my mind up which design I wanted to review. In the end, I chose the Bohemian but also on my list were Cosmic Dream, Phoenix, Montego Bay, In The Moment, Ray of Sunshine and Malibu. You can see why it took me some time to decide can't you? I'm definitely going to be ordering some more for the rest of the family.
Compact
The Tesalate towels are the perfect travel towel because they fold up really small and come in their own little drawstring travel bag. They feel super lightweight and would also be great to carry in your gym bag because they take up no space at all.
Absorbent
If you're a swimmer (which I only do in a pool) then you'll need something to dry off with. Tesalate beach towels are made from a microfiber filament they created called AbsorbLite™ which contains 80% polyester and 20% polyamide. This cutting edge fabric wicks away the wet with ease leaving you dry to enjoy the rest of your day. A standard size Tesalate towel will hold over 1 litre of water.
Lillie used the towel after splashing about in the sea on our day at the beach (big mistake, she thinks it's hers now) and she loved how soft the towel felt and how quickly she dried using it. Even wrapping the towel around herself helped to dry her costume really fast too.
Quick Dry
Nobody wants to carry home a wet towel because they can get really heavy, luckily the Tesalate dries super fast (half the time of a standard towel) which makes it easy to pop it back into the bag to save space when you go home.
Sand Free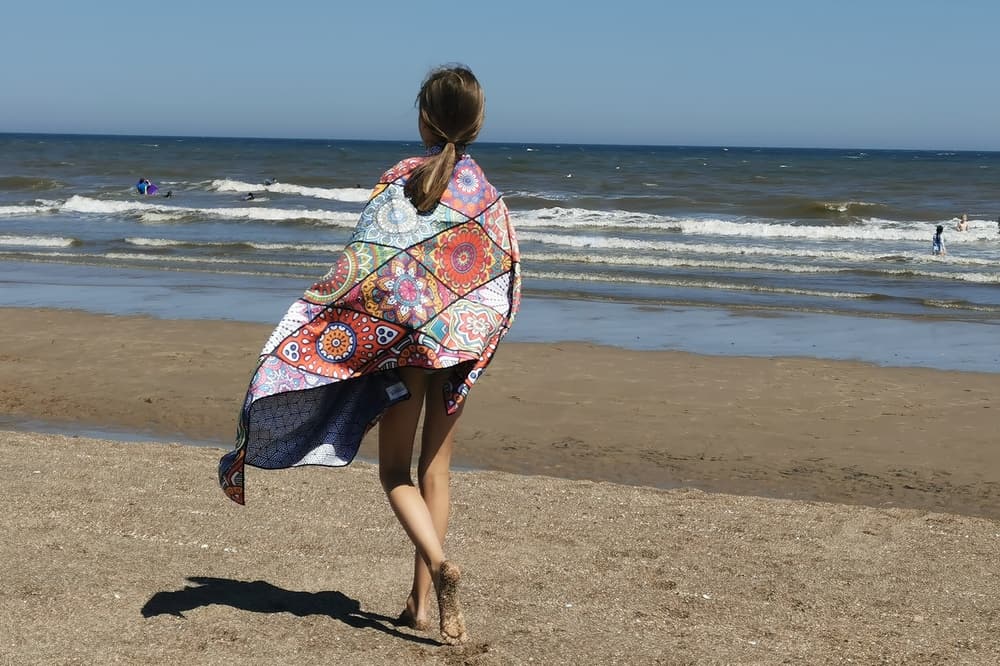 There's nothing worse at the end of a fun day at the beach than getting home to find you've brought half of the beach with you in the car, I don't know about anyone else but it's a nightmare to get out of the carpet in the car and usually take a few weeks. Since using the Tesalate (I make the kids share it currently) we have noticed a huge difference, now if they could just make some sand free beach shoes too we'd be rolling!
More than just a beach towel
As you know, we do a lot of camping and so as a family of 6 we need to make sure that what we do take with us is compact, lightweight (500g dry) and useful. I switched to camping towels a few years ago to save on space and weight but none of us really like the feel of them but I've already decided we are going Tesalate all the way next year and if everyone has their own design we won't be getting confused over who has which towel.
They also make great Yoga mats because they don't stretch or slip and slide. They even have double-sided designs so you can flip the design according to your mood. It also has a handy hanging loop, perfect for the changing room doors.
Are they worth the price tag?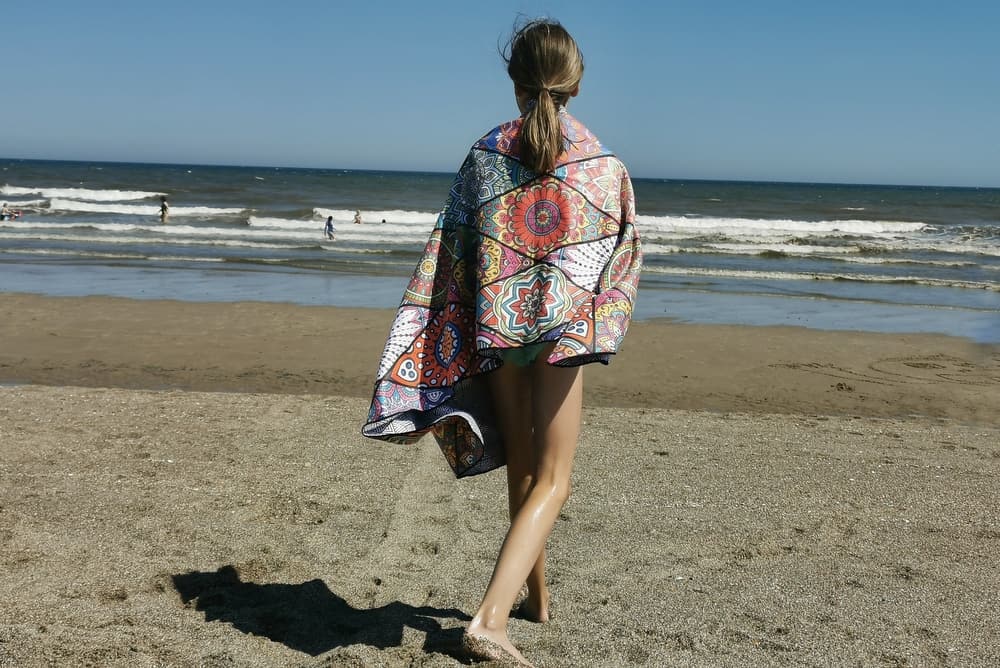 At £49 for standard size (160cm x 80cm) and £79 for the extra-large (160cm x 160cm), they most certainly aren't the cheapest beach towels but cheap doesn't always mean quality and with the Tesalate that is exactly what you are getting. They have designed a towel which surpasses all others and if you need a towel which is lightweight, absorbent, fast-dry, stylish, practical and keeps you sand-free as well as offering FREE shipping to the UK then I think Tesalate is worth its weight in gold, nevermind the price tag.
Top Tip: If you sign up to their Newsletter at the bottom of their website you can get 10% off your first order.
Caring for your Tesalate
To keep your Tesalate looking good, working well and feeling great just pop it on a cold wash and either line dry or tumble on low heat. Because the Tesalate doesn't have 'loops' like standard beach towels you won't get those unsightly snags and the design stays looking bright wash after wash. We have been using ours all Summer and it still looks as good as the first day it arrived.
My advice is to not be tempted by the cheap imitations on Amazon if you want to be sure of getting the original and best Tesalate beach towel buy direct from their website to avoid disappointment.
The Tesalate team love to hear what you have to say about their beach towels (good or bad) so they can continue to improve their products and keep up with what their customers want. You can follow them online