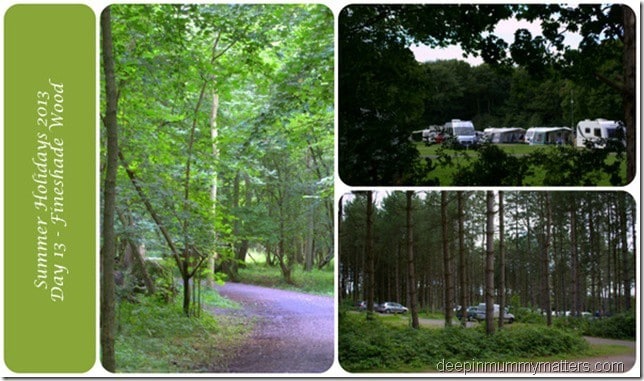 Summer Holidays 2013 – Day 13 – Fineshade Woods
#weloveforests A Day of Family Fun at Fineshade Woods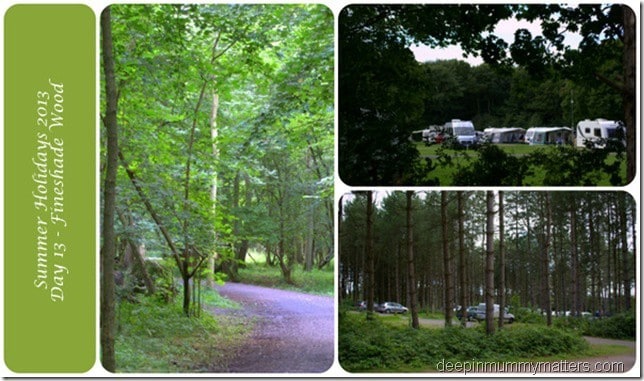 Sometimes you just can't see something when it's right under your nose. That's what I discovered yesterday when I visited Fineshade Woods with the tiddlers. I must have driven past it a hundred times in the last few years.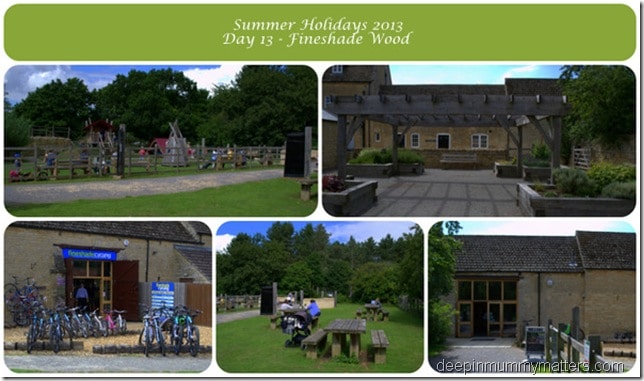 As a family we love to be outdoors, I have always been a keen walker and Hubby was a sportsman before family time took over. The children are following in our footsteps and prefer to be outdoors 9 times out of 10. Here in the UK we are so lucky to have a wealth of forests and woodland to explore and at little or no cost. As a family you can have an entire day of family fun without it costing you a fortune and the best bit? All that fresh air (generally) means the children fall asleep quickly come bedtime or at least for the journey home.
Fineshade Woods is situated just 10 from Stamford, 15 minutes from Corby and is owned by the Forestry Commission. There is a large car park which costs just £3 for the whole day, a camping and caravanning field with electric hookup and a Grade II Listed Barn Visitor Centre known as Top Lodge which is open from 10am-5pm daily.

Upon leaving the car park the tiddlers were overjoyed to find the outdoor play area which has beautiful wooden and rope climbing structures, hammocks, slides and a fun willow tunnel. If we had stayed there all day they would have been happy but we had more fun to be had in the forest.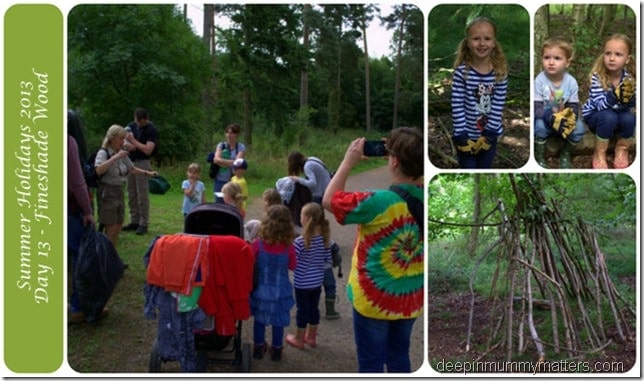 Just a five minute walk away from the visitor centre we found ourself in a wooded clearing. The children had been asked to imagine that they were the survivors of a plan crash and needed to find shelter for the night. Our guide Cheryl gave the children a little guidance in how to build a shelter before sending us away in teams to see what we could do. At this point I handed a Little Bean and Beanie about over to the Cafebebe family as it was time for Jelly Bean's feed. Together they became 'Team SOLE Survivors'. They chose their spot and set to work on finding big sting sticks to lean against a tree to make the walls of their shelter and then found lots of dry leaves to create a canopy around the walls to protect them from the elements. Ella even managed to find a 'sofa' for everyone to sit on.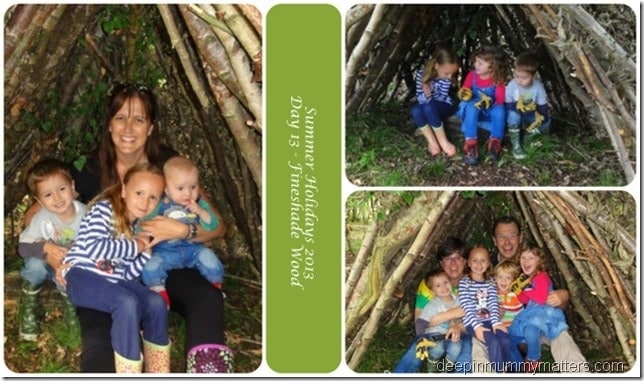 To test the protection the shelters would provide Cheryl invited everyone to sit in their shelters as she threw water over them. The children all thought this was great fun, especially when BG's Daddy offered to test their shelter and got a little bit wet.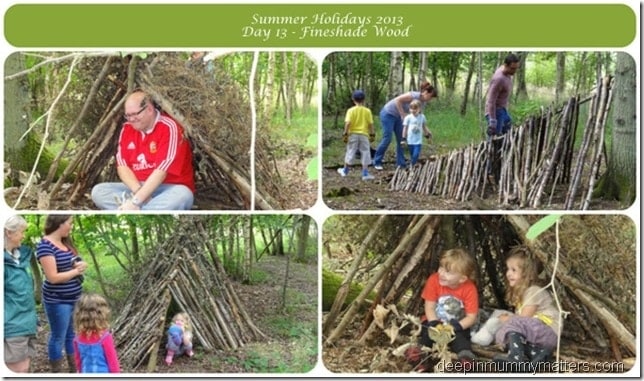 After den building we returned to Top Lodge Cafe for a complimentary lunch which was delicious. All food is freshly prepared on site by AE catering who have been running Top Lodge Cafe for 5 years. A family run business, they also run 2 other Forestry Commission sites at Birches Valley and Hicks Lodge as well as Cafe Diem at Milton Country Park near Cambridge.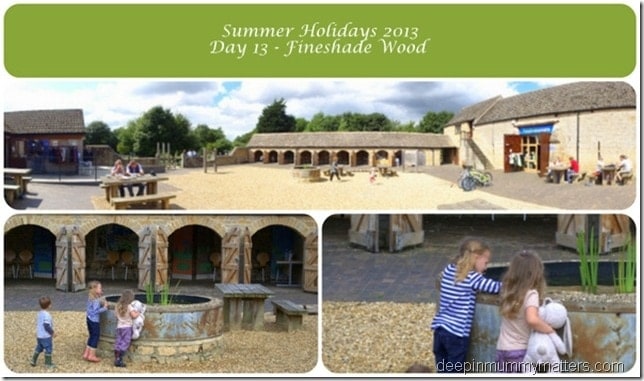 Top Lodge is available for hire for functions from early morning to early evening for meetings, conferences, workshops, social groups, classes, exhibitions and Church groups. They also have plans to start a photography club in the not-too-distant future.
Top Lodge Cafe Values:

We only use biodegradable packaging

We recycle our waste whenever possible

We are currently developing our own sustainable garden

We compost our coffee grounds for use in our garden

Our coffee beans and sugars are fair trade certified

We aim to work with local suppliers
After lunch we were given the opportunity to hire bicycles to explore the forest. Unfortunately I wasn't able to do this with Jelly Bean being under 12 months but Karin and Mark kindly offered to take my bigger Beans with them in a bicycle trailer. In the meantime Jelly Bean and I went for a little walk, then once he was asleep I had a look around the few shops before settling down with a white chocolate mocha as we awaited their return. A keen cyclist Mark looked pretty chirpy when he arrived back over an hour later, however I am not sure Karin will be feeling quite as chipper today since this was her first time on a bike in over 3 years and wasn't used to towing over 50kgs of weight behind them. Rather Karin than me!!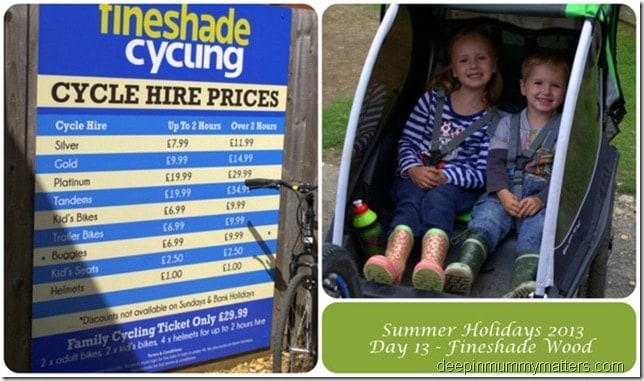 We finished our time at Fineshade Woods with a final play in the adventure playground before hopping in the car for the short journey home.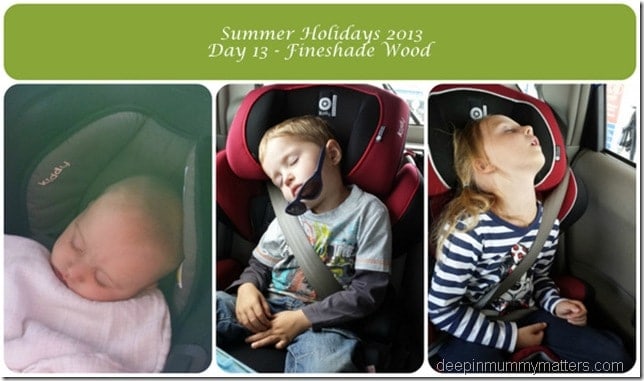 DISCLAIMER: We were invited to Fineshade Woods as guests of the Forestry Commission for the purpose of this post. We received free car parking and lunch. All words, images and opinions are my own and may not be copied without my permission.