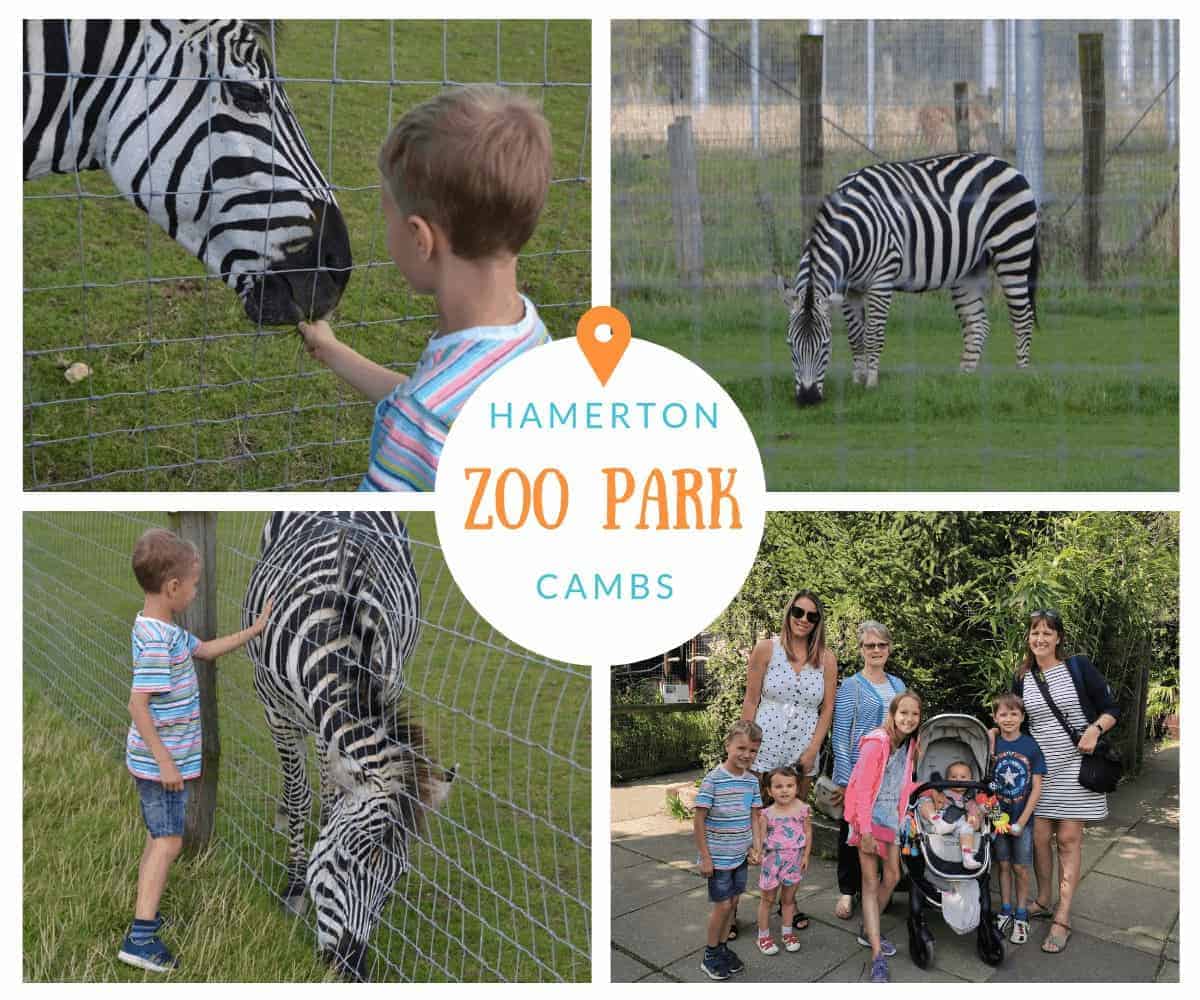 Summer Holiday fun at Hamerton Zoo Park
Hamerton Zoo Park is located just 17 miles from Peterborough in the Cambridgeshire countryside and is easily reachable from Cambridge, Bedford, Northampton and Lincolnshire. It's a zoo that we have visited regularly since Will was a small child and have continued to enjoy with Lillie, Ollie and Albie.
A Day of Family Fun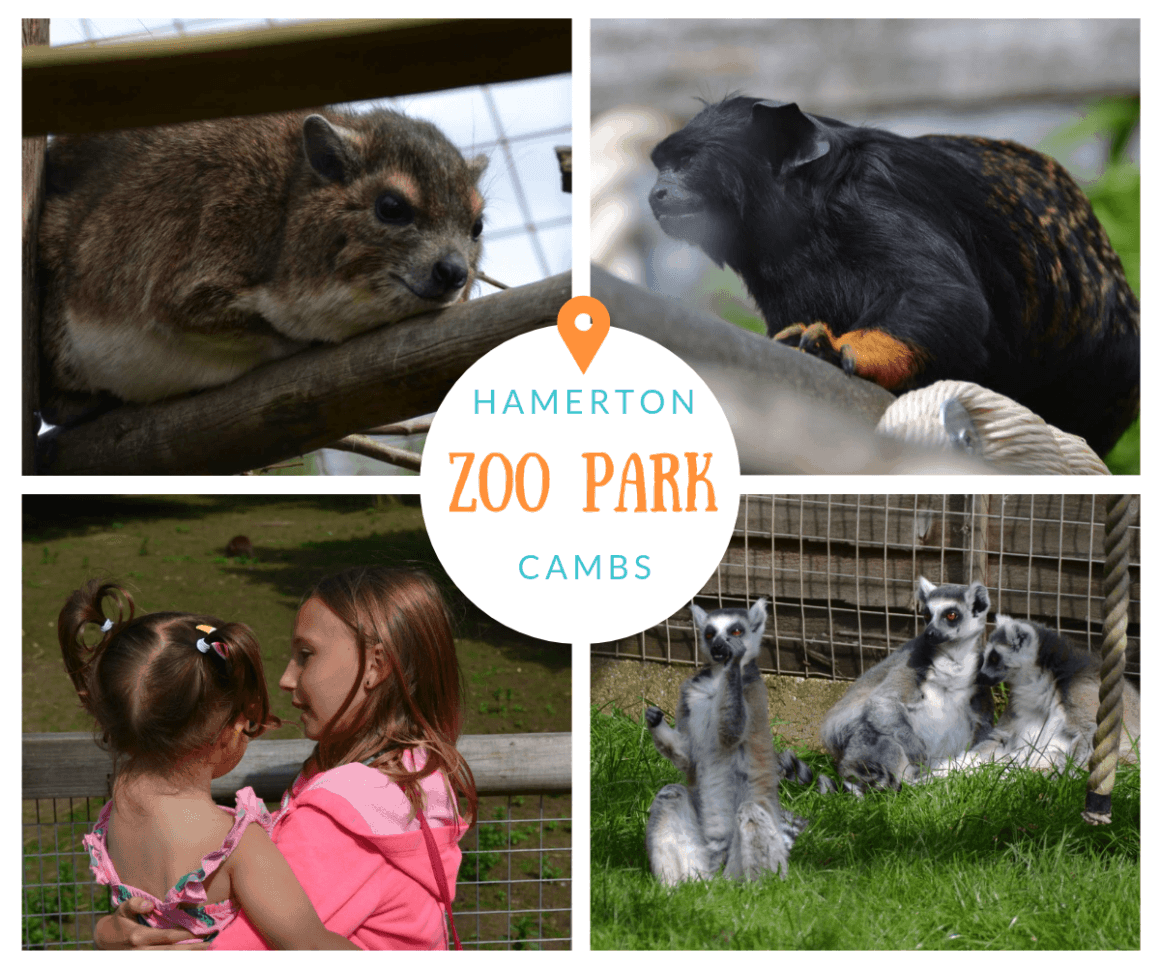 The Summer Holidays pose the perfect time to get together with family to enjoy a day at the zoo. This week the Beans and I spent the day at Hamerton Zoo Park with Nanny, Auntie Leanne and cousins Vivi and Cara as guests of the Zoo. They were especially taken the very cute Lemurs and their fluffy little neighbours.
Baby Flamingos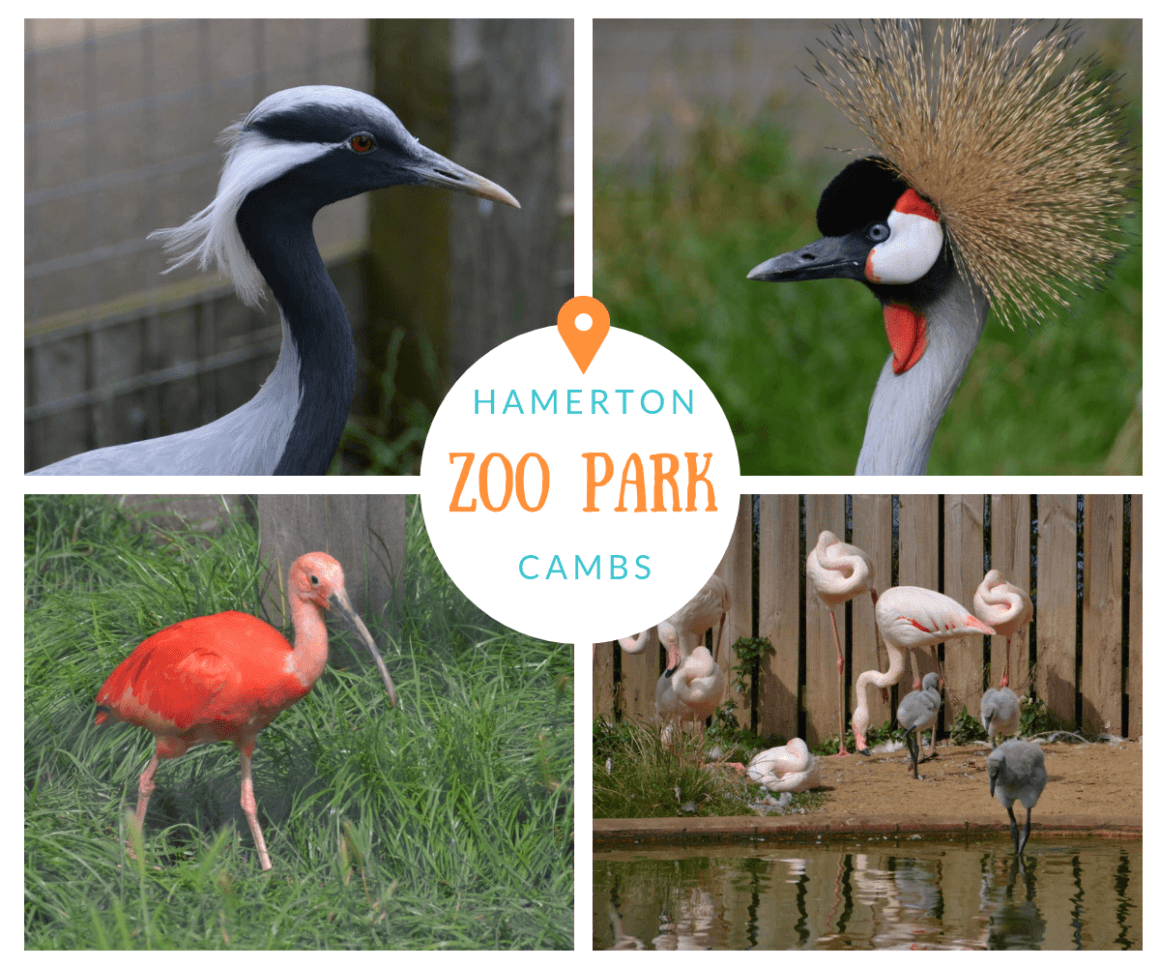 Nanny has visited Hamerton Zoo Park a few times already this year and has been regularly following their social media so she had already told the children all about the new arrival of the baby Flamingos. We couldn't wait to see them and they didn't disappoint, they are so cute in all their grey fluffy featheriness. Next up on my list to see where the Scarlet Ibis and the Grey Crowned Cranes which I always think are fascinating.
G'day Mate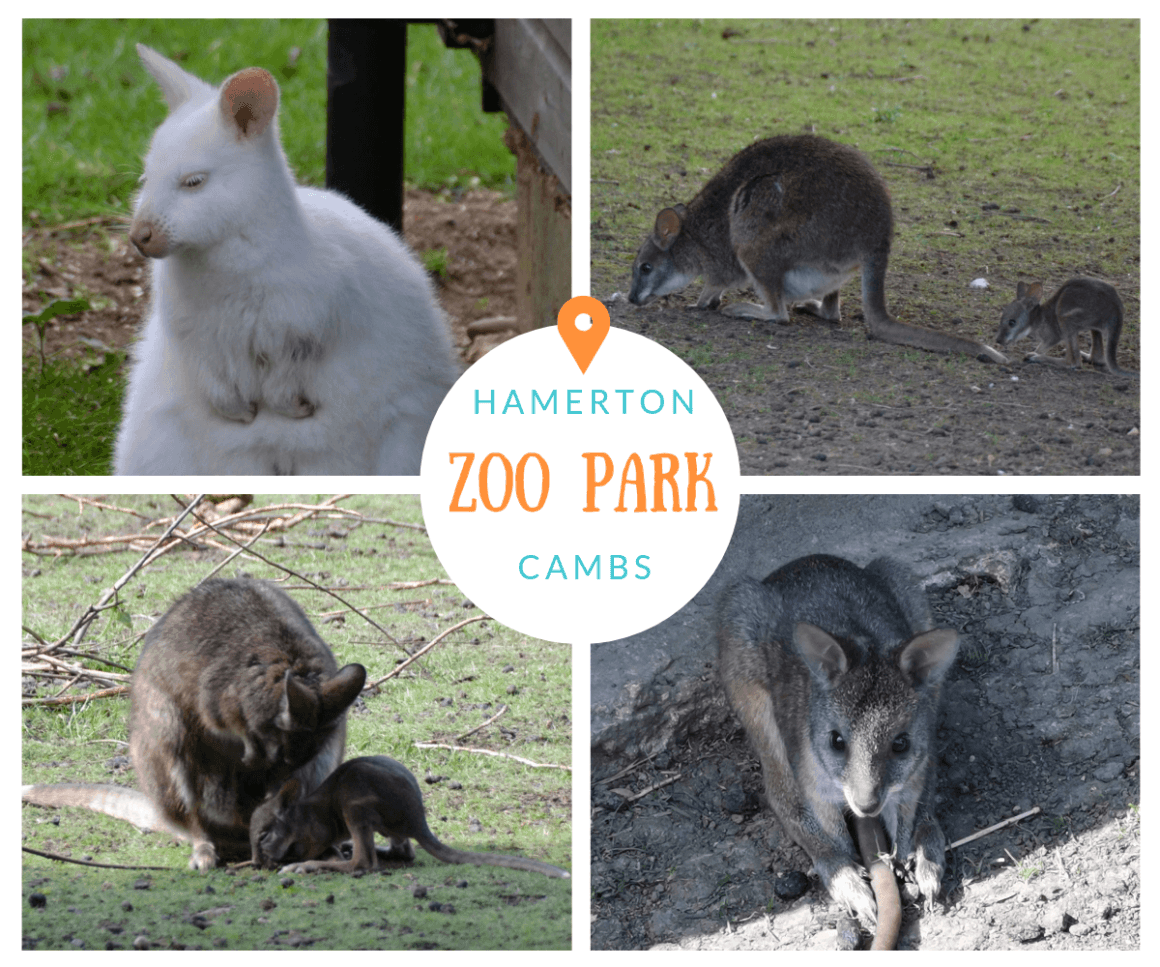 Hamerton Zoo Park is home to one of the largest collections of Australian Animals in the UK. The Bennett's Wallabies have been a long-standing resident of the zoo and it was delightful to see a number of beautiful little babies on this visit. You can also find long-nosed Potoroos and Tiger Quolls, whereas across the park you can visit the new Australian Outback Aviary which is a fabulous addition.
Australian Outback Aviary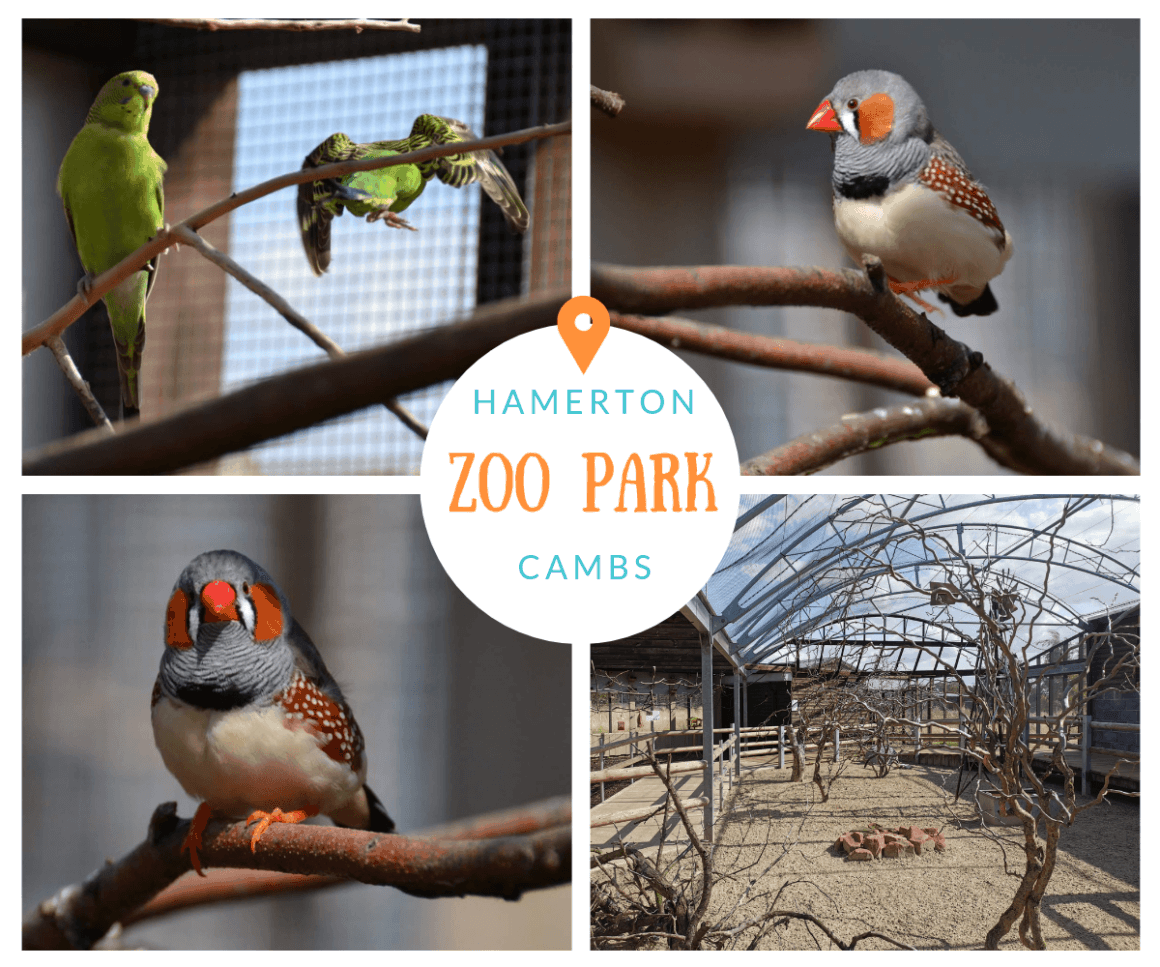 The new walk-through Aviary is home to a selection of Australian birds as well as Wombats and Possums. Watch your heads, the Wild Budgerigar (also known as Bush Bugie) fly pretty low and fast.
Make Way for the Cats of Hamerton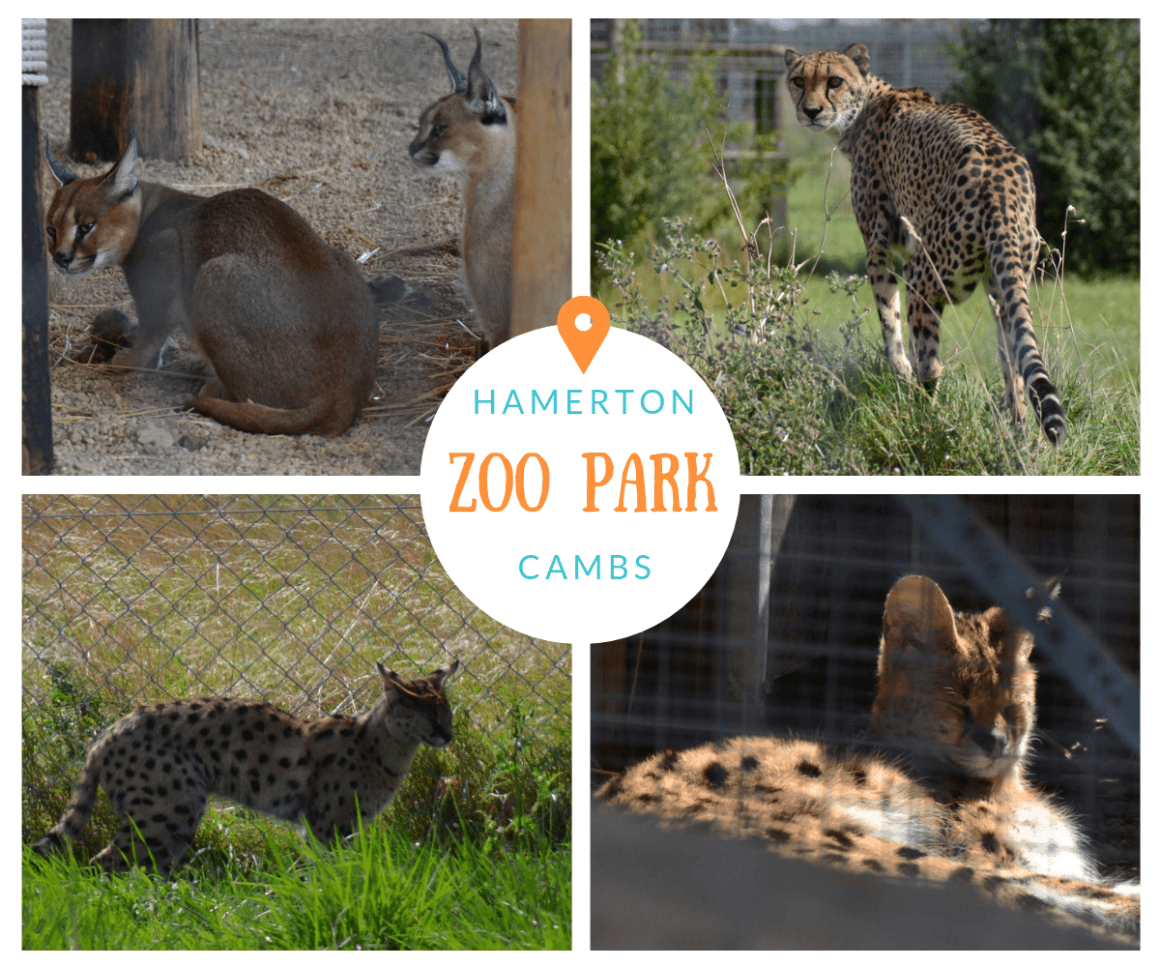 Hamerton Zoo Park has a beautiful collection of cats, small and large. From Servals and South African Caracals, to Jaguarundi and Canadian Lynx (both of which were in hiding during our visit) up to the stunning Cheetahs. You might be surprised to learn that Hamerton Zoo Park has 12 paddocks for Cheetahs which is the UK's largest specialist breeding unit for Cheetahs.
Land of the Tiger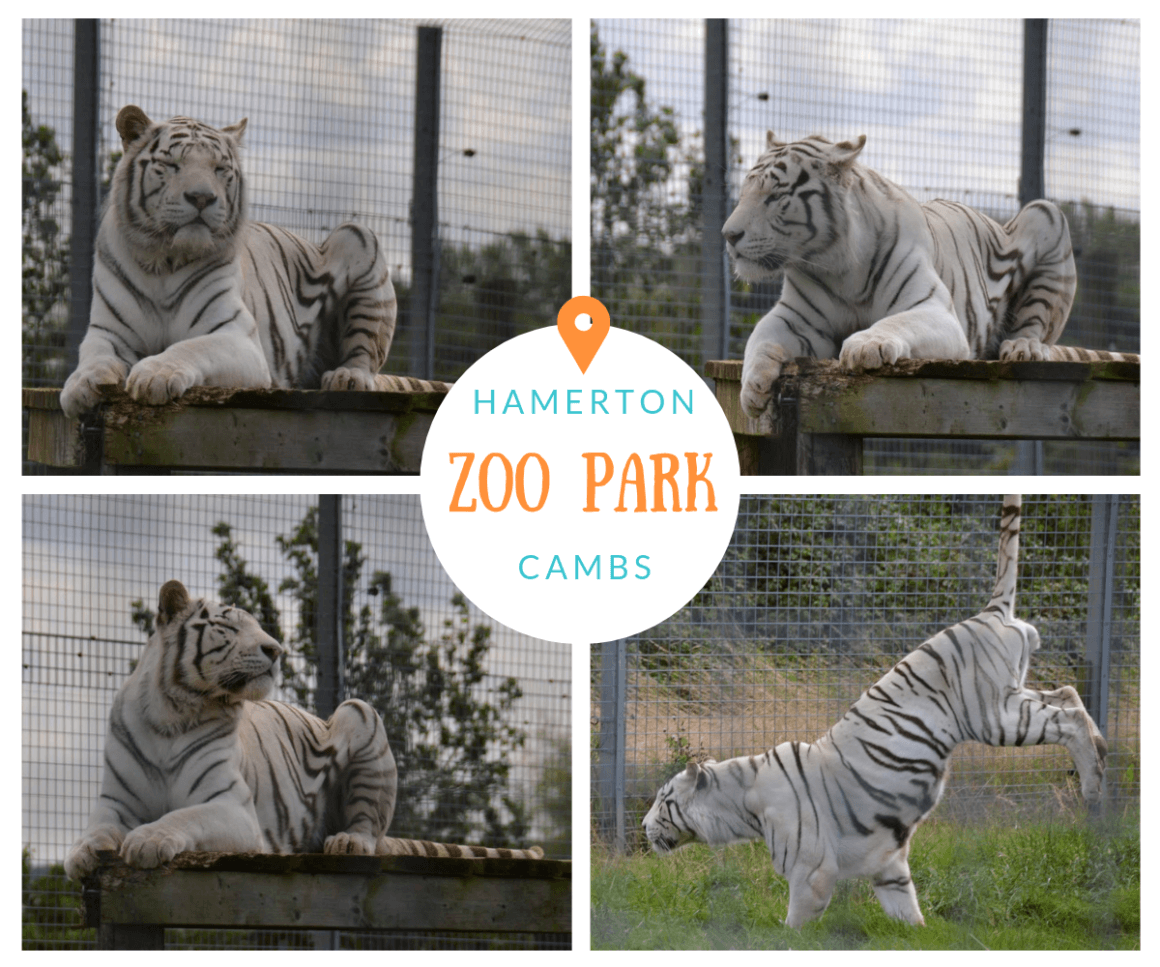 The first pair of White Bengal Tigers arrived at Hamerton Zoo Park in 2001, Blizzard and Lady-Belle have been the animals which the Beans and I have come to think of whenever anyone mentions Hamerton. Blizzard and Lady-Belle were joined a young pair of White Bengal Tigers in 2014 who are so beautiful I never tire of watching them.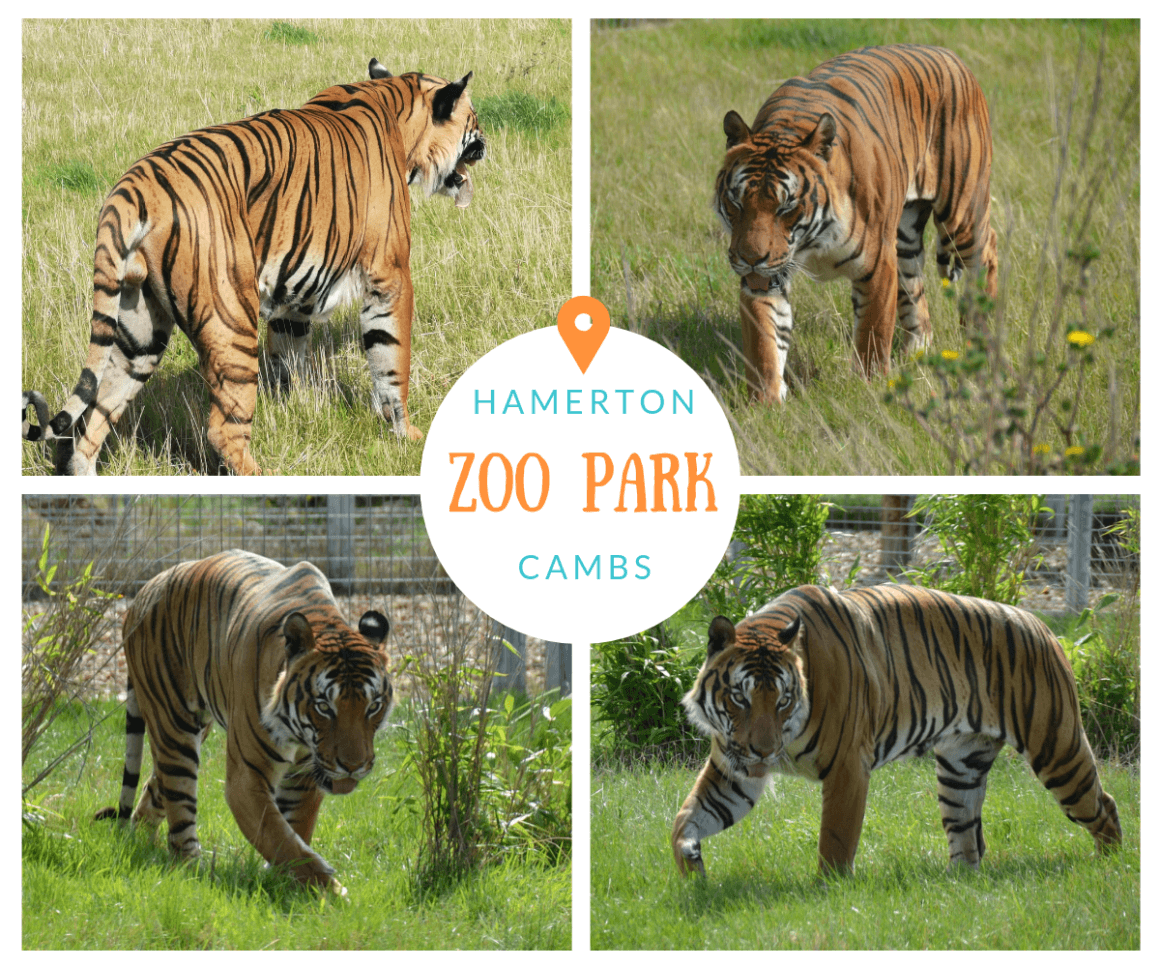 The Land of the Tiger exhibit is a large open space with a viewing gallery which enables you to walk into the middle of the exhibit and view the Tigers as they gracefully roam around. You can also view them when they go inside to rest although this handsome fellow didn't stay inside for long.
Birds Large and Small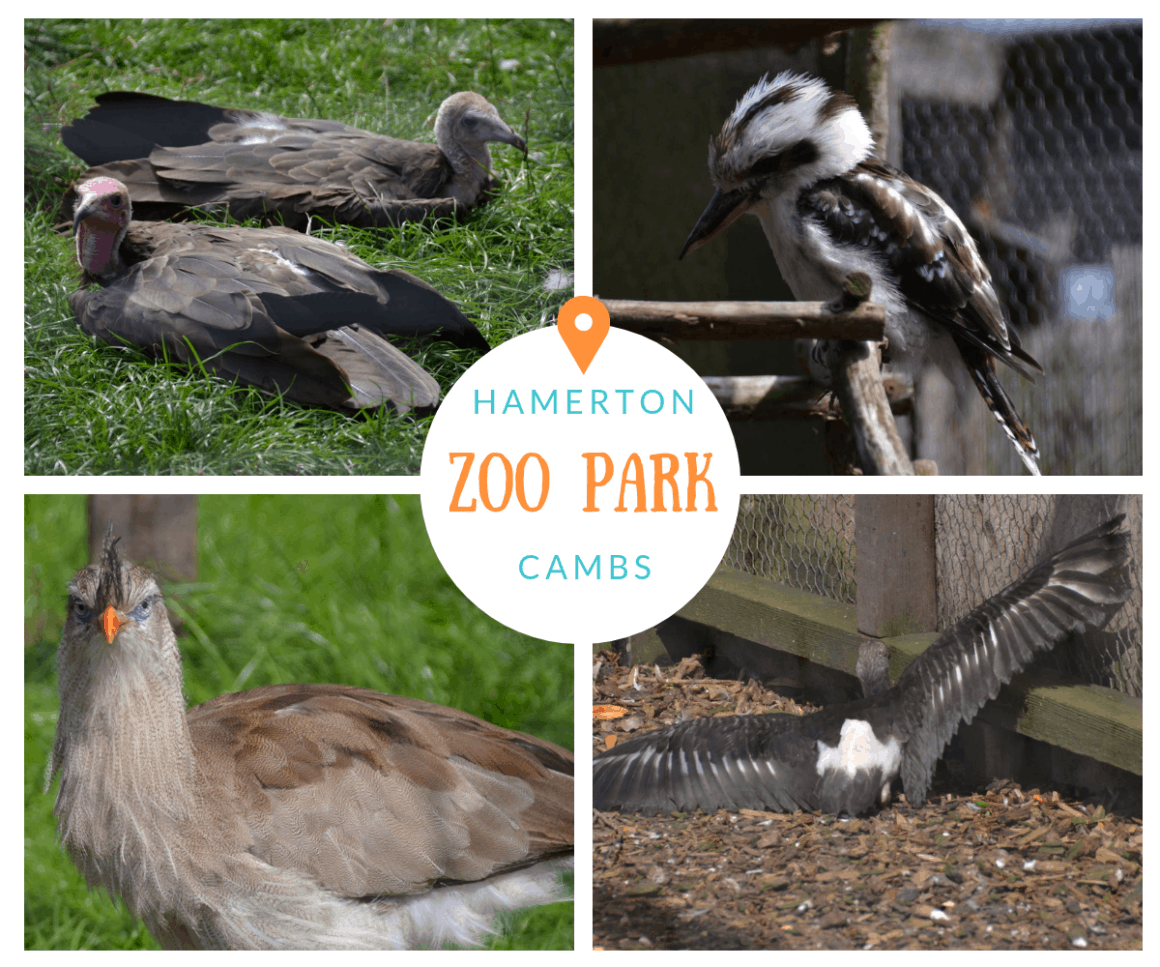 I couldn't actually hazard a guess as to how many bird species they have at Hamerton Zoo Park but I can tell you they have a lot. From Owls and Kookaburras to Cranes and Vultures there are birds that I have never even heard of before. I was quite taken by this bird above who was soaking up the sun's rays with his mate.
Tiger Express Railroad Train
We were given tickets to take the children on the Tiger Express Railroad Train which made Albie very happy indeed. He made sure that he secured his seat in the first carriage behind the driver so that he could tell him how much he loved trains like his Grandad. The train driver was brilliant with the children and invited Albie to sit in the driver's seat when our journey had finished.
Adventure Playground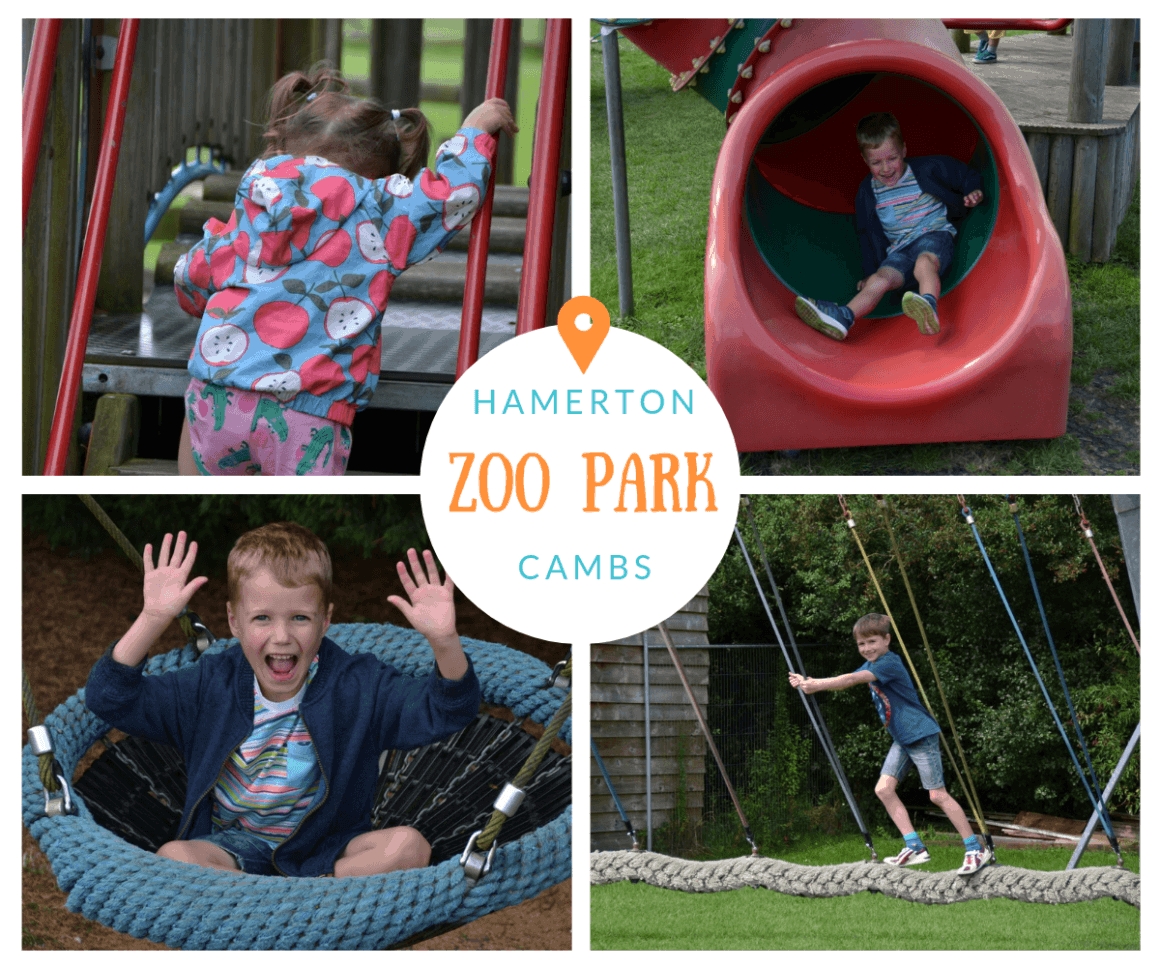 Children can generally sniff out an Adventure Playground within a mile, I know mine can and this one didn't disappoint. Thanks to the beautiful weather and the proximity of the cafe to the playground, we were able to enjoy a cup of tea whilst the children played (it also ensured a very quiet drive home when they all fell asleep).
Albie made friends with a Zebra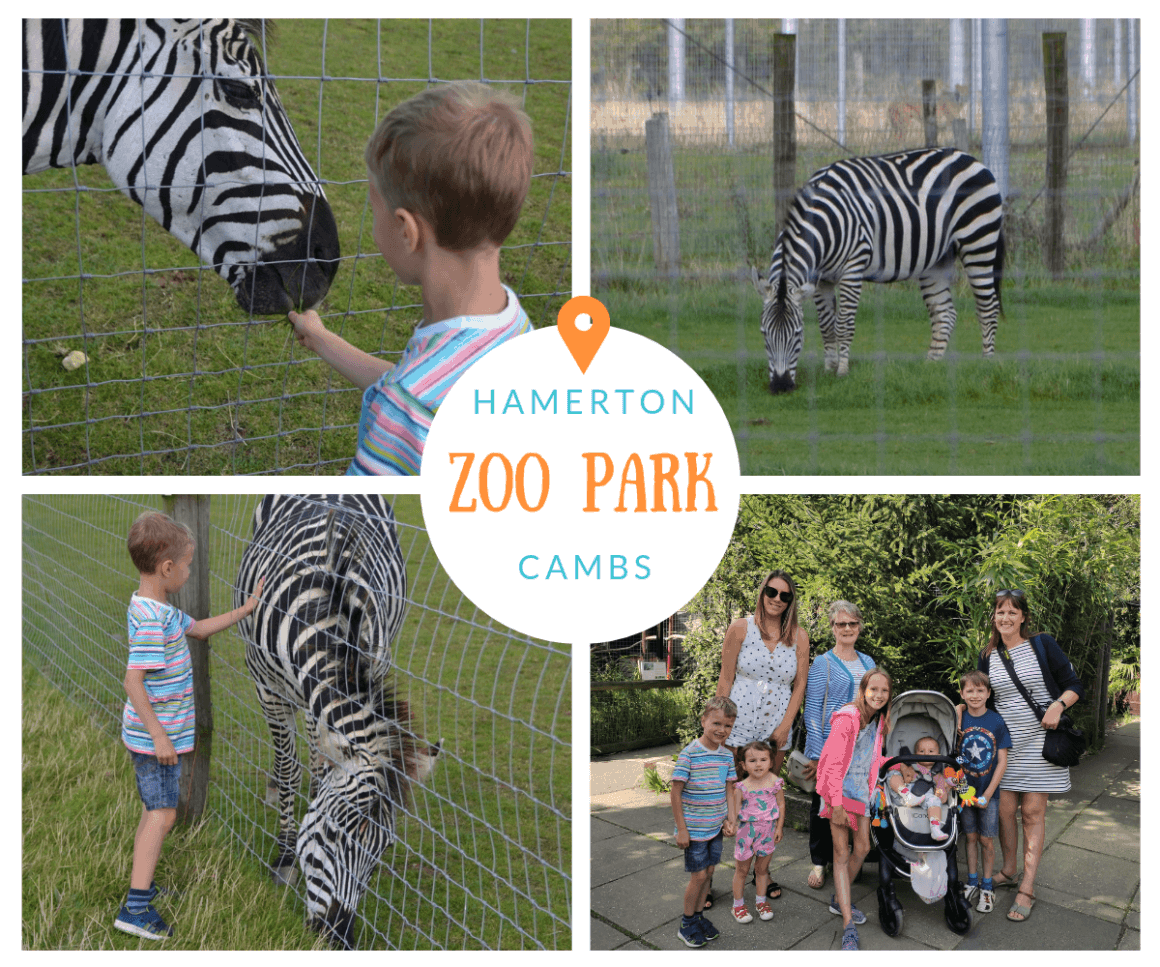 One of Albie's favourite films is Madagascar so he was over the moon to spot 'Marty the Zebra' and couldn't wait to say hello. As we reached this particular zebra (who is probably not called Marty) a man was feeding him handfuls of grass and showed Albie how to do it. Albie's face was an absolute picture after he fed the zebra I only wish I had managed to capture that instant reaction on my camera.
More than just a Zoo Visit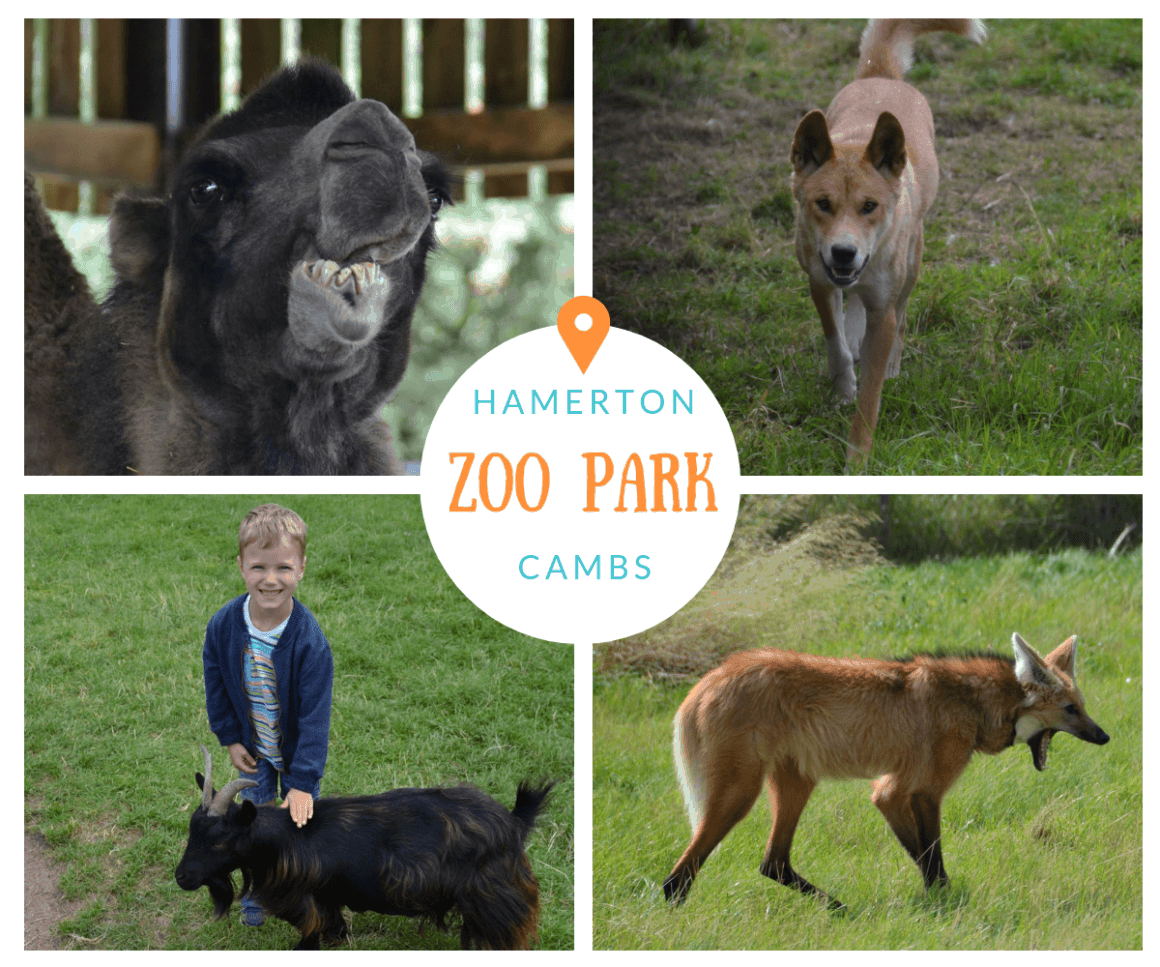 A visit to Hamerton Zoo is so much more than just fun day out with the family. When you buy your tickets you are helping to support the Zoo's critical breeding programmes. Aptly called the UK's Greenest Zoo, Hamerton proudly obtains all its energy from onsite wind turbines and solar panels, with the surplus, returned to the national grid.
Keep up with the latest news from Hamerton Zoo Park;