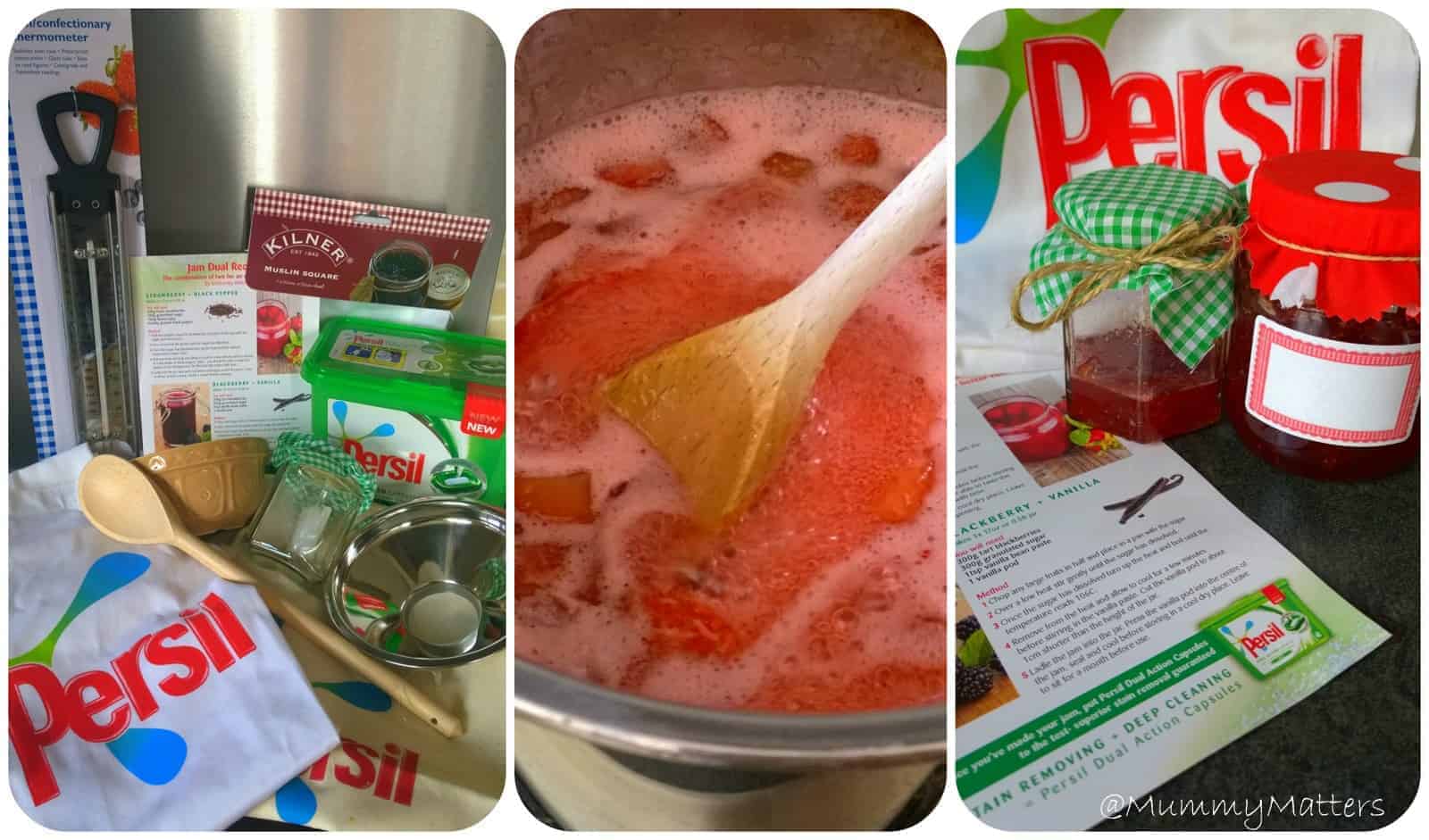 A sticky situation: Making Jam!
As much as I hate cooking, I LOVE baking and dabbling with the 'sweet stuff'. One thing I have always fancied having a go at myself but had never got around to was making Jam. On Sunday, Beanie Boy's birthday of all days, I finally found the time to give it a whirl.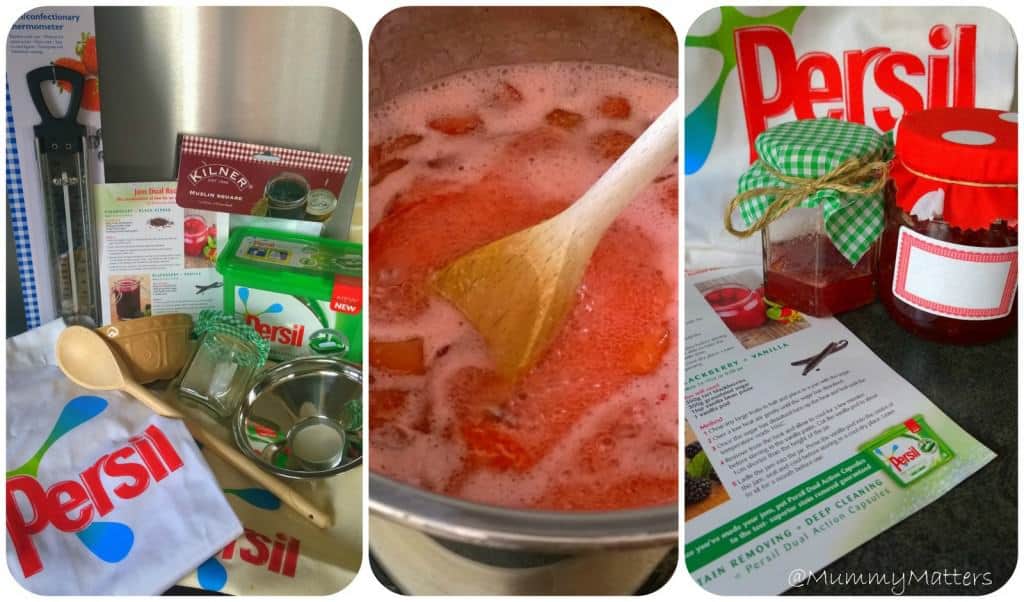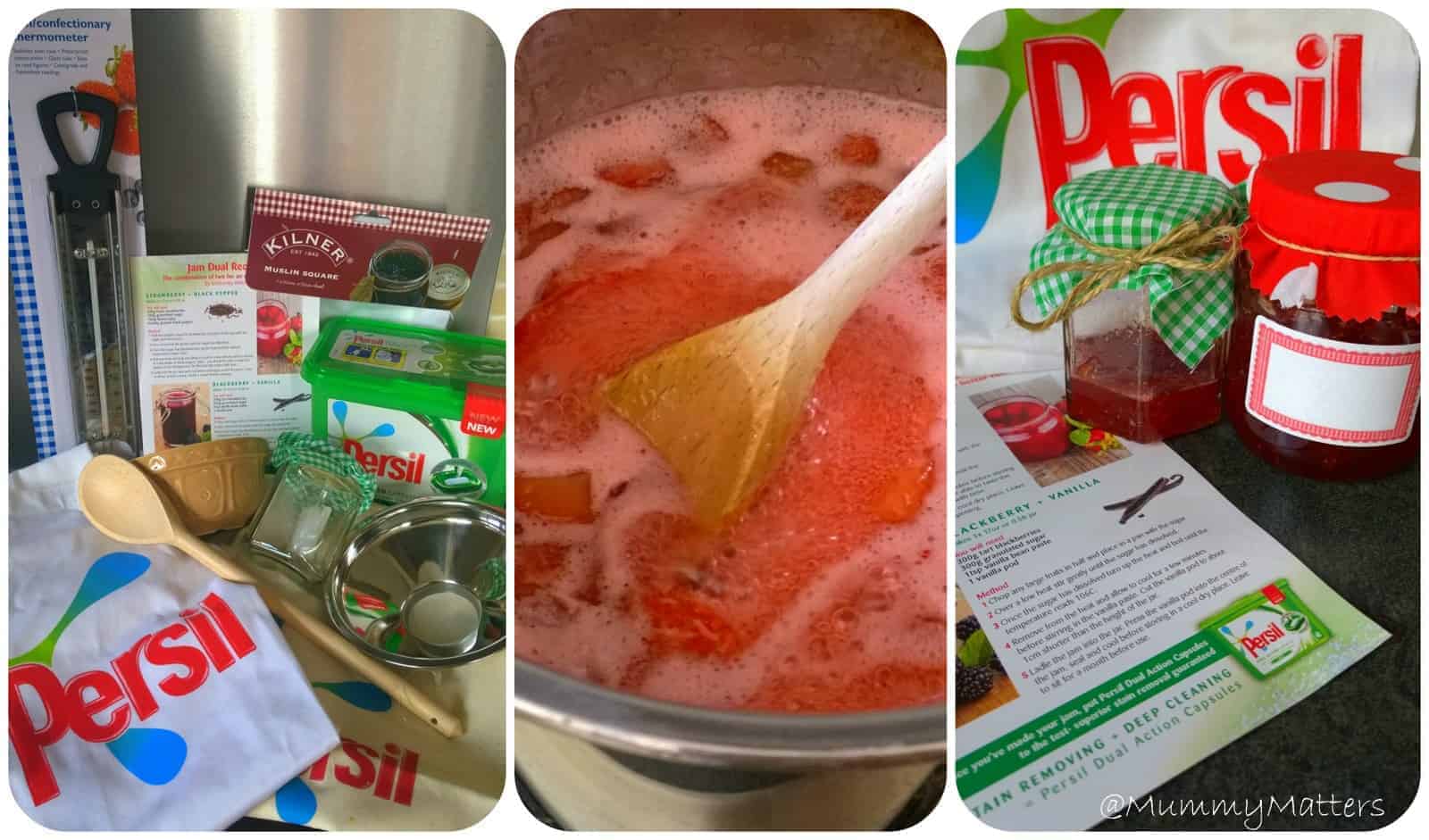 I had been sent this rather lovely box of goodies from Persil who were asking me to have a go at making our own Jam and then once all the sticky stuff was out of the way and it was time to clean up I could put Persil's new Dual Action Capsules to the test.
Making Jam was much easier than I anticipated and far less time consuming too. We were sent four recipes to choose from and I chose Strawberry and Black Pepper as both Beanie Boy and Jelly Bean are strawberry fans (plus they are the only ones of the Beans who will eat Jam).
Strawberry & Black Pepper Jam
(makes 1 x 17oz or 0.5lt jar)
Ingredients
300g fresh strawberries
300g granulated sugar
1tbsp lemon juice
Freshly ground black pepper
Method
1. Hull and roughly chop the strawberries and place in the pan with the sugar and lemon juice.
2. Over a low heat stir gently until the sugar has dissolved.
3. Once the sugar has dissolved turn up the heat and boil until the temperature reads 106c.
4. Remove from the heat and allow to cool for a few minutes before stirring in a few twists of black pepper. Taste – you should be able to taste the pepper in the background, the flavours will mature with time.
5. Ladle into the jar, seal and cool before storing in a cool dry place. Leave to sit for at least a week, ideally a month before opening.
The other Jam Recipes you might like include; Blackberry & Vanilla, Raspberry & Basil and Orange & Cardamom.
Since we only made our jam yesterday it's going to be a while before we can try it but I'm certainly looking forward to that day and will definitely be trying out some of the other flavours for Hubby and myself.
Now when it comes to working in the kitchen, I'm quite a clean chef and I tidy up as I go along but I'm never without stained clothes to work my magic on thanks to the children who like to provide new challenges almost daily so that's where Persil Dual Action Capsules which come to the rescue.
Years of development and testing have resulted in the next generation laundry detergent to help parents battle the dirt; New Persil Dual Action capsules contain stain removing microgranules to penetrate and attack stains, while the boosted liquid completes the wash. Whether it's jam, chocolate pudding, grass or mud, superior stain removal is guaranteed with this pioneering new product*.
With a family of six I'm sure you can imagine that our washing machine gets a really good thrashing daily so I prefer to use capsules as they make life so much simpler when popping the washing machine as I head out to the school run each morning. The Beans LOVE helping me to do chores around the house so with the capsules they are able to help me by popping a capsule in the machine and filling it up with whatever colour we have chosen to wash that day, then all that is left for me to do is to set it to the right cylce and instruct Jelly Bean to push the button (it's a realy family affair don't you know!).
The new capsules are available in 17 and 28 wash packs and have two separate 'compartments';
The microgranules (stain removal powder)

contain an active ingredient that works as a stain remover on bleachable stains such as black tea, red wine, black coffee, strawberry jam and blackcurrant juice.

The liquid (cleaning)

contains surfactants to actively clean clothes.
* Vs. mono-chamber Capsules on bleachable stains
DISCLAIMER: I was sent the above box of goods from Persil for the purpose of this post. All words, images and opinions are my own and may not be copied without my permission.
[amazon_link asins='B00LUTZ1W2,0224086731,B01FKA0HNY,B00KG6V6H4,B007CJR67C,B007T8KGTG,B002BX4ER4′ template='ProductCarousel' store='mummmatt-21′ marketplace='UK' link_id='65faf3cd-f094-11e6-afed-df921a65159c']