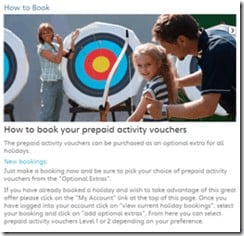 Staying active and keeping healthy on your family holiday
Getting away with friends and family on holiday is a great chance to step out of the ordinary and with so much spent indoors during the year – sat in front of a computer at work or in front of the TV – going away is the ideal time to do something active. So this year, tear your kids away from their mobile phones, tablets and iPods (if you can!) and follow these simple steps for family activity holidays the whole group will love.
Get on your bikes
If you think back to when you learnt to ride a bike, chances are it was on holiday. If you've got young children, teaching them to cycle can be extremely gratifying for you and great fun for them. And who knows, they may even love it so much they decide to turn the TV off once in a while and ride their bike at home!
If you're staying on a holiday park, coaching sessions like Learn2Bike tend to be pre-booked activity sessions. So if you're keen for your kids to take part, it's often best to book in advance. Luckily there's a good section on the Haven website that explains exactly how to do so; meaning you can get it all sorted in advance to make sure no-one misses out.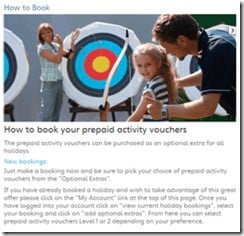 The best part is that when your whole family is confident on two wheels, you can make the most of the beautiful surroundings around your holiday park on a family bike ride. Most parks offer bicycle hire if you haven't got your own and it's easy enough to find a good cycle route nearby. If you stay at Church Farm in Sussex, the South Downs Way is a must. It's a 100-mile path running between Winchester and Eastbourne and popular with plenty of walkers and cyclists. Hop on the path wherever you like and cycle for as long as you like.
Go for a splash
Holidays come hand in hand with swimming but if it's too chilly to take a dip in the sea (we do live in Britain after all!), staying on a holiday park means you don't have to miss out on your annual dip. The on-park indoor and outdoor heated pools mean there is always somewhere to go for a swim. And if mum and dad fancy doing something more relaxing while the kids let off some steam, the kids can take part in a water activity session. They're supervised by qualified instructors, so you can relax stress-free and give your kids the chance to try their hands at aqua gliding, pool kayaking and water walking.
But as far as family activity holidays go, you can't get much better than the beach, right? Haven's parks are all within a stone's throw of the coast, and even on cloudy days you can have a great day out there. Pack a cricket set or a set of bat and ball and you've got a free, ready-made day out right there.