Happy Families and Holidays: Cumbria
Last week, Hubby, Little Bean and I spent the week in the Lake District with Hubby's Mum and Dad. We had a fantastic week and returned home, totally relaxed and ready to face the world again.
Whitbarrow Village near Penrith
We stayed at a resort called Whitbarrow Village, which is about 8 miles from Penrith and 9 miles from Keswick. The resort was lovely, immaculate and very quiet despite being fully booked. It had a lovely members lodge where you could swim in the luxurious pool, chill out in the sauna/steam room, sweat your bits off in the gym (hello – this is a holiday!), compete to your heart's content in the games room or relax with lovely food and drink in the restaurant/bar.
Unfortunately, there was a mix-up over the bookings, so my Mother and Father-in-Law had to stay elsewhere, so we only got to spend our days out with them. Nevertheless, the whole holiday ran really smoothly, and we couldn't have asked for more.
Exploring the Lake District
We spent our time wandering the streets of Grasmere, Keswick, Ambleside and Bowness Bay on Lake Windermere, taking oodles of photographs of the beautiful scenery (my Father-in-Law and I are generally recognised by the cameras attached to our faces).
Cars of the Stars Museum, Keswick
The highlight of the trip for me (though it was supposed to be for Little Bean) was attending the Cars of the Stars Museum in Keswick. I had visited there many years ago and remembered seeing one of the four original cars from Chitty Chitty Bang Bang. This has always been one of my all-time favourite films, and I'm pleased to say that this has become Little Bean's favourite too. If we don't want it at least once a week, then something is wrong!
We planned our trip to include a visit to the museum where there are various cars from Batman, Dukes of Hazzard and James Bond. They even had the A-team van and KITT from Knight Rider. The gentleman who runs the museum very kindly offered to let myself and Little Bean sit in Chitty, but as she was having one of her "anti-camera" days, she started crying the minute the camera turned on her. When the camera was taken away, she was happy as Larry, but sadly it doesn't look this way in the picture! Oh well, you can't have everything!!
Poorly Girl


Our only slightly rubbish day was the day we decided to head on up to Carlisle, stopping off at Hadrian's Wall on the day. Hubby, Little Bean and I had a wander around Birdoswald Fort which had some fantastic ruins and a great visitor centre. The downside was on leaving Birdoswald Hubby took a wrong turning and we ended up winding our way through so many country lanes that poor Little Bean got very sick and ended up throwing up all over herself.
For any normal Mummy, this wouldn't have been a problem as they would have 3 spare outfits packed in the changing bag in the case of such events – but not me! I used to carry spare outfits, but she never needed them and would grow out of the clothes (because I forgot to swap them over), so I just stopped carrying them.
By the time we had cleaned her up on the roadside (and created a rather irate traffic jam) and found the nearest shop to buy her a new outfit, we finally arrived at Carlisle at about 4.30 pm to meet up with MIL and FIL. They'd had a busy day – also checking out Hadrian's Wall, Gretna Green and Carlisle.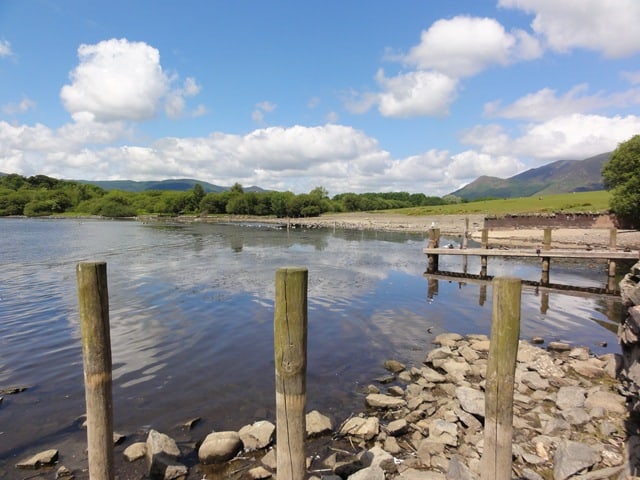 If you have never been to the Lake District before, you really should check it out as when you're there – you really could be just about anywhere in the world. Much of the scenery reminded me of Italy and Canada, so pretty and relaxing. I just wanted to take this opportunity to share a few of my pictures with you.