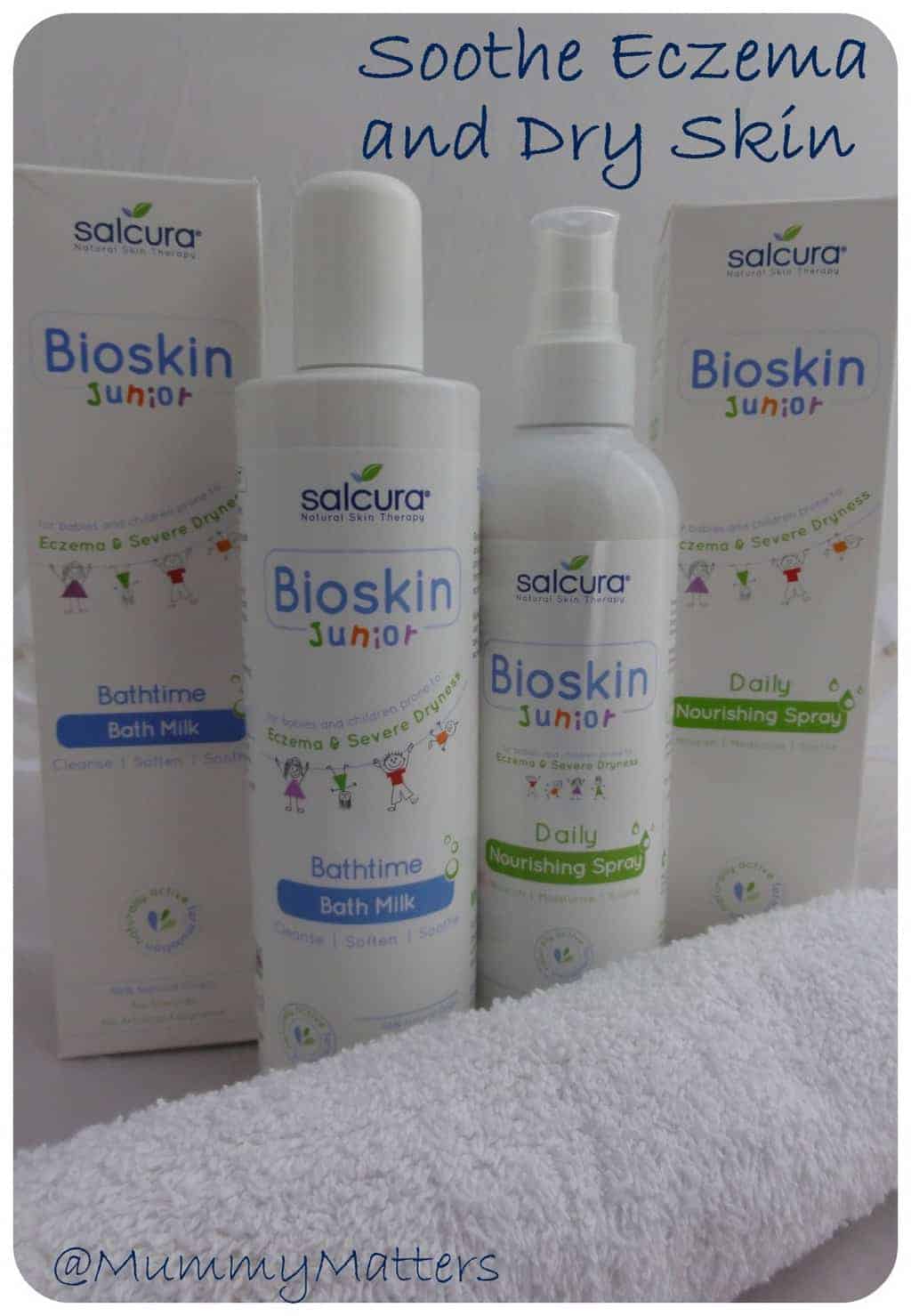 Soothe Eczema and Dryness for babies and children
If you suffer from Eczema or dry skin conditions, you will know the pain and discomfort such a condition can cause. Now imagine what that must be like for babies and children who can't do anything to make the condition better for themselves, or worse still, tell you how uncomfortable and painful it is. As parents, it is our duty to give our children the utmost care and attention to grow up happy and healthy.
Salcura Bioskin Junior
Salcura Natural Skin Therapy have the perfect solution to soothe eczema and dry skin with a range called Bioskin Junior, which contains no steroids and no artificial fragrances. Did you know that one in five children in the UK is a sufferer? That's a lot of children in pain. Bioskin Junior is free from cortisones and paraffin and helps to soothe infection, inflammation and tissue damage.
There are five products in the range;
Daily Nourishing Spray

Outbreak Rescue Cream

Bath Milk

Face and Body Wash

Shampoo
We were sent the products to try as Little Bean often suffers from painful dry skin. Not only did we love the products, but Little Bean did too. They are delicately fragranced, which pleased Little Bean; she said they made her smell beautiful and made her skin feel soft and refreshed with no itching. It's difficult to show you photographs of her skin because it doesn't 'look' particularly dry, but it feels like sandpaper. After using Bioskin Junior Daily Nourishing Spray and Bath Milk throughout the summer, you can feel a noticeable difference in her skin, and she is much happier too.
E45 Moisturising Lotion and Intense Recovery Lotion
We were also sent E45 Moisturising Lotion and Intense Recover Lotion to soothe Jelly Bean's chickenpox scars after the outbreak during the summer. Sadly for Little Bean and Beanie Boy, they both suffered very badly with their chickenpox, and they are both 'pickers', so they have been quite badly scarred on their faces and bodies.
E45 Moisturising Lotion and Intense Recovery Lotion are both non-greasy, hypoallergenic, non-perfumed and have been dermatologically tested, so they are perfect for the whole family to use.
We used the Intense Recovery Lotion on Jelly Bean's worst spots to help him get better quickly and to help soothe the itching and the Moisturising Lotion daily after baths to protect him and soothe his skin all over. The pump action bottle was perfect for post-bathtime quick application.
Eczema Clothing from Happy Skin
Eczema is a scary and frustrating experience for many children. The cause of eczema is unknown and it can be difficult to manage.
Happy Skin developed a line of Eczema Clothing with our clinically proven DreamSkin technology to help provide relief for those living with eczema. Dryness is alleviated by sealing in moisture and providing comfort from scratchy wool or synthetic fibres that may irritate the skin.