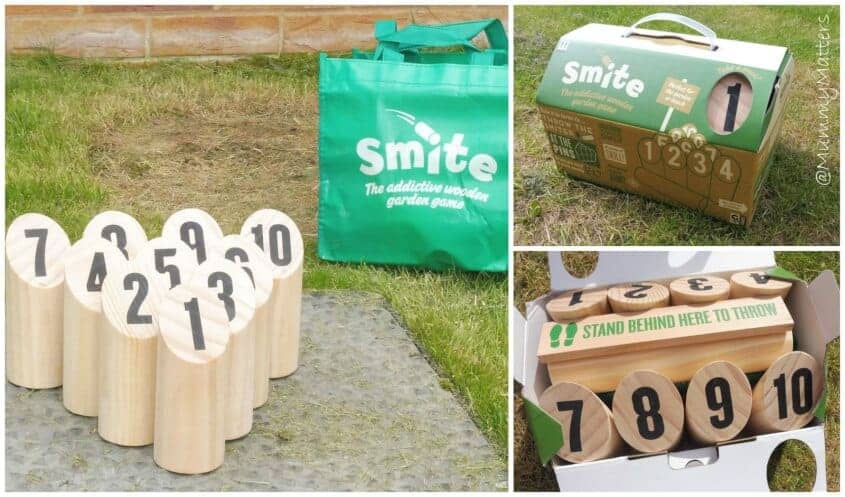 Smite – the fun and tactical wooden garden game!
Growing up I remember playing garden games with my family late into the Summer's evening and they bring back happy memories. Croquet was favourite game, my Grandad had a beautiful Wooden Croquet set on a trolley with large solid wooden balls. We had the perfect garden for playing out in as a family, it had a large expanse of grass and perfect trees for climbing . . . but I digress, I haven't come for a walk down memory lane with you today. I'm merely pointing out that playing games as a family has the ability to create memories which last a lifetime and so now the Hubby, the Beans and I have found a new game which I truly believe will come out year on year for us to play as a family.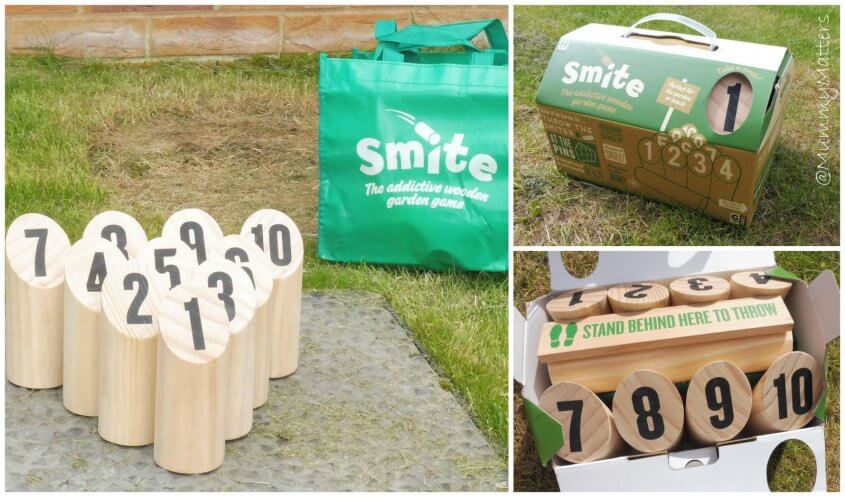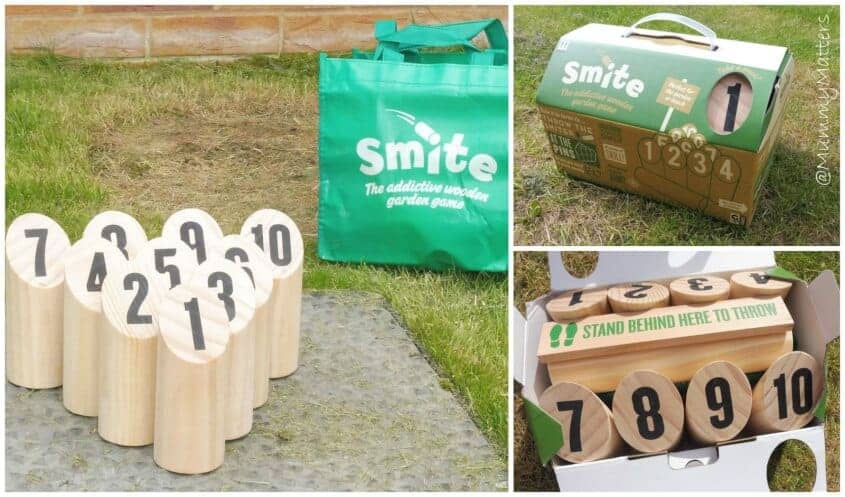 I hadn't realised what a competitive little bundle of Beans I had until we started playing Smite, for what began as a 'quick game' turned into a couple of hours of laughter, triumph and the odd harrumph as our scores dropped from 48 to 25 in just one throw (I shall explain why, don't click away).
What is Smite?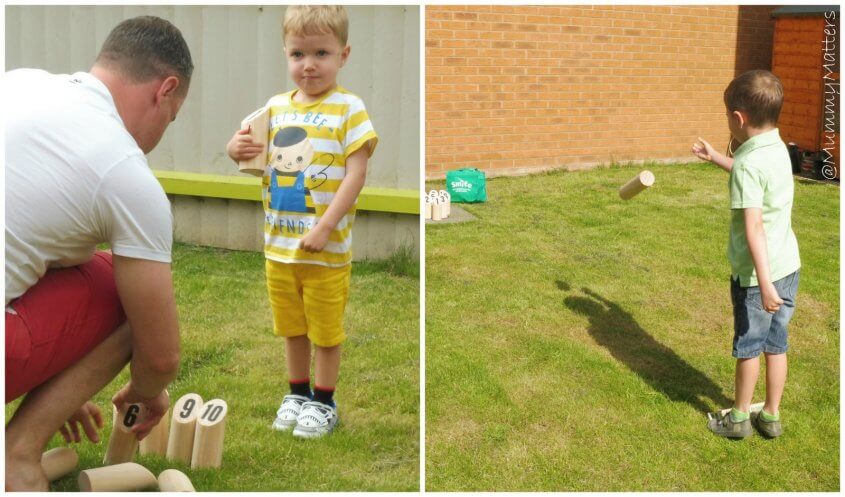 Originating for one of our favourite places, Cornwall, Smite is a tactical (and addictive) game where the sole aim is to score EXACTLY 50 points. You begin by setting out your 10 wooden 'pins' in a triangle formation (please note, despite reading the instructions over and over, with the help of my 3 little darlings we still managed to set the pins up the wrong way around). We set ours up like a Snooker triangle or bowling pins, we were supposed to set them with the flat of the triangle facing us – doh!
Scoring
Once you have set the pins up (correctly) you throw the Smiter (large wooden baton) under arm at the pins from four paces away. If you knock down ONE pin, the score is the number on the pin. If you knock down multiple pins, the score is the NUMBER OF PINS you knocked down, so you ignore the numbers on the pins. Are you with me? The only thing which would have made a useful addition to the set would have been a pencil and scoring pad but being a stationery addict, I can generally find a spare notepad and pencil kicking around somewhere.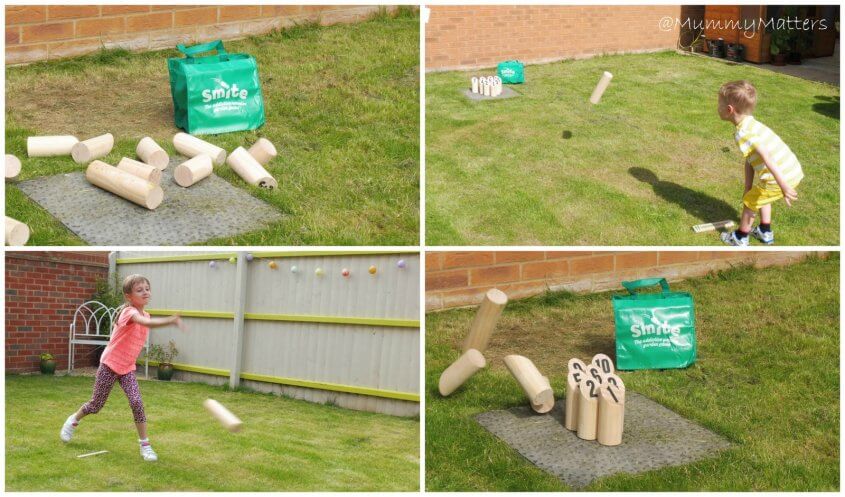 Now this is the next bit we got wrong . . . after each players turn you should stand all pins back up where they fell but we didn't see that bit of the rules so we kept resetting the pins in the triangle formation (the wrong way around). Regardless, we still had lots of fun playing the game but I can see how standing the pins up where they fall would be better for playing tactically, whereas our way was more just a game of luck and so was open to more frustration from the Beans.
Who can play?
The game is designed for ages 8 years and upwards but we found that Beanie Boy (5yrs) and Jelly Bean (3yrs) had fun joining in too. In fact, Little Bean and Beanie Boy continued to play long after Hubby and I had gone in to get dinner ready. When it was Jelly Bean's turn we moved the bar closer to the pins so that he stood a chance of hitting the pins.
Our thoughts . . .
More often than not, the boxes for garden games become battered and torn quite easily so Smite comes with a handy carry bag to pop all of the pins and game pieces into. This was a thoughtful addition to the set.
The game is perfect for playing in the garden, on the beach, at the park or in teams at a BBQ with friends.
Being an outdoors family we will definitely be taking this with us when we go camping or out for a picnic.
It does need to be set up on stable ground though so we made use of the unsightly manhole cover in our back garden to stand our pins on.
As mentioned above, the addition of a pencil and scoring pad would be handy.
You SHOULD read the rules carefully but honestly, it didn't spoil our enjoyment of the game at all, and they do say that rules are just for guidance right?
Purchase your Original Smite here for just £31 including delivery – I assure you, you won't be disappointed!
DISCLAIMER: We were sent the Original Smite free of charge for the purpose of this post. All words, images, video and opinions are my own and may not be copied without my permission.