A few weeks ago we were sent the 60-piece Finding Dory Giant Floor Puzzle and the 72-piece Finding Dory 3D puzzle both by Ravensburger and the Beans couldn't wait to get started on them. All of the Beans have always been keen puzzlers and I think it's a great past-time for them to enjoy because they have to think about what they are doing and it's great for their motor skills too.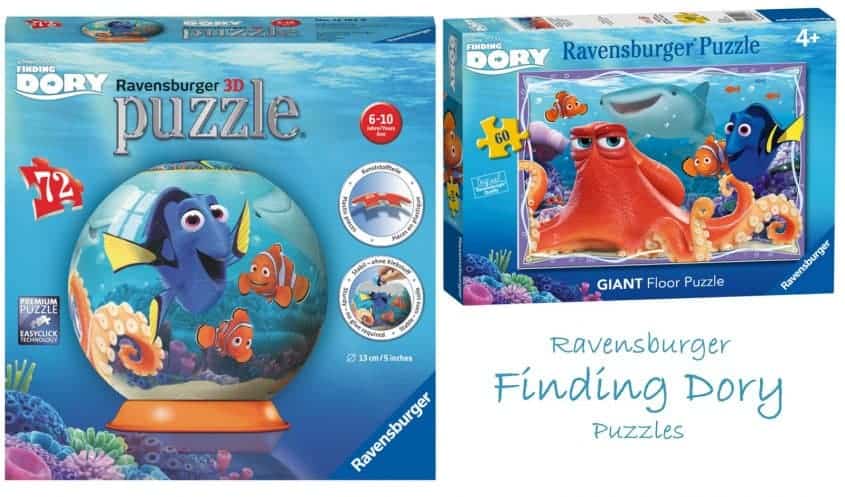 We haven't actually seen the film Finding Dory yet but they are all fans of Finding Nemo so it didn't matter to them, they all knew who Dory was. The colours in the puzzles are beautiful, so bright and cheerful, exactly how you imagine a coral reef to be. If you do have a Finding Dory fan then both of these puzzles would make a lovely unique gift and both are priced at £9.99 they won't break the bank either.
Finding Dory 3D Puzzle
Enjoy piecing together this highly detailed plastic 3D puzzle that has been cut into 72 shaped pieces. All of the pieces fit together perfectly to form a strong and sturdy spherical puzzle. Featuring a beautifully coloured scene from the Great Barrier Reef, piece together Dory, Marlin, Hank, Destiny and Bailey. 3D plastic jigsaws are perfect for any fan aged 6 and up. Comes with a plastic stand so you can place your completed 3D puzzle on display in your room for everyone to admire! Measures 13cm in diameter when complete.
When I opened the box I (wrongly) assumed that the Beans wouldn't have the patience but I should have given them more credit. Little Bean was about to head out to Brownies when the puzzles arrived so she was only able to help Beanie Boy make a start on the 3D puzzle before she had to leave. The puzzle pieces are made from tough curved plastic and each piece has a number on the reverse. You can do the puzzle traditionally by working solely from the picture on the pieces or you can follow the numbers on the inside which have little arrows pointing you in the direction of where the next numbered piece needs to attach. They decided to follow the numbered pieces.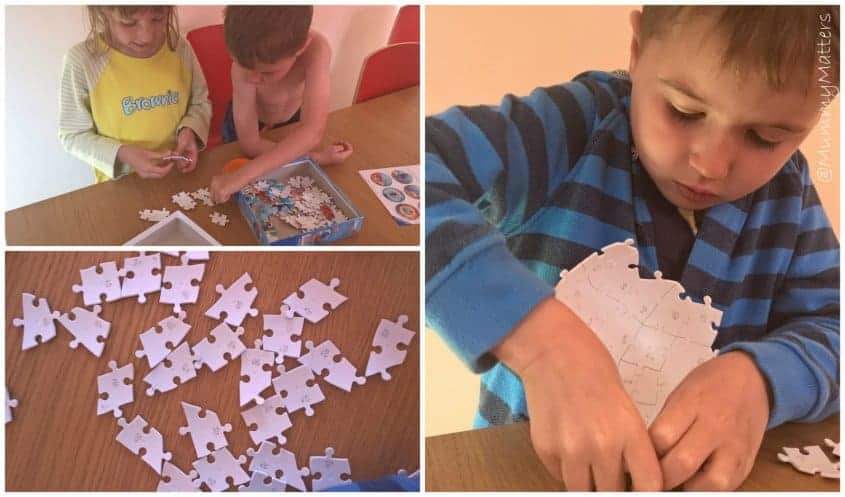 This is where Beanie Boy really surprised me because although he has been learning numbers in Reception class I didn't expect him to be able to follow the numbers all the way to 72, but follow them he did and he did an amazing job so I was very proud of his efforts.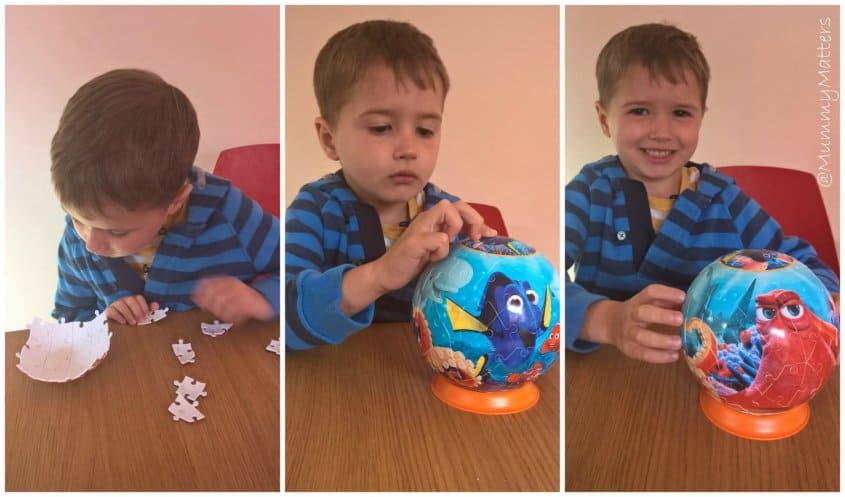 The only time he asked me for any help was right at the very end to put in the last 3-4 pieces as he found this a little fiddly, though he did insist that he pushed in the very last piece (just like his Mum – I always want to put the last piece in too). The end result is a beautiful, bright Finding Dory globe complete with a stand for it to be displayed on.
Finding Dory Giant Floor Puzzle
Set deep in the Great Barrier Reef, follow Dory as she goes on an unforgettable adventure to find her parents. Will she remember everything along the way? This stunning 35 piece puzzle, is perfect for children 3 years and over, who enjoy a challenging puzzle. Featuring colourful characters from the movie, piece together a fantastic group image of Dory, Nemo, Hank, Marlin, Destiny and Bailey. The puzzle measures 26 x 18cm when complete and is suitable for children aged 3 years and up.
On Jelly Bean's days at home with me you will often find us doing puzzles, he will disappear into the playroom and come back armed with a pile of puzzles for us to complete on the kitchen or lounge floor. Up until now, he has been doing puzzles of around 20-30 pieces so I was a little worried that this 60 piece puzzle might be a little too big for him.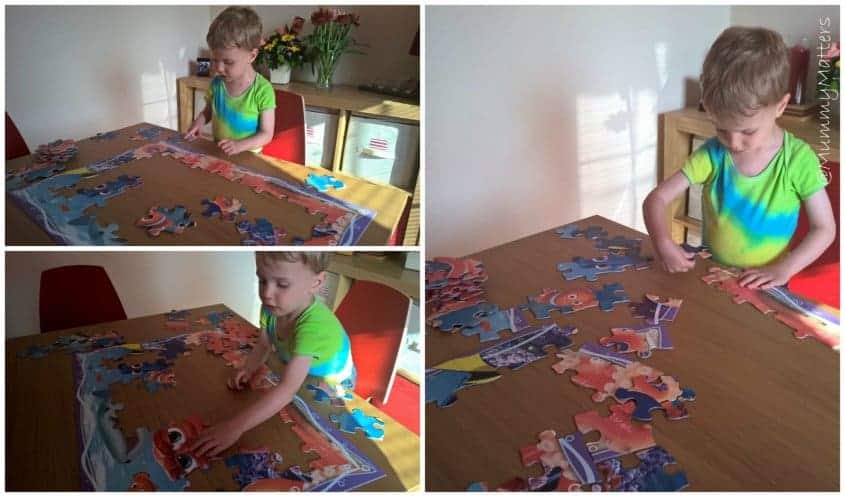 I helped Jelly Bean to create the outside frame of the puzzle first as he can sometimes find this a little bit tricky but once the frame was done he pretty much asked me to leave him alone. Every now and then he would say "can't find it Mummy" and I would help him to find a specific piece but each time he knew exactly what he was looking for.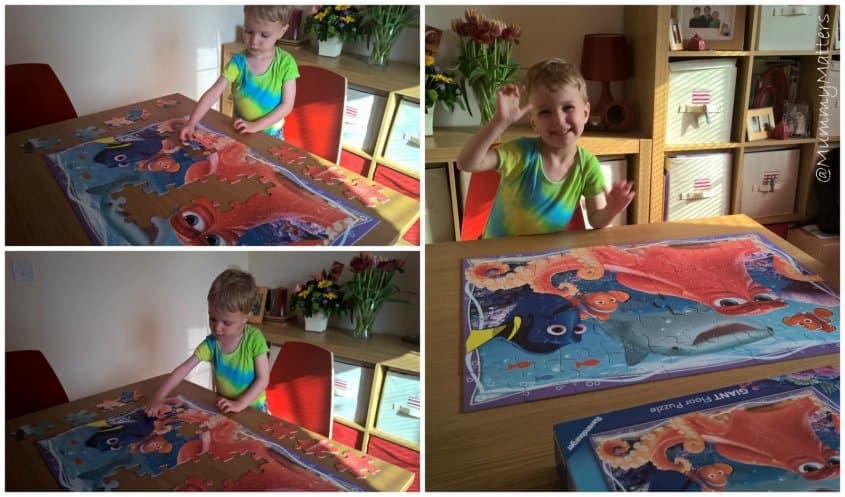 The puzzle pieces are all a great size for little fingers and are robust enough to stand up to their less-than-gentle ways. They are made from premium grade cardboard and finished with linen finish print to minimise glare on the puzzle image. It probably took Jelly Bean a little over half an hour to complete the Finding Dory Giant Floor Puzzle and I was super impressed. Since completing it the first time he has probably done this puzzle another 5-6 times and particularly likes to show off to family members how clever he can be.
DISCLAIMER: We received the puzzles for the purpose of this post. All words, images and opinions are my own and may not be copied without my permission. I have not been instructed what to write.