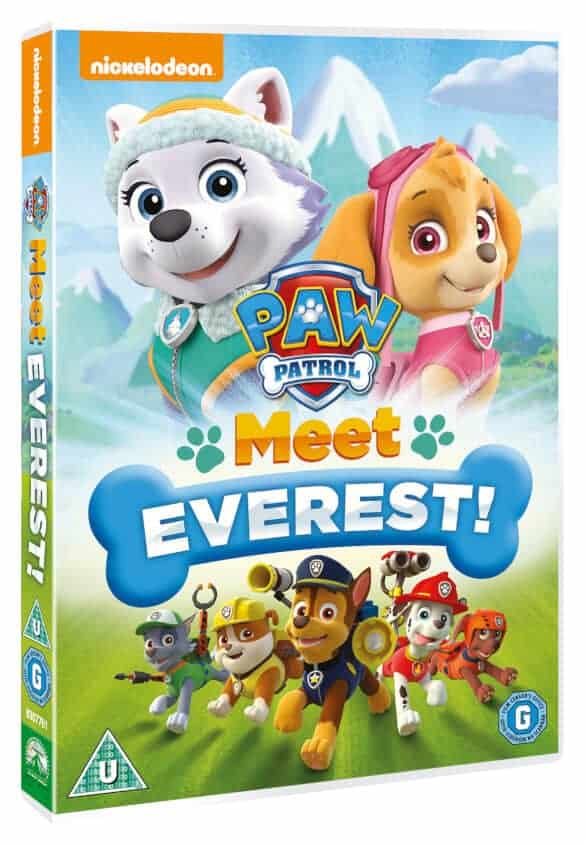 Paw Patrol Meet Everest DVD plus FREE Activity Sheet Download
With the Summer Holidays just days away, I've been busy planning lots of fun days out and trips away but in amongst all the excitement I'm also planning some 'down-time'. It's important to have some days where you just sit back and relax so we shall definitely be having a few DVD afternoons complete with popcorn and sweets. The recent addition to our screens has been Paw Patrol. Ever since I took the Beans to see Little Screen at the cinema they have all been massive Paw Patrol fans, Little Bean loves Everest and Skye, Beanie Boy loves Chase and Ryder and Jelly Bean loves Everest, Chase and Rubble.
Paw Patrol fans are in for a treat this Summer with the release of the new DVD Paw Patrol: Meet Everest! in the shops today!!! In this series, Everest joins the paw pack and just in time, as Jake ends up lost in the South Pole – Everest and the Paw Patrol gang to the rescue
It's power to the pup girls in these new to DVD Paw Patrol adventures! Everest is the latest pup to showcase her PAWsome skills as she joins Skye and the rest of the puppy crusaders. A loveable snowy mountain pup, Everest is great at clearing snow from the roads. Ice or snow, she's ready to go!

This spirited pre-school adventure series returns as a winter storm causes trouble all over Adventure Bay. Ryder, Rubble, and Everest are ready to tackle the new snow filled quests. Will they get there in time to clear all of the snow and ice? Will a stranded baby deer make it back to its family? You can count on Everest, Ryder and the pup patrol pack for more high-flying adventures!
Free Paw Patrol Activity Sheet download
There's no need for the fun to stop when you reach the end of the DVD, you can download this Activity Sheet and let the little ones loose with the crayons.