Lillie is a lucky girl, she gets invited to lots of sleepovers with her friends and Grandparents so she is getting quite adept at knowing what to pack. She has her bag packing down to a fine art and quite recently made a new addition to her sleepover kit in the form of a Secret Pillow.
From Tiny Acorns . . .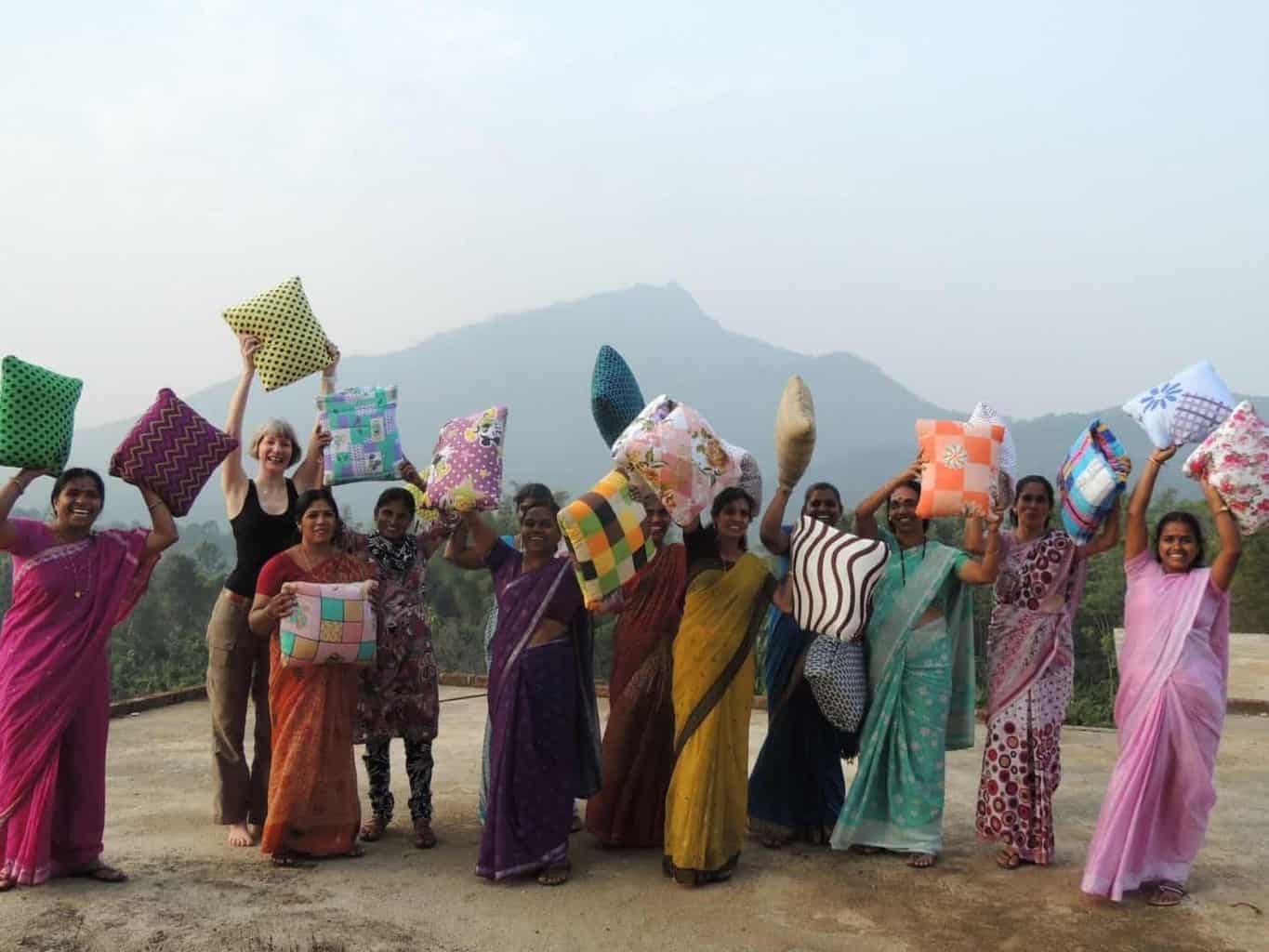 When Fritha was a child, she would snuggle under a Secret Pillow with her friends Anna, Alexa and Natasha. She made a promise to herself that when she became a Mother, her own children would also experience the comfort and happiness of those Secret Pillows. She began making them for friends as they got married or moved house, but her dream was bigger than that. She wanted to inspire other women to make (and earn a living from) Secret Pillows. Fritha networked with organisations in India and took her Secret Pillows workshop to Ammichlabs, a department of Amrita University in South India. Here, she visited a group of women from Meppadi, Wayada District in Kerala. That was the start of something amazing, the women went on to create an order of 50 Secret Pillows.
Since then, more than 3,000 women in India have been trained in basic job skills including sewing. These are women who were lacking in confidence, connections and the diversity to be able to sell outside of their local markets. Secret Pillows was the solution they needed.
What is a Secret Pillow?
At first sight, you would be forgiven for thinking that a Secret Pillow, is in fact, just a pretty pillow. You would be wrong because it is actually a cleverly concealed blanket.
"It originates from the world of quilting and is also known as a quillow"
Secret Pillows make a beautiful addition to any home, they come in an array of beautiful bright fabrics which will liven up any chair, sofa or bed whilst providing additional comfort and warmth when you need that extra hug.
Divine Mother Green Secret Pillow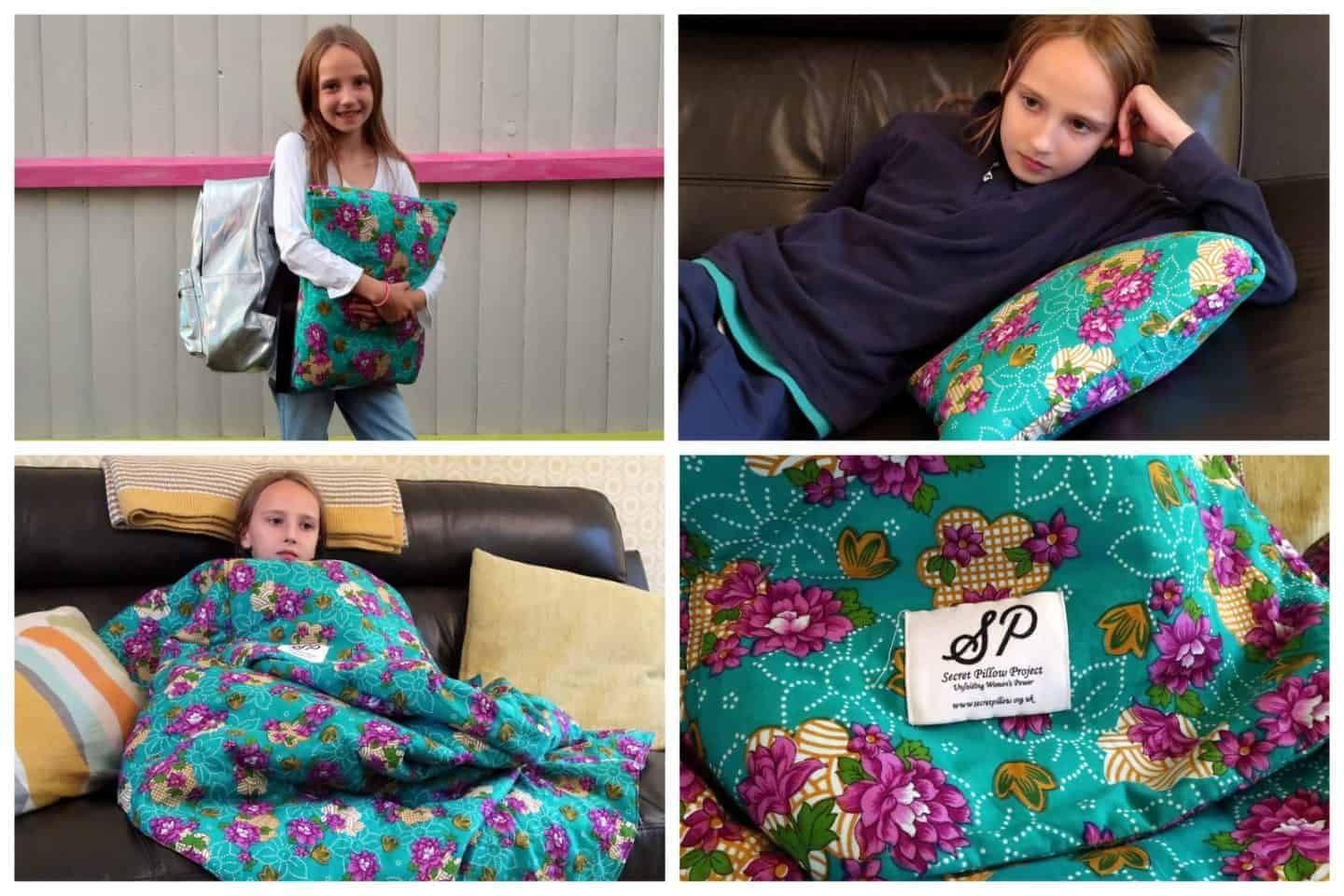 Lillie was offered the chance to choose her very own Secret Pillow to accompany her on sleepovers or just for snuggling up at home. After scouring their shop she finally settled on the Divine Mother Green Secret Pillow (RRP £40) and was over the moon when it arrived. So far her Secret Pillow has been on one sleepover with her and is her go-to comforter when she gets home from school. She loves nothing more than to snuggle under her it whilst watching the TV.
Versatile
I love the concept of the Secret Pillows and the quality which is second to none. The fabrics are so bright and cheerful and when opened up the quilts feel warm and soft. I think these would also make the perfect addition to our camping gear for next year and could definitely see people at festivals such as Cornbury being overjoyed with one. It can be a cushion for lounging around and then turn into a blanket for when the night cools down as the music plays.
More than just a pillow
What is so special about the Secret Pillows for me is where they come from and the difference that they make, let's remember they are crafted by the women of India facing social and economic challenges. The money they earn through making and selling the pillows pays for their children's food, education, medicine and other life essentials.
Latest posts by Sabina Green (see all)