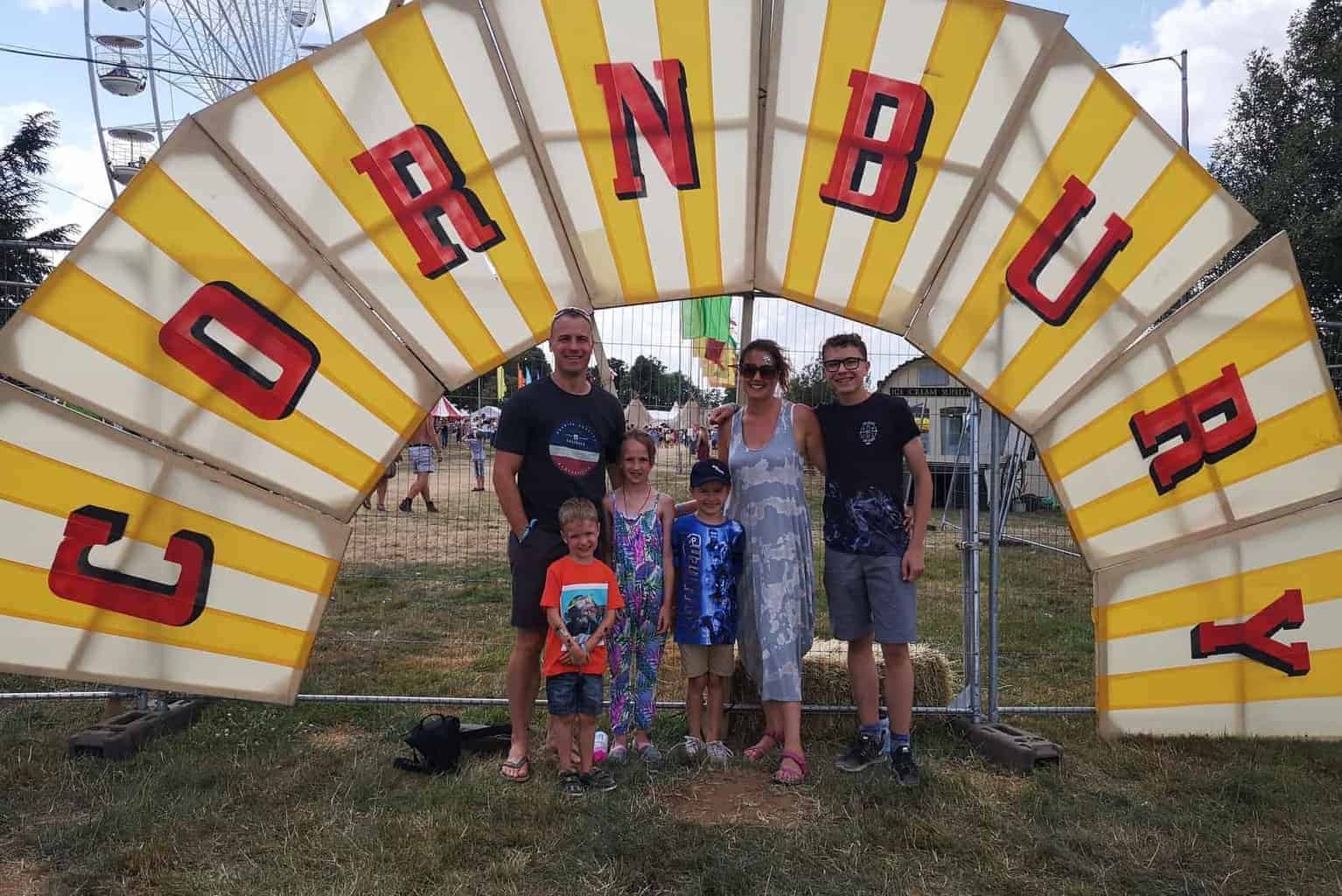 A Beginner's Guide to Cornbury Festival with kids
So this year we finally popped our Festival cherry with a family weekend at the Cornbury Festival near to Chipping Norton in Oxfordshire. From the outset, we were very excited to be going but I must admit we had a few nerves kicking in the closer the festival came.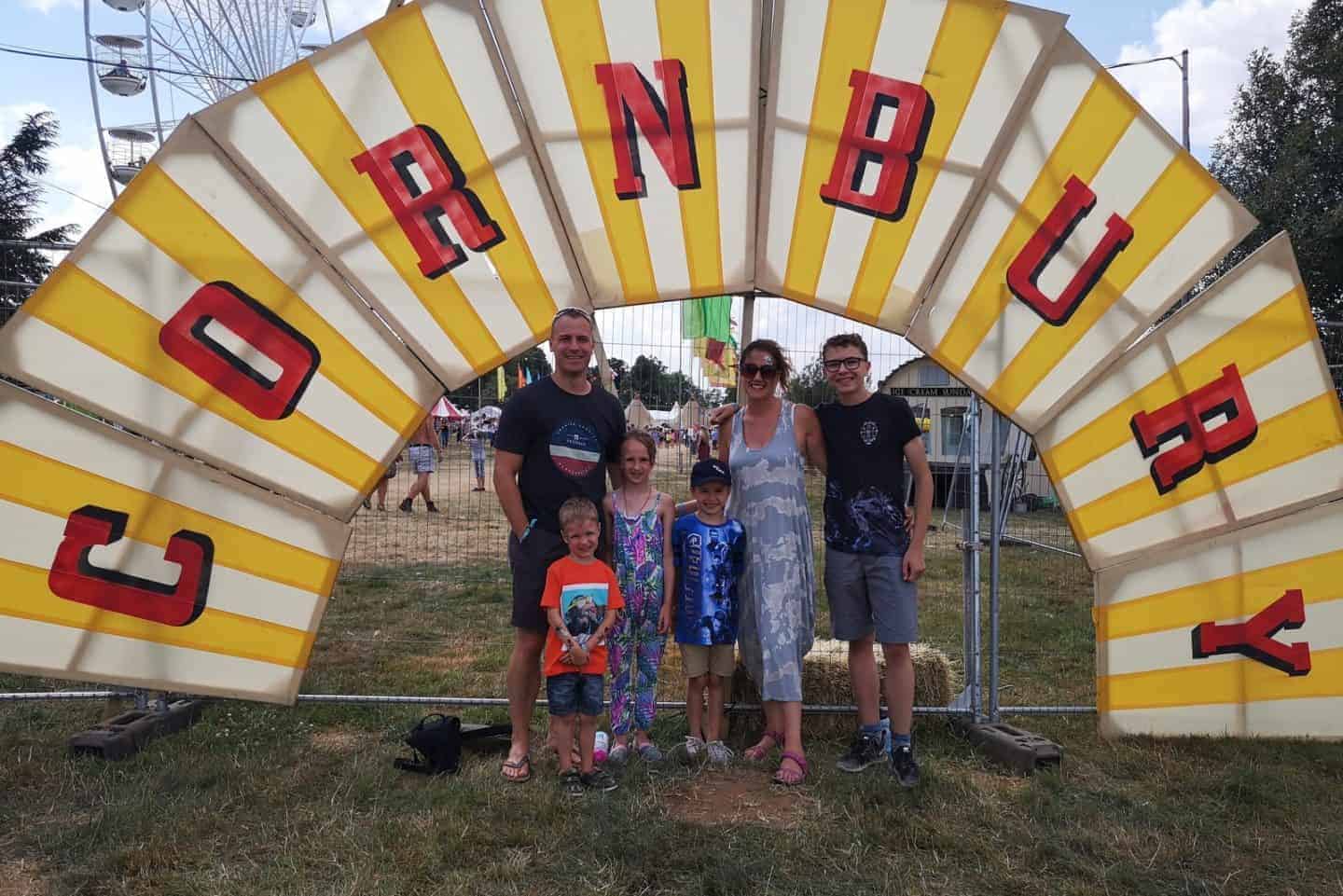 My main worries surrounded the children's safety and whether there would be decent shower facilities but I needn't have worried on either account as I shall explain below.
Quieter Camping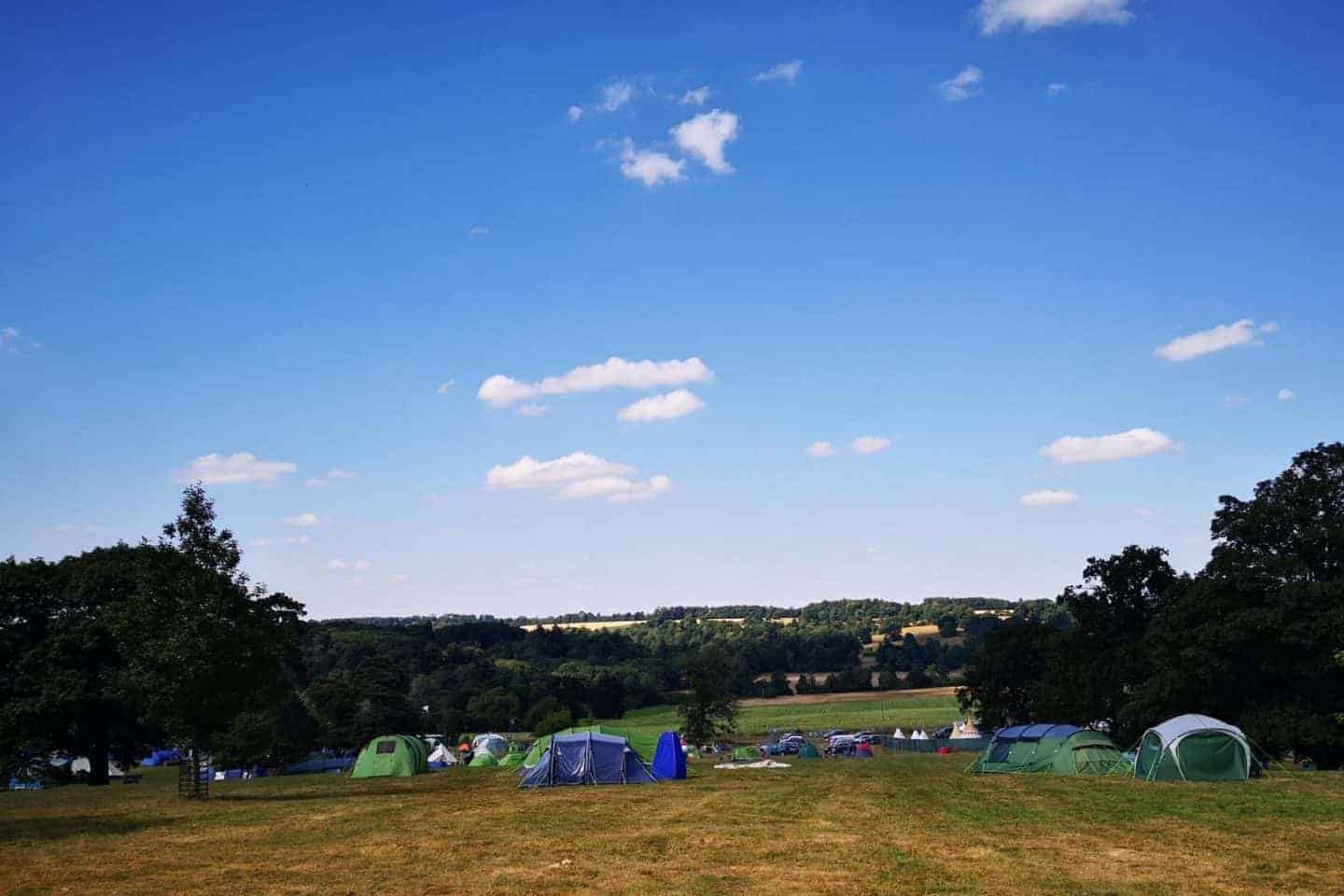 We decided to travel to the Cornbury Festival on Thursday evening after school so that we could set the tent up whilst it was a little cooler rather than the following morning when the day would be heating up. One thing I meant to buy before we went was a trolley for transporting all the camping gear from the car to the camping field but I forgot. You could hire fabric barrows but we decided to make the best use of our four children who accompanied Dad on each trip whilst I put the camp together. In hindsight, we wished we had taken a little longer to find our pitch rather than going for the first one we saw as we were very close to the main path up to the festival and we were also on a slope which meant we all kept sliding out of bed in the night!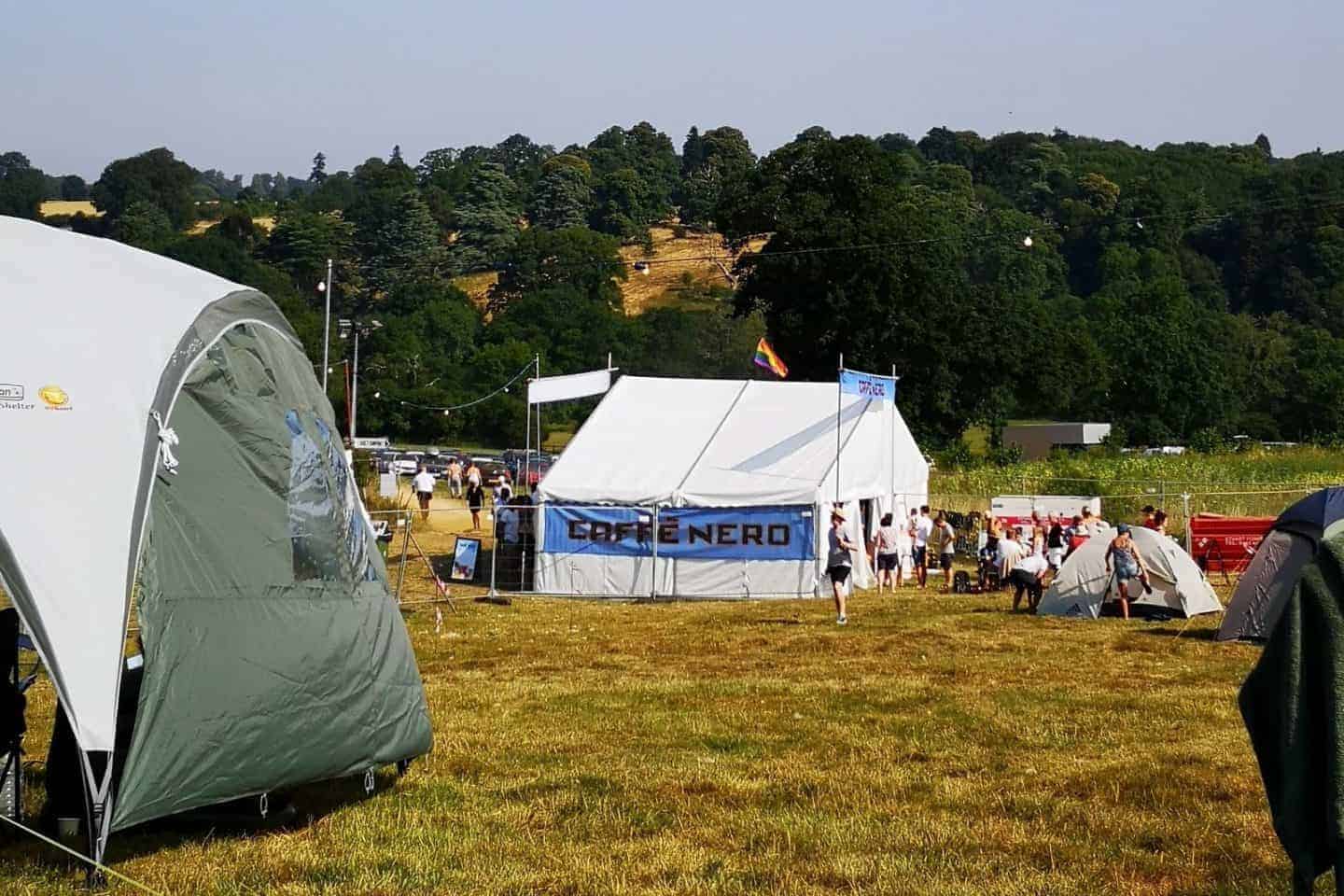 On the plus side, we were just a stone's throw from the Cafe Nero tent which was perfect for breakfast each morning, warm croissants and a hazelnut latte really hit the spot. We were also able to see the toilets and shower blocks from our tent without being so close we could hear the door's banging every few minutes. On Friday morning I took a walk further into the Quieter Camping field and was amazed to see just how big the area was and how much space people had. The downside of camping further into the field, of course, meant you had a long walk to carry all your camping gear . . . swings and roundabouts.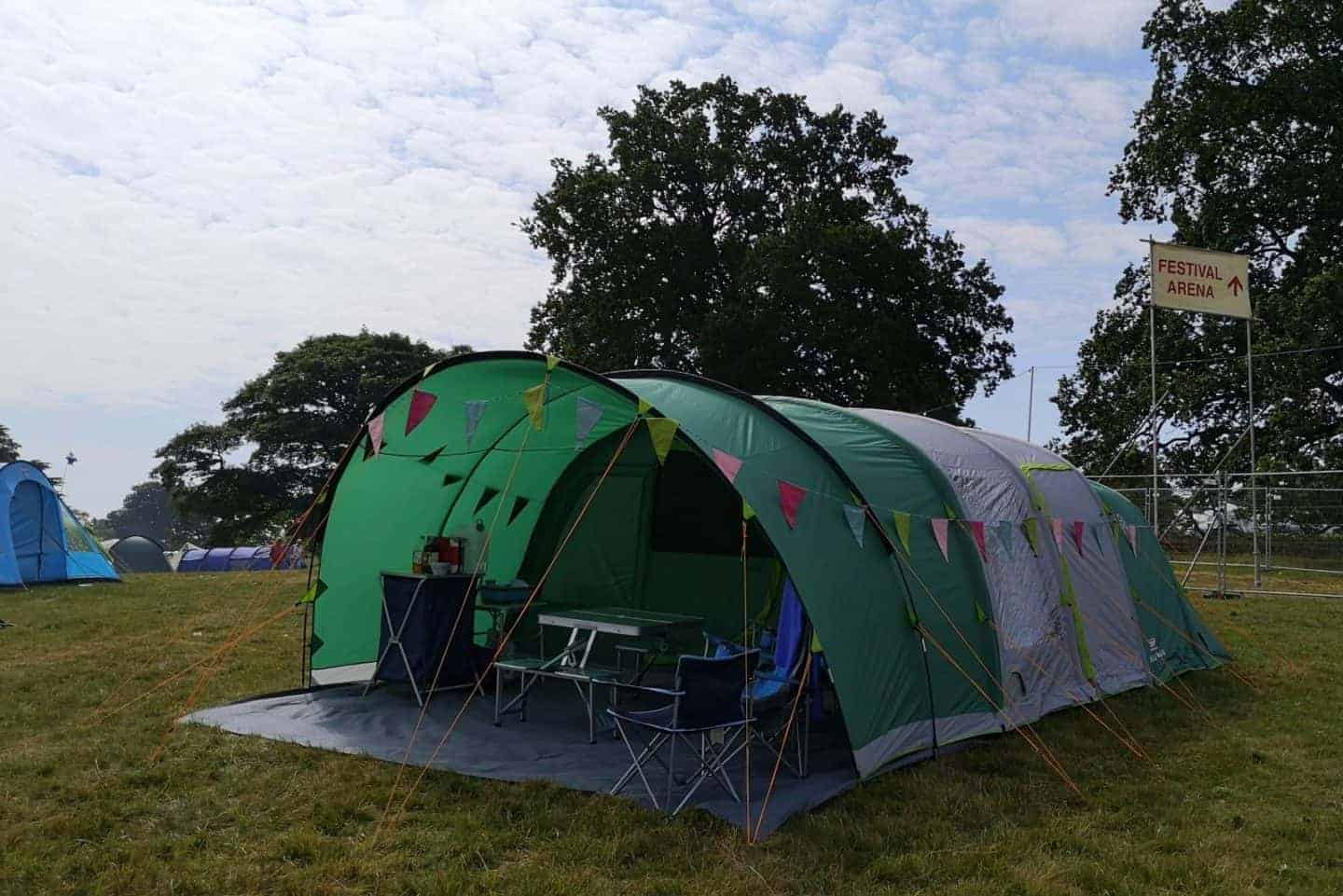 The Quieter Camping field was one field away from the back of the Main Stage so you could hear the music well but we expected that and actually it was quite nice. It didn't stop the children from falling to sleep because they were exhausted from their busy days and in the morning it was very quiet. Most mornings we didn't wake until after 9 am which is better than at home – we also put this down to our amazing Coleman Valdes 6XL FastPitch tent with its blackout bedrooms.
Awesome Atmosphere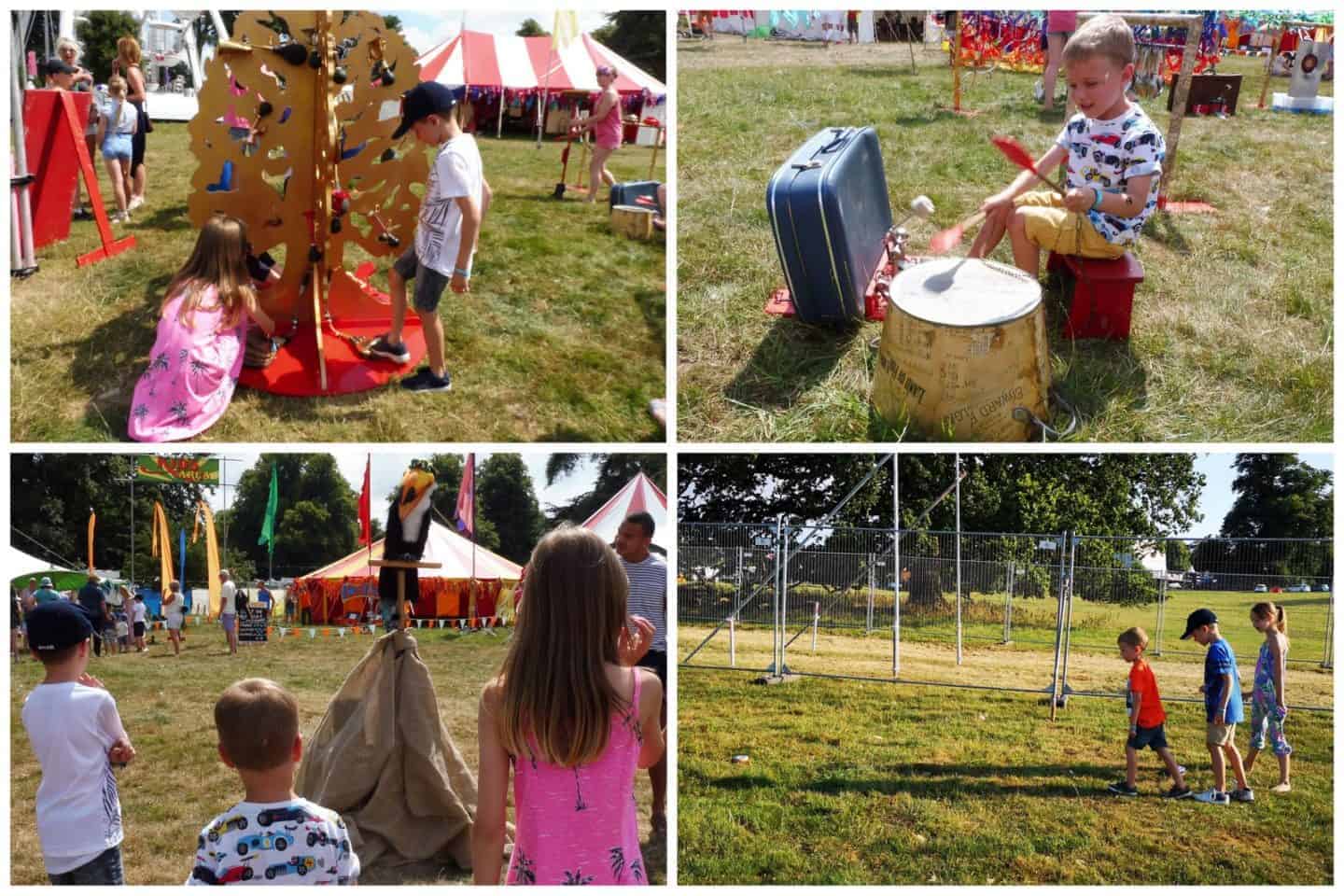 On Friday morning we had a quick trip into Chipping Norton to pick up a few supplies before getting stuck into the Cornbury Festival spirit. We decided to have a little wander around the whole site to get our bearings and see what took our fancy. The thing which struck us immediately though was how spacious it really was. My fear overtaking the children to a festival was that it would be so crowded I would lose them. This was not the case at all, the children were able to run, jump, cartwheel and explore without us being helicopter parents. This gave them the freedom to have fun at their pace and us the space to relax and have fun ourselves.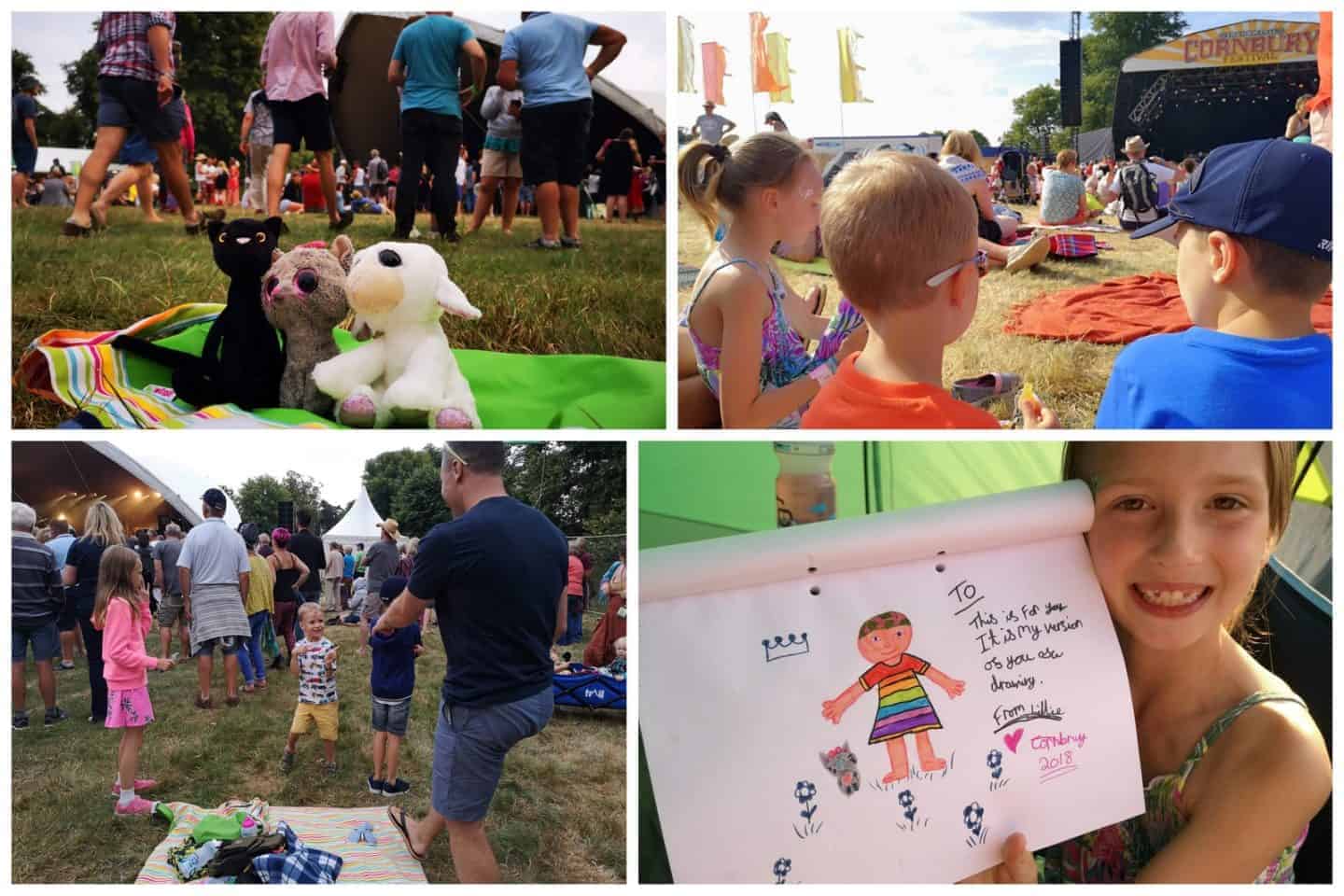 Everywhere you looked there were families having fun together, trying out new experiences, singing, dancing, crafting and making new friends. We met some really lovely people over the course of the weekend; people who we were camping close to, families with children or just festival-goers enjoying the same acts as us. It's a truly friendly atmosphere with smiles and laughter all around you.
Amazing Acts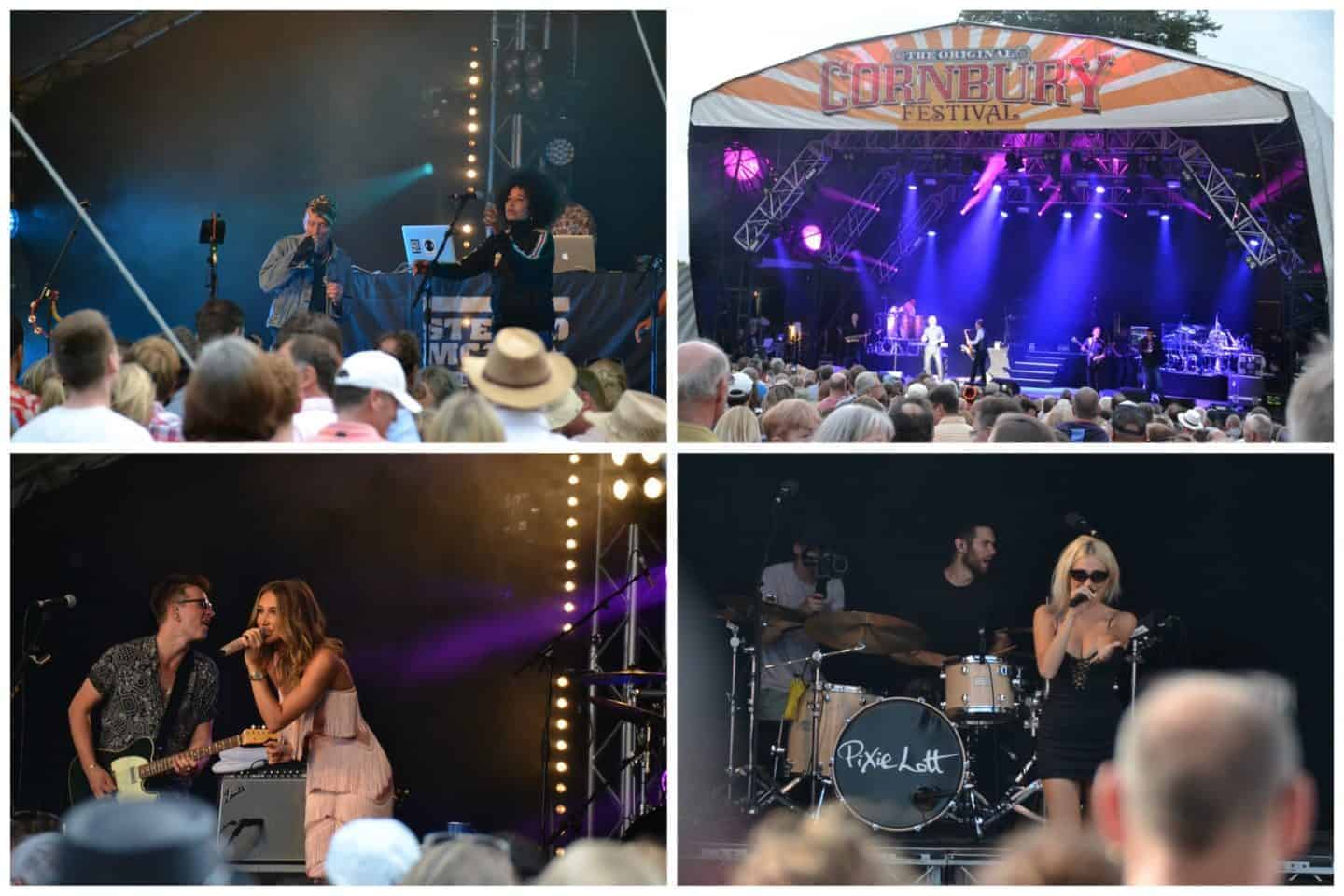 There were four main music stages with acts playing from 12noon each day through to around 11 pm at night and so much choice that you always had somewhere you wanted to be. The acts we chose to watch were; UB40, Alanis Morrisette, Pixie Lott, Megan McKenna, Stereo Mcs, Danny & The Champions of the World and Little Brother Eli. We also enjoyed listening to some of the main stage acts from our tent which made for really relaxed afternoons when we wanted to take some time out. At each of the Cornbury Festival stages, you never felt overcrowded and could always find space to stand (or sit) even as a family of six. When we watched UB40 on Friday night it all became too much for Albie who became very tired so we wrapped him up in our picnic blanket and he slept at our feet. I never once felt that he was at any risk of being hurt because we had so much space even at one of the main acts of the weekend.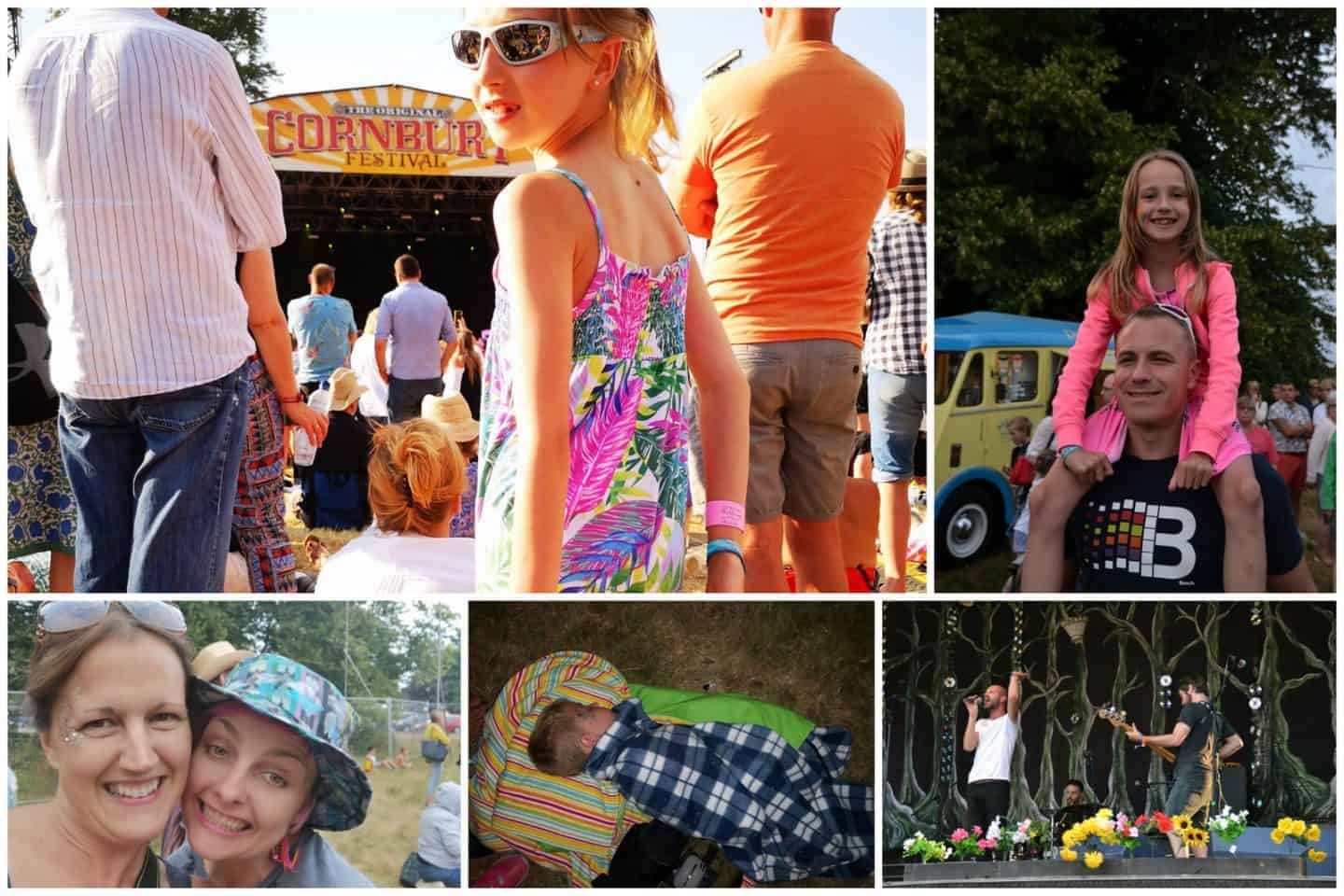 It's worth noting that the biggies for us were Megan McKenna whom we never expected to sound so good but we all loved her voice so much she is now on our Spotify playlist. We also enjoyed listening to Oxford-based band Little Brother Eli on the Riverside Festival stage and Stereo MCs provided the perfect blast from the past – especially as that was when I ran into an old school friend that I haven't seen in over 20 years!
Kids Area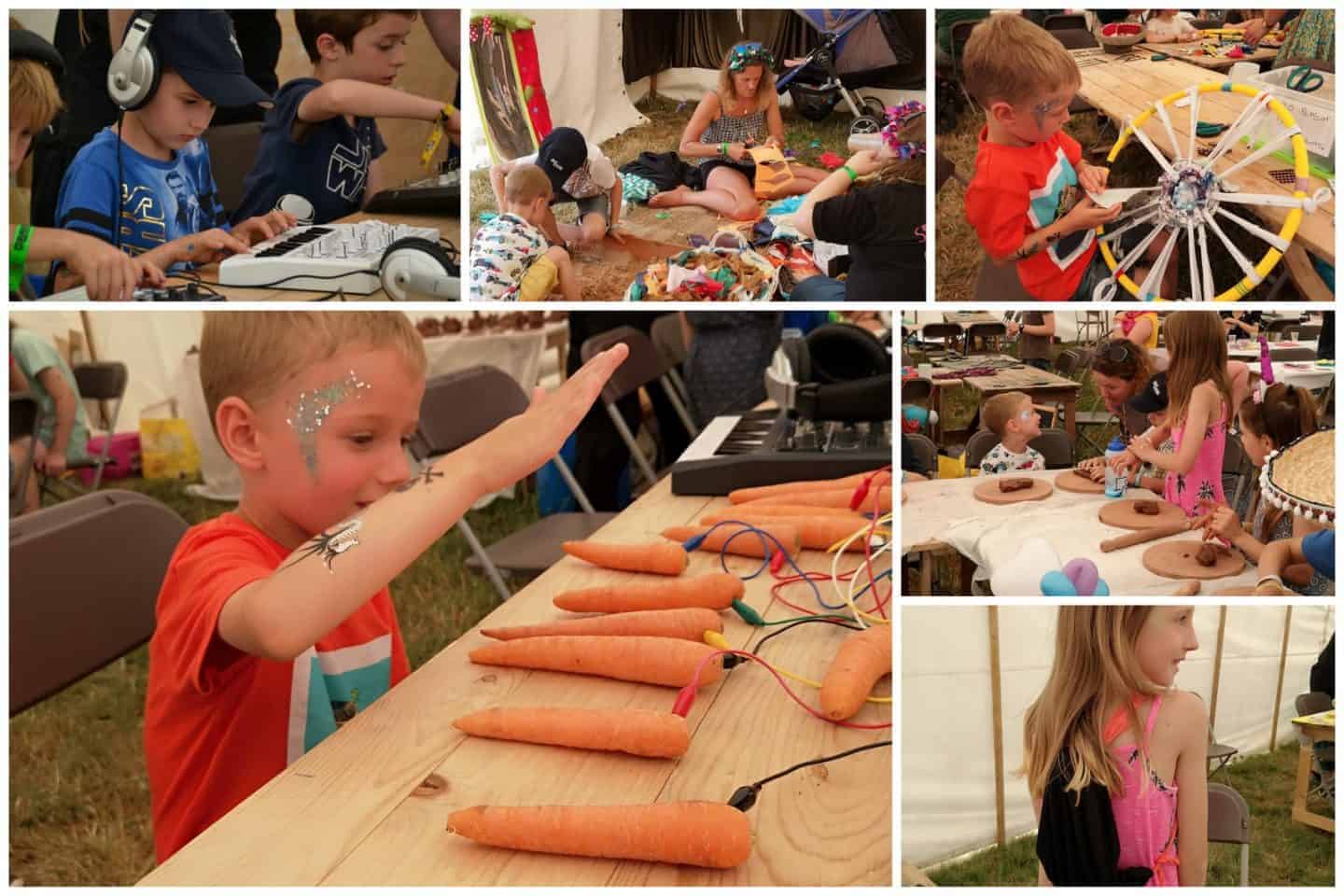 Between acts, we spent lots of time in the Kids Area where they constantly had a range of activities for them all to enjoy. There were lots of different crafts to try, most were free but some encountered a minimum charge for materials. Albie and Ollie loved the music area where they got to play the carrots (yes you read that right), played with soundboards and lighting and a Stylophone which reminded me I need to find mine.
Circus Skills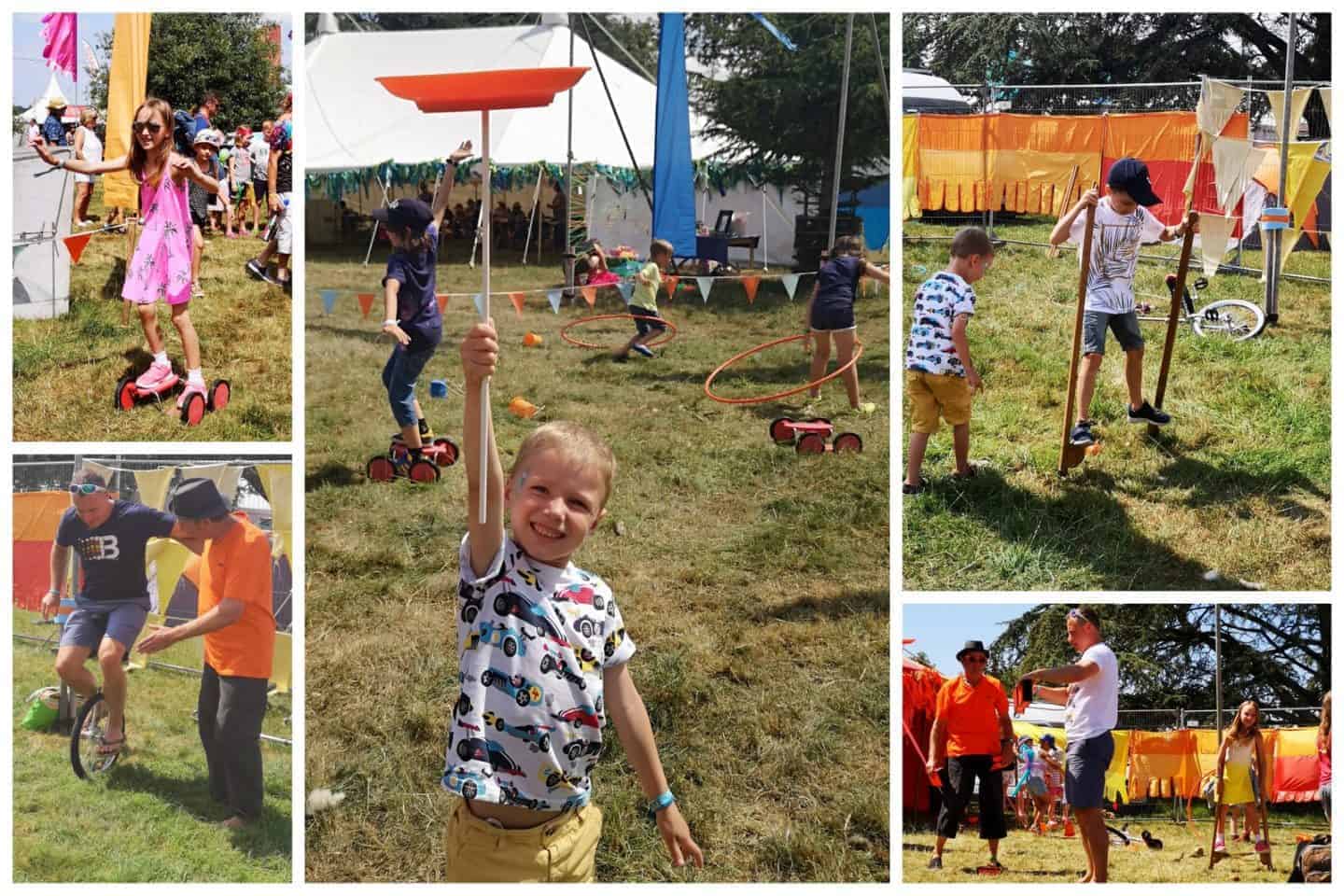 The Circus Skills tent was a big hit for us, Will was quite the pro with the diablo, Dad was determined he was going to master the unicycle and juggling, Albie became a bit of a whizz with the plate spinning whilst Lillie and Ollie were having lots of fun with the unicycles and the stilts. What was really nice here was how helpful and friendly the circus performers were at teaching their skills to others.
Teen Stuff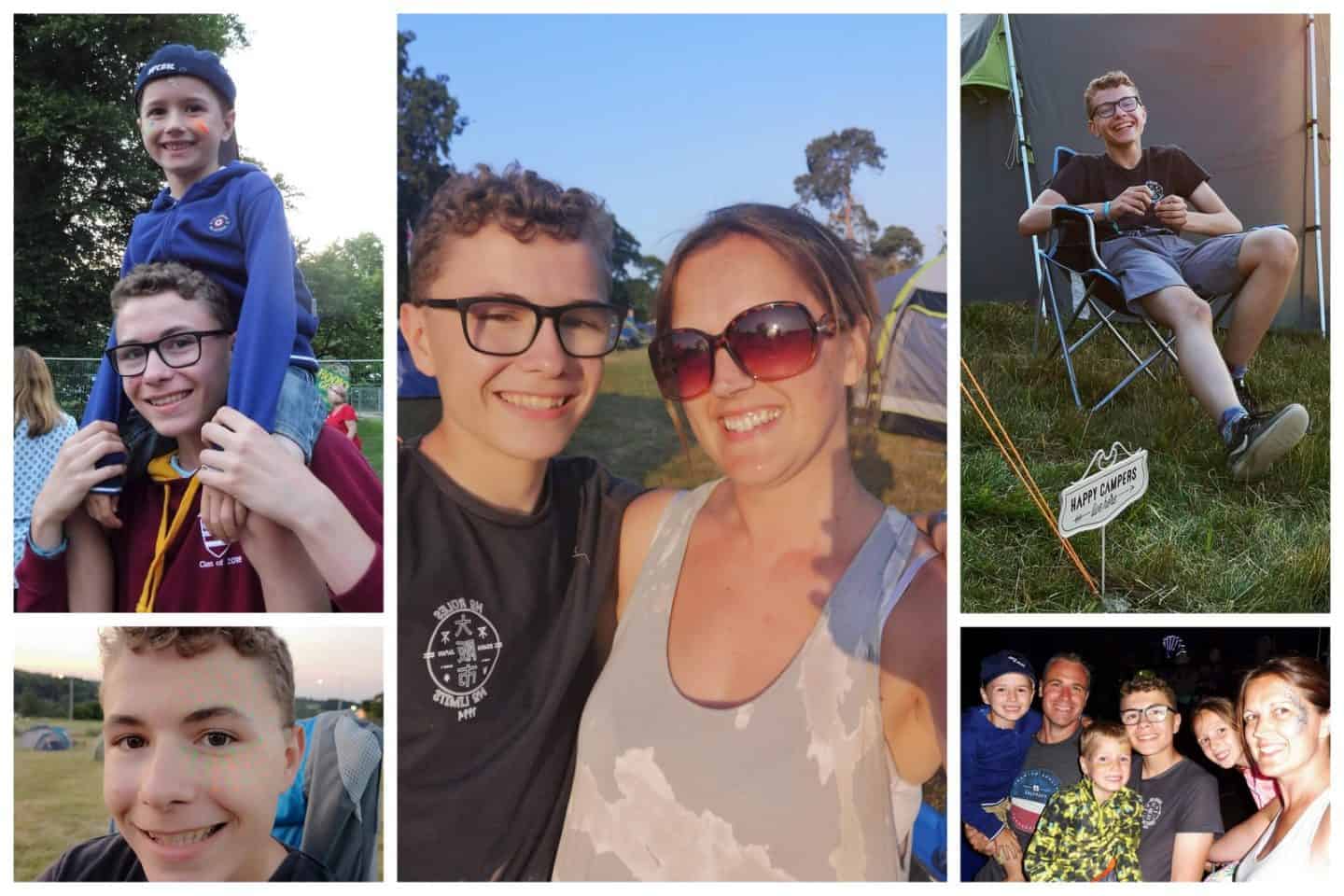 Now that Will is that bit older we gave him more freedom to explore the festival at his own pace so unfortunately, I don't have lots of photographs of him unless he was with us. The majority of the time Will could be found hanging out in the Comedy Tent watching the likes of James Acaster and Katie Brand. He did visit the Mayflower Tent a few times but said that it didn't seem very busy so he gave it a miss. He loved watching all the bands with us but also wasn't averse to going off and watching a different band if the ones we were watching were not his 'thing'.
Frank Water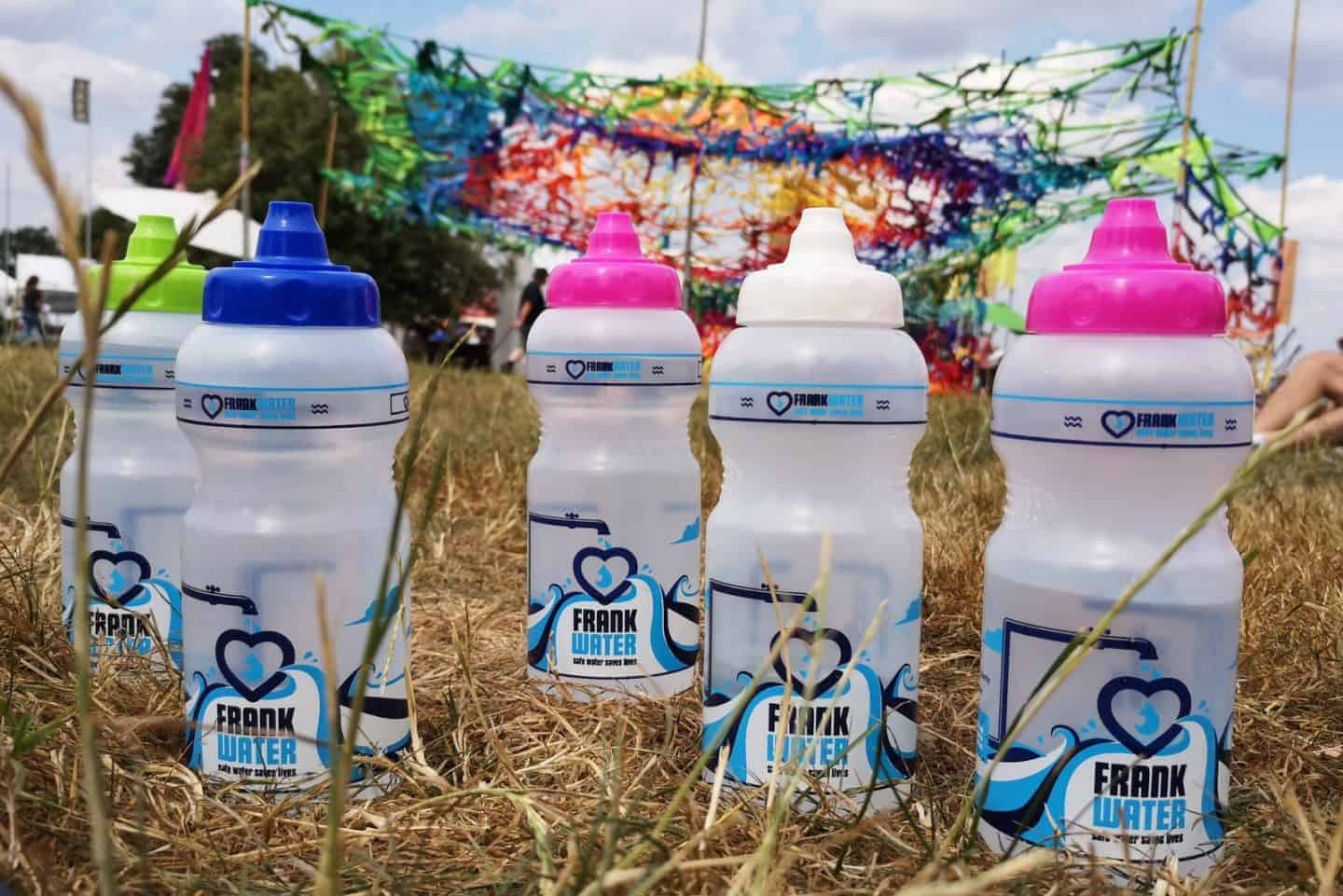 Before we went to Cornbury I had read a couple of reviews from previous Cornbury Festival-goers and had made a note to look out for Frank Water. We chose to buy their water bottles at £6 per bottle and then could get unlimited free refills of ice-cold/filtered water throughout the festival. If you already had your own bottle then you could pay £3.50 for a wristband and get unlimited refills. The great thing about this, aside from the fact you get cold filtered water and you aren't throwing away lots of plastic bottles, is that 100% of the profits from the sales go to the charity's life-changing work in India and Nepal. In these countries, FRANK work with local NGOs to provide marginalised communities with access to safe, clean drinking water & decent toilets.
We have now added our Frank Water Bottles to our camping kit permanently together with our water filter pitcher to carry on drinking cleaner, safer water for the whole family. I read up a lot on the benefits of using water filters last year in relation to Albie's tummy troubles and found all the water filters answers I needed to know that it was the right decision for our family.
Toilets/Showers
As I have mentioned previously in this post, this was one aspect that I was particularly nervous about. Not necessarily for myself but for the children, in particular Albie with his #problemswithpoop. There is the option to purchase a When Nature Calls pass to use the posh loos but I knew that these were not available in the Quieter Camping area and to be honest, I thought they were pretty expensive at £27.50 for adults and £15 for children, for six of us that wouldn't have been cheap 'spending of the penny' so to speak.
In Quieter Camping there was a large bank of portaloos which were cleaned at least twice a day from what I could tell. They did get a little stinky by the last day though. It was actually the showers which impressed me the most, we had 4-5 Posh Wash showers which included a curtained off shower area with a tap to turn it on and off (no pressing the button every two minutes) and a sink area with mirror and shelf. There were also 4 showers which we dubbed the 'Squaddie Wash' showers which were basic showers with a push button, a shelf and a couple of hooks but the water was hot and had good pressure. It did get VERY hot in there though which felt quite stifling and on the last day there appeared to be some sort of blockage as the cubicles actually filled up with water and it was rather like a mini-tsunami when you open the door.
Refreshments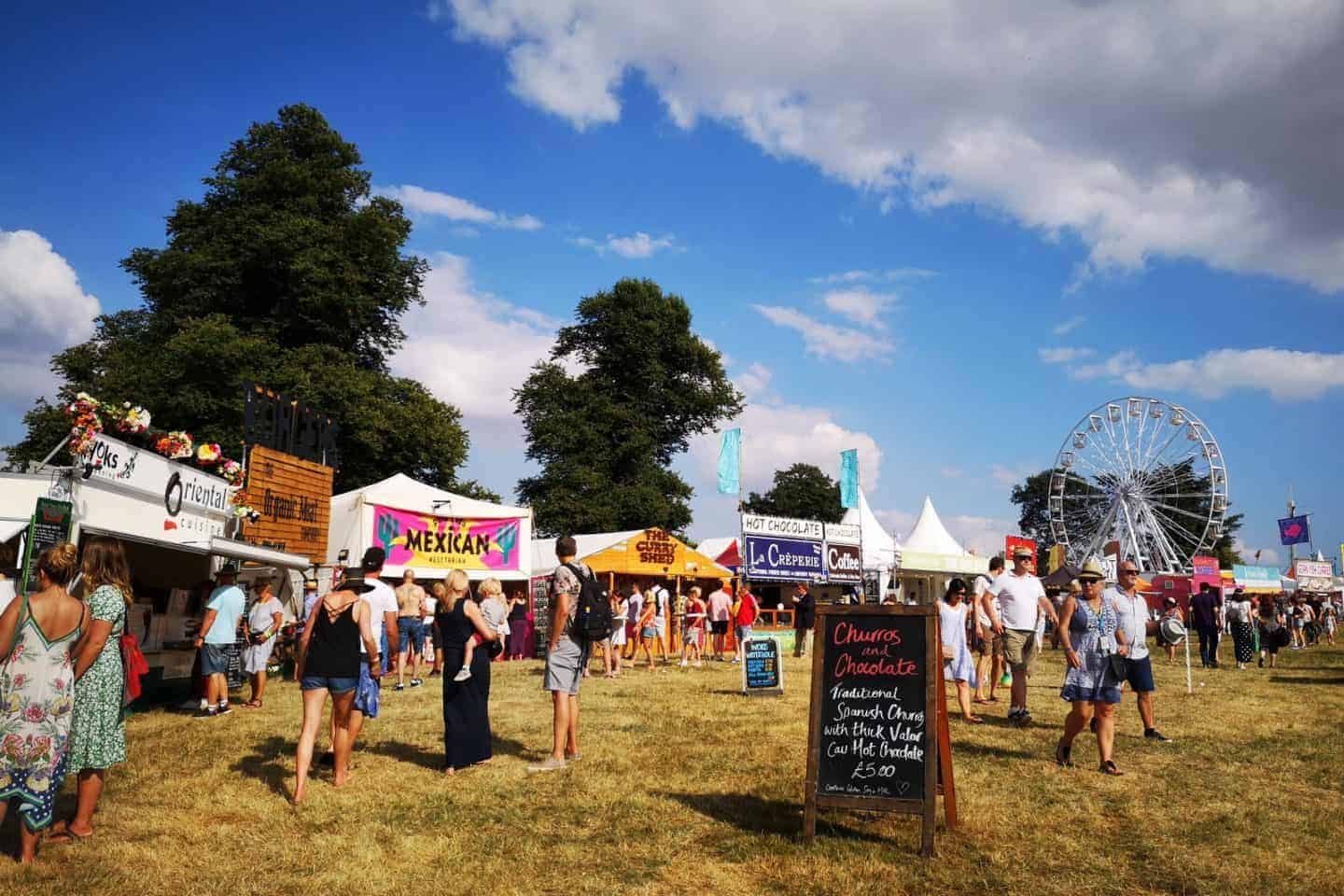 Any normal family would have easily found food on-site to satisfy their families. In the centre of the whole Festival, this year was the Hairy Bikers Festival Feast, an amazing double teepee style tent which was home to the pop-up wood-fired 'restaurant adventure' for the weekend and all around the outside of the main stage area were banks of food vans, bars and buses to satisfy most food cravings and pockets. Unfortunately for us, the children rarely like food unless it's from their favourite restaurants or cooked at home so we cooked back at the tent to save on stress.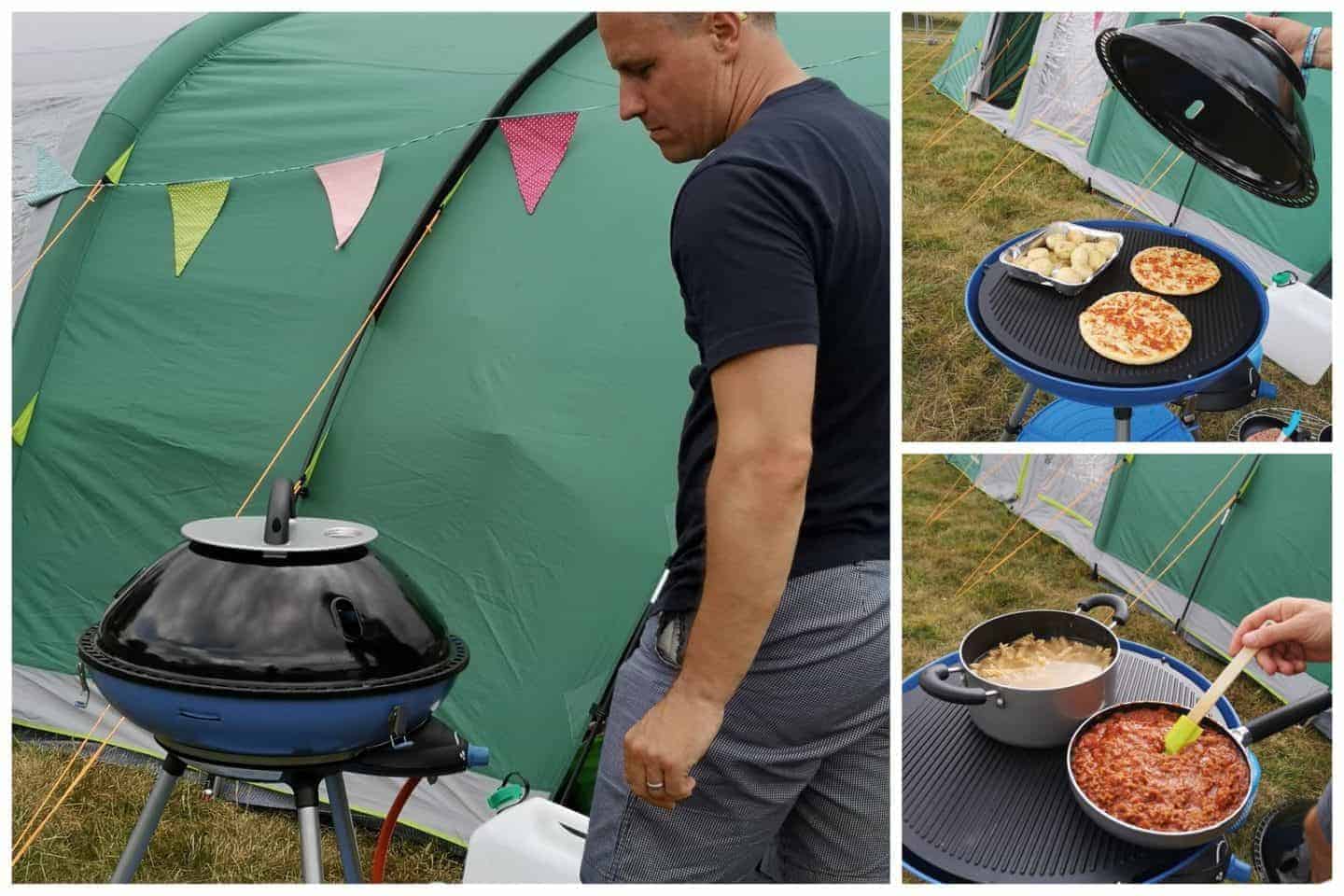 We took the Campingaz Party Grill 600 for the weekend (which I will tell you more about soon) but honestly, it was a godsend. Over the course of the weekend, we cooked spaghetti bolognese, pizzas, doughballs, bacon, pancakes, chicken nuggets and chips. Not exactly cordon bleu and I'm sure the Hairy Bikers would have been spitting feathers but it got us through the weekend and nobody starved.
Conclusion
We had an absolute blast at Cornbury Festival and are 100% festival converts now. The children loved every aspect of it from the crafting and circus fun, to the little sideshows like the Flim Flam Flea circus and the Fairground. We spent time together as a whole family and we divided up according to people's activity choices. Ollie loved watching the magician and flitting between them and the crafting tent, whilst Lillie was firmly based in crafting and circus skills. We got to see a variety of bands, new and old which broadened our horizons and gave us fun glimpses into our past. We relaxed at the tent listening to the music playing in the background and just generally bonded as a family. The kids loved it when we finally convinced Daddy to wear the UV face paints like the rest of us and we had lots of fun with glitter too. If you haven't been before and are considering it then we would wholly recommend you give it a go, I promise you'll love it. It's the perfect family-friendly festival and testament to that was the number of families we spoke to who have been going there for years. It's a 10/10 from us!