Schleich Dinosaurs – they're alive and in my garden!!!
From a very young age, Curly has loved Dinosaurs and he knows the names of pretty much any dinosaur that ever walked (or flew over) the Earth. He will happily sit and watch his way through all of the Jurassic Park films, he just can't get enough.
For those of you who don't already know it, Jurassic Park is set to be re-released in a 3D format to get you that bit closer to those prehistoric creatures who roamed the earth some 225 million years ago.
Schleich Dinosaurs include the most iconic of those creatures and released them into the wild (more commonly known as shops and the internet) ready for your young (or slightly older) dinosaur fan to discover.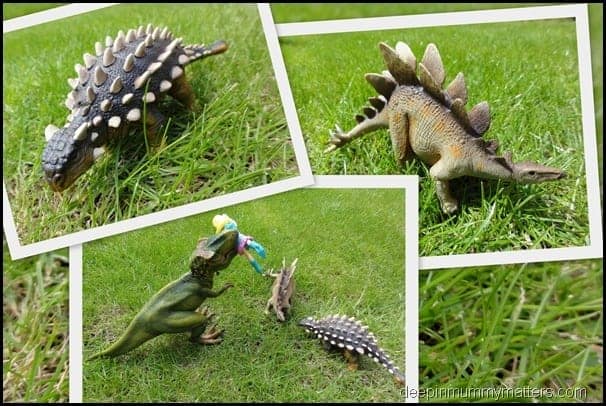 These popular toys are anatomically correct and incredibly life-like, enabling your children to recreate their own pre-historic world in their own back garden by choosing from a whole pack of hand-painted dinosaurs.
The new stars of the carnivorous collection include the very dangerous Allosaurus, the towering Gigantosaurus and of course what collection would be complete without the most famous dinosaur of them all Tyrannosaurus Rex!! The King of Dinosaurs T-Rex also features a moveable jaw (kindly demonstrated here by a rather unwilling model).
If your dinosaur hunter prefers the friendlier bunch then fear not, there are plenty of those to choose from too including Brachiosaurus who despite being a herbivore munching on plants still weighed in at 80 tonnes, approximately 16 elephants. He must have eaten a lot of plants!
Find your nearest stockist here.