When I started my blog a couple of years ago I had no idea where it would take me and the opportunities that it would give to me and my family. Yesterday was one such day where I really had to appreciate how lucky I was. As a result of my blog I have received lots of lovely products to review for me and my family, we've had days out, trips away, we have borrowed cars and we have got to meet some lovely people. Sometimes I think its easy to take it all for granted but I don't, I am thankful for every single thing we have received or experienced as a result of my blog.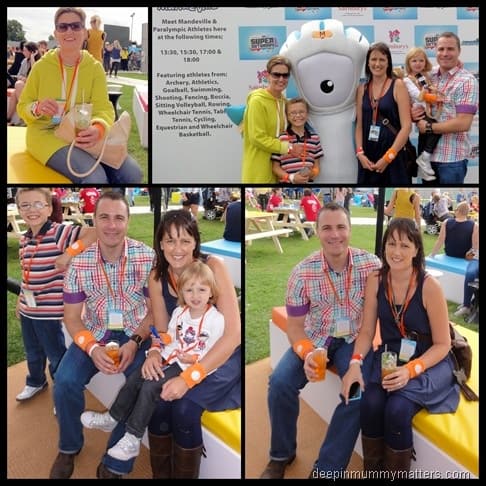 On Saturday we were VIP guests at Sainsbury's Super Saturday which was a family friendly event held on Clapham Common to mark one year to go until the start of the 2012 London Paralympic Games. As the name would suggest the day was hosted by Sainsburys and we were lucky enough to be invited by Sainsburys and P&G (Proud Sponsors of Mums).
When we arrived we were given an array of different coloured wristbands to wear to give us access to different areas as well as an orange or white wristband to choose our 'team' for the day, we chose orange! As a 'VIP' guest we were entitled to free food all day (which was delicious) and 5 frees drinks each, access to the nicest portaloos I have ever seen and the chance to sit next to a host of celebrities whilst we ate our lunch. I shared a table with Natasha Hamilton (ex-Atomic Kitten) with her very dishy fella and beautiful boys, it was totally surreal yet nice to see just how 'normal' they are. When I first met Natasha she was stood in the middle of the main arena with her pushchair and her boys, no nannies, no protection, just a Mum enjoying a family day out. She was really friendly and more than happy to pose for a photograph.
On the main stage we were treated to some great performances, we arrived too late to see Belinda Carlisle who was performing for the P&G guests only (I couldn't find a parking space!) and unfortunately we missed the champagne reception too but that's me all over since becoming a Mum – always late! In the P&G tent you could receive special pampering treats such as getting your hair and make-up done, having a mini-massage or get your photograph taken. Unfortunately my children weren't patient enough for me to wait in line for my turn so I didn't get the opportunity for a pampering this time but I was more worried about keeping them entertained.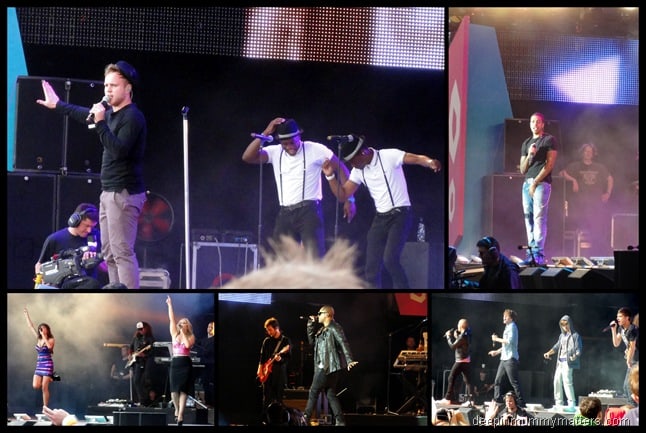 Performances throughout the day were from Nicola Roberts, Olly Murs, The Wanted, Dappy, Will Young, Sugababes, The Saturdays, Pixie Lott, Chipmunk and Taio Cruz. I was most excited about seeing Olly Murs and he didn't disappoint, I just wish I could have met him in the VIP area later but I don't think he showed his face. The Wanted, Chipmunk and Taio Cruz were probably the other biggies for me, Little Bean lovely Olly and Chipmunk best whereas for Curly it was Olly, Sugababes and The Saturdays though I think it was more about how they looked than anything!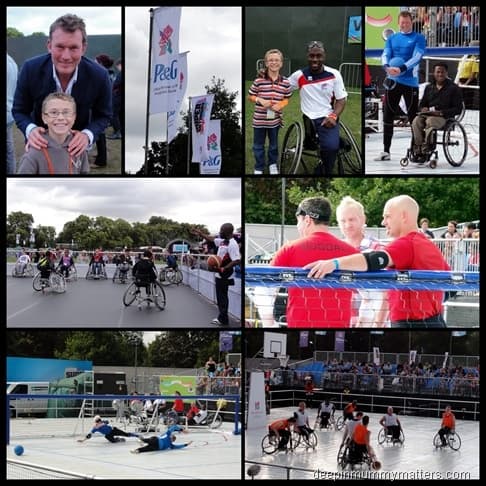 In the main sports arena we were able to watch snippets of some of the sports which will take place at the London 2012 Paralympics. We began by watching Goalball and later enjoyed wheelchair tennis and wheelchair basketball. The Paralympians are so inspiring to watch, they haven't let anything stand in their way and I feel proud to be British with such great sports men and women representing us. There are 20 sports taking place in the London 2012 Paralympics, if you want to buy tickets you only have until 6pm on 26th September 2011 to register. Probably the hardest decision will be WHICH sport to choose from and if that is the case you can buy a Day Pass.
As you can see from my photographs I was lucky enough to have my photographs taken with lots of celebrities, some were so friendly and happy to chat whilst others were disappointingly self-absorbed. Michelle Heaton was a genuinely lovely lady who is very excited at the prospect of being a Mummy early next year. Dominic Littlewood, Larry Lamb and Iwan Thomas were really nice guys who gave Curly lots of attention and signed his autograph book for him. Jessica Wright from TOWIE was a lovely and very beautiful lady, I felt very 'unglamorous' next to her, she was joined by the famour Nanny Pat but she was deep in conversation so I didn't like to interrupt her for a photo.
The biggest disappointment for me was Alex Reid, after watching him on Celebrity Big Brother I really thought he seemed like a genuinely lovely guy but seeing him yesterday he showed no interest in talking to fans, looked over their heads all the time and just smiled when the camera pointed in his direction. Very disappointing. Cheryl Fergison (Heather Trott in Eastenders) had me in stitches when she said she thought I had "done an Angelina Jolie" when lots of children tried to have their photograph taken with us after I pointed out that none of them were actually mine.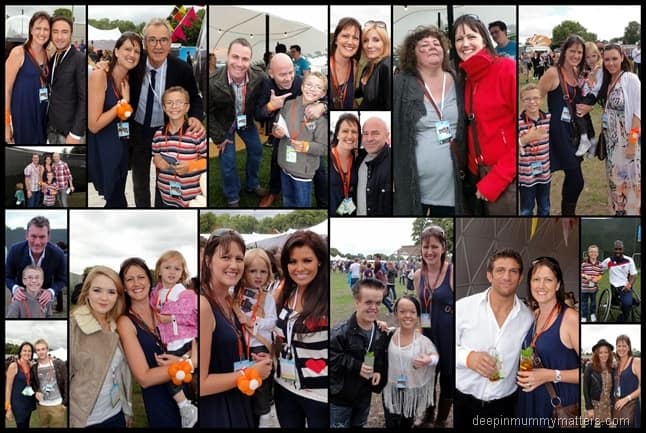 Before the day I couldn't decide whether to take Little Bean or not, it was a long day (11am to 9pm) but I was sure that she would love it and I wasn't wrong. For the children there were bouncy castles, slides, zorbing, crafts and of course they could try their hand at any of the sports themselves if they want to.
Little Bean and Curly were at their happiest dancing to the bands on the stage. Just one look at them swaying their arms and jigging around (right up to the end!) I knew we had made the right decision. They were a little tired today but we had a relaxing day to make up for it . . .