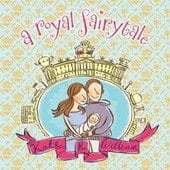 Royal Baby gifts fit for a Prince or Princess!!
It's exciting isn't it? Waiting for a new baby to arrive!! At the moment we are all waiting with baited breath for the safe arrival of the Royal Baby. Will it be a boy or girl?
I still remember seeing the news when Prince Charles and Lady Diana stepped out onto the hospital steps carrying their new baby, Prince William and now here we are waiting to see those pictures of Prince William himself with Kate and their newborn. It will be a moment in history so how will you commemorate it? Perhaps you are expecting a new baby yourself, I'm excited by the fact that my very own little Jelly Bean will celebrate the same birth year as the Royal baby.
There are some super-cute baby products around and this is a round-up of my favourites . . .
A Royal Fairytale by Joanna Rivard and Adam Larkum – Egmont UK
A fun-filled story of a real-life prince, his beautiful princess, a huge ring and a royal performance – and, of course . . . . a bouncing baby!
This is a really pretty book which has been beautifully illustrated by Adam Larkum who has illustrated over 40 books and animated books for the iPad, games for the iPhone and worked for the V&A and the Science Museum in London.
£5.99 from Sainsbury's Entertainment
Changing Guard at Buckingham Palace – A collection of poems from A.A. Milne and E.H. Shepherd
You can read to your baby even when they are in the womb. Listening to your voice helps with the bonding process so how about a lovely collection of poems in this rather regal looking book. This collection of poems has been specially selected for their portrayal of British lifestyle, customs and countryside all in a special gift edition book.
£12.99 from Waterstones
Relieving Trio Giftset from Organic Monkey
To compliment Kate's love of British brands with a modern style, Organic Monkey's must-have baby skin pampering treats will help new parents to seamlessly adapt to parenthood (whilst also generously donating a Fairtrade premium towards helping vulnerable women, children and the elderly to rise from poverty).
Made in England, Organic Monkey's premium, 100% natural baby skincare is the perfect fit for every prince and princess. Made with the finest essential and food-grade oils to ensure a pure, natural and safe collection, every product effectively pampers, soothes, nourishes and protects baby's delicate skin.
Lucky silver penny from The Royal Mint
When I got married I wore a silver penny in my shoe (it's the part of the rhyme 'something old, something new' that people forget about. When Little Bean and Beanie Boy were born I bought special silver coins for them too.
Commemorating a baby's birth by crossing the palm of the child with silver has long been a tradition handed down through families. A very special event for all, the lucky silver penny is the perfect way to maintain this custom today. Elegantly presented, the silver penny has long been a symbol of good luck and prosperity, it is a gift that the baby, as well as his or her parents, will delight in for years to come.
Dated 2013, the lucky penny marks the year of the new baby's birth and is beautifully crafted making it possible to cherish for ever. The special coin comes complete with either a striking pink or blue pouch for safe keeping and a pink or blue card to allow for a personalised message to be left.
Snoozeshade Deluxe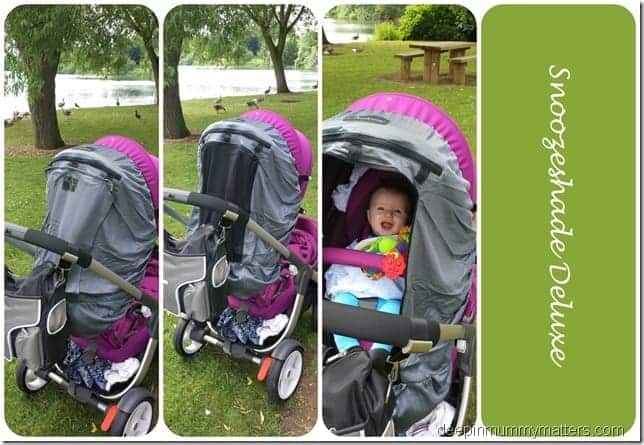 When you're a new parent, those waking hours with your new baby are precious – you marvel at their perfection and wonder how on earth you could have been a part of making someone so unbelievably cute. Getting them to sleep when at home can be quite straightforward but when you're out and about it's not so easy – unless of course you happen to have a Snoozeshade!! And what could be better than a Snoozeshade, fit for your Prince or Princess? A Snoozeshade Deluxe of course!!! I have long been a fan of Snoozeshade and their latest product is a winner with me too. It's just like the Snoozeshade only better (if that's possible?!). The Snoozeshade Deluxe has a shimmering grey outer which works with the dark inner layer to block 97.5% of UV rays. The sneak-a-peek zip at the front is slightly longer than on previous models and the sleeping baby emblem on the front lets everyone know that baby is sleeping and should not be disturbed. The straps are secured with high quality poppers instead of velcro, the front outer flap rolls down and can be popped away into a pocket to keep tidy and the inner flap can also be opened fully so that you don't need to keep taking the Snoozeshade on and off. I have used the Snoozeshade on various buggies/prams and pushchairs so far and I love it – especially when Jelly Bean falls asleep just 5 minutes after the Snoozeshade has been secured into place!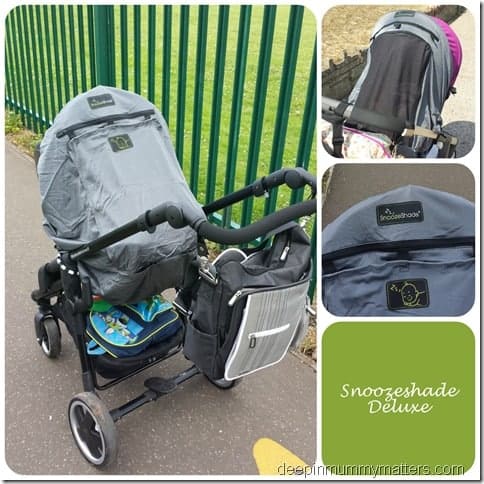 The Pampers Baby Blanket
Pampers have come up with a great idea to celebrate the birth of the Royal Baby, they would like everyone to share their good wishes and messages of support via Twitter #babyblanket and on the Pampers website. Pampers are hoping to create the biggest baby blanket ever knitted with love and happiness for the Royal Baby. Since this is Pampers, their kindness doesn't stop there, for every wish shared Pampers will donate a Pampers nappy to Home-Start UK, the family support charity. Between 18th and 21st July Pampers will be knitting live at Westfield Shopping Centre before unveiling the finish blanket at a location which is yet to be confirmed later this month. Once the blanket is complete it will be donated in framed sections to various children's hospitals throughout the UK.
Send your wishes now!!