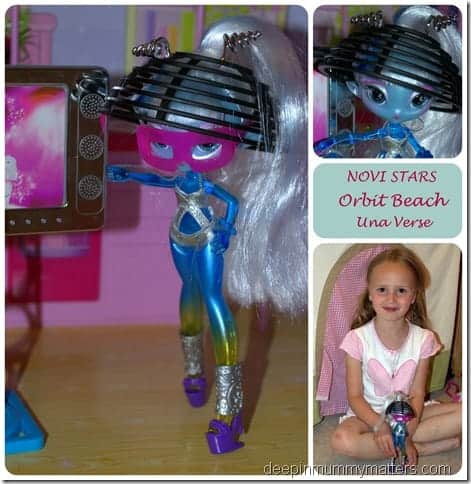 Novi Stars Orbit Beach
When I was a little girl the choice of dolls came down to Barbie or Sindy (I was more of a Sindy girl because she had dark hair like me) but these days . . . little girls don't know how lucky they are, there are soooo many to choose from.  The latest offerings are the kooky alien laydeez called Novi Stars who are quite literally 'out of this world'.  I love their huge eyes and tiny bodies, they are just like the aliens from the movies only more glamorous.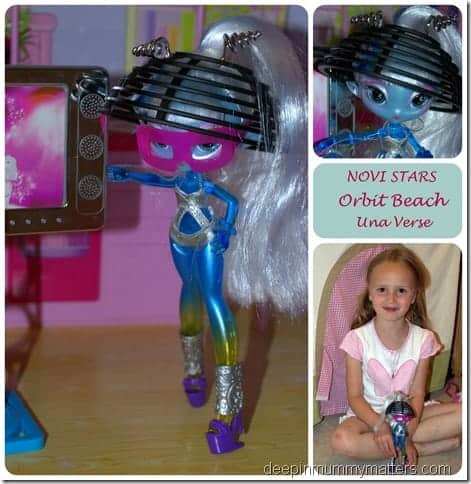 When Little Bean came home with a glowing school report last week we saw it as the perfect opportunity to let her have the Novi Star Una Verse which we had been sent for review.  She was over the moon with her new doll and thought the laundry basket style hat was really cool.  There are lots of different dolls to choose from with quirky names like Ari Roma, Mae Tallick and Alie Lectric.
Little Bean really loves her new doll, especially her tiny swim suit, huge 'sunnies' and rather odd sun hat!  I have a feeling we will be buying more Novi Stars in the not-too-distant future!
From a parents point of view however I was a little disappointed that after just one day Una was missing an arm, when I examined the doll more carefully the arms come out really easily (and pops back in again just as easily) and so does the hair (especially when Little Bean wants to brush it so often with the brush that comes with the doll) so be warned if you have younger children around.
DISCLAIMER: We were sent Novi Stars Una Verse for the purpose of this post.  All words, opinions and images are my own and may not be copied without my permission.  I have not been instructed what to write.