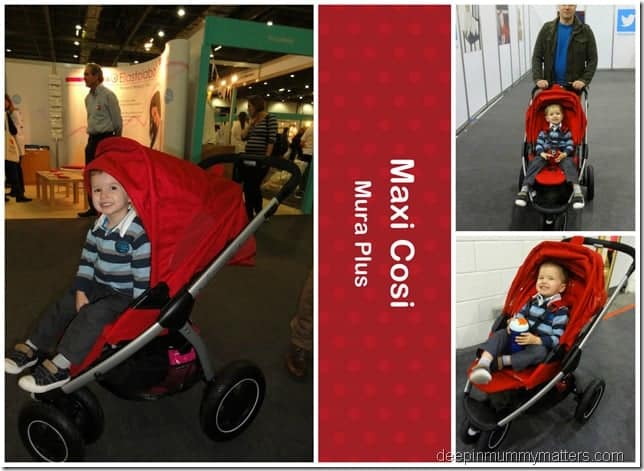 Review: Maxi Cosi Mura Plus Pushchair
Have I ever told you how much I love blogging? Well, I do, it has opened up so many doors for me and my family and given us opportunities we wouldn't otherwise have had the privilege of. One of those opportunities is the chance to test out all kinds of products that fit in with family life such as nursery items and pushchairs. Before I became a Mummy I used to look at Mum's pushing their babies down the street in all kinds of pushchairs and prams, I loved them even then and couldn't wait until the day that I could have one of my own (with the said baby too of course!!!).
Maxi Cosi Mura Plus at The Baby Show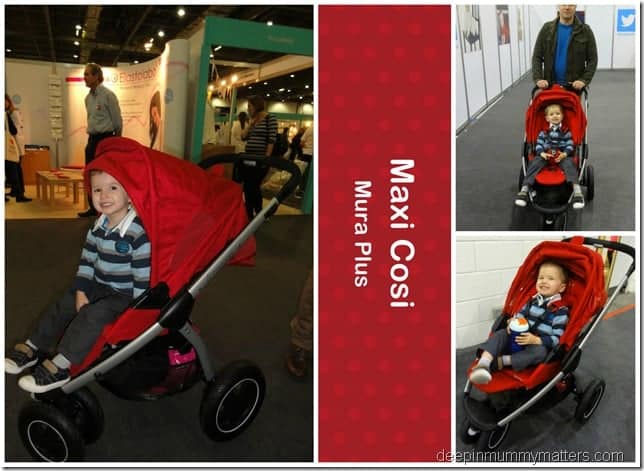 I'm fully aware of how lucky I am to test out so many different pushchairs and I love that I can pick and choose the pushchair from my collection to best suit my needs (or mood). The latest pushchair that I have been trying out is the Maxi Cosi Mura Plus.
I was given the Mura Plus in Intense Red and first impressions were how striking it looked. Intense is definitely the word, I loved it! It's the perfect unisex colour without having to resort to safe black, it stands out in a crowd and looks cool, stylish!
Features
If you're on the market for a new pushchair, these are the features that I think stand out for the Mura Plus;
Puncture-free tyres – I have had pushchairs with pneumatic tyres in the past and I hated them! I spent far too much time on walks having to pump up flat tyres so puncture-free is a blessing.
Large seat area – if you're looking for a pushchair that's going to last you need one with a large seat. My tiddlers aren't big by any stretch of the imagination but they have outgrown pushchairs in the past. This seat will last you until your little one wants to walk everywhere.
Parent and Forward facing seat – having a parent facing pushchair is a must as far as I'm concerned. Having eye-to-eye contact with your little one is so important to build strong bonds with your baby and to reassure them.
Multi-recline seat with lie-flat option – this means it is suitable to use from birth. It's also a must for days out as you can pretty much guarantee that at some point during the day you will want your little one to sleep or be faced with an over-tired, stressed out baby. Lying flat is the best position for a healthy back for your growing baby.
Good size hood – far too many pushchairs have inadequate hoods, this cannot be said of the Mura Plus which even boasts an extra pull out section for extra shade.
Large shopping basket – perfect for a trip to the supermarket or to stow away all those gorgeous new baby clothes you're going to need!
Easy, lightweight steering – having a toddler as well as a baby I often have to push the pushchair one-handed. The Mura Plus passed this test with flying colours, it was a breeze to push.
Height adjustable handlebar – unless you are likely to be the only person to ever push your pushchair you will need one with a height-adjustable handlebar so that everyone is comfortable when 'driving' it and has good control over the pushchair.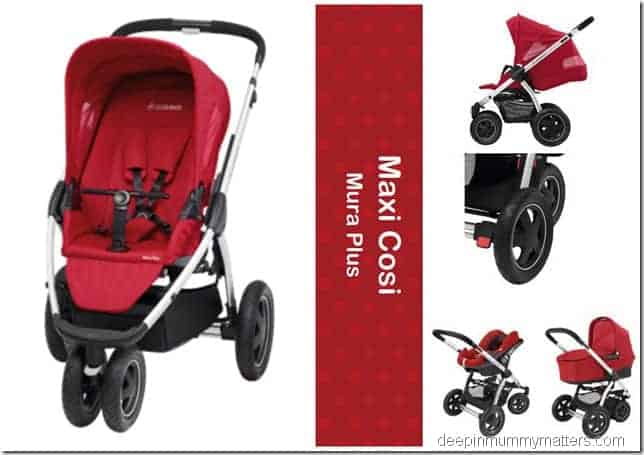 Folding
When it came to folding the pushchair I must admit I struggled initially but once I had been shown how to do it, it was easy to do and I wondered why I couldn't do it in the first place. It doesn't fold as small as many of the pushchairs that I have used in the past, it's shorter but fatter so I guess it depends on the storage space you have. One feature I really like about it when folded is how it stands by itself.
The Mura Plus can be combined with most Maxi Cosi infant carriers and Maxi Cosi foldable carrycot.
RRP £350.00
DISCLAIMER: I was given a Maxi Cosi Mura Plus to keep for the purpose of this post. All words and opinions are my own, I was not instructed what to write. You may not copy my work without my permission.