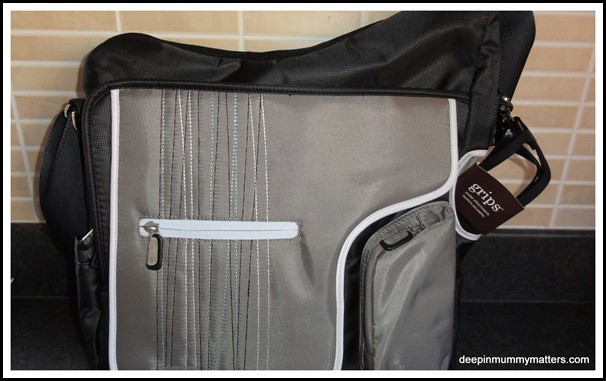 Review: JJ Cole System 180 Changing Bag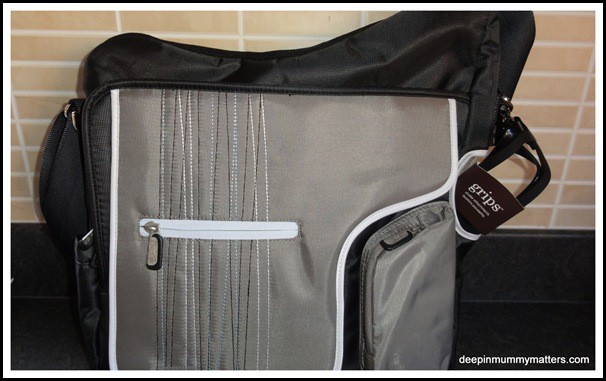 A girl can never have too many bags right? Of course I'm right! When you become a Mummy there is even more excuse for a new bag because you need one that will be big enough to store everything and the kitchen sink that you need to take with you for that new, rather small little person in your life. I do often wonder though, how can someone so small come with so much baggage?
If, like me, you have a Hubby that wants to get stuck in and take their turns with things then occasionally you need to have a bag that they are happy to carry too and sadly my Hubby just won't go for the pretty flowery ones (I thought he was in touch with his feminine side) and so we like to have a spare changing bag reserved especially for those extra special 'Daddy days". Recently we have discovered a bag which we both love and that is the JJ Cole System 180 bag in Black Stitch. Granted this is much smaller than my beloved Pink Lining bag but smaller doesn't necessarily mean that I have had to slum it, oh no, this bag oozes style and looks very swish on the back of my new Britax B-Agile 3. I particularly liked the fact that it came with it's own bag clips which means I can attach it safely to my pushchair without having to just sling the longer carry handle across the bars.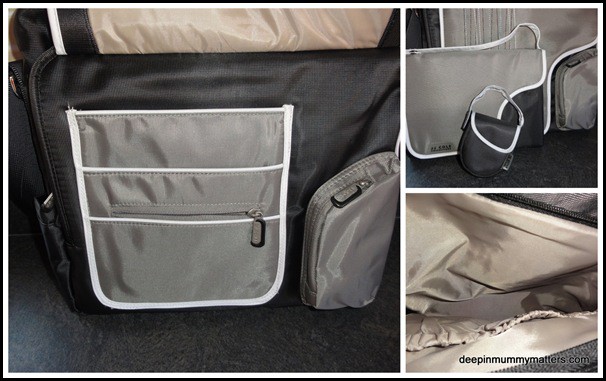 The System 180 have thought of everything and kept it neat, the whole bag is made from a wipe clean fabric which is a must where children are involved (messy little monkeys that they are!!). The front flap is magnetic so its great for a quick in and out without having to mess with buckles or buttons. Taking a look underneath the flap there is a sip closing coin pocket plus slots for cards, travel tickets, photographs or anything else relatively flat which takes your fancy. There is a small zipped pouch which is perfect for storing your mobile phone or a small digital camera.
I love the matching changing mat and soother case which can be stored either in the bag itself or attached to the pushchair separately with the hanging straps. There are deep pockets on either end which are perfect for storing bottles or drinks, a back pouch where the changing mat can be stored or indeed nappies and wipes plus a further central large pocket with pouches around the inside to keep yourself organised with a change of clothing, snacks, muslins, bibs, nappies, toys and anything else you feel the need to carry with you. And for the musically minded there is a small pouch on the back with a little slot to pass the cable to your headphones through, great for if you are trying to help baby drift off to sleep or for you to jib along to as you walk. Finally, there is a large padded shoulder strap to keep you comfortable when you need to carry the bag yourself.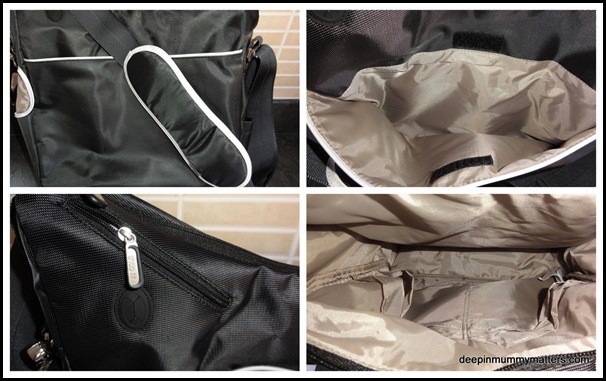 At prices around £40 this changing bag won't break the bank but it will keep you organised when out and about. Available from Amazon and all good major retailers.
DISCLAIMER: We were sent the JJ Cole System 180 Changing Bag free of charge for the purpose of this post. All thoughts, opinions and images are my own and may not be copied without my permission.