Since Little Bean has started school I feel like I haven't (probably because I haven't) spent any time with her on my own at all and I hate that. As another baby is due to join our family in the next couple of months I am feeling the pressure to make sure I spend as much time with my tiddlers now whilst I've got the opportunity. As a Mummy I think it is important to spend quality time alone with each child so that they are each made to feel special and today it was Little Bean's turn.
The Craft Shop that I work at part-time runs a Charity Dabble Day every March and October where anyone can go along and pay to have a 'dabble' at new crafts (or crafts they already enjoy) and all of the money raised is given to the Sue Ryder Charity at Thorpe Hall in Peterborough.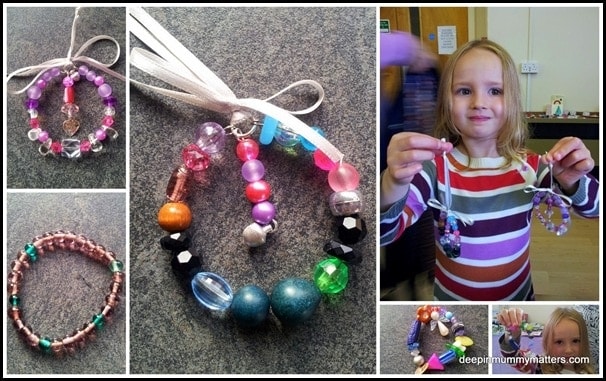 Last year I took Curly and Little Bean along and they both thoroughly enjoyed it. Since we didn't have Curly this weekend I decided to take the chance for a bit of girlie time for Little Bean and Mummy and a very good time we had. She was very excited to be spending time alone with me and told me time and time again, "it's nice without the boys isn't it Mummy". As much as she loves her brothers, she does miss the days when it was just the two of us at home.
I really wanted Little Bean to feel like this time was about 'her' so I let her make all the decisions on what we would be making. We began with the pretty beaded mini-wreaths to go on the Christmas tree. Since Little Bean has her own pink Christmas tree in her bedroom we both decided to make a mini-wreath for her tree. Next we made these cute elasticated bracelets which are so easy to make with children and they get to be as creative as they like. This is also a great way of talking about colours and how each colour can have so many variations. Little Bean loved doing this and was very proud of her work.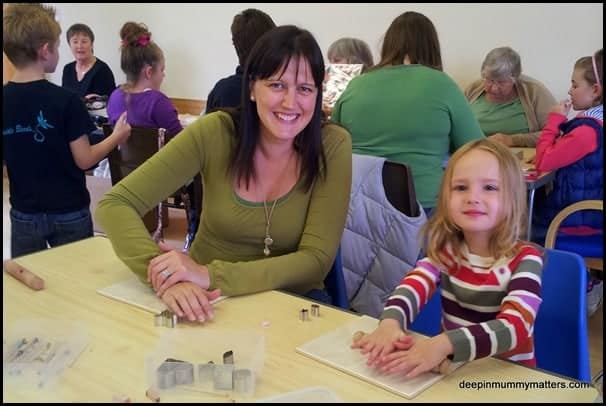 Finally, Little Bean had spotted a few other people making Fimo keyrings, gift tags and tree decorations so she said that she wanted to make more decorations for her Christmas tree. Again this was a great opportunity to talk about colours because Little Bean was adamant she wanted to make a 'pink' decoration but they didn't have pink Fimo so we had to create her own. I asked her what colours she thought she would need to make pink and she correctly said, red and white. We took a large piece of white Fimo with a very small piece of red and kept squashing it and rolling it with a rolling pin until the two colours were blended. The two butterflies and the love heart were a joint effort between the two of us but then Little Bean really wanted to make a Robin by herself and she is (and should be) very proud of her achievement, a very cute Robin he is indeed!!
All that we had to do was pop the Fimo in the oven when we got home for 20 minutes on 110C and hey presto the magic was done and our decorations were complete.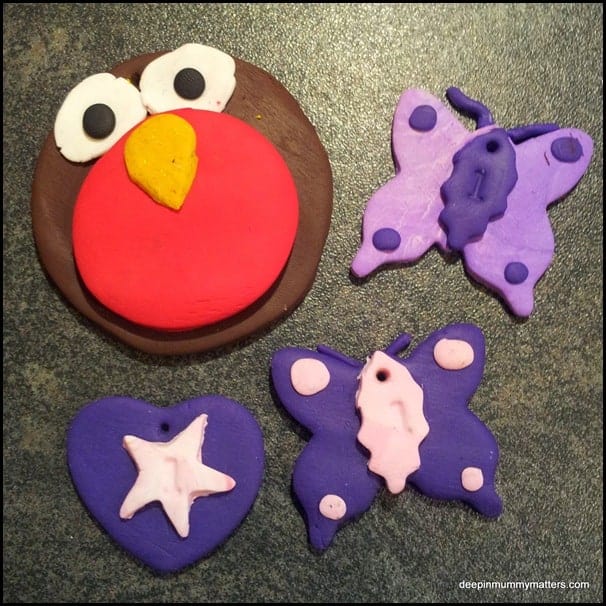 The only thing we didn't get to do this time around was make our own Christmas Cards because we ran out of time. This is something I love to do with the children because I personally think cards are very special (I still have every birthday and Christmas card that was ever given to me!!) so making your own is a very special way of introducing children to the meaning of cards at Christmas. Perhaps this year we will try our hand at a personalised Christmas Cards from Hallmark, I take so many photographs the hardest part will be choosing which image to use!
And for the last treat of the day? We went to a special cupcake shop to buy yummy cupcakes but they were so good we forgot to take a photograph to show you, you'll just have to take our word for it!