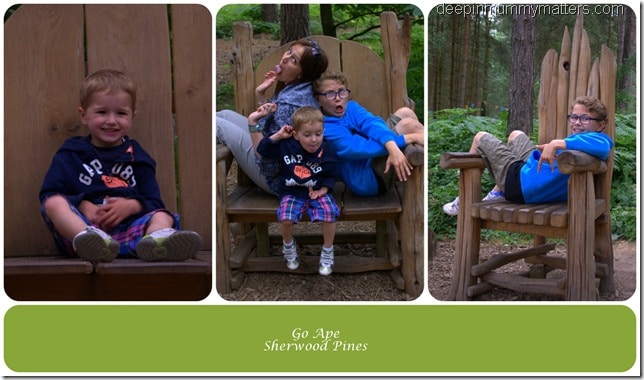 Review: Go Ape – Sherwood Pines
It made a nice change when I received an email a few weeks ago asking if we would like to review Go Ape Tree Top Adventure. Most opportunities that land in my inbox are aimed at the tiddlers and me so I was really happy to be offered something for Hubby and Curly. That, of course, is not to say that I wouldn't or couldn't do Go Ape, it is aimed at everyone aged 10 years and over (must be over 1.4m tall) but I just thought this would be a great day out for father and son.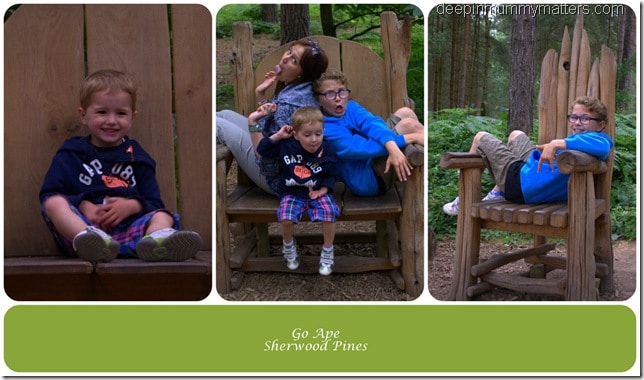 Go Ape Sherwood Pines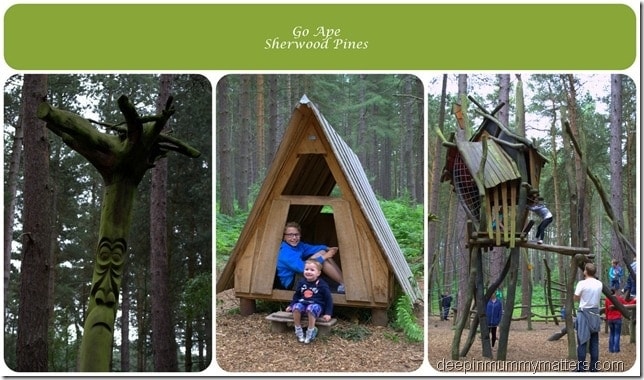 We made our booking for Sherwood Pines and must say, it wasn't particularly well signposted but when I spoke to the guys at Go Ape they said that they are in discussions with the Council to get more signs put up as they are aware this is an issue. If you just head for Sherwood Pines forest near Center Parcs then you can't go too far wrong, it's only about a 10-minute drive from Center Parcs.
Family-Friendly Fun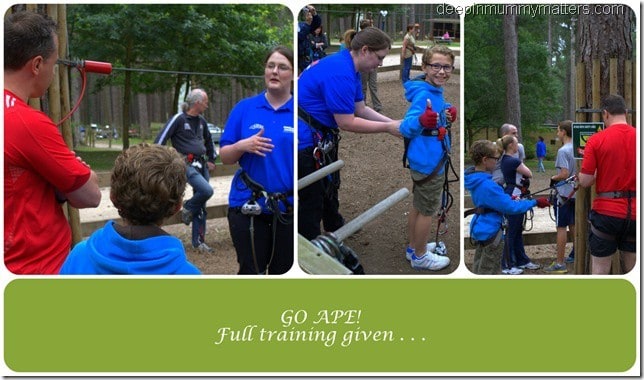 On the day that we arrived, it said there was a cycling event on so we were worried that there wouldn't be very much car parking available but there was more than enough and it was an extremely busy day. People were out walking, cycling, running, having picnics and of course, Go Ape-ing!
Go Ape Team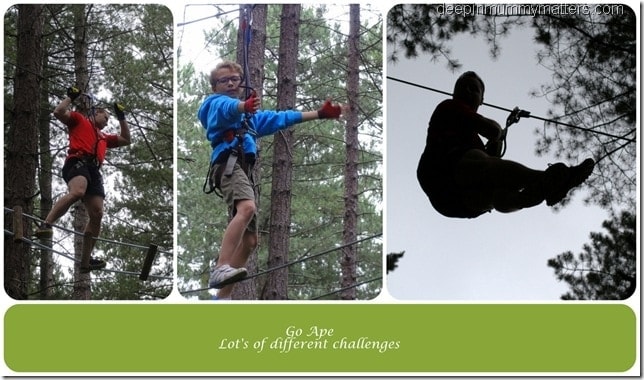 We were greeted by the very friendly Go Ape team who quickly got Hubby and Curly signed in and then introduced them to their Go Ape instructor who showed them how to use their equipment safely and got them kitted out with their harnesses and Clippy things that stop them from falling out of the trees (Note: I did not do the training otherwise I might have known a little more about the technical terminology). Once they had practised on the ground with clipping and unclipping themselves to the safety equipment they moved over to some equipment which was only a few feet off the ground so that their instructor could watch them see if they had listened and could move safely from one station to the next before letting them loose on the big stuff.
Fun for spectators too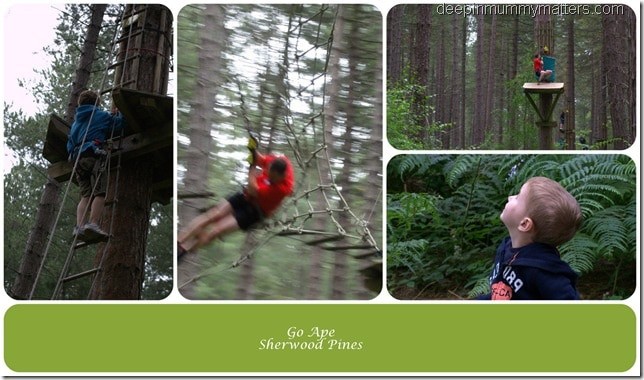 I was worried that as spectators we wouldn't be able to see them doing very much but it was great because there was a clearly marked path which followed their route through the trees so that we could watch safely from below and it was all accessible with a pushchair/wheelchair. Beanie Boy thought it was great watching Daddy and Bro, he thought they looked like monkeys, whilst Jelly Bean seemed a little confused by the whole thing.
Father and Son Fun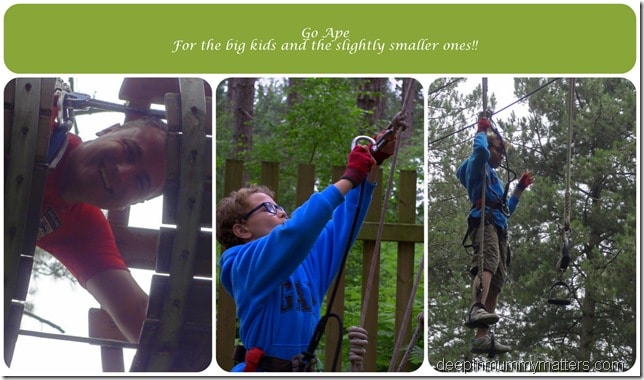 On some stations, there were choices of two paths that they could take with different levels of difficulty/skill. I was surprised that they often opted for the more difficult routes, then at the end of each station, they were rewarded with a whizz down the zip lines which was the highlight of their day.
Pleasure and Pain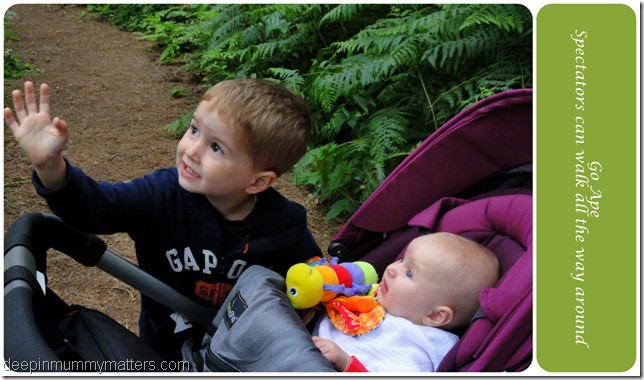 Every so often you would hear screams and squeals as people launched themselves down the zip lines or went crashing into the cargo nets. Hubby said this was actually the most painful for him as this was when his harness tightened around this *ahem* nuts and bolts! From my point of view, I found this station the funniest, although I did like some of the really long zip lines too because Hubby just couldn't seem to find his feet in time and often ended up flat on his back.
Go Ape – DONE!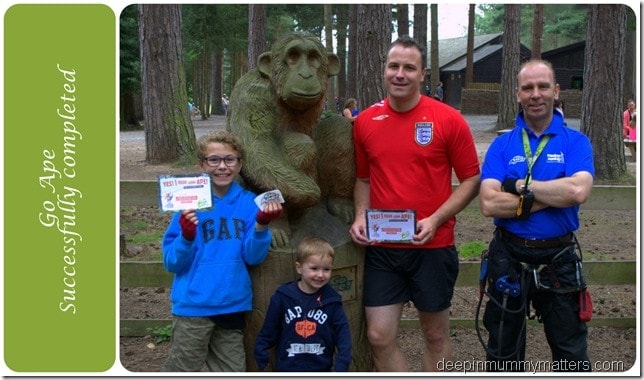 The whole course probably took them a little over two hours and they clearly had a blast. In the end, they each received a Certificate to say they had successfully completed the course. Personally, I'm not sure that I would be physically strong enough right now to do Go Ape myself but maybe once I've built my fitness levels back up I can have a go myself. If Go Ape doesn't take your fancy you could always try your hand at the Go Ape Forest Segway.
Sherwood Pines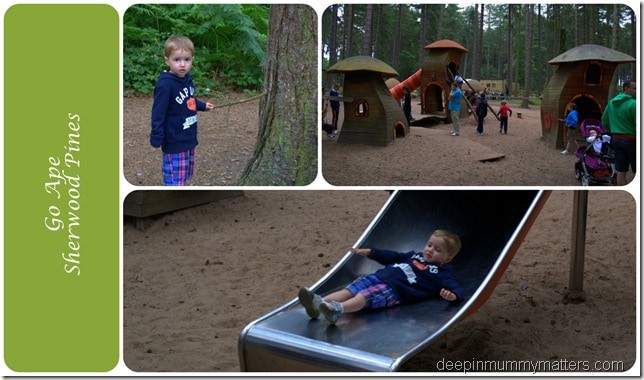 Afterwards, we decided to reward Beanie Boy for being such a patient boy by taking him to the play area which he loved. There was so much to see and do at Sherwood Pines it would be a great family day out. Car parking only cost £4 for the whole day so I will definitely be going back there again soon.
All worn out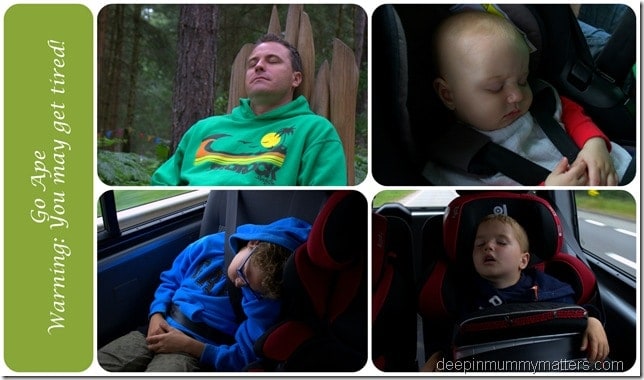 I have also taken video footage of their Go Ape adventures, I am hoping to post a video of their time on a new post shortly.
DISCLAIMER: Hubby and Curly were provided with free admission to the Go Ape Tree Top Adventure for the purpose of this post. All words, images and opinions are my own and may not be used without my permission.