Uncategorised
Reasons to be cheerful – Week 15
I've had quite an up and down week this week, the downs mainly being Little Bean and her somewhat challenging behaviour but that's not what this post is about. This is a post to celebrate the good things that have happened so here goes with this week's Reasons to be cheerful:
1. Hubby's Birthday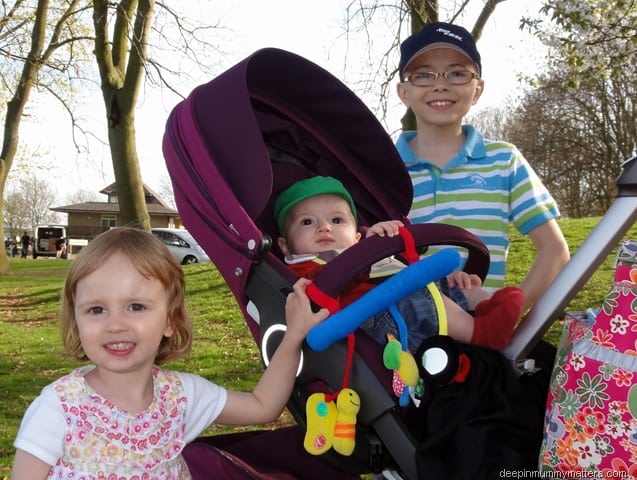 On Sunday we had a lovely family day out to celebrate Hubby's birthday on Monday. The five of us went to Rutland Water and the sun was shining for the whole day, we enjoyed a picnic, a kick about with the football, a long walk followed by an ice-cream and the kids finished off by wearing themselves out in the adventure playground.
2. Weight Loss
I have lost another 1lb3oz this week on my Jenny Craig diet so I'm almost at my target weight after only 4 weeks, I'm loving all the compliments that I'm receiving from people. It's making me feel fab and I LOVE that I'm starting to fit into clothes which haven't fitted me since Little Bean was born almost 3 years ago!!
3. Weaning Beanie Boy
Weaning is going really well with Beanie Boy, I've started Baby Led Weaning with him now and he is happy to try most things. Yesterday he ate peas, he also loves toast, pitta bread and carrots. He is so much nicer with weaning than when I tried with Little Bean, he obviously takes after Daddy as he loves his food.
4. Potty Training Little Bean
Little Bean is doing a fantastic job with potty training, we've had the odd accident but that's to be expected. I don't need to remind her very often. She is even staying dry through nap times and asking for the potty as soon as she wakes up. Tonight after she had gone to bed, she surprised us both by calling down after she had been in bed for about half an hour to say that she needed a wee and wanted to go on the potty. I'm so proud of her!
If you want to see some more happy thoughts for the week, hop over to Mummy From The Heart to see other great links.