Raised by Humans – a new bed for Bramble
This was Bramble's first Christmas with us, his forever family so he was well and truly spoilt. He received toys, treats, blankets and his very own cuddly Panda but by far his favourite present had to be his rather snazzy new bed from Raised By Humans.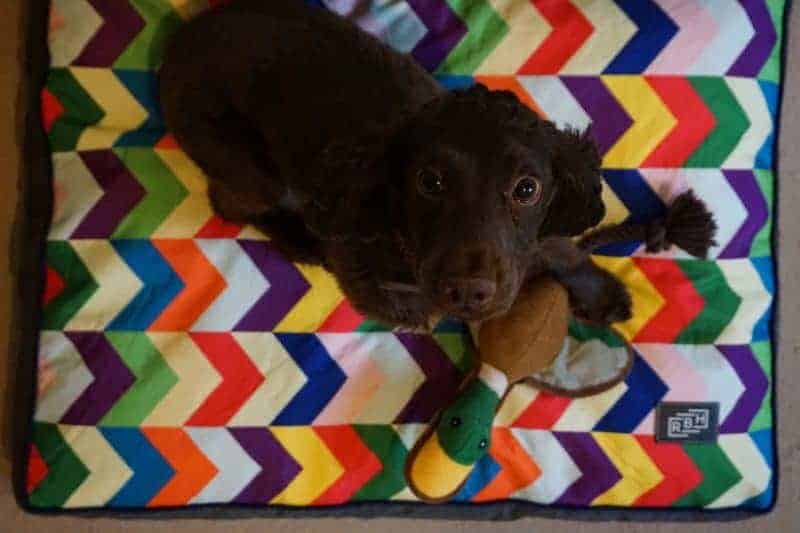 Raised By Humans Mattress Bed
The Raised By Humans mattress bed is a fun and eye-catching one with it's bright patterned fabric. Ultimately this will become his bed in the kitchen/dining room which has lots of red accents. At the moment we are trying to get him out of sleeping in a crate (he gets a little anxious when left alone during the day).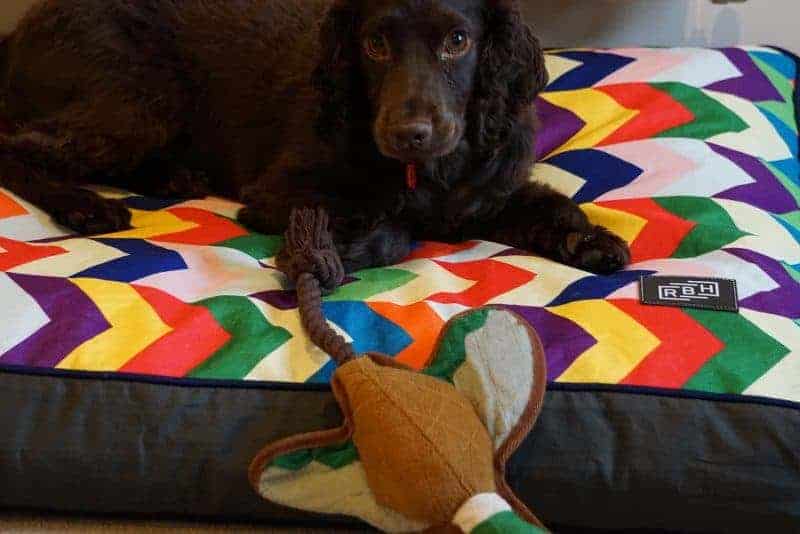 Features
A bold and beautiful contemporary multi-coloured chevron design
Fully removable and machine washable cover with dog-proof zipper and stitching
High-durability non-slip base suitable for all indoor surfaces
Super soft sleep-inducing pillow insert made from high-quality crumb foam
Sizing
Medium
Size: 85cm x 65cm x 12cm
Suited for: French Bulldog, Staffie, Spaniel
Large
Size: 120cm x 75cm x 12cm
Suited for: German Shepherd, Labrador, Two pugs
Raised By Humans also make a Donut Dog Bed.
What we think?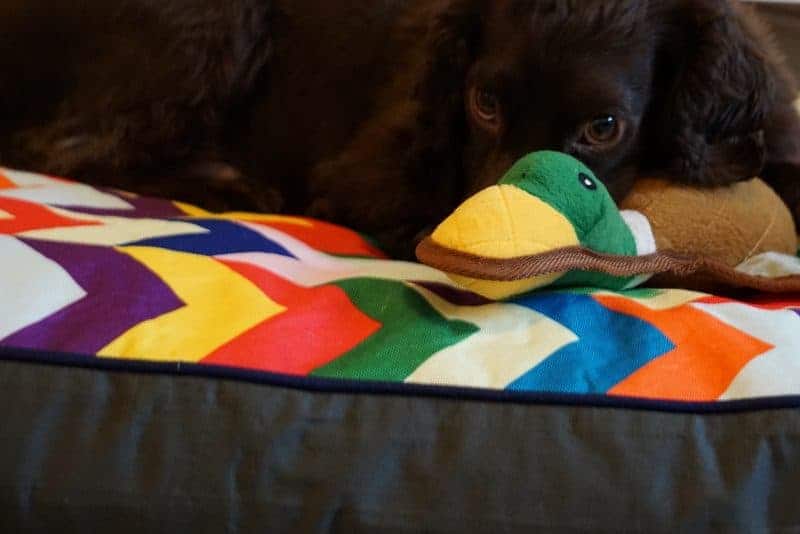 The first thing we noticed about the RBH Mattress Bed is how strong and robust it is, it feels like a small memory foam mattress as the name would suggest. Many of the dog beds we had looked at initially had very little substance to them and as a result Bramble will scratch and pull them around to get comfortable. With the RBH Mattress Bed he climbs on, spins around a thousand times before dropping down and going straight to sleep.
The mattress design means that he can spread out or sleep in a ball, whichever he prefers. When he sleeps in his circular bed in the lounge he tends to fall out if he stretches too far so more often than not we now find he migrates to his RBH Mattress Bed even if we aren't in the same room. It has obviously made Bramble feel comfortable and settled, what more could we ask for.
Ease of Care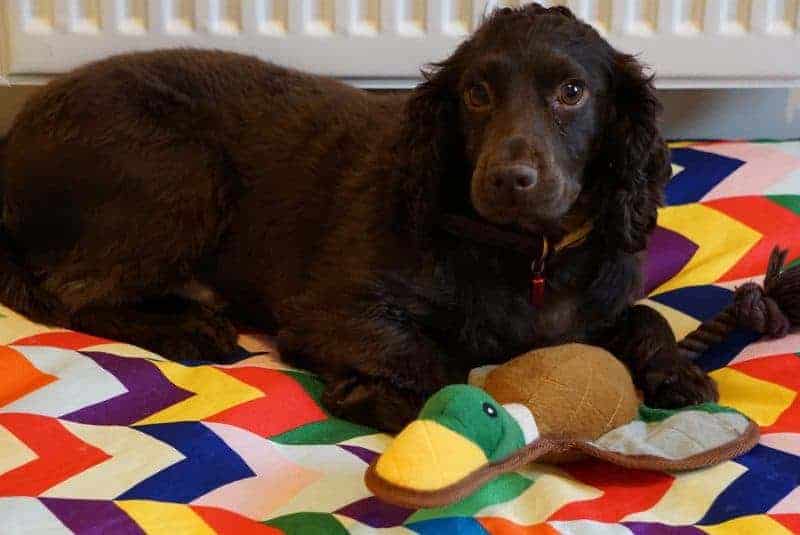 Being an ex-working Cocker Spaniel Bramble loves nothing more than to run across the fields, through long grasses, muddy puddles and dense undergrowth. You can just imagine how dirty he gets can't you?! The cover is waterproof which means the mattress itself is well protected (also good when he has the odd little accident). The great thing about the Raised By Humans Mattress Bed is that the cover can be zipped off with ease, washed, dried and zipped right back on again. We know, we have had to wash it once already thanks to our mucky little pup.
The underside of the mattress bed has anti-slip bobbles so it doesn't move or slide around the floor, even when he dives onto it at 100mph!! As you can see from the pictures above, the mattress is really thick too which lifts him off the floor away and away from draughts. In the kitchen his bed will be on a marble floor so we can rest assured he will not feel the cold through his bed.
Happy Bramble, Happy Family
Bramble must have thought he had died and gone to doggy heaven when he moved in with us; no more cold stable floors, lots of cuddles and games with the Beans and treats on tap. He has very quickly accustomed himself to sleeping in a dog bed, in fact on the days when his bed has been taken away to be washed he looks pretty disgusted at the idea of sleeping merely on the floor – it will never do!
DISCLAIMER: We received the Raised By Humans Mattress Bed in exchange for our honest review. All words, images and opinions are my own and may not be copied without my permission. I have not been instructed what to write.