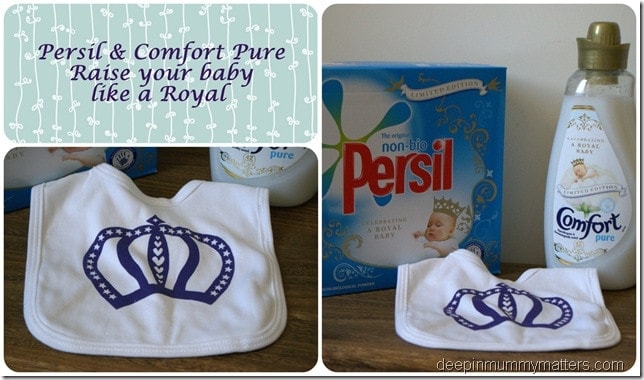 Raise your baby like a Royal . . .
Prince George is already a little over two weeks old, I wonder how William and Kate are adjusting to the sleepless nights. Those first few weeks and months are so precious, Jelly Bean is only six months old but looking back at the photographs of when he was born seems like a whole different lifetime now. We may not be royals ourselves but the tiddlers will always be Princess and Princes to me and I will raise them as if they are the most precious little people in the world, my little people!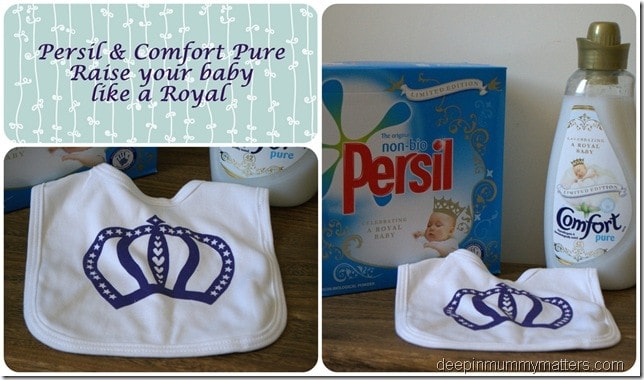 The lovely people over at Persil and Comfort Pure have found the perfect way to celebrate the birth of Prince George by working with Royal Etiquette expert, Jean Broke Smith, to create a "Guide to raising your baby like a Royal" (see Cuddle Mastery) which includes advice on communication etiquette, bath time, bed time and feeding time as well as a few touching little anecdotes.
I was able to ask Jean a few questions myself:
My 'little prince' is coming up 6 months and is still sleeping in a crib at the side of my bed. I feel that he is ready to transfer to his cot in the bedroom he will be sharing with his 3 year old brother. The only thing which keeps stopping me from moving him is that Jelly Bean is still waking for a feed once or twice a night and screams from the moment he wakes up. My older son is a light sleeper and I am worried about Jelly Bean waking him up. What would you suggest?
Up until this week Jelly Bean has been having his daytime naps downstairs in the lounge in a TinyLove Rocker Napper because I have been keen for him to sleep with noise around him so that I don't have to worry about his siblings waking him up. He has always self-soothed himself to sleep and occasionally fallen asleep whilst nursing. Now that I want to transfer him to sleeping upstairs I am struggling to get him to go to sleep on his own and if/when he does sleep it is only for 20/30minutes whereas he was sleeping for anything up to 2 hours twice a day?
It is now the school holidays so I'm hoping to change things slightly (even if only for the short term) but I have to do the school run three times a day as my daughter is at Primary School and my son is at pre-school until 12noon. I feel that our daytime routine is making a 'catnapper' out of Jelly Bean, what is the best way to handle naps when you need to fit school runs in?
Jean's Answer:
I do think it is time you moved your little Prince into another room. If you have the two rooms for the children why not let your son and daughter share at the moment as they are both at school and let Albie have his own area where you are free to feed him during the night? That way you won't disturb the other two, especially if they are light sleepers.
Make it a room where they can plan adventures as they are both starting school.
The sleep pattern is up to your timing with the older ones, and perhaps encourage less sleep during the day as Albie sleeps in the car during your school runs.
DISCLAIMER: I was sent the above Limited Edition Royal Baby Pack for the purpose of this post, I have received no payment and have not been instructed what to write.