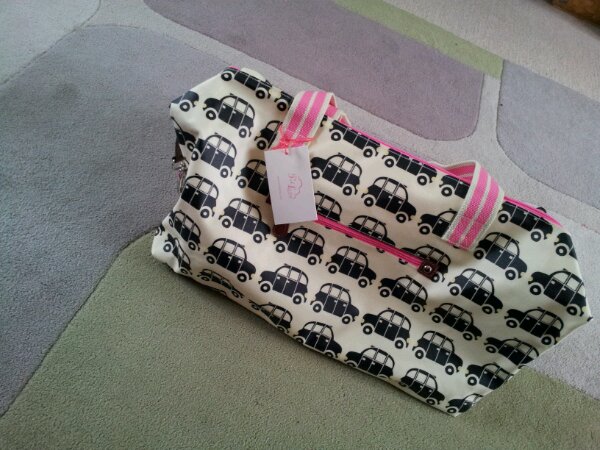 Pink Lining Travel Bag Review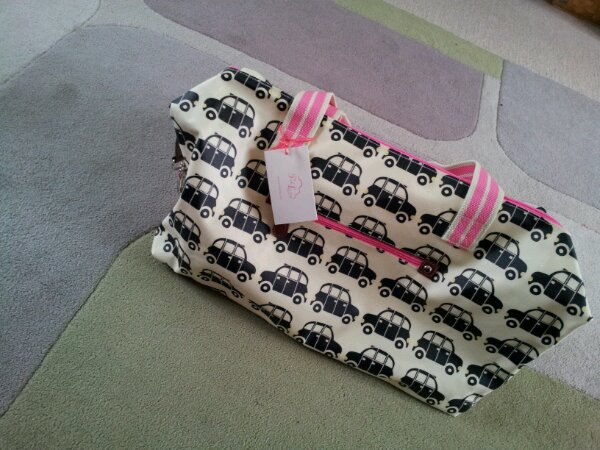 I might not be your average woman when it comes to shoes but bags?!? Well that's a different kettle of fish altogether, i LOVE bags. Big bags, little bags, handbags, changing bags . . . .
So when it came to packing my hospital bag ready for Jelly Bean's grand entrance I needed to find something big enough to carry everything i would need for a hospital stay. Pink Lining came to my rescue with this gorgeous travel bag.
First impressions were how gorgeous the design was. I love the wipe-clean fabric with black cabs and the pink zips, it doesn't scream 'baby' so you don't have to be a Mummy to use it. Inside the travel bag has the signature 'Pink Lining' and an internal zipped pocket to store valuables, a further zipped pocket on the outside and a detachable, adjustable shoulder strap. I am given to believe that the bag is the approved size for carry-on luggage when flying but as my hospital was just down the road I didn't get the opportunity to check this out!
The bag held all that I needed for labour and our time in hospital, I took a change of clothes, underwear, a few nightdresses, slippers, dressing gown, toiletry bag, maternity pads, breast pads, a few snacks to keep me going and a couple of magazines (seriously I'm not sure when I thought I would have time to read them!!).
At the moment you can grab a bargain as this bag is available at the reduced price of £38.50!!! And whilst you're at it why not get a wheelie case, laptop bag or a luggage tag to match!
Pink Lining have a bag to suit everyone from the kiddies to the Mummies or just the traveller. I'm off to check out their site for changing bag to carry all that I need for a toddler and a baby – well a Mummy can never have too many bags can she?!