My post-workout recovery with ExoGun #ad
DISCLAIMER: I have been given an ExoGun DreamPro for review purposes. All words and opinions are my own.
For the past few years, I have been trying my hardest to get myself on a journey to peak fitness and health by attending my local gym or running, something I have always loved. Before becoming a Mum, I was a regular gym-goer and always felt strong and motivated.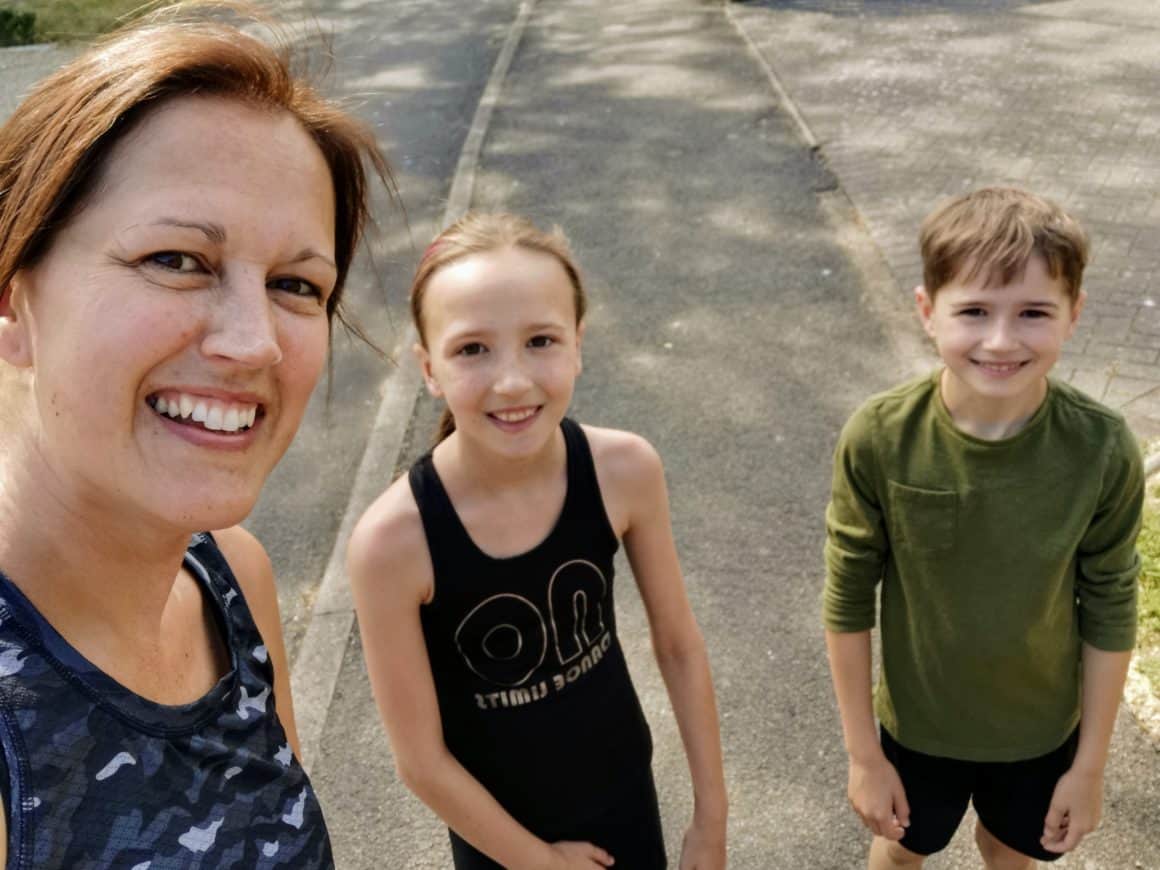 Fast forward to being a forty-something Mum of three, my body is not quite what it once was, and I seem to be plagued with injury after injury. In September 2019, I started going for regular sports massage therapy to soften up the muscle in my left shoulder, which I injured in a car accident back in 1997. It was a constant source of pain after exercise, often resulting in migraines that would last for days. I have also suffered from pain in my knees and ankles from running and spraining several times over the past few years.
In simple terms, I have been feeling very frustrated and demotivated. I love to exercise and the buzz it gives me for hours afterwards, but it can floor me for days once the pain sets in. Before the Covid pandemic struck, my fortnightly sports massage sessions for deep tissue massage were helping to keep me supple and able to exercise regularly. Still, once the lockdowns were put in place, the massages had to stop, my muscles seized up, and the pain returned.
In recent months, I saw a growing number of posts online and in magazines recommending massage guns that used percussion therapy to enhance recovery and relaxation. I must admit I was a little dubious and assumed it was just another fitness fad.
Introducing ExoGun DreamPro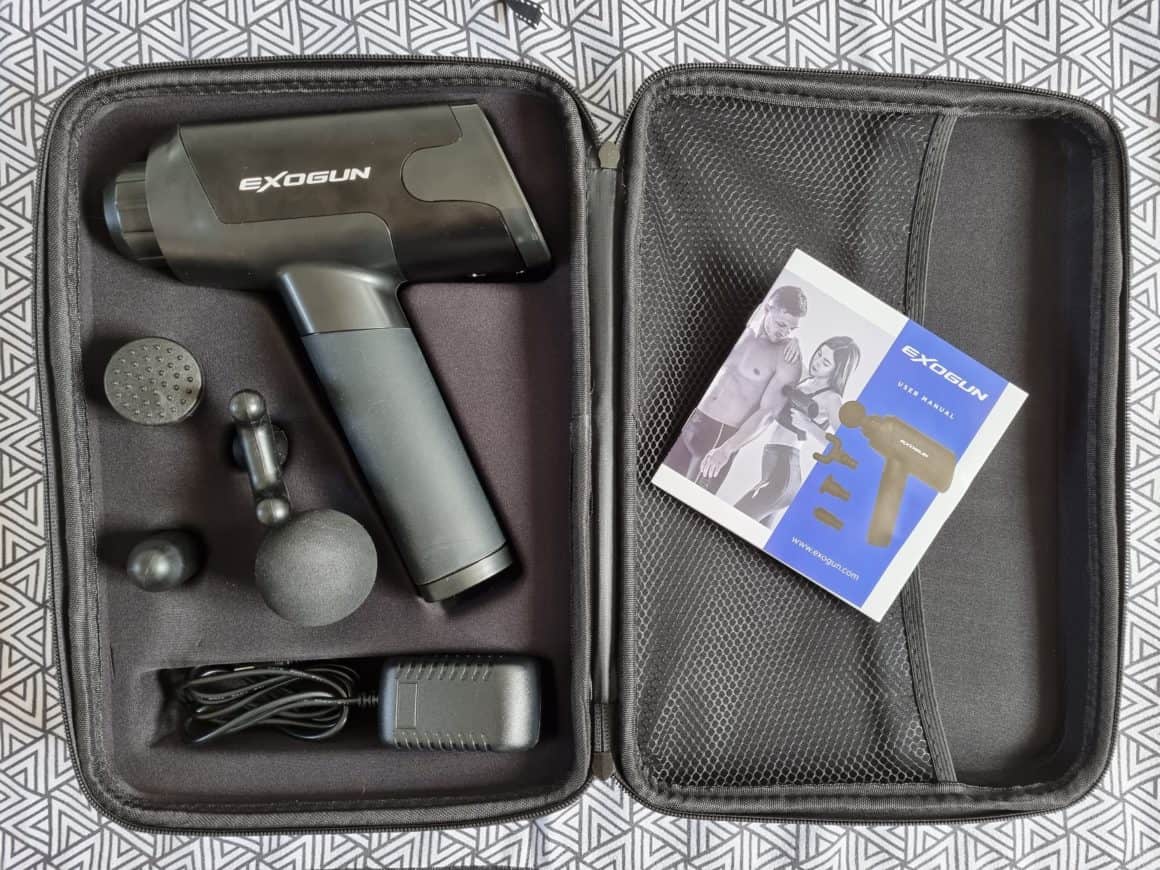 ExoGun DreamPro is a percussion therapy massager which helps to boost circulation, thus reviving muscle and releasing energy to help your recovery after a workout. The DreamPro comes in a handy carry case and has a selection of different attachments to help target pain and penetrate deeper into the muscles.
Features:
Ultra-quiet massage gun (70DB)
16mm stroke length
Stall force 60lbs
Lightweight 2.5kg
Brushless 24V torque motor
1 month battery life: 2400 mAh
6 speed settings
1200-3200 percussions per minute
20-53 Hz vibtration speed range
Ergonomic design – easy to use even in hard to reach areas
How does Percussion Therapy work?
Percussion therapy assists the recovery of soft tissue injury and fatigue using a tool such as ExoGun to provide deep tissue massage. ExoGun products rapid, short-duration pulses which penetrate deep into the soft tissue of the body. This action increases blood circulation, which floods the damaged tissue helping to accelerate recovery and prevent DOMS (delayed onset muscle soreness) after working out.
What areas can be treated?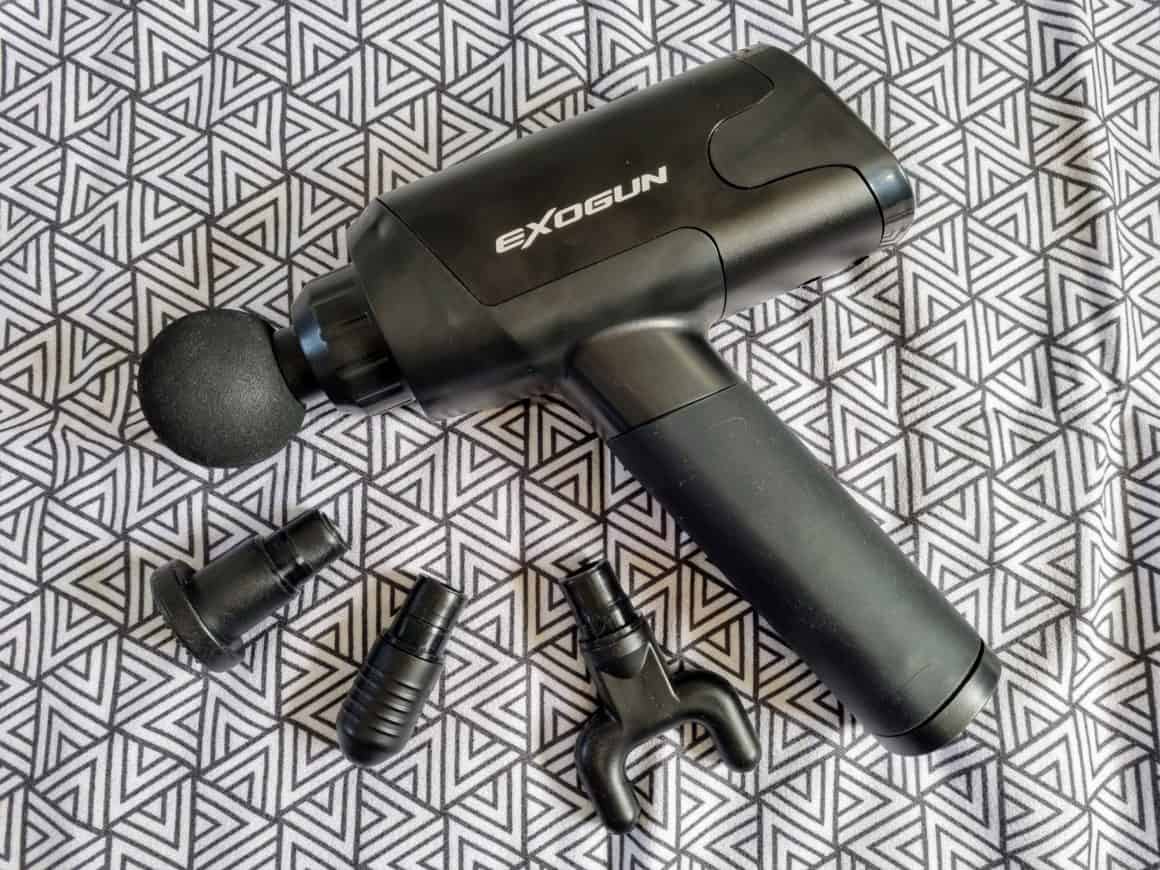 Upper Back
Lower Back
Neck
Deltoids
Upper Arms
Forearms
Chest
Glutes
Hip Flexor
Quads
Shins
Adductors
Feet
Hands
My post workout recovery with ExoGun DreamPro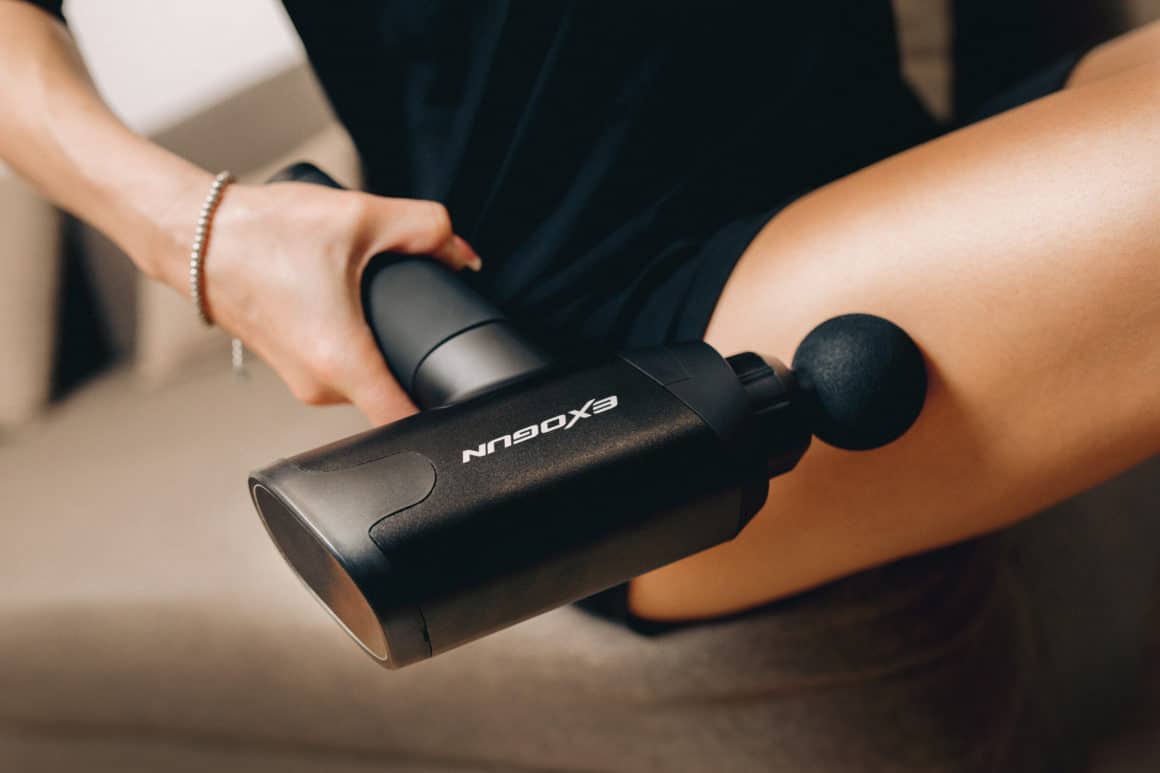 I have been using the ExoGun DreamPro for about 3 weeks now after running and spin classes. When I first switched the ExoGun on, I should think I looked like a bunny in the headlights as I felt slightly intimidated by it. Still, once I placed the foam ball massage attachment (I figured this would be the least painful), I was impressed by how easy it was to use and how good it felt on my muscles.
Since that first time, I have used all the different massage attachments to treat my legs, feet, shoulders and back (Simon's help). What has impressed me the most is the huge reduction in my muscle pain following exercise. After my spin classes, I usually struggle to walk up and downstairs for a few days, but I have been fine this time. My legs have felt more energised and pain-free.
My thoughts on ExoGun and Percussion Therapy
Despite my previous scepticism, I am pleased to say that I am a convert to percussion therapy. It will certainly never replace my visits to my sports massage therapist because they are part of my self-care routine. What ExoGun has done for me is provided me with a way to care for myself between my visits. I have been able to use it on my neck and shoulders when I have felt a migraine coming on and stopped it in its tracks. It has made my post-workout recovery much faster and more manageable, so I hope that this means I can also make firm plans for my future fitness journey. With ExoGun, I think 2021 could finally be the year I achieve my goals.
After this past year I think we all deserve a little extra self-care so why not melt away the stresses and strains of the day with an ExoGun DreamPro deep tissue massager.