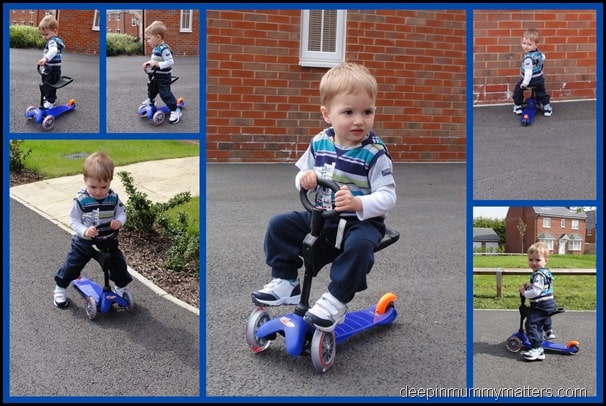 Mini Micro 3-in-1 Scooter
Curly has had a scooter for as long as I can remember now, I think Nanny gave him his first scooter for his 4th birthday and he is a demon on it still. He flies around on it like a mad man, often leaving me catching my breath as I'm sure he's about to come a cropper.
First Scooter
Little Bean hasn't quite had his skill/coordination when it comes to scooters. She was given her first scooter when she was just 2 years old and she was very excited by it, although she did find steering a little difficult to grasp initially.
After seeing how much she has struggled with her scooter over the years I had questioned whether she had been given one too early and that perhaps we should have waited. I decided that when it came to Beanie Boy we should probably wait a little longer.
Mini Micro 3-in-1 Scooter
Then I heard about a really clever new scooter on the market – the Mini Micro 3-in-1 Scooter which is suitable for ages 1 to 5 years. This scooter is amazing and so clever. You begin with the standard kickboard but instead of having the chrome t-bar handle you have a shorter black handle with an oval hand grip at the top. Then a seat attaches to the upright of the steering column for your toddler to sit on. This way they learn to balance and about using their legs and feet to propel them forward.
We were sent a Mini Micro 3-in-1 Scooter for Beanie Boy to try and we think it is brilliant. It is super easy to assemble in less than 10 minutes. When Beanie Boy first laid eyes on his scooter he simply said "wow". I presented him with the scooter and said "this is for you" and I admit I did shed a few tears when he ran to me, hugged me very tightly and said "ta ta ta" very excitedly before straddling the seat and scooting his way around the kitchen. Before long I realised that the kitchen wasn't a big enough area for him to practice so we took it out to the front of the house where he and Little Bean could scoot to their heart's content.
Gaining confidence
I noticed a funny thing with Beanie Boy if I praised him and gave him lots of attention he turned into a bit of a womble and cried out for me to help him, but if I ignored him and cheered on Little Bean, he scooted around without a care in the world and did amazingly well. I was so proud of him and he really does love it. I now have to hide the scooter out of the way or he would be scooting around the whole house if he could.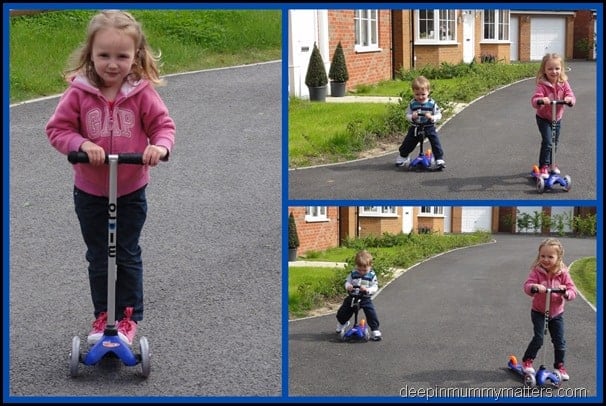 Little Bean has the same scooter but with the standard chrome steering column and t-bar handle. This is the first scooter than she has persevered with all the way to school so that says something big to me.
If you don't fancy a blue or pink scooter, don't panic Micro have got it covered as you can fully personalise your Scooter with their fab range of accessories to make yours stand out from the crowd. The Mini Micro 3-in-1 Scooter is a fabulous idea and it's no surprise that the Microscooter is as popular as it is – it's amazing!! I quite fancy one myself now.
DISCLAIMER: We were sent one Mini Micro 3in1 Scooter for the purpose of this review. All words, opinions and photographs are my own and may not be copied without my permission.