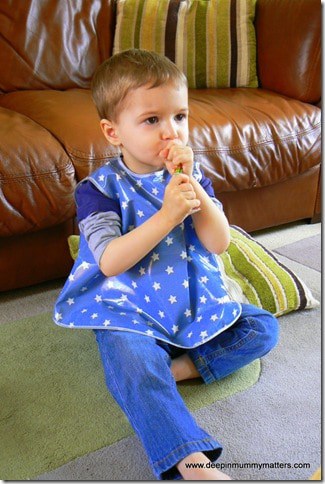 Messy Me – not anymore!!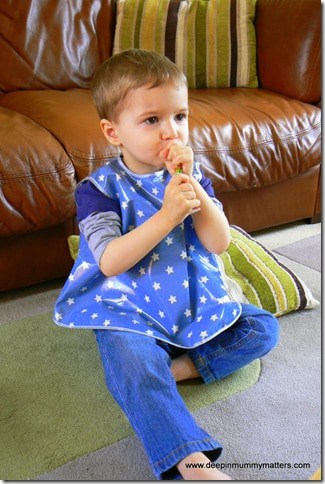 Mess and children go together like Ant and Dec, it's rare to have one without the other! I have tried to be a cool Mummy and encourage my children to do messy play at home, we paint, we glue, we bake, we do playdoh, it's all about letting children explore and experiment. As long as you plan ahead it can be fun and not too stressful.
I bought a large piece of oil cloth to cover my table to protect it which is great but what about keeping the children themselves clean? We do have messy play clothes but I still like to have them semi-protected too, it saves on the laundry pile, so we use protective clothing like this tunic from Messy Me which doubles up as a bib for my independent Beanie Boy at mealtimes. When he comes home from pre-school I sometimes let him eat his lunch in the lounge before he heads up to bed for his afternoon nap. He is pretty good at feeding himself now but after preschool he can be very tired and the yoghurt tends to have a mind of it's own in his weary hands, we used to end up with more down his t-shirt than in his mouth before he started wearing his Messy Me tunic.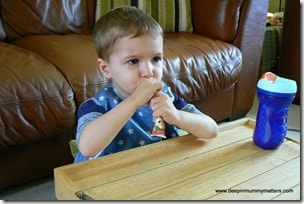 The Messy Me tunic is made from oil cloth so it's wipe clean and durable. It has a velcro fastening on the back so it can be popped on and off quickly and is ideal for Beanie Boy who doesn't like the bibs with sleeves.
Messy Me also do a great range of bibs, mess mats, highchair covers and clutch bags. You can also buy matching oil cloth by the metre.
Don't spoil their fun, get protected and everyone can be happy!