Well Christmas is over for another year, it's hard to believe that Little Bean has now celebrated her 4th Xmas and Beanie Boy already his 2nd!!
The run-up to Christmas was hectic to say the least, lots of rushing around and late nights so it came as no surprise that we were all full of cold just a week before the festivities began "oh well" I thought, "at least we will all be better in time for Christmas". Famous last words? Isn't that how the saying goes?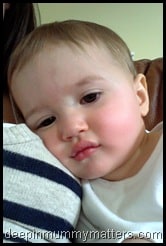 As the family awoke on Christmas Eve we were greeted by a runny nosed Little Bean with a raging temperature and so out came the Calpol. She spent the afternoon with her brothers, Nanny and Grandad at the Church Crib Service, thankfully this brightened her up for a time as she loves singing of any kind but as bedtime approached, instead of the excited little toddler we had running around the house last year we had a very morose little girl who wasn't even bothered about leaving a mince pie out for Santa. We decided that we would probably be getting an early morning wake up call so we headed off to bed early ourselves. We were woken two or three times in the night by a very poorly Little Bean who could barely breathe for coughing and then at 4am she finally seemed to settle and slept well until 8.15am so we actually had a little lie-in on the one morning of the year that it's acceptable to be woken at ridiculous o'clock!!
Beanie Boy really didn't 'get' it and so was more interested in the presents that Little Bean was unwrapping than having a go at his own. Little Bean coughed her way through her presents and by 11am they were both back in bed. This wasn't quite how we expected to be spending our Christmas Day with two children under 3 (Curly was with his Mum for Christmas Day this year).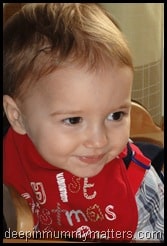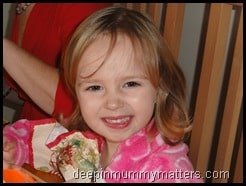 We timed Christmas dinner to be ready when the children woke up in the hope that Beanie Boy would eat his 'First Christmas Dinner' although there was no point in even entertaining the thought that Little Bean would, I'm aiming for her 10th Christmas for that one – I like to be optimistic!! Beanie Boy had one mouthful and then promptly spat it on the floor whereas Little Bean ate only an Ella's fruit pouch so not much different to any other day of the year.
On Boxing Day we awoke to find my Mum very poorly and her plans to spend the day with my Auntie got shelved as she had to take herself off to bed for the day instead. Little Bean started out quite bright but became worse again as the day progressed. We did manage to spend a lovely day with Hubby's parents and family where a good time was had by all. Boxing Day for us was Christmas Day take 2 because Curly was home with us for a couple of days. All the children played well together and my MIL remembered the tuna mousse as ordered by Hubby and the meringues ('rangs' in the words of Little Bean) as requested by me!! But I have to say I was disappointed by the lack of marzipan fruits this year!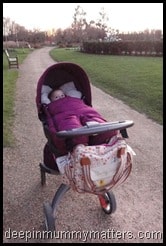 The rest of the week, it has to be said, has been pretty rubbish. Curly went back to his Mum's for a few days, Mum had to stay at home in bed, Little Bean's bug continued to floor her and then Beanie Boy was struck down with the dreaded D&V virus. On Tuesday we decided that the tiddlers needed to see a Doctor so I popped them both in the car and travelled to Stamford Hospital to see their drop-in clinic as our surgery was closed. When I arrived I spoke to a Doctor who told me that I couldn't take the children there without an appointment, he said that I need to take them to Peterborough Walk-In Centre so I put them back in the car and drove to Peterborough whereupon I was greeted by a queue of people out of the door it was so busy. I didn't relish the thought of standing outside with two poorly children for a however many hours so we made our way back home. We had planned to visit the sales but instead spent the day at home with the poorly tiddlers in bed, on Wednesday the plan had been to visit our good friends in Skegness but it wasn't right to travel with sick children or risk passing their bugs onto our friends so we stayed at home and started to suffer from cabin fever so we took the children our for a walk.
Thursday morning I finally managed to get an appointment to see our family Doctor and then the calls came from Hubby's work, they needed him to go in despite him having booked the week off on holiday. I took the children to the Doctors who were disgusted to hear that I had been turned away from the Hospital as it was clear to see that both of the tiddlers were really poorly.
Friday morning the plan had been to go to the Showcase Cinema in Peterborough to see the NYC Ballet performing The Nutcracker but in the Christmas fog in my brain I had told myself that it was a 10am showing, so we got up early and arranged for my Mum to look after Beanie Boy. We would then return home, leave Little Bean and Beanie Boy with Mum for the afternoon and then head off to the sales (finally) but the day didn't start well when Hubby's work called again and for a time it looked like he would be going in again. After many phone calls backwards and forwards I was relieved to find out that we were allowed to keep him for the day and so we headed to the cinema to find an empty car park – I had misread the email and the showing wasn't until 1.00pm – ooops!
As for New Year? The plan is to spend it with all our lovely neighbours (friends) and family in a gazebo outside (with heaters) but the forecast is for strong winds so it looks like that plan might also go to pot – we'll just have to wait and see. All in all its been a pretty pants end to a not-so-brilliant year so here's to a better 2012 – hopefully!!