Menopause the Musical UK Tour at The Cresset Peterborough
When trying to find 'something different' for my Mum's birthday this year, I spotted an ad for Menopause the Musical at The Cresset in Peterborough. I remembered seeing reviews about it previously and its' sell-out tours in 2008, 2010, 2016 and 2017 so I figured it must be worth a visit.
About Menopause the Musical

Menopause the Musical has been entertaining women (and a few men along the way) since 2001. As the title would suggest the show is about a group of hormonal women. Set in Cleary's Department Store we meet the women in the women's lingerie department. At first sight, you would assume they have nothing in common as they come together over the sale of a bra.
A series of bonding conversations ensue over hot flushes, memory loss, night sweats, chocolate binges, not enough sex, too much sex and plastic surgery.
All-Star Cast
The current UK tour of Menopause the Musical stars Cheryl Ferguson (Eastenders), Maureen Nolan (The Nolans), Rebecca Wheatley (Casualty) and Katherine Lynch (RTE's Wagon's Den). Cheryl Ferguson is absolutely hilarious as the Earth Mother character, the faces she pulls, her dancing and general demeanour will have you laughing until you cry. Also, be warned about Rebecca Wheatley's foray into the lingerie sale and accessories, you might need your Tena and waterproof mascara.
Innuendo and Parodies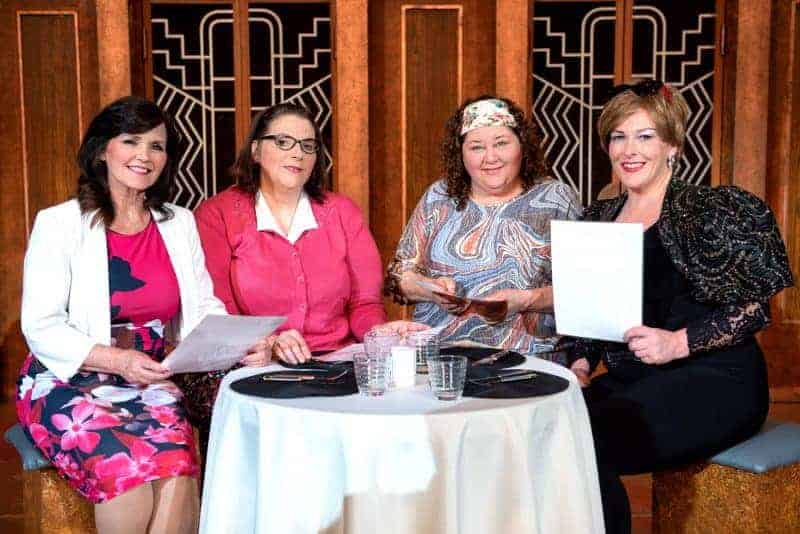 Both Mum and I were astounded by the amazing voices of the four ladies on stage, they filled the theatre with their voices and lifted everyone's spirits. The show is packed with amazing innuendo-laden parodies of pop classics from the '60s to the 80's such as I Will Survive, Chain of Fools, Good Vibrations and What's Love Got to do with it. My all-time favourite of the night had to be The Lion Sleeps Tonight, otherwise sung as My Husband Sleeps Tonight by Cheryl Ferguson.
Who is the show for?
Ultimately the show is aimed at women and I wouldn't say that you have to be a 'certain age' to enjoy it because we are a sisterhood, we all go through the same cycle of life so we will all understand it. That's not to say that men won't enjoy the show, I would say that last nights' performance was 95% female, I'm pretty sure the man who sat on the front row and was picked out by Cheryl Ferguson enjoyed it and the guy who had Maureen Nolan come and sit on his knee definitely enjoyed it. When asked by Maureen if he had picked the right seat, he replied "absolutely".
Where can you catch Menopause the Musical next?
These are the remaining dates for the current UK tour but I was also delighted to hear that they will be back next year with Menopause the Musical 2 with a new story and new songs.
| | | | |
| --- | --- | --- | --- |
| Thursday | 23-May-19 | Bedford Corn Exchange | Book Now |
| Friday | 24-May-19 | The Central Theatre, Chatham | Book Now |
| Saturday | 25-May-19 | Grove Theatre, Dunstable | Book Now |
| Sunday | 26-May-19 | The Concert Hall, Stevenage Arts & Leisure Centre | Book Now |
| Tuesday | 28-May-19 | Prince of Wales Theatre, Cannock | Book Now |
| Wednesday | 29-May-19 | Floral Pavilion, New Brighton | Book Now |
| Thursday | 30-May-19 | King George's Hall, Blackburn | Book Now |
| Friday | 31-May-19 | Parr Hall, Warrington | Book Now |
| Sunday | 02-Jun-19 | Wyvern Theatre, Swindon | Book Now |
| Monday | 03-Jun-19 | Grand Theatre, Wolverhampton | Book Now |
| Tuesday | 04-Jun-19 | Grand Theatre, Wolverhampton | Book Now |
| Wednesday | 05-Jun-19 | G Live, Guildford | Book Now |
| Thursday | 06-Jun-19 | The Anvil, Basingstoke | Book Now |
| Saturday | 08-Jun-19 | De Montford Hall, Leicester | Book Now |
| Sunday | 09-Jun-19 | Churchill Theatre, Bromley | Book Now |
| Monday | 10-Jun-19 | Belgrade Theatre, Coventry | Book Now |
| Tuesday | 11-Jun-19 | Belgrade Theatre, Coventry | Book Now |
| Wednesday | 12-Jun-19 | Belgrade Theatre, Coventry | Book Now |
| Thursday | 13-Jun-19 | The Alban Arena, St Albans | Book Now |
| Friday | 14-Jun-19 | Meres Leisure Centre, Grantham | Book Now |
| Saturday | 15-Jun-19 | The Core at Corby Cube, Corby | Book Now |
| Sunday | 16-Jun-19 | Lyceum Theatre, Crewe | Book Now |
About The Cresset
The Cresset is an events centre based just outside of Peterborough City Centre making it easily accessible. As well as theatre shows, concerts and comedians, the Cresset is home to corporate and private functions too. There is ample parking around the Cresset and on-site facilities include licensed bars, snacks and washrooms. Over the years we have attended events such as Sally Morgan, Mercury, G4 and Pantomimes to name just a few. To find out what's on click here or follow their social media pages below: