#MeetYours The New Windows Phone 8
Last night in a dark basement in London a group of Media and tech lovers got up close and personal with the new Windows Phone 8. It's been a long time coming but I think you will agree it is worth the wait. My first Smartphone was a Windows Phone and I was advised by a number of mobile phone professionals to go for the Windows Phone over the iPhone (3 at the time) and I was pleased that I did, I loved it. My next phone was a Samsung Galaxy SII which I have had since its launch, and although it already feels old I still love it, I am just less inclined to take it out of my bag and show it around.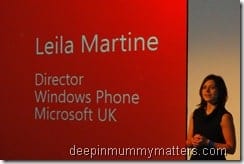 Last night after a brief introduction from Leila Martine, Director of Windows Phone, Microsoft UK we linked up live with the launch in the US being hosted by Joe Belfiore. Before attending the event I read up on the pre-reviews of the Windows Phone 8 to see what the hype was. It wasn't great, but it wasn't bad. They were basically saying that it's just got the same technology as the iPhones and other similar Smartphones on the market but they have joined the race too late.
Personally, I think they are wrong, the Windows Phone 8 is unlike any other Smartphone on the market. Put quite simply it is "a phone of individual personal uniqueness". Microsoft designed this phone with people in mind, and just as no two people are the same, they believe that it should be made easy for no two phones to be the same either.
Yes, it has Apps, it makes calls, send text messages and emails, it allows you to keep up with social media, surf the web, take pictures and you can play games on it but really that's where the similarities end.
Live Tiles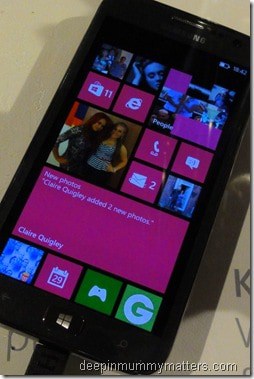 The really unique function on Windows Phone 8 is the Live Tiles. Look at most Smartphones and they have tried to emulate the iPhone with its grid-like bank of Apps but with the Windows Phone 8, you can customise your tiles to your own tastes, with three size options of tile you can arrange your favourite apps into any colour and format, fitting together like a mosaic. But not only that, as I said the tiles are 'live'. Instead of just seeing an app to the Sports results, you will actually 'see' the latest sports results as they are published. Want to keep up with a specific friend or group of friends on Facebook and see what they are doing? With the Facebook Live tile, their status updates will post straight to your front page so you don't have to miss a thing.
How many of us adorn our welcome screen with a favourite photo, be it of our children, our pets, a favourite landmark or a special occasion and then realise months later that we still haven't changed it. I do! For the past year, I have been looking at a photograph of my children in Santa hats! With the photo gallery Live tiles, you can organise your tiles to show a slide show of just one image or a whole changing collage so you get to see all the photos in your library.
Lock Screen
The lock screen is powered by the Live tiles so each time you wake your phone up, you can see something different, if you want to, or see the same old thing if you prefer it that way.
Windows Phone 8 are pleased to announce that they have new versions of Facebook, Twitter and Skype which have been created especially for the Windows Phone. The Skype function will always be ready when you are to take or make a call without draining your battery. In fact, 46 of the top 50 Apps will be available on Windows Phone 8 including Temple Run, Urban Spoon, Angry Birds and Star Wars to name just a few.
Available from early 2013 will be Pandora, with ad-free music for a whole year, now that's something to shout about.
Data Sense
One thing which worries a lot of people about owning a Smartphone is keeping on top of data costs but Windows Phone 8 will keep track of it for you with Data Sense so you can surf more and spend less. Data Sense compresses every web page so that you use less data but yet it looks exactly the same. It will find the nearest Wi-Fi hotspot and tell you where it is so that you can join it and it will even monitor your usage and send you a message when you are getting close to your limit and will adjust your phone so that you don't go over your plan. In fact, with a data plan turned on you can do 45% more web browsing on the same data plan.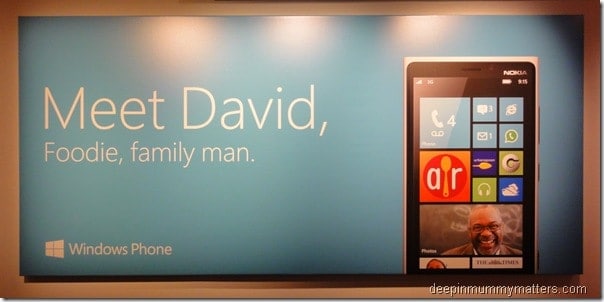 Rooms
What would you say is a phones' primary function? Keeping in touch with people! With the Windows Phone 8, you can stay closer to the people who matter the most with a great feature called Rooms. You can place your contacts in as many Rooms as you like, it's your phone so you need to make it work for you. Perhaps you will have a Family Room so that you can keep in touch with loved ones, share a calendar so that important dates can be updated and arranged by everyone involved. Parents, think about how easy it could be to arrange to play dates if you have a Kids Social room? Perhaps your own friends have a hectic social life and it's difficult to catch up, with Rooms the stress is taken out of your hands. I also particularly liked the notes function, you can write or record notes in a Room and only those in your Room have access to it, this is great for the groceries you need picking up when Hubby is on the way home from work and you have a last-minute pregnancy craving (who me?). Had a night out with friends and can't wait to see the photos, they will appear in your Friends Room the minute they upload them and at the touch of a button, you can save them to your phone. Now, are you thinking what I was thinking? What if my friends don't have a Windows Phone 8? It doesn't matter, certain functions will carry across to your friends' phones too, they will just see it differently to you.
Kids Corner
Do your children hijack your phone to play games or listen to music? Do you worry that they might accidentally email your boss or send a random Twitter update? In my case, my two-year-old is great at accidentally deleting apps! This is where Kids Corner comes to the rescue. You can set up Kids Corner so that it is tailored exactly to your child so they can only access the things that you want. Once you put the phone into Kids Corner it will stay in there until you take it out. Talking to one of the Microsoft staff last night who doesn't have children, she said that she has found another use for Kids Corner. She has a few of those friends who innocently ask to borrow her phone to make a call and then sneakily look through texts and emails, or send crazy Facebook and Twitter updates. To save her from future embarrassment she has set up Kids Corner and renamed it to Mates Corner, she has filled her Mates Corner with all the Apps and functions that she is happy for her friends to use and left out the things that she wants to be protected. Good thinking I say!
Camera
World-famous actress, businesswoman and mother of two, Jessica Alba has been testing the Windows Phone 8 for some time now and loves it. She feels the phone is an extension of her and her personality. She uses it to organise her life, to stay in touch with her friends and family, to keep on top of business and capture those precious moments in her daughters' lives. One of her favourite functions aside from the MP3 player, Rooms and Kids Corner is the camera. Her youngest daughter is just starting to walk and isn't so easy to bribe into sitting still or posing for a photograph but with the Windows Phone 8 camera, she is able to capture great images as her daughter moves by tapping the screen continuously, all the time knowing the image will remain in focus. As soon as you have taken your photograph the image is placed in the Skydrive and will remain there until you choose to remove it.
Skydrive
With Skydrive, you get 7GB of free storage space which is more free space than anywhere else on the market. Skydrive fully syncs all data on your phone including photos, videos and music. Work documents are saved exactly where you left off so you can continue working on any of your Windows devices when you log in with the same account.
OneNote is a great function that lets you dictate notes on the fly which are then converted into text documents.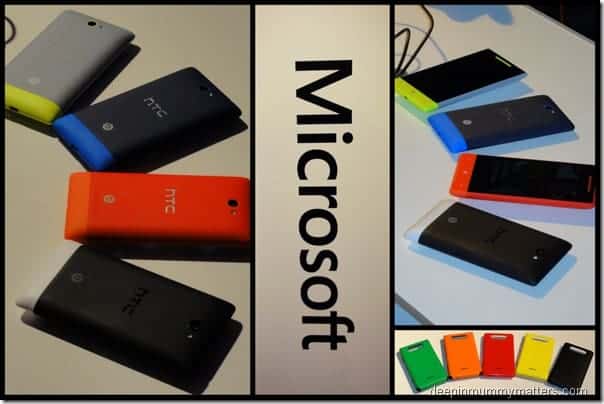 To round up, I don't think the Windows Phone 8 is anything like the iPhone or any other Smartphone on the market. I think this is going to be a main contender in the Smartphone market and since there are so many designs and models out there from HTC, Nokia and Samsung, coupled with how easy it is to personalise you can rest assured that your phone will be totally unique to you.