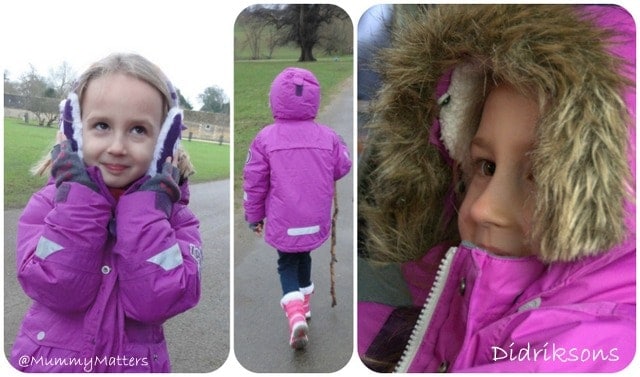 In love with Didriksons for Kids!
Before Christmas the lucky Beans were sent new coats from Swedish outdoor clothing company Didriksons. Hands up, until they contacted me I hadn't actually heard of Didriksons so I had no preconceptions to go on. Hubby said that he had heard of them but then again, he is more into labels than I am so that didn't surprise me.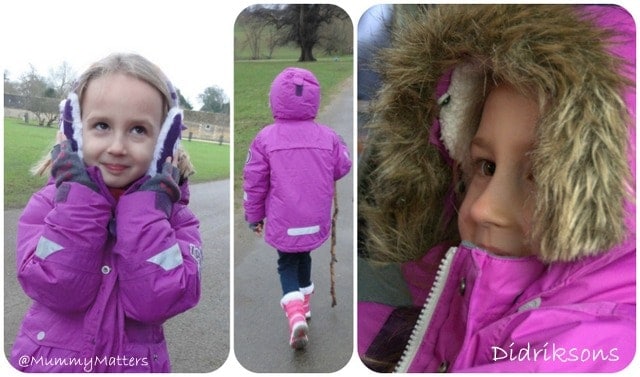 When the jackets arrived Little Bean literally squealed with delight at her coat and it has barely left her side since. The colour of Little Bean's coat is called Amethyst, in some lights it looks purple, in others it looks bright pink – either way it is perfect for Little Bean since they are both of her favourite colours. As a parent there were a number of factors about this coat which really impressed me;
It is VERY thick and warm. Sweden isn't really known for it's hot climate so if anyone knows how to make warm clothing, I'm thinking Sweden have a pretty good grasp of it.
It has lots of reflective panels on it – we don't often go out walking with the Beans after dark but just in case we do, we want to make sure they can be seen.
It has a hood of the right proportions – how often do you buy a coat only to find the hood is so big it either falls down over their eyes or blows off in the wind OR it's so small it's pointless and falls down every time they turn their head.
It is designed to last – when spending out money on children's coats you want something which is going to (a) stand the test of a child and (b) not be soooo big they look silly when wearing it initially but also not be so small that they grow out of it too soon. Didriksons have very cleverly made the coat so that when the child gets longer in the arms, you just snip away the red stitching on the inside of the coat and hey presto, the coat grows along with your child. Fabulous thinking there!
It has zipped and poppered front fastening. I often look for coats like this because even if a child can't always do up their zips by themselves, they are able to do the poppers up so you have half a chance when leaving them at school that they can do their coats up before they go out at playtime. Little Bean generally does both up.
Honestly, I could go on and on about this coat I love it so much. It's a shame they don't do it in my size!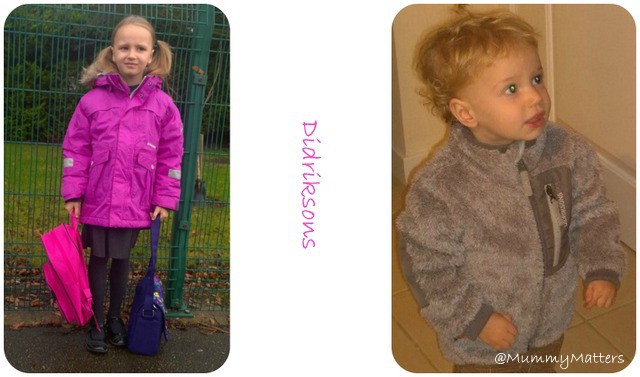 Beanie Boy was sent the Waterman Kid's Jacket in Poppy because he generally loves red. However, when this arrived, I would say that it perhaps a little more Salmon Pink than red and so he refused to wear it. The Waterman is a water and windproof jacket, perfect for layering over a fleece or warm jumper. Personally, I think he would have preferred a coat like Little Beans though obviously not bright pink. Like Little Beans, the Waterman has reflective stripes, a detachable hood and adjustable cuff and hem. Now I just need to find a pretty little girl to wear it.
Jelly Bean received the Cruz Kids Jacket in Metal and again I LOVE it! It is sooooo soft and fluffy that I want to pick him up and cuddle him like a teddy bear all of the time. I love the soft cuffs as it stops draughts from going up his sleeves and the chin guard is ideal to stop chaffing from the zip or nasty accidents with sensitive skin under the chin getting trapped in the zipper. Beanie Boy will tell you how painful this is after one of his ladies caught him at nursery. Jelly Bean likes the little pocket on the front and keeps his tissue in their for when he has a runny nose, I like the reinforced elbows which protect the jacket from my rough and tumble toddler. This is a lovely snuggly jacket which is ideal for Jelly Bean who still spends the majority of his time in the pushchair when out and about. He isn't so bulked up that he is uncomfortable yet he is still warm enough to not moan.
As I said at the beginning of his post, before these jackets arrived I had never heard of Didriksons but they are now one of my front-runners and I will definitely be checking them out for future purchases.
DISCLAIMER: We were sent three jackets for the Beans for the purpose of this post. All words, images and opinions are my own and may not be copied without my permission.