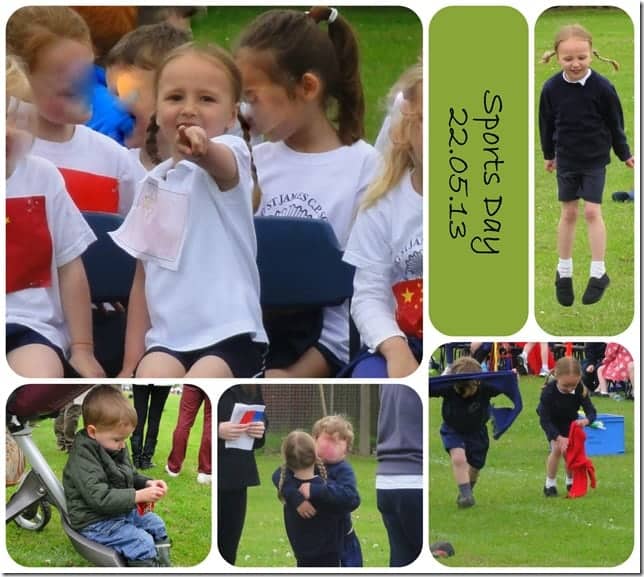 Little Bean's first sports day
As parents we say this all the time but our children grow up so fast!! You really have to make the most of them as they are so precious. On Wednesday morning Hubby, myself and 'the Beans' went to watch Little Bean take part in her first ever Sports Day. She was a little nervous before she went to school because she didn't want to do the dressing up race – she said that everyone laughed at her because the skirt that she had to put on kept falling down. I assured her that people weren't laughing at her to be mean but if I put a skirt on and it fell down then she would laugh at me too, it's just a funny thing to see.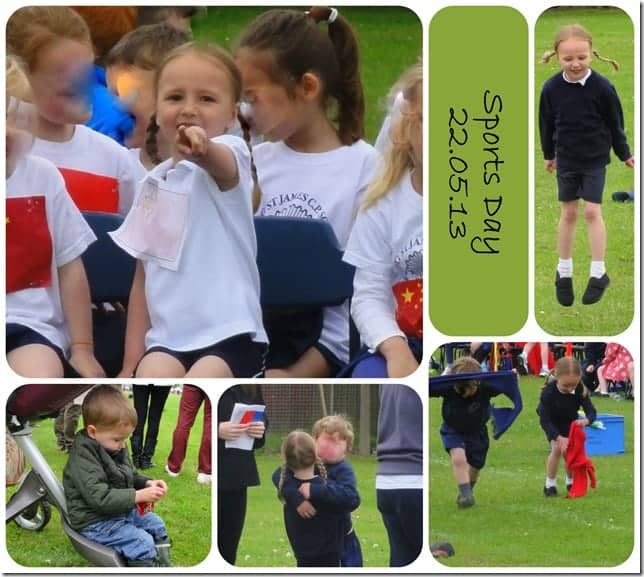 It wasn't the sunniest of mornings but at least it was dry as we all took our places on the sidelines of the track. The school had chosen an Olympic theme so the house teams were China, USA, Great Britain and Ireland. Little Bean was in Team China. As each team walked out to take their places on the team benches Hubby and I had a little giggle as Little Bean 'marched' out to the music and took her seat. It's funny how at home we had taken to thinking that she was a really big girl now but standing on the field with her team-mates she looked so tiny, she was definitely our baby girl again!
I don't know about others but we had our ideas about how Little Bean would compete in the races. Hubby is a very sporty person and VERY competitive, at home Little Bean (so far) seems to be the one most like her Daddy. She loves being outdoors and being active and when it comes to competition, she loves it. She always wants to win against her brothers. Would she be competitive now, would she win? Could she win? Would she cry if she didn't win?
As she took her place at the start line for her first race with a big smile on her face, we waited in anticipation. The race began and she skipped along as though it were nothing more than a Sunday stroll. We had to laugh as she just seemed so happy in herself, as if she hadn't a care in the world. She didn't win, I think she came about 4th or 5th out of 7 or 8 but she didn't mind, she just carried on skipping back to her seat to join her friends and carry on talking.
Then came her 'dressing up' race. I gave her the thumbs up as she got into line and she smiled and jumped around happily. She was hugging her friend and looked excited. The race began and she stayed in second place as she put on first her scarf and secondly her hat, then came the dreaded skirt. It was way too big and she struggled to get her legs into it and finished the race in 5th place with a big smile on her face. Nobody had laughed at her, we were super proud of her and everyone had fun – that's the important thing isn't it!
DISCLAIMER: I have blanked out children's faces to protect their identity.