Keeping Toy Story alive with Thinkway Toys Movie Night #IAmAThinkingToy
Can you believe that Toy Story has been on our screens for more than 20 years? I remember when Toy Story first came out I was 19 years old but I still loved it. There's a child within all of us that never wants to grow old, and at 19, I still remembered well, the enjoyment that playing with my toys brought me, the adventures they would go on and the mischief they would get up to. It was all a matter of using your own imagination, and as a child, I had a good imagination.
Our Toy Story Family begins . . .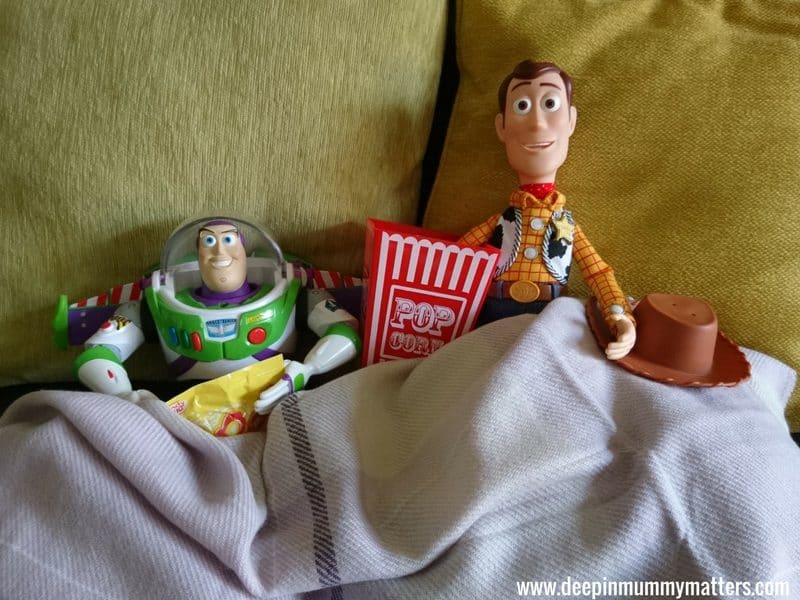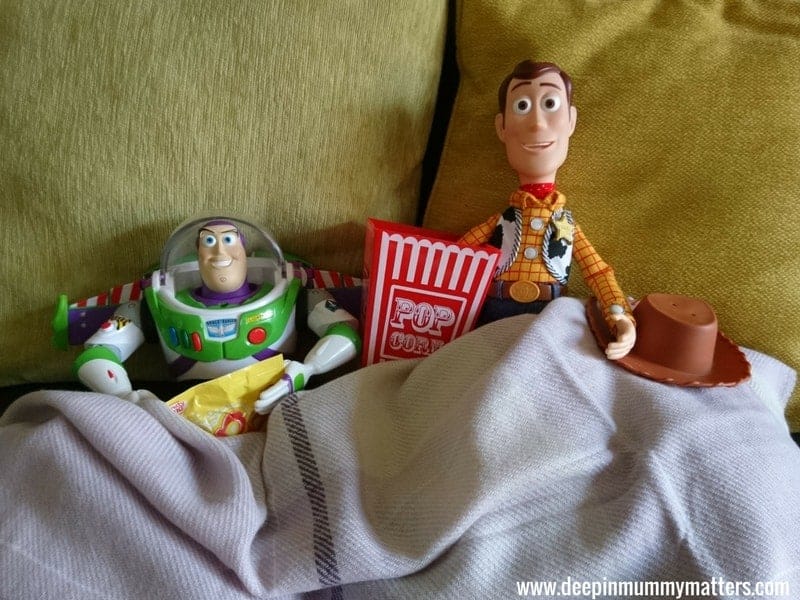 Fast forward 8 years and Toy Story came into my life again when I became a step mum to William (formerly known as Curly), a cute little bundle of white-blonde curls with a vivid imagination. He loved Toy Story and I loved the opportunity to re-live it with him again, only this time it was even better as he had the Toys from the films too so we could play and make our own Toy Story Adventures.
and grows . . .
As time has moved on, we introduced Lillie (Little Bean), Ollie (Beanie Boy) and finally Albie (Jelly Bean) not just to our family but to our own Toy Story history. Of course, Toy Story also grew with the release of Toy Story 2 and 3 which introduced new characters like Jessie, Bullseye and Stinky Pete the Prospector in 2 and Lotso Bear with his gang at Sunnyside Nursery in 3. We all cried many times at the end of Toy Story 3!!
Still more to come!
We have watched the Toy Story films so many times that we have ended up with two or three copies of each film as the DVDs have become scratched and damaged but it's a story that we have never tired of. Which is great news because we just found out that Toy Story 4 will be released in 2019 and we can't wait.
Toy Story memories
The Toy Story franchise of films has been so well embraced by the family that we have had three 'Toy Story' birthday parties, one for each of the boys. I also distinctly remember the Christmas Eve that had me running around toy shops desperately trying to find Rex the Dinosaur after Ollie told Santa that he only wanted Rex the Dinosaur for Christmas. At the time we thought it would be really festive to visit Santa on Christmas Eve, but in hindsight, it didn't leave us room for panic buying when the children came out with something they hadn't mentioned before. Never again!!
When I tell the children I love them, unlike many families who say "I love you to the moon and back", I have always said "I love you to infinity and beyond" which is our little nod to our family favourite.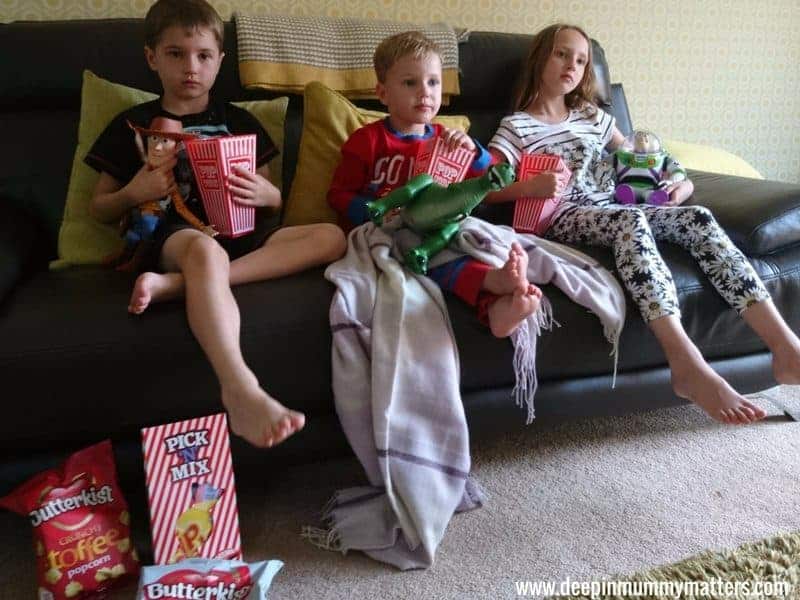 Our Toy Story Movie Night
This week we have been enjoying Toy Story again for our Family Film Night, our dedicated night of the week where we sit down together as a family with all tech turned off. We snuggle up on the sofas and Bean Bags to watch a film together, often snuggled under a blanket with bowls of popcorn (though it was too hot for blankets this week).
Toy Story at B&M Stores
Ollie and Albie brought their friends Woody and Buzz along to the party, of which we now have a few in varying states of repair. Our latest pairing was given to us by B&M Stores who have a fantastic range of Toy Story products to keep the family favourite film alive and kicking.
What happens next?
Afterwards, we talked about Toy Story 2 and 3, so of course, the plan is to have those as our films for the next two movie nights but it also got us talking about where the story might take us in Toy Story 4. Where will the next adventure take them now that the toys live with Bonnie?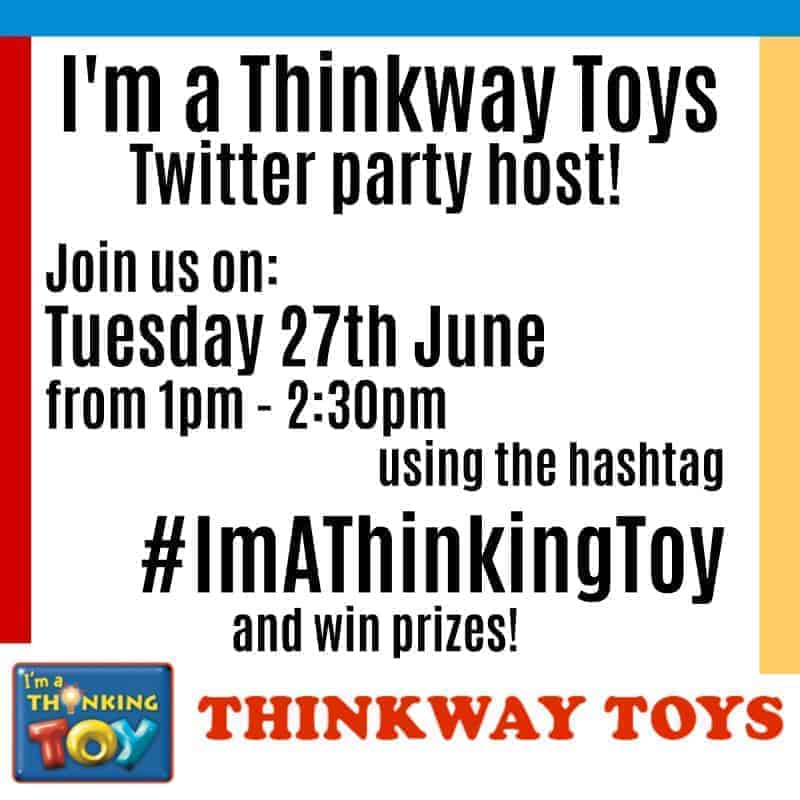 Toy Story Twitter Party
On Tuesday 27th June from 1-2.30pm, why don't you join me and the ladies from #UKMumSquad at our Twitter Party in association with Thinkway Toys and B&M Superstore where we will be talking about all things, Toy Story? We shall be taking a walk down memory lane, sharing our own 'toy stories' and will be giving away B&M vouchers so that you can stock up on your Toy Story range and join in the fun.