Kit & Kin: Natural Mother & Baby Skincare by Emma Bunton
Long before I became a Mum I knew that I wanted to care for my children in the best way possible, I wanted to make sure that I protected them like only a parent can. I breastfed all of my children to give them the best possible start in life by giving them all the nutrients that are present in breastmilk and I wanted to use products which would keep their skin soft, supple, comfortable and breathable. I don't use just any old lotions and potions on my own skin, so why would I use anything less on such beautiful kissable baby skin?
Meet Kit & Kin
At the time when my children were babies, there were some amazing products around which are still available today but there's a new brand on the market which I love. It's called Kit & Kin and its the culmination of 2 years hard work of ex-Spice Girl and mother of two, Emma Bunton together with co-founder Christopher Money. Christopher has 15 years experience in developing mother and baby products for some of the most amazing brands around and is also the proud father of two sons.
What makes Kit & Kin special?
"We only use natural, nourishing, eco-friendly ingredients and sustainable materials to offer families a range of safe and effective everyday products via our convenient and hassle-free monthly bundles. All of our products are clinically and dermatologically tested to ensure they're mild and kind to use on your skin."
Commitment to the Earth
"For every 10 Kit & Kin nappy subscriptions, we will purchase one acre of rainforest through the World Land Trust. These vital ecosystems help provide clean air, lifesaving medicines and provide safe havens for some of the world's most vulnerable wildlife."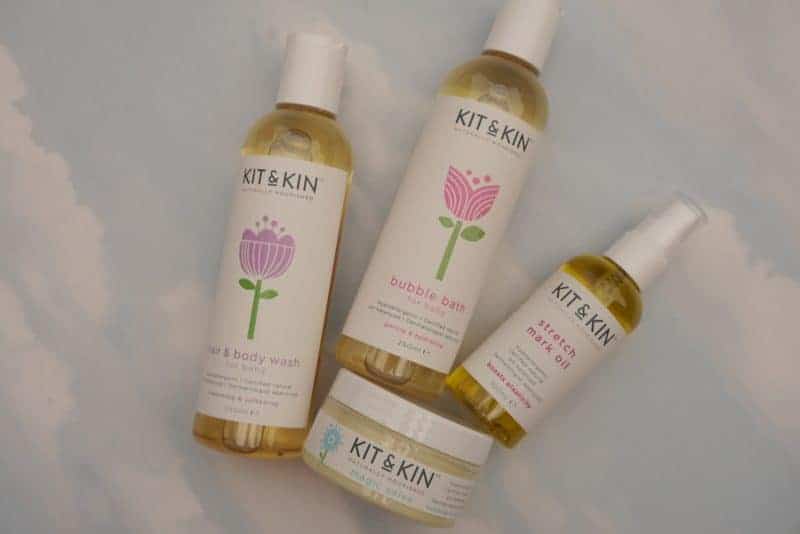 What Mummy Matters thought?
We have two children with particularly sensitive skin, Lillie began with a dry patch on the backs of her legs when she was just 6 weeks old, this then progressed to further patches on her back and arms. Albie also has dry skin which becomes worse in the Summer months when he gets hot and sweaty. Between the two we have to be very careful what lotions we use for them both otherwise it is easy to make the condition worse for them.
For Baby (and big kids)
When the Kit & Kin box arrived, our first impressions were how beautiful and simple the packaging is but the best part is opening the lid to let the aroma ooze out. The skincare range has a delicate fruity smell which is infused from natural plant extracts. They are pH balanced and lock moisture into the skin, keeping their skin happy and healthy.
I still regularly do Baby Massage for Albie because of his problems with poop. He loves a good tummy rub, it's a routine I learnt way back when Lillie was a baby and have used it with each of my Beans as they have come along. With Albie in particular, it has helped when he has been holding a motion in to relax and let it go. The Kit & Kin Baby Oil has been perfect for this, a natural blend of jojoba, ginseng, rosehip, apricot and papaya, it is a non-greasy formula which ensures a comfortable massage and no skin irritations or upset.
Lillie has recently discovered her love of shampoo and how soft it makes her hair feel. She says the Kit & Kin Hair & Body Wash smells good enough to eat and makes her hair feels so soft and silky. Coming from a child who doesn't like to eat, I think this is a good thing!
For Mum
Mummies' bodies go through an awful lot to grow a baby and to keep nourishing it once baby is here so it's only fair to give a little loving back. Kit & Kin have developed a range specifically with Mums in mind; Stretch Mark Oil to boost elasticity with a blend of 15 naturally nourishing oils including sunflower, jojoba, strawberry and mandarin, this smoothing soothing formula keeps skin supple and stretch mark free.
Breast Balm is that perfect little pot of happiness to carry around in your changing bag. Any Mum who has breastfed will know the pain and soreness of chapped nipples so massaging a little slick of breast balm on will help to cool, heal and protect. It is made without any harsh chemicals or synthetic fragrances. Nature at it's best.
DISCLOSURE: We received a selection of the Kit & Kin Skincare range for the purpose of this post. All words, images and opinions are my own and may not be copied without my permission. I have not been instructed what to write.