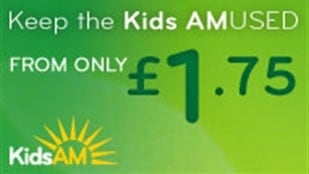 Keep the Kids Entertained for less this Half Term at Vue
Come rain or shine, Vue has the answer this February half term with exclusive films and offers
This half term, Vue Entertainment has a great range of value for money offers and exclusive family favourites to keep the kids entertained.
Kids AM
The Vue Kids AM offer will be extended during the school holidays from Saturday and Sunday mornings to every morning, in selected Vue cinemas. Tickets start at £1.75 for 2D films and £3 for 3D films, for both children and accompanying adults. This half term, the family can see a range of films with Kids AM including Barbie the Pearl Princess. Visit www.myvue.com/offers-savings/kids-am. Availability of the offer may vary according to regional school holiday differences.
Super Tuesday
Available at all 82 cinemas nationwide, Super Tuesday will give film fans more punch for their pound this half term with up to a third off cinema tickets. Families should visit the Vue website or text the word SUPER and their email address to 51055 for a membership number, which they then show on arrival at their local Vue.
Teen Tickets
Teenagers can also get a slice of the action with 13 to 18-year-olds invited to indulge in all the latest teen blockbusters, with a saving of up to 20% off all tickets this half term with special Vue Teen Tickets.
Hottest Offers
Barbie the Pearl Princess, exclusively at Vue on 15th and 16th February at 10.30 am, sees Lumina, a mermaid with big dreams of being a princess, embarking on a magical mystery to unlock her true destiny. Tickets cost from as little as £4.50 and can be purchased at www.myvue.com
Moshi Monsters: The Movie is sure to be a hit with the little ones and this half term fans can enjoy the Moshi action for less at Vue Entertainment, with 2for1 tickets. To claim the offer, simply visit www.myvue.com to download the voucher and present it at the box office when purchasing tickets. Tickets cost just £5.85 at selected cinemas and the second person goes free!
Walking with Dinosaurs: The 3D Movie is a stunning audio-visual experience offering cinema-goers the chance to see and feel what life was like when dinosaurs ruled the Earth. Vue fans can enjoy a free kids ticket to see Walking with Dinosaurs: The 3D Movie with every adult ticket purchased for the same screening. The offer is redeemable until Thursday 27th February and is not valid for online bookings. Adult tickets for £8.30 are available at selected cinemas.
Marketing and Sales Director, Joanne Webb said: "We know that organising fun activities to keep the kids amused during the half term can sometimes be expensive, and that's why we're delighted to offer these fantastic savings – to keep kids, teens and adults alike entertained for less this half term."
Visit http://www.myvue.com/savings-offers for more information on Vue's great money-saving deals and participating sites.