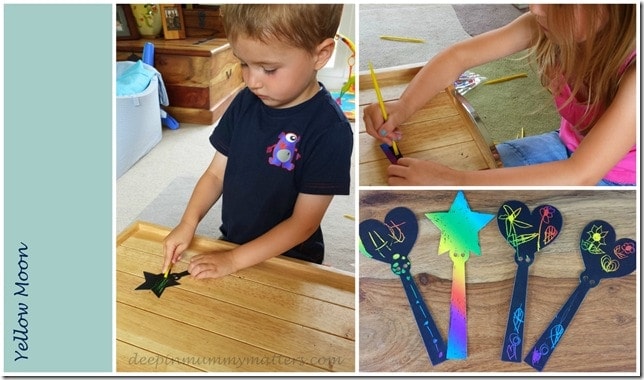 Craft to keep them entertained at Half Term!
As the weeks of the new school year are flying by it's hard to believe that we are only a few short weeks away from the October Half Term holiday. Unless we are really lucky with the weather, the likelihood is that we will be spending a lot more time indoors during Half Term so I don't know about anyone else, but I like to plan ahead and think of things that we can do to keep the children entertained.
There is nothing that my children enjoy more on a 'home' day than to get out the craft boxes and get creative. This is where reviewing products for Yellow Moon comes in really handy (although I would like to point out that I also buy lots of products from Yellow Moon myself). Over the summer holidays we found ourselves diving into the craft boxes to see what we could create and will often do so after school to wind down before tea time.
Earlier in the year I bought the children a pack of scratch art butterflies which the children loved doing. They are so simple and yet really effective. It surprised me just how much Little Bean's pen control had come on in the few months since she had done these previously. Her butterflies were randomly scratched with no real picture or pattern (much as Beanie Boy's were this time around) but this time Little Bean thought carefully about her designs and was very happy with her finished bookmarks. She designed them with special people in mind.
I don't think I have ever used Fabric Crayons before in my life but I was really impressed with these Berol Fabric Crayons. You really do need to clip the fabric quite taut over a board as instructed on the box. I bought the children some plain t-shirts from QS Store which were three t-shirts for £4. Little Bean chose the coral pink t-shirt and said that she wanted to design herself a Hello Kitty t-shirt so we began by practising on paper first. I drew Hello Kitty for her to copy and then she had a go at it herself. Once the designs are finished you just need to iron the t-shirt under a cloth to set the crayon.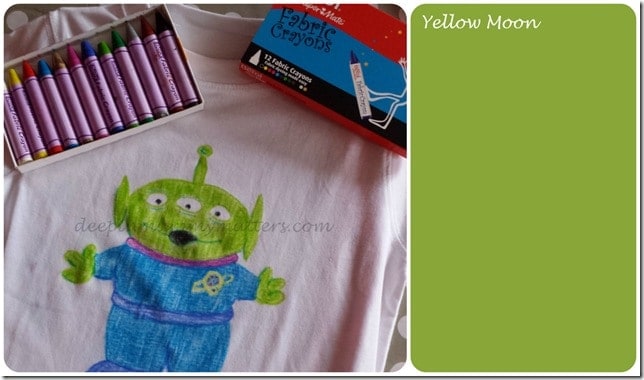 Beanie Boy wasn't convinced of his drawing skills so he asked me if I would draw him a Toy Story t-shirt so I opted for the Alien and he LOVED it! I have to say, I quite enjoyed doing this myself, I think it could be quite an addictive craft to get into.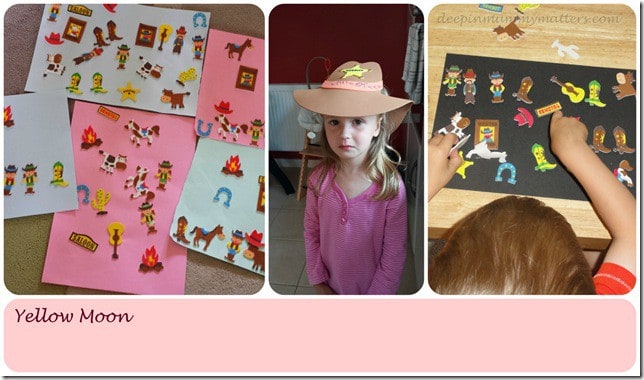 One of our latest craft projects was cowboy themed, Little Bean looks sad in her picture because she slipped off her chair and gave herself a thick lip on the table but she did enjoy making her cowboy hat and they both loved creating pictures with the foam cowboy stickers. I would buy these stickers again and again as they are such great value for money at just £2.99 per pack and the pack goes a loooong way.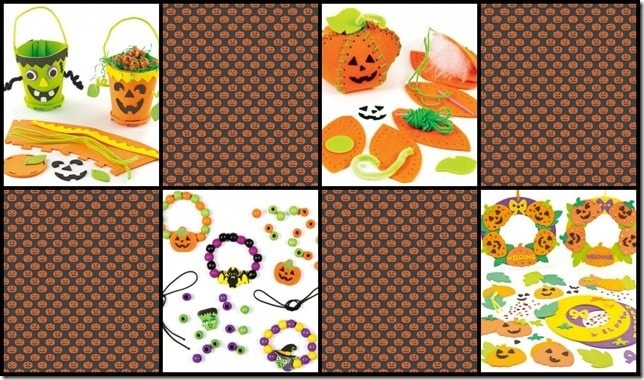 They have a great range of Halloween Crafts and spooky essentials, I have just had a quick look but I will be looking again soon to see what I can find to get the house all spooked up during the half term holidays. If you're new to Yellow Moon, check online to see if your child's school or local charity is listed as a percentage of the money you spend will be given back to the school or charity.
What have you got planned to keep your little ones busy during the holidays?
DISCLAIMER: I was sent a box of craft kits and accessories for the purpose of this post free of charge. I have not been instructed what to write. All words and images are my own and may not be copied without my permission.