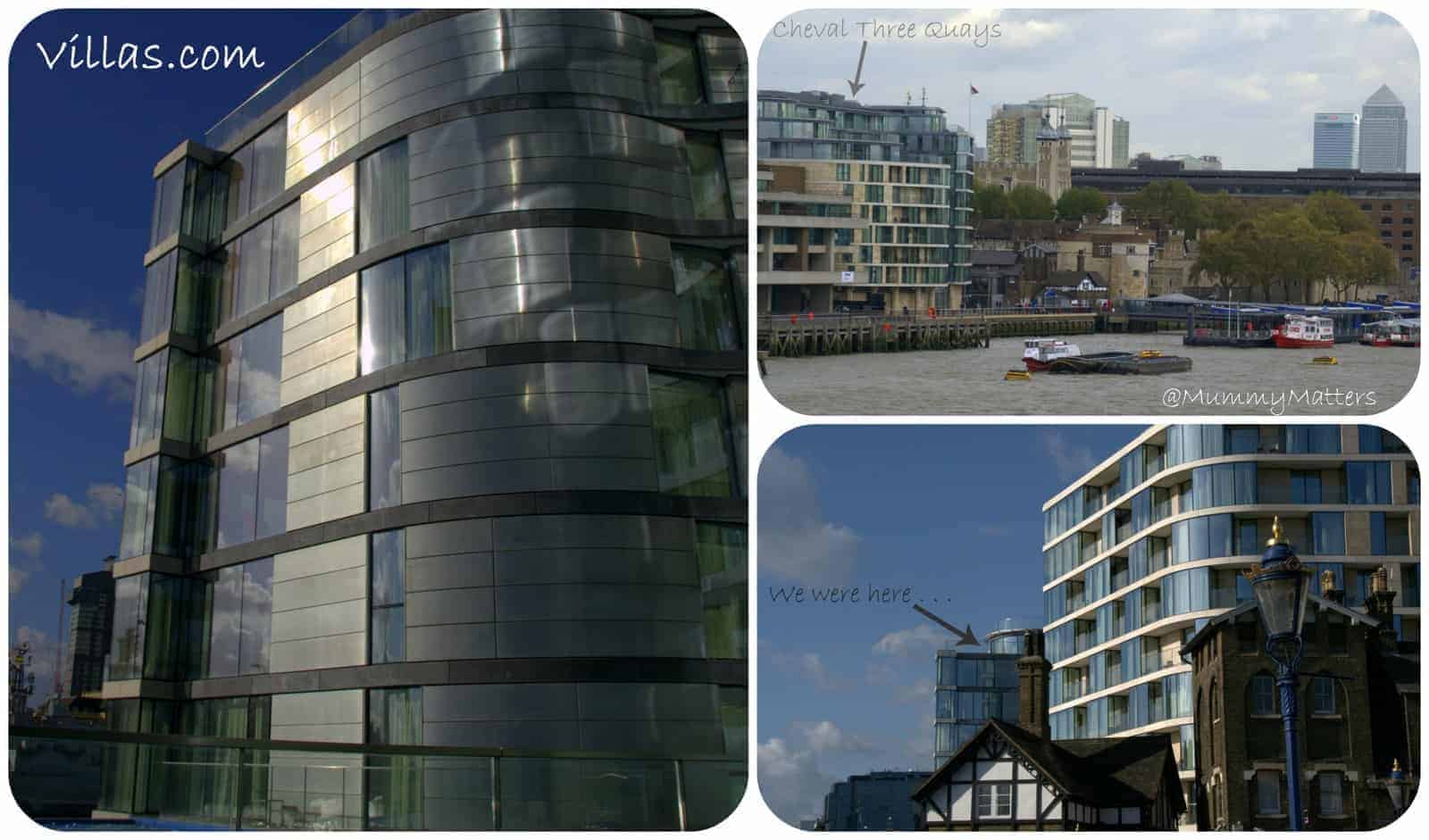 Introducing Villas.com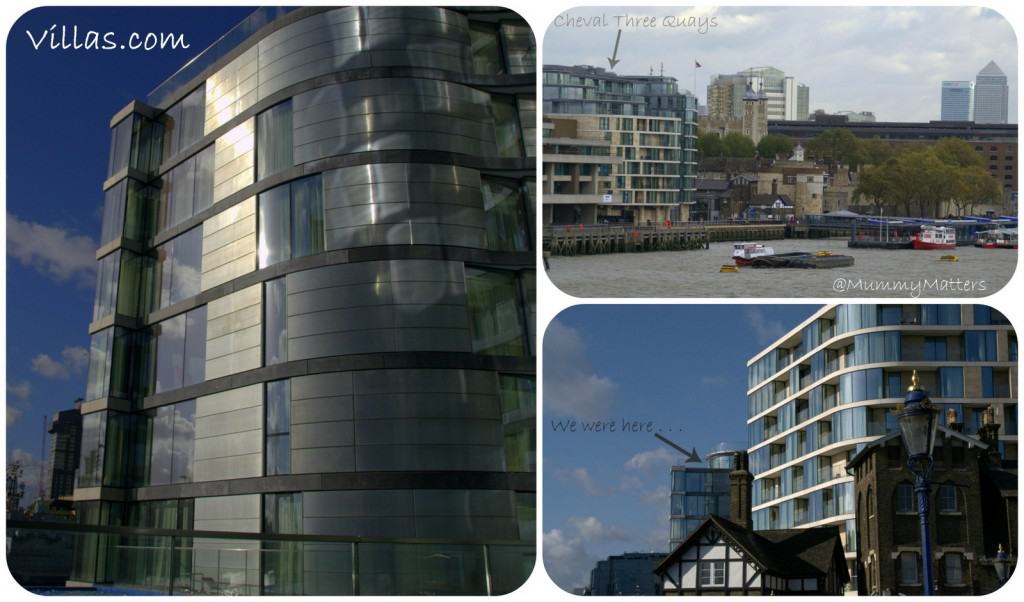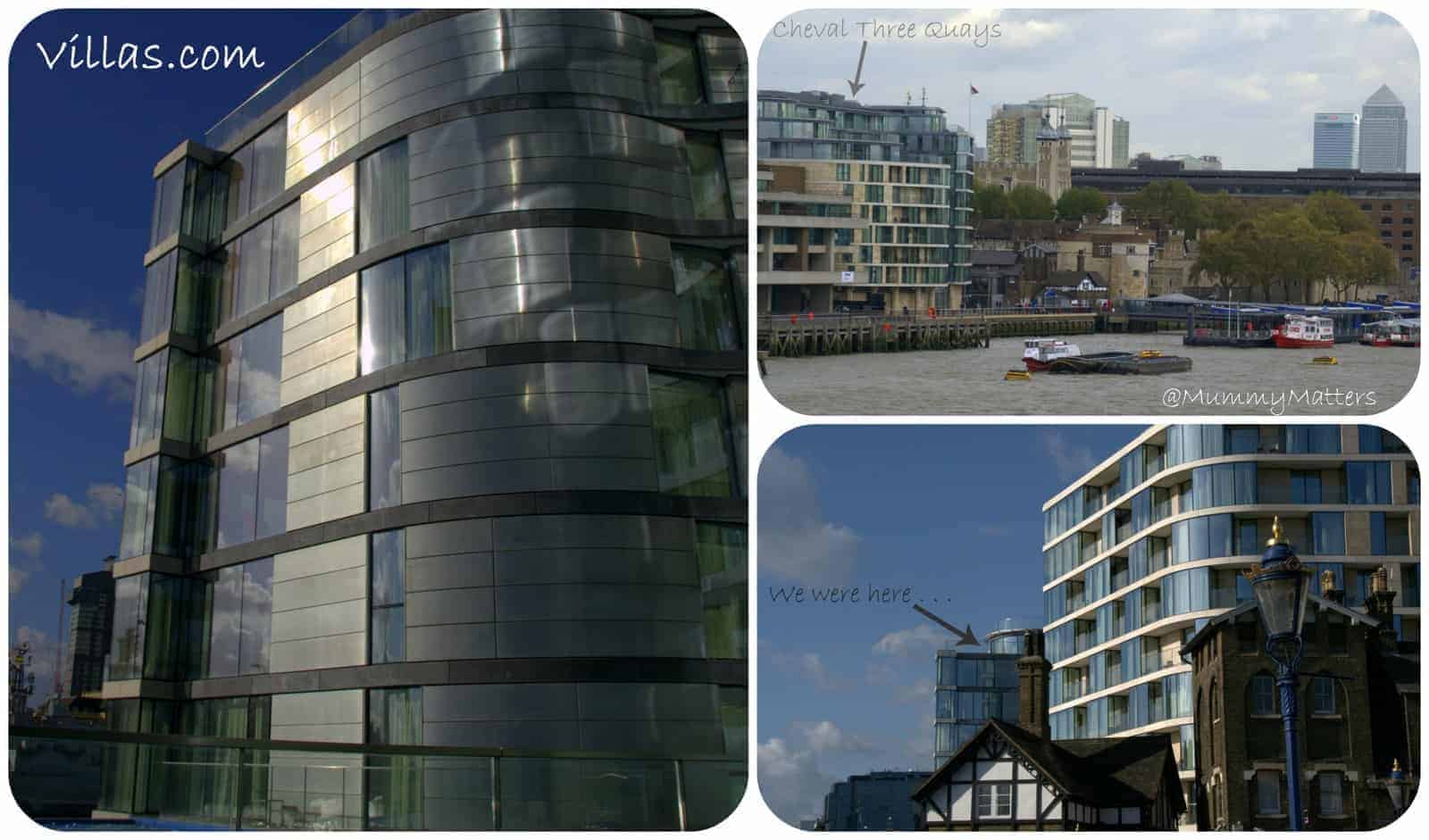 How do you book your holidays?? Do you still trudge down the high street to your local travel agents and flick through their brochures? Do you trawl Teletext in search of the perfect break? (Do people even still use Teletext???) or do you search all the holiday sites online to find yourself the holiday of your dreams and then wait with your fingers crossed praying that it will be what it says on the tin?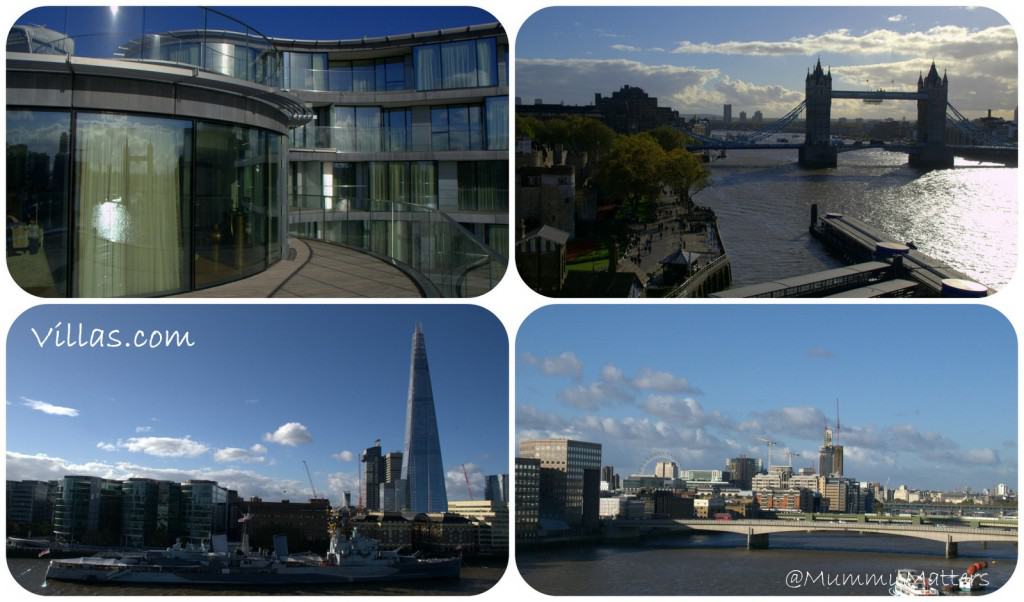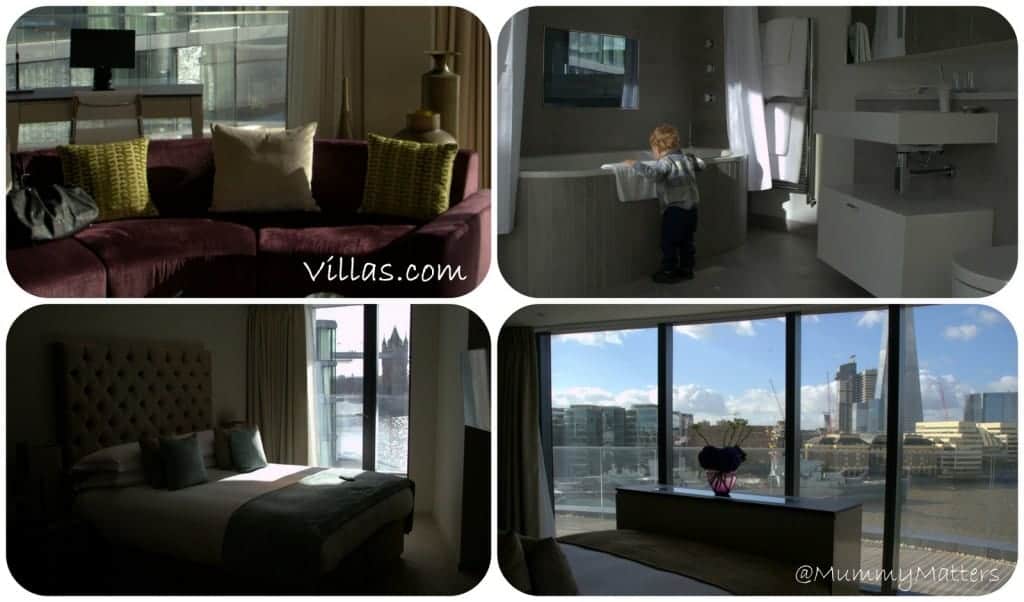 The last 'foreign' family holiday that we had was October half term 2007 when I was 10 weeks pregnant with Little Bean. We took Curly to Fuerteventura and had a lovely all-inclusive holiday in a beautiful resort with a room which walked right out onto the poolside. We haven't ventured abroad since the Beans have come along because, well, we aren't great at packing light at the best of times but packing light with tiny children is almost an impossibility for us. Now that Jelly Bean is fast approaching his second birthday in January and the weather has become decidedly cooler we are starting to think towards warmer climates and to the possibility of hiring a Villa abroad. We like the idea of a Villa with it's own private pool so that we only have to watch out for our four children, not our four children in a sea of 50 or more adults and children. We also think a Villa would make life easier for us from a sleeping perspective as we wouldn't all have to be cramped up into just one or two rooms.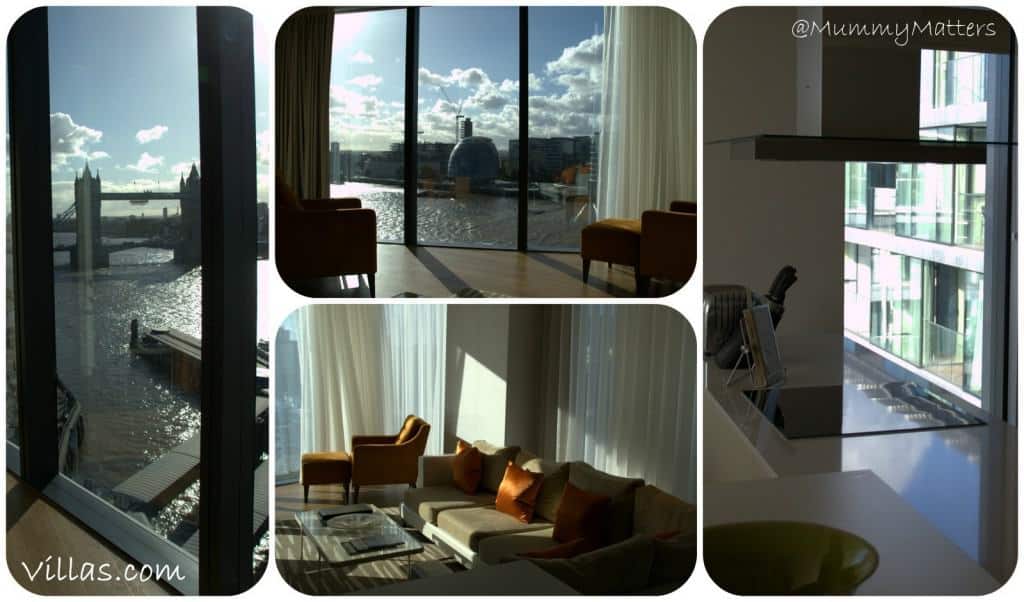 Last week the boys and I travelled down to London on a very blustery morning, it would appear that we arrived at the same times as the tail end of Hurricane Gonzal0 which made for a fun walk across London Bridge with a double hooded buggy, if I had a skateboard I could have surfed across!!! Booking.com made up for it though when I was invited into the Penthouse Apartment of the Cheval Three Quays on the South Bank of the Thames. The Penthouse suite offers 180 degree views of London with key sites for me being the Tower of London, Tower Bridge, the Shard and the London Eye. Despite the wind the skies were a brilliant blue and gave us a stunning backdrop to enjoy from up high. We were even treated to birds eye views of the gun salute on the South Bank by the Tower Poppies.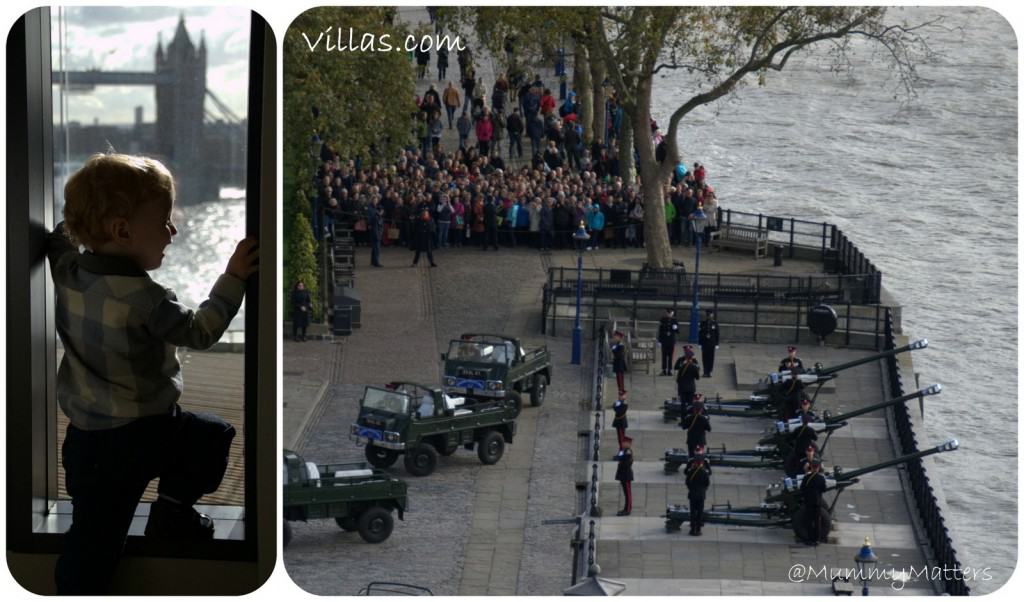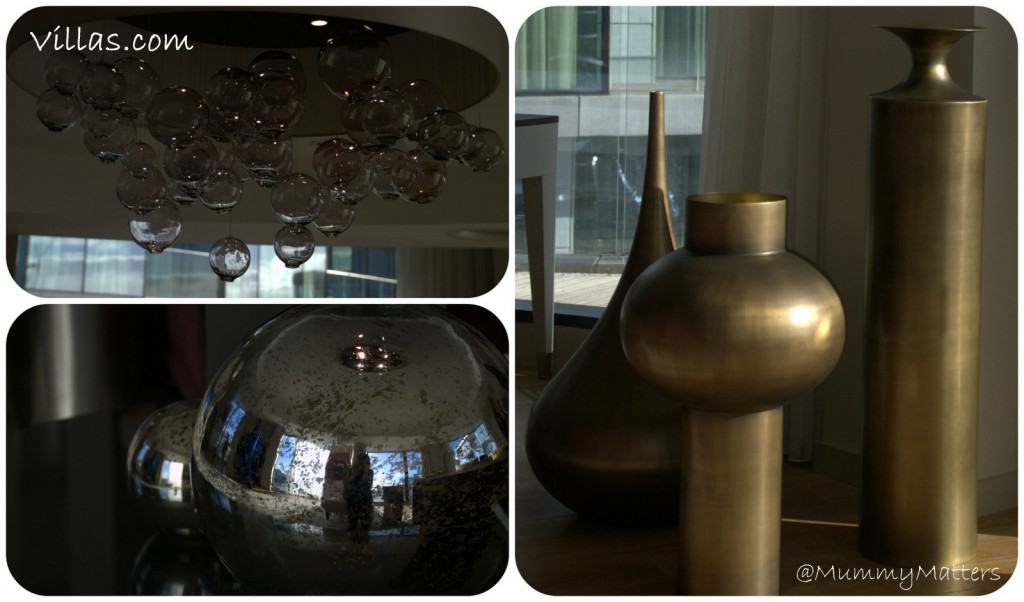 Whilst the boys were busy flirting with all the ladies, eating cake and marvelling at having their very own Balloon Sculptor on hand, myself and a small group of bloggers were given a tour of some of the other apartments in the Cheval Three Quays which are marketed by Booking.com. The accomodation was absolutely stunning with every little detail considered and a beautiful interior decor theme throughout.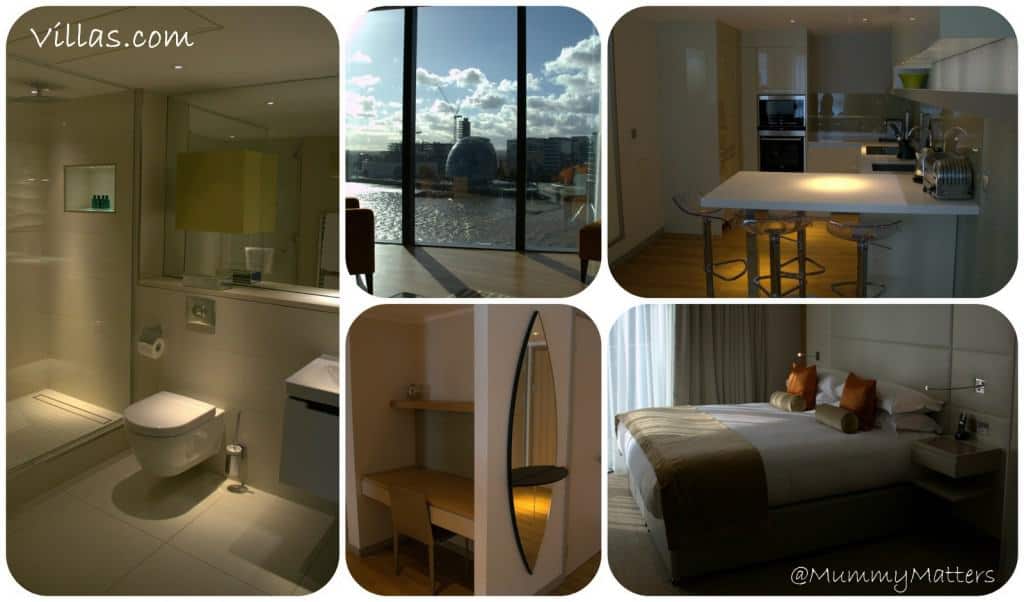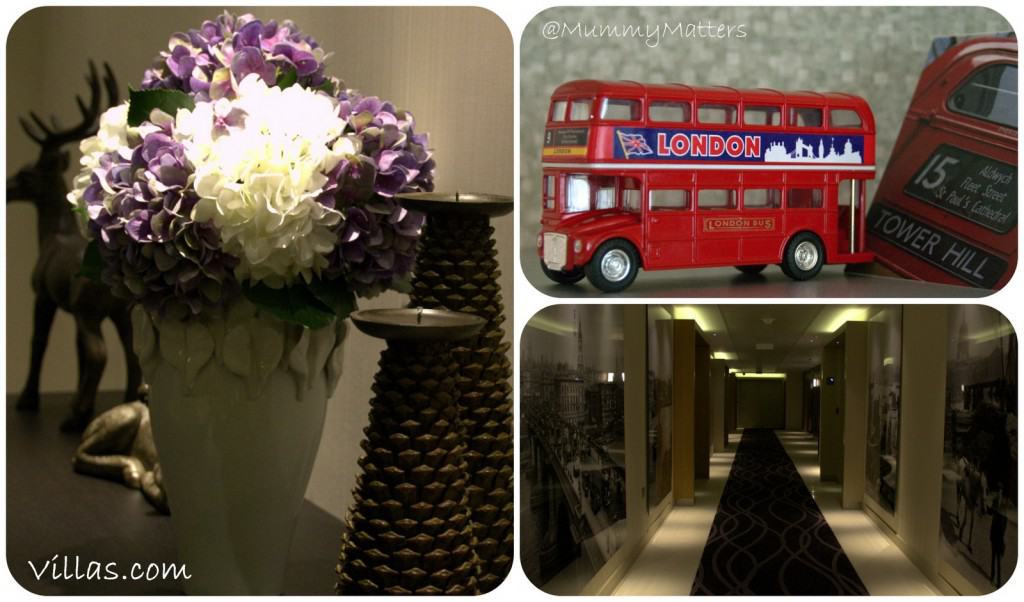 Booking.com launched in 1996 and if you haven't used them before you will no doubt have seen their TV ad "Get a room" where the male half of the couple improves with each aspect of their hotel booking. Booking.com are responsible for booking over 700,000 room nights each day and over 539,800 hotels, apartments and villas. In May 2014, they launched Villas.com with over 201,000 vacation rental properties including cottages and chalets and over 90,000 pet friendly properties. They cover 24,736 destinations worldwide in comparision to 71,283 for Booking.com in 207 countries. Now that's a whole load of holidays right there! Even better they offer 24/7 customer service in 42 languages so if there does happen to be a problem on holiday (because things can and will happen from time to time) then they will have someone on hand to resolve the issue for you.
Villas.com is dedicated to helping travellers find, book and enjoy their self-catering, vacation rental properties worldwide. Self catering is the most popular form of accomodation for us Brits because it makes life easier, especially when taking a holiday with children. Villas.com recognise this and have unique holiday rentals covering everything from chalets, cottagers, apartments and gites to aparthotels, villas and condos.
Easy to Book
Villas.com features easy search tools to make life as simple as possible to find your perfect holiday with clear customer ratings. I had a play around on the site myself and loved that since I didn't really have a clue where I wanted to go I was able to 'explore'. I put in that I wanted to go to the Canary Islands (for guaranteed sunshine) looking at February 2015. You can then search via list view to see each property or you can narrow your search down by region view and select the region you like the sound of best according to available activities. I chose Lanzarote as it was the first foreign holiday I had when I was a teenager.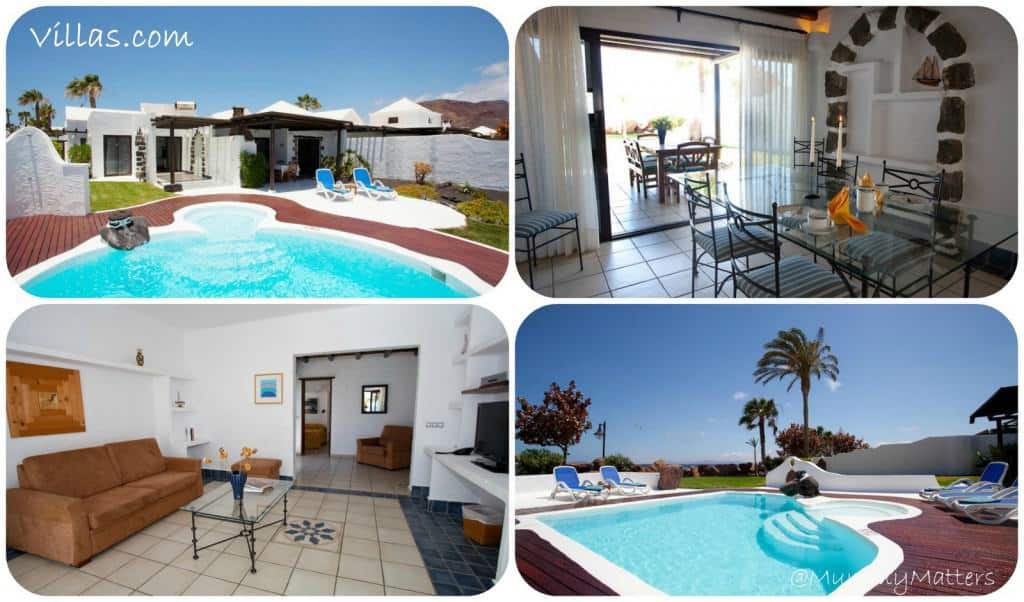 In Lanzarote there are 686 holiday rentals so I narrowed it down further by choosing a private pool as that is one of our preferences mentioned above. This took my search to 82 holiday rentals. Next I searched Lanzarote itself by selecting Family Friendly, Culturally Diverse Food and Beaches which gave me a breakdown of three resorts which matched my preferences; Puerto del Carmen and around, Playa Blanca and around and finally Costa Teguise. I opted for Playa Blanca as it didn't show nightlife which we won't be needing with four children in tow! This brought my search down to 28 holiday rentals. I LOVED the look of this Villa as it has a small private pool, a dishwasher (who wants to do the dishes on holiday??), children's play area and shops nearby, a bath for keeping the little monkeys clean plus free Wifi, DVD player and satellite channels if you need them plus pretty much everything else you would need for a stress free holiday with the children. The best part is I could book it now and know that the holiday was secured because all properties have guaranteed availability. It even offers free cancellation up to one week before the holiday which is great for peace of mind too bearing in mind Hubby was made redundant at Christmas last year. Now if I just had the pennies in the bank I would book this deal right here and now so that we had something to look forward to! That search took me less than 10 minutes to find an ideal holiday and that was me just playing, imagine what I could find if I wanted to take the time to look longer.
Real Reviews
Since I have been blogging I read reviews for everything so I love that Villas.com only have reviews from people who have actually stayed in the holiday rentals within the last 18 months. What's the point in reading a review which is 4 years old, I know how tired my house looks after 4 years with just the 6 of us in it, nevermind how many people must pass through a holiday rental. Villas.com have reviews you can rely on.
What are you waiting for, give Villas.com a go right now!
DISCLAIMER: We were invited to London with paid travel, light refreshments and a goodie bag in exchange for our honest post on Villas.com and Booking.com. All words, images and opinions are my own and may not be copied without my permission.