Kicking off our #instantfreedom at Villas Menorca Sur, Son Bou
So far I have told you all about the Beans' first experience of air travel, today I'm telling you all about our first day in Son Bou, Menorca and the beautiful Villa we stayed in.
Villas Menorca Sur, Son Bou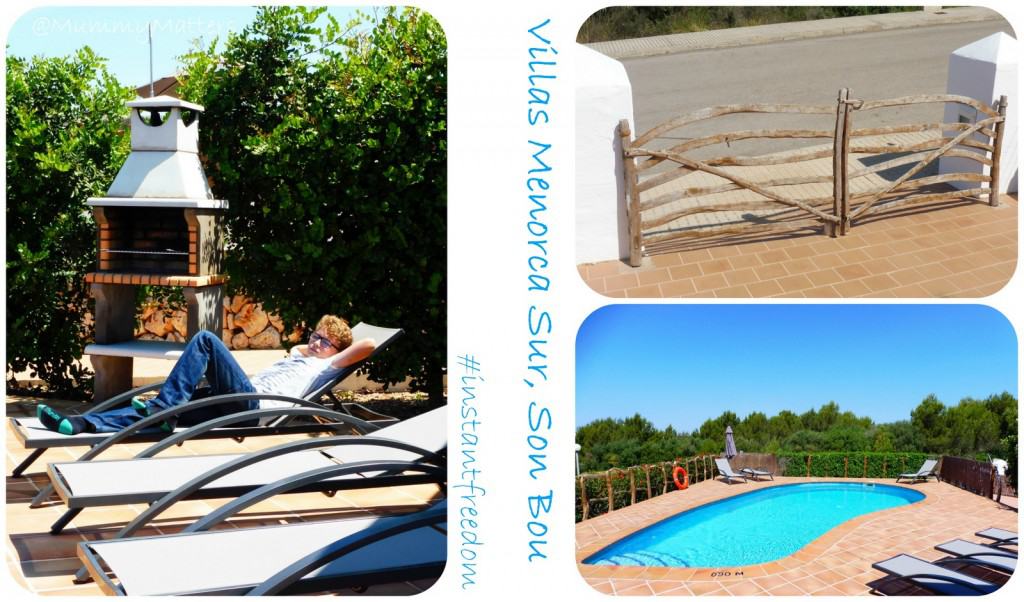 We booked Villas Menorca Sur via Villas.com and were instantly impressed with both the booking experience itself, which was super easy but also the Customer Service provided by the staff at Villas Menorca Sur, who was quick to respond to my emails to ensure that everything was just as we wanted it before we arrived in Son Bou for our break.
Our Resort Hoppa coach driver took us straight to the reception, collecting the keys to our villa. From the moment we walked through the door, the staff were amazing. They spoke excellent English (to Curly's disappointment as he is becoming quite the whizz at Spanish and was hoping to put his skills to the test) and explained everything we needed to know about the Villa and getting out and about around Son Bou. They then drove us to our Villa so that we didn't have to lug our cases around.
First Impressions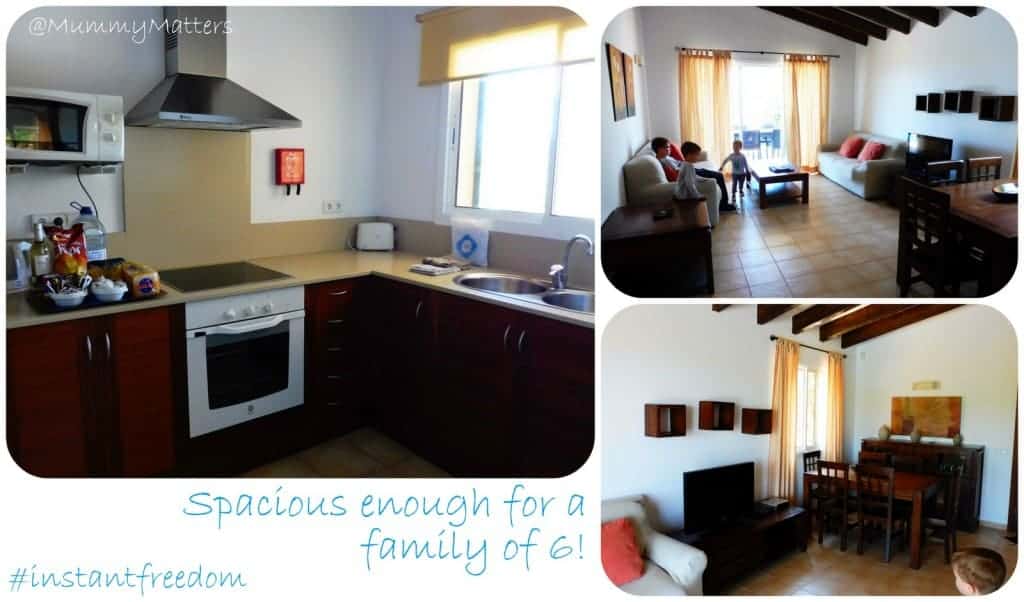 First impressions of our Villa as we pulled up outside were perfect. It looked much bigger than we had anticipated and more than anything, the pool was calling our name!! Once inside, the smiles on our faces grew bigger with each room; the Villa was light, airy, clean and spacious with high beamed ceilings.
The air conditioning meant that we could stay cool when needed, however even with a temperature of 35C outside, the Villa remained comfortable inside, and we only needed to turn the air con on a couple of times.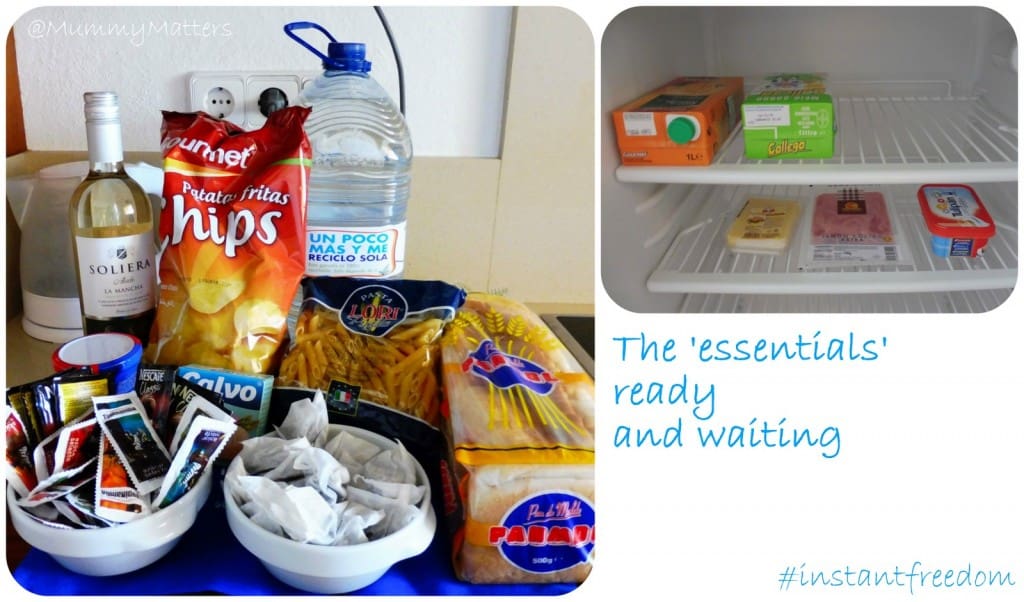 The kitchen was equipped with everything a family would need to cater for themselves; a large fridge/freezer, oven, hob, dishwasher and a double sink, but we were on holiday, and we had no intention of cooking. The really nice touch was the fridge/freezer stocked with Milk, Fresh Orange, butter, cheese, mayonnaise, ham and a huge bottle of water. On the countertop was a tray with bread, pasta, tuna, wine, tea, coffee and sugar, and washing up liquid and clean tea towels. This really ticked the boxes for customer service for us.
Accomodation
The lounge/diner was large and bright, with triple sliding doors opening out on the patio area with table and chairs and then out to the pool. According to the Beans- a bidet to you and me!), there were three huge double bedrooms, a large family bathroom with a multi-jet shower cubicle (and a 'baby bath for Jelly Bean, according to the Beans – a bidet to you and me!) large en-suite with a jacuzzi bath off the master bathroom.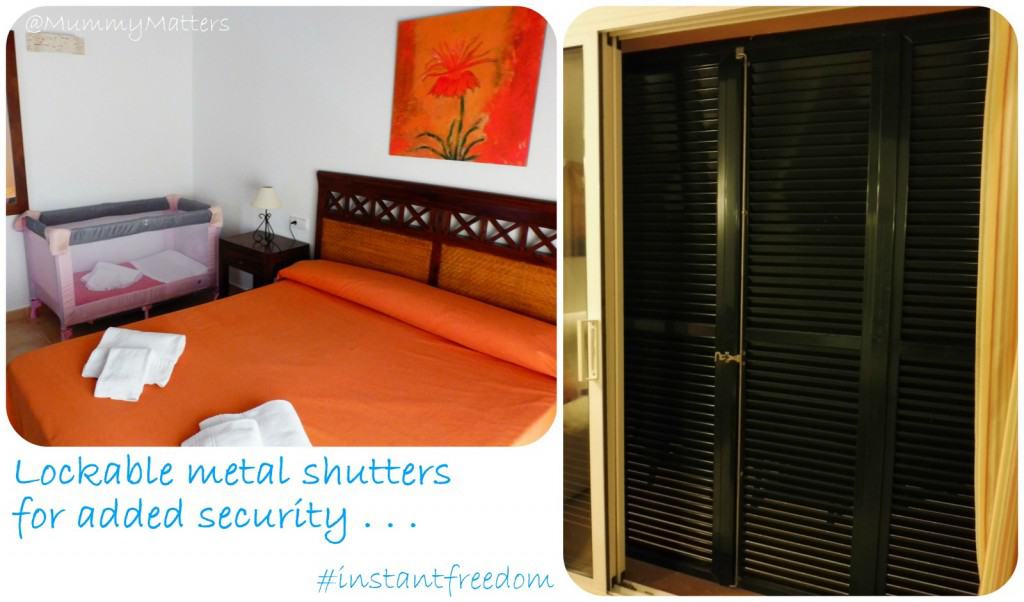 One thing I had been anxious about going on holiday with the Beans was the sleeping arrangements; we had taken our video monitor with us to keep a watchful eye over them whilst they slept, but I breathed a huge sigh of relief when I noticed that all of the bedroom windows had metal shutters on which could be locked from the inside, it was the peace of mind I needed to settle down to sleep at night.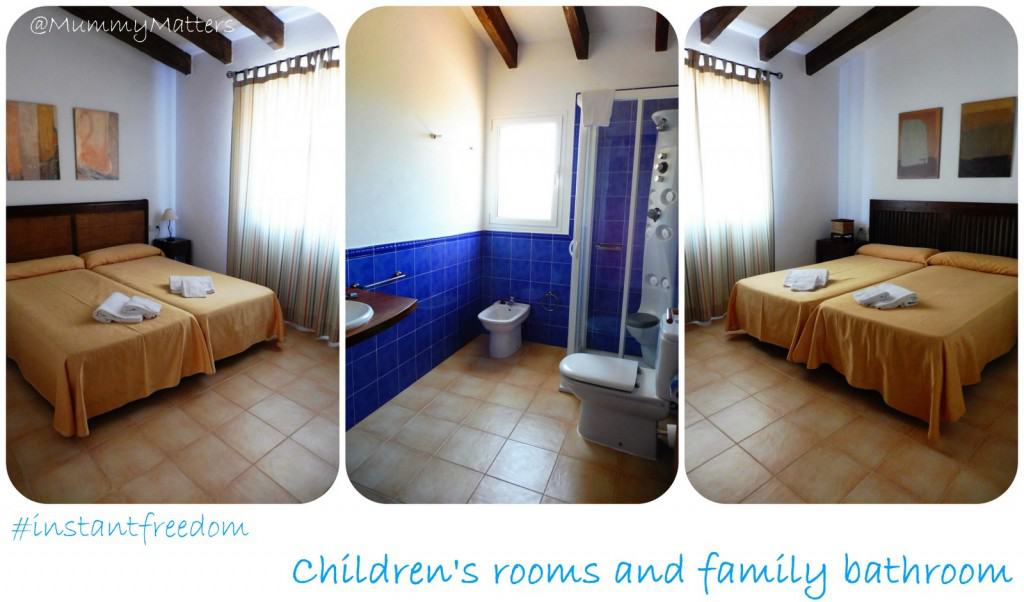 Not only did they provide added security, but they also acted as a blackout blind, so we didn't have to worry about the Beans waking early with the sunshine. The Villa was also equipped with a burglar alarm; everything about the Villa made us feel safe and added to that #instantfreedom we were hoping for.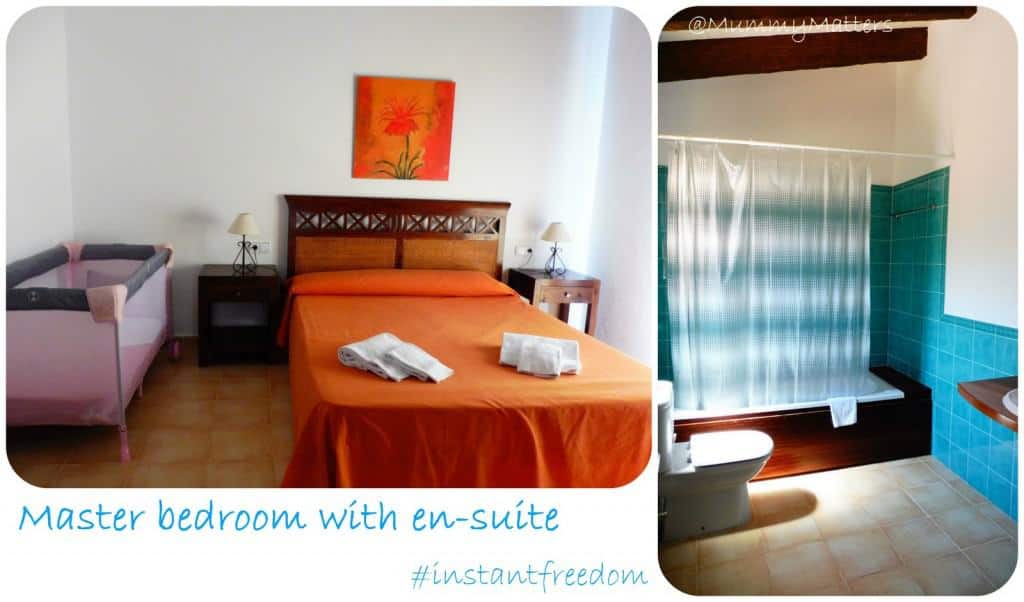 Within an hour, our cases were unpacked into the wardrobes; we had all been smothered in sun cream and left to soak in, so there was only one thing left to do . . .
HIT.THE.POOL!!!!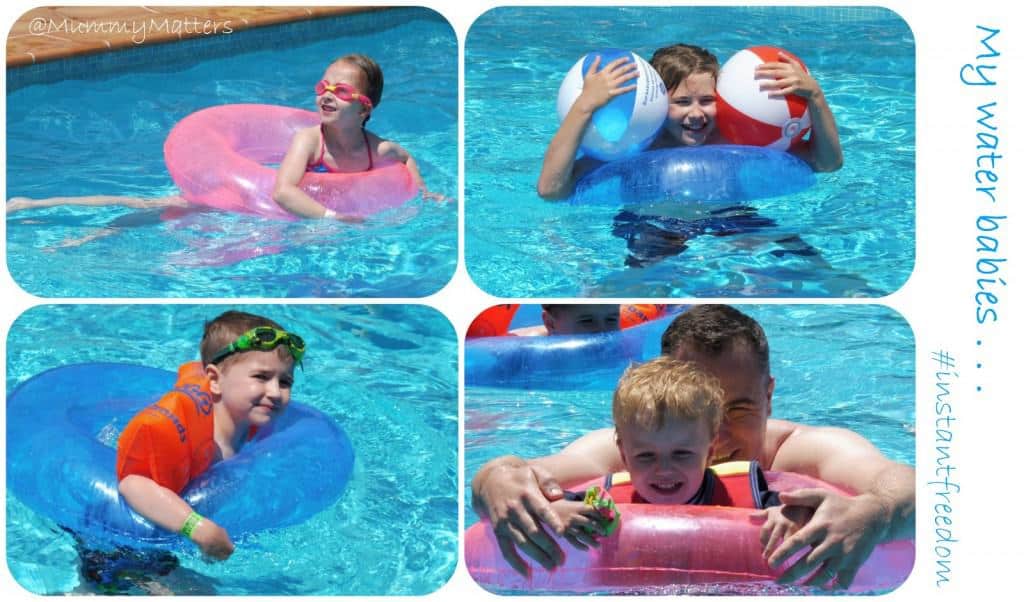 Having a private pool meant that we were able to relax when the Beans were swimming. We had a chat about Pool Rules; only Curly was allowed in the pool without Mummy and/or Daddy, no running by the pool and both Beanie Boy and Jelly Bean were to wear their swimming aids around the pool. I'm pleased to say that they followed our Rules to the 'T' for the duration of our break.
Time to Relax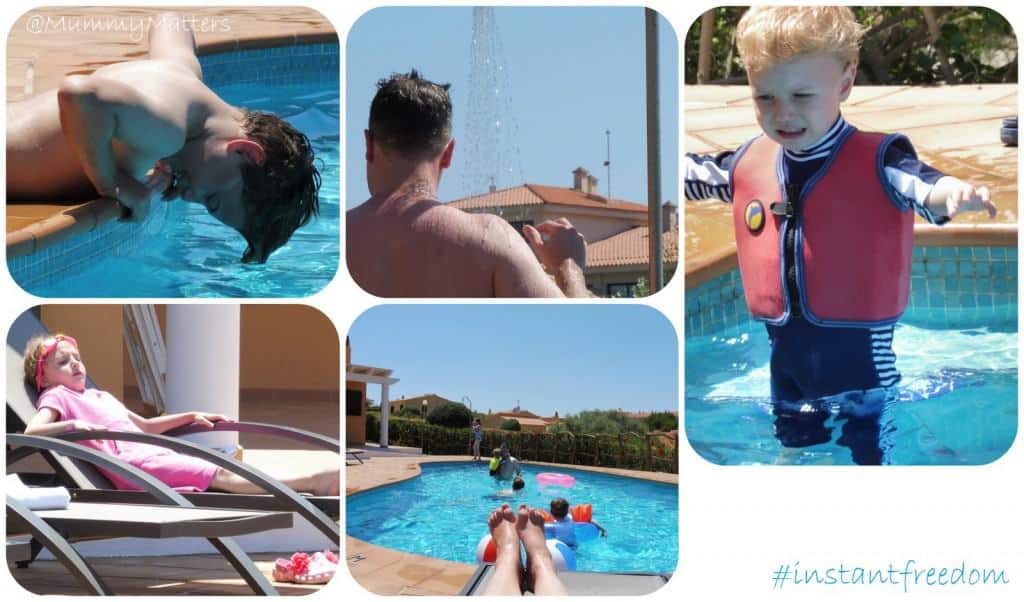 By mid-afternoon, everyone was starting to feel the effects of the very early start, so the Beans all had a nap, whilst Hubby, Curly and I chilled out by (and in) the pool. The area was so quiet, even with families in Villas to either side of us; the only real sound was the crickets in the fields opposite and the birds in the trees. We felt like we were a million miles from anywhere; we knew exactly what #instantfreedom felt like.
An Evening in Son Bou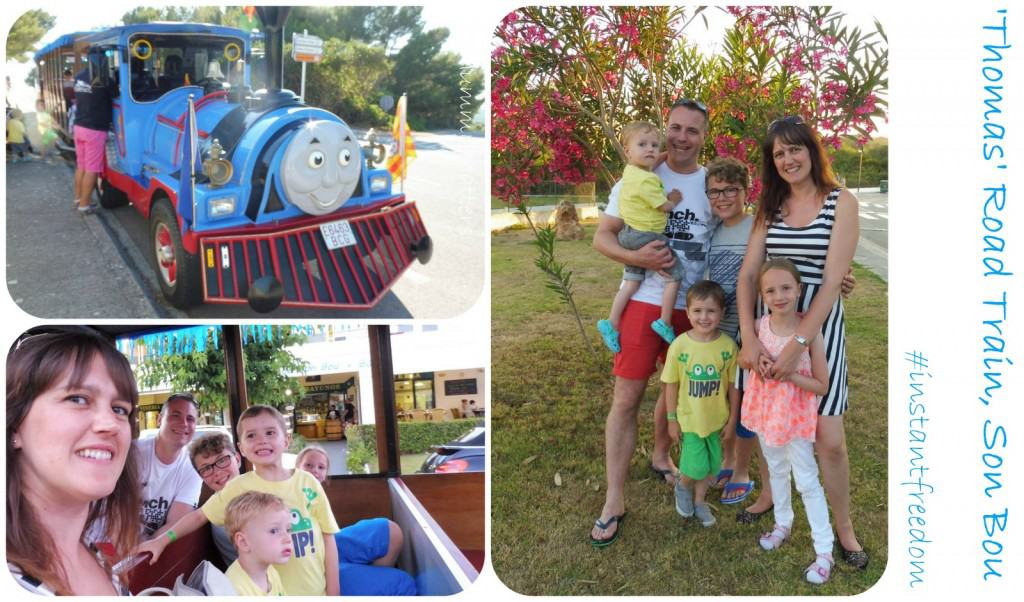 On our first evening, we decided to walk down the rather steep hill to the town of Son Bou to find a restaurant, but like a knight in shining armour, a 'Thomas the Tank' style road train pulled up on the roadside. The road train ran until 11 pm, so we were able to catch it back up to our Villa and get a little sightseeing tour of Son Bou at the same time.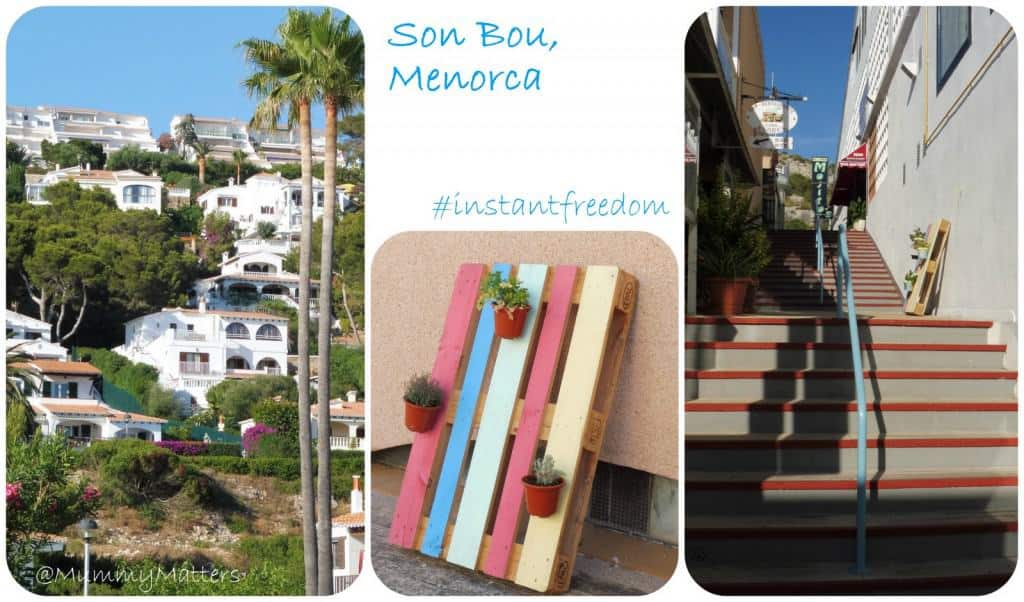 The resort of Son Bou was beautiful, green and lush with bright flowering bushes everywhere, which looked stunning against the backdrop of white Villas, Apartments and Houses set into the steep hillside.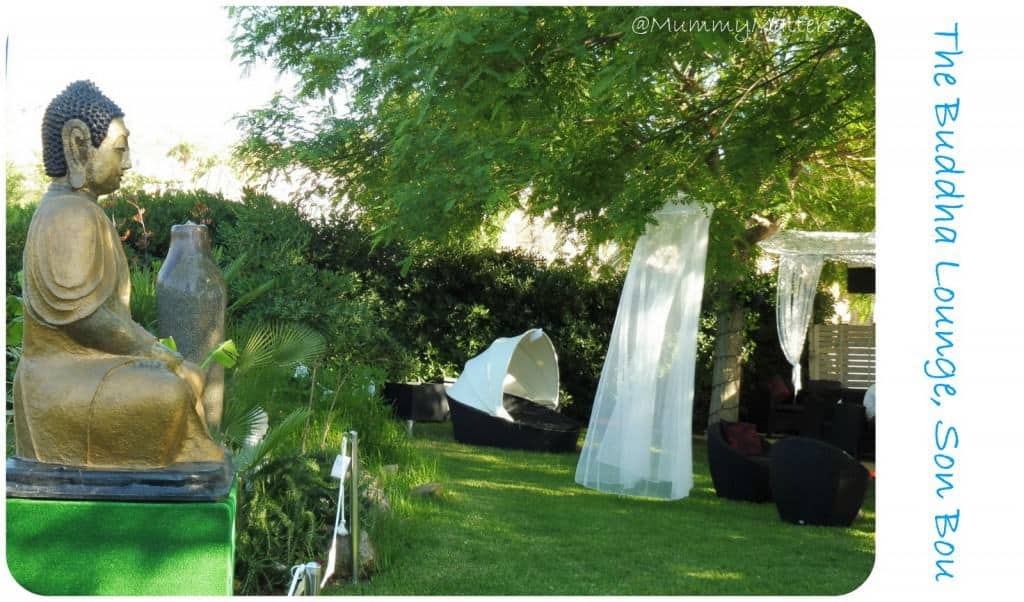 Eating out was always going to be a testing time for us with Little Beans' rather restricted diet, but I'm pleased to say that our fears were unfounded once more. I really wanted to eat at The Buddha Lounge because it looked so 'zen' and calming, but introducing the spirited Beans would definitely have ruined that atmosphere. Hence, we (reluctantly) decided to give it a miss. Little Bean managed to find something each night that she wanted to eat (ok, so it was mainly pizza), but she ate a substantial meal each night. Unlike mealtimes at home, I can actually say our evenings out were delightful and entertaining.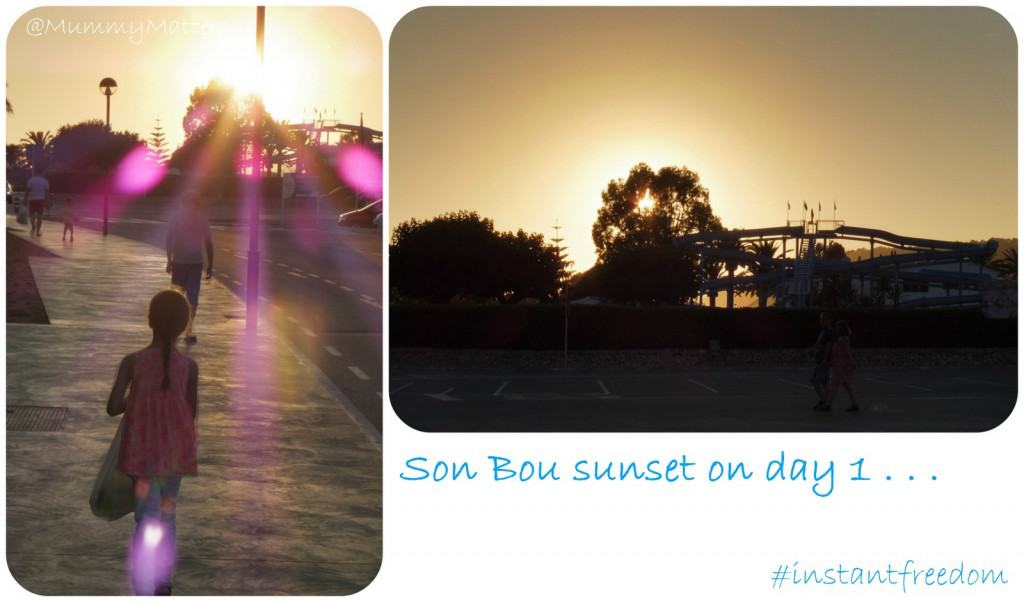 As the sun began to set on our first evening in Son Bou, we took a walk to let our dinner go down and to enjoy every last ray of sunshine. The light was just beautiful, and as I took a deep breath, I felt the heat soothe my body and mind, that feeling that you only get when you switch off from the daily grind on holiday.
The Road Train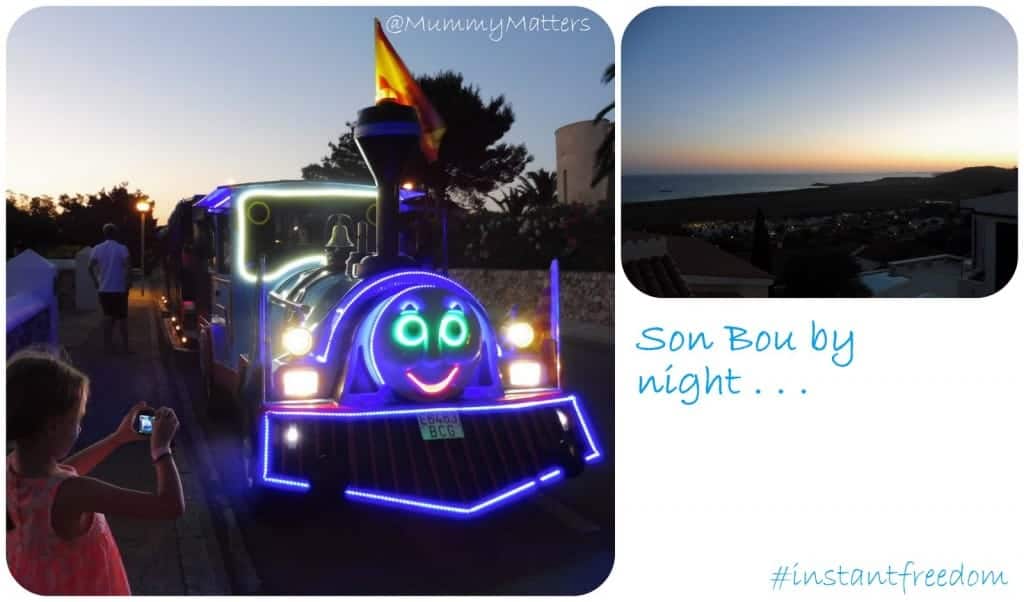 The Beans excitedly spotted the train, which took us for a tour around Son Bou by night. They embraced the local language, wanting to know how to say "hello", "goodbye", and "thank you" I was quite impressed by their vigour. Curly suggested they play a game called 'sweet and sour', which Hubby and I had never heard of.
As the train passed people on the street, the Beans would shout "Hola" or "Buenas Noches" if people responded they were 'Sweet' and if they didn't, they were 'Sour'. Hubby and I thought this was quite amusing until we encountered the first people who failed to respond, and Little Bean said in her loud not-so-quiet voice, "they're sour," pointing at them at the precise moment the train stopped beside them.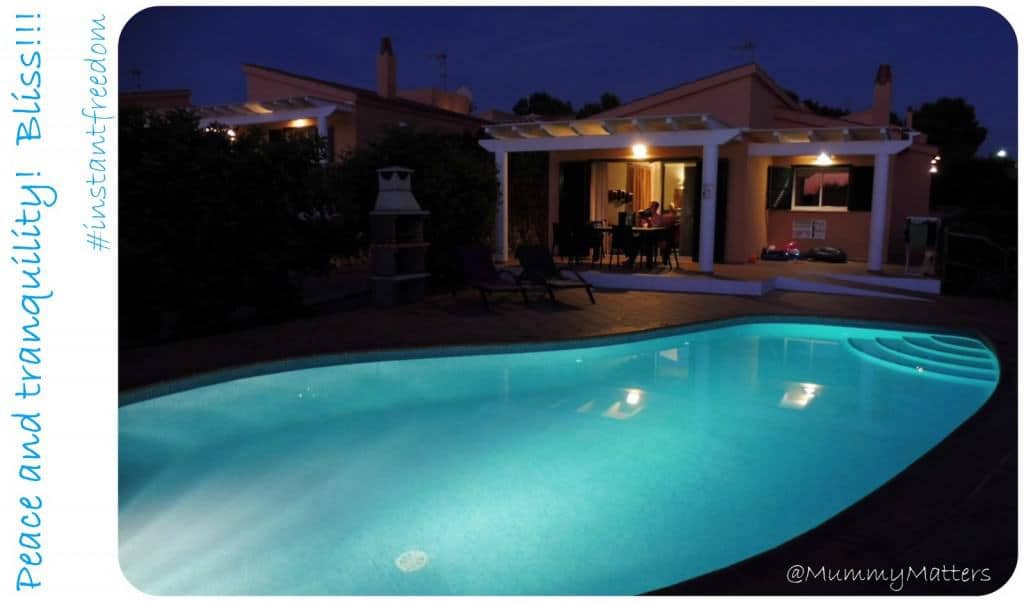 Back at the Villa, Hubby and I tucked the Beans up in bed, closed all the shutters apart from the front window and patio doors whilst we enjoyed a glass or two of wine, read our books and enjoyed the peace. Things really couldn't have been more perfect . . .
DISCLAIMER: Our accommodation, transfers, parking and a proportion of our flights were covered by Villas.com in exchange for an honest account of the break and the customer service received. All words, images and opinions are my own and may not be copied without my permission.