I love being a Mummy
For as long as I can remember I dreamed of one day becoming a Mummy, 'three' was always my magic number, the number of children I wanted to have. I don't know why three exactly, because most people who I know that came from a family of three said that it was pretty rubbish, two parents meant that one child always felt pushed out somehow but still, that was my aim.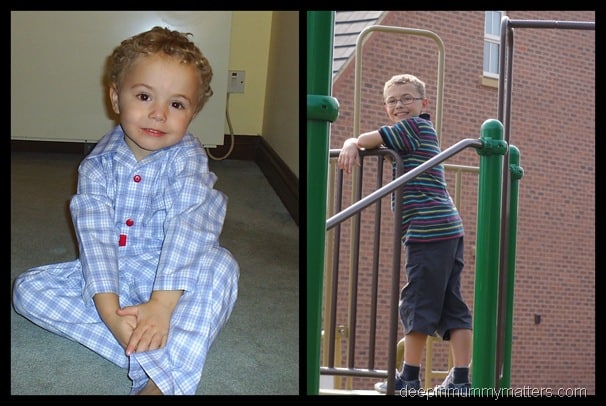 Obviously when I met Hubby and he already had Curly, I was one step closer to my magic number without even having to lift a finger. It hasn't always been easy but being a step-mum to Curly makes me feel very proud so have helped raise him since he was 2 years old. He has grown from this cute cherubic curly haired toddler into a very loving and caring (still curly haired) young boy. Like all children he has his moments but hey don't we all.
When Curly was little we would have disco Fridays in the days when Top of the Pops was still around. We would put the TV on, turn the volume up and just dance around the lounge like loons. Curly used to love this and would inevitably end up in fits of giggles, especially when Hubby and I were too tired to dance anymore. Curly would beg us "just one more" until he'd managed to get us to dance to every single song on the show. He still has a big love of music today and like me, quickly knows all the words to the songs. He has put me off my Michael Jackson collection though because he plays them non-stop!!
Announcing to Curly that his Daddy and I were to get married was something that Hubby and I were both nervous about but seeing the beaming smile on Curly's face was magical and he was so excited as the big day drew ever closer. He looked so cute in his wedding attire and was a such a good boy on the day, when he first saw me in my dress he told me "you're a princess" – that has stuck with me always.
Small things stick in my mind like the day that we were out together and I called for Curly to come back to us, he (as usual) failed to hear us so a lady nearby said to him "your Mummy is calling you" and he replied "that's not my Mummy, that's my Beanie". It made me laugh yet feel warm inside because I am and always will be "his Beanie".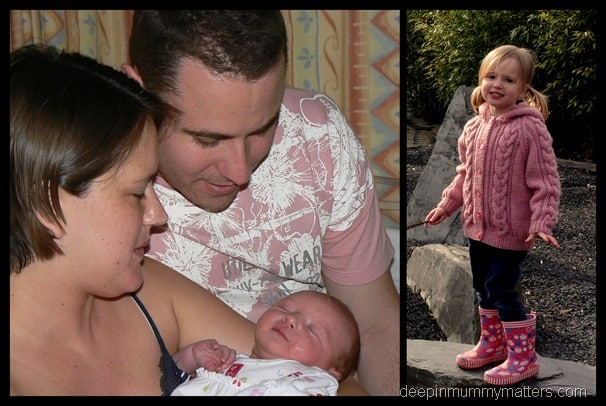 On 6th June 2008 my dreams of becoming a Mummy finally came true as we welcomed Little Bean into the world, nothing could have prepared me for the rush of love that I felt when I looked into her eyes. Little Bean and I have been on such a journey together these past nearly four years and I have loved every minute of being able to stay at home with her. Yes there are plenty of times where she has driven me mad but even on those days I admire her tenacity. Little Bean knows what she wants and she will stop at nothing until she gets it (well unless Mummy REALLY means no!).
She is a very kind and loving little girl who loves her family and friends with all her heart. She has such a good sense of humour and a brilliant imagination. I look at her some days and I just can't believe how much she has grown from that cute little baby in my arms to this strong minded, independent little girl. She has the most beautiful smile and yet she is the scruffiest child I have ever known. For Christmas she was given a book about four princesses, Princess Perfect, Princess Messy, Princess Party and Princess Caring. Little Bean always tells me how she wants to be Princess Perfect (because she is pink) but I have to laugh and say, you're too much like Princess Messy to be Princess Perfect. Honestly though, I think she has a little bit of all the Princesses in her.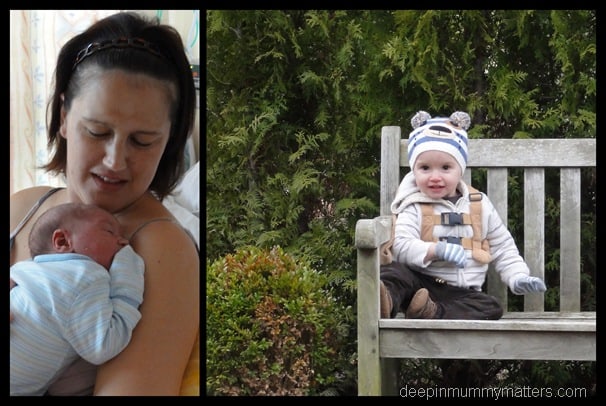 And finally on 21st September 2010 my gorgeous Beanie Boy arrived to complete my magic number and to steal another piece of my heart. He has the most gorgeous eyes I have ever seen and a wicked sense of humour. He shows no fear (which frightens me!) as he climbs up ANYTHING!!!
He has always been a happy baby who gives the best cuddles ever. Each day I watch his personality develop and I overflow with pride at my little boy. He is coming out with new words everyday and trying his hardest to hold a conversation with you. I now fully understand the meaning of "Mummy's boy".
My children mean everything to me, my dreams have come true, I am a Mummy and I never take for granted just how lucky I am. I love all my children with all my heart and I just wanted you to know that.