I interviewed Bear Grylls!!!!
Blogging has certainly presented me with some fabulous opportunities and every now and then an email will land in my inbox which makes me do a little skip. Two weeks ago I received one such email asking me if I would like the opportunity to interview the hunk that is Bear Grylls!!!! **Ok so they didn't say 'the hunk' I just added that bit in myself**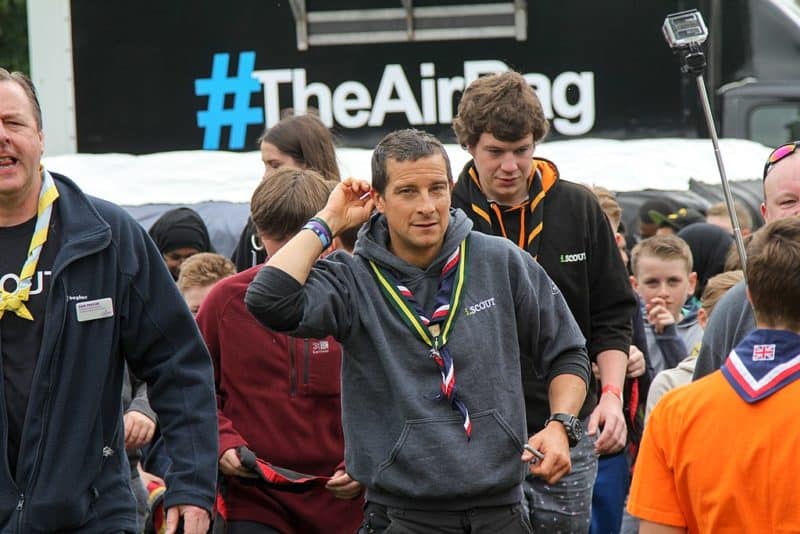 When I had finished dancing around the room and smiling like a buffoon I steadied my fingers long enough to type my reply – HELL YES PLEASE!!!!
I set to work on my questions straight away;
Would you like to take me out on a date? Do you prefer Indian, Chinese or Italian? How do you take your eggs in the morning?
And then I came back to earth and realised that this was my opportunity to have a serious conversation with someone who I really respect and whom Curly adores. My interview went something like this:
Did your parents encourage you to play outside when you were younger or did they just give up on trying to keep you clean?
It was really hard work for Bear's Mum, living on the Isle of Wight life was very 'outdoors' with climbing, building boats and regularly getting stuck in quick mud. Bear's Dad was great at imaginative play, being a Royal Marine he had a great sense of adventure.
The trouble with computer games and the like is that they drain the imagination and children lose the ability to converse and interact.
What was your favourite outdoor activity growing up?
Climbing – he and his father used to climb the chalk cliffs and pretend they were the highest mountains. They would climb over the top of a cliff to find a little Grandma sitting there looking out to sea.
I asked Bear if he ever thought of surprising Grandma with a box of milk tray but he laughed and said not.
When I was a child we had four big apple trees in our garden which my cousins and I loved to climb and our parents let us get on with it. Do you think that parent's try to wrap their children in cotton wool too much these days?
Yes, and it is really sad for the children. It disempowers their ability to use their imagination and sense of adventure. If you encourage them to get out and do things they wouldn't normally do they feel empowered to take on the world.
When my daughter was 18 months old I took her out to the park to play in the fallen leaves for the first time and she squealed with delight as the leaves fell on her hair and down her back. What other activities do you recommend for young children to get outside?
Anything if it is done with caution; when Bear's son Jesse (now 8yrs old) was a week old took him kayaking, he took Marmaduke skiing in a backpack at 2yrs and recently took Huckleberry (3yrs) paragliding and they loved it. The trouble is when Huckleberry gets to school and tells the teachers what he has been doing with his Dad the teachers don't believe him.
You have some huge achievements under your belt, which are you most proud of and why?
When talking about work it would be getting selected for the SAS, it gave him such confidence at a young age and that will always stay with him.
Without sounding too cheesy, on a personal level being married to the girl who he fell in love with 12 years ago and having 3 wonderful boys. Nothing makes him more happy and proud than that.
My stepson has just joined the scouts – what do you think he will learn from being a boy scout?
He will learn masses! Loads of life and outdoor skills, pride, confidence, camaraderie and friendship.
**At this point I spotted Curly peeking at the door and asked Bear if he would quickly say hello to him, he replied "of course"**
Bear told Curly that at Scouts he should take every opportunity that he can to gain badges and really make the most of his time. Naturally Curly was quite shy and star-struck and so he didn't say very much but as they finished the conversation Bear said "Curly – you're a champ – you remember that!".
I can imagine your boys think you are superman, do you ever wonder what life might have been like for you to have worked in an office job 9-5?
Every Dad is Superman in their children's eyes, it's about what they do outside of work that the children will remember. Making the most of their time with their children is what counts.
You have eaten some strange things in your time yet I can't even get my daughter to eat a simple potato or piece of chicken. Were you a fussy eater as a child or were you always adventurous?
His Mum can't believe the things he eats now because he was such a fussy eater. He says the key to eating is to get them really hungry. When he has spent days out in the middle of nowhere with no food he doesn't worry about eating snakes and spiders
You are standing in front of the pic'n'mix sweet stand, what do you pick first?
Long red jelly snakes
What's your guilty pleasure?
Picking his toenails and eating them! Ewwwww, I screamed! How on earth do you get your feet to your mouth?  "I do my Yoga" he replied!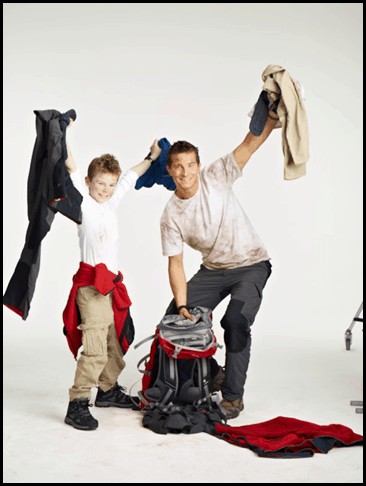 Bear was an incredibly friendly and easy person to talk to and I think he has made Curly's year by talking to him. Once he got off the phone he phoned his Mum, then his Nan and talked continuously about how cooooool Bear is, " . . . my friends are going to be so jealous", "I'm going to tell my Scout Leader . . ." I think it made him quite happy, to say the least!!
Get dirty with Bear . . .
Yeah, I thought that would get your attention!
Get clean with Persil!
Teehee, I couldn't help teasing you a little there!
In an age of games consoles and TV-on-demand, Bear is keen to encourage our children to explore the great outdoors and discover how much fun you can have with soggy wellies, grassy knees and muddy feet. In conjunction with Persil small & mighty, Bear Grylls brings you "Top Ten Things To Do Before You're 10". Although he says that at 37, he couldn't think of a happier week than testing out all of these activities.
On 26th May 2012 Bear Grylls will be hosting the first-ever Persil "Today I Am . . . Adventure Day" where your children can be one of 140 children to spend the day with Bear and all you have to do is buy any pack of Persil to be in with a chance of winning.

For more information visit www.persil.co.uk