A few weeks before Christmas Little Bean's key worker (C) at nursery was involved in a car accident and has been unable to return to work since.  She has suffered bad neck and back injuries which mean that she cannot be in the workplace at the moment.  Little Bean was able to see her briefly at her Christmas concert because C wouldn't have missed it for the world and she came into pre-school on the last day of term to see her beloved children but when Little Bean returned to 'little' school last week she came home and asked me why C still wasn't there and then had a few tears before telling me that she missed her.
I explained to Little Bean that C had been hurt when someone had bumped her car and it meant that she couldn't come into work until her back was much better.  Little Bean asked if she could do something for C to make her happy again to make her back better so I suggested that she make her a Get Well Soon card and this is what we have been doing today.  Little Bean put a lot of thought into her card, Hello Kitty is a big favourite at the moment and so she used her Hello Kitty stickers to decorate her card.  She put a handbag on because she says C likes bags, perfume to make her smell pretty, lipstick to make her look pretty and flowers and love hearts because they would make her happy again.  I have explained to Little Bean that it still might be some time before C can return to little school but that her card would certainly help her to feel a little bit better and would definitely make her smile.  Little Bean responded with "that's nice because C has a beautiful smile Mummy".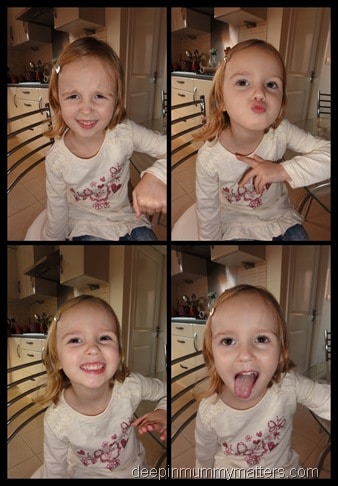 Little Bean then wanted to talk about 'feelings' and how she was feeling about C.  She said that she was angry that someone had hurt C because she loves her and she feels sad that C is in pain and cannot come to school.  She said that C makes her feel very happy because when she is at school she is really silly.  So then we decided that we should take photographs of Little Bean's faces so we would know when she was angry, sad, happy and silly – this is what we came up with.
How do you help your children when someone they love gets hurt?