With the Summer holidays in full swing, an email landed in my inbox asking if I would like to put a Hammamas Towel through it's paces. Having seen these previously on Actually Mummy's blog I knew it was the one for me. I had been using the same old beach towel since 2002, YES 2002!!!! It was faded, rather scratchy and boardy, I was definitely in the market for a new holiday towel.
What are Hammamas?
We work closely with traditional weavers in rural Turkey to produce our Hammamas in the same way the towels have been created for generations. We source only local Turkish cotton as it's the best quality money can buy. The combination of premium quality cotton and traditional weaves and techniques create a product that is of the highest quality, that's soft, absorbent and lasts.
Colour Me Happy!
The hardest part was choosing just one design!! The colours of the towels are amazing, there are over 100 colour/style combinations so you mind need to grab a coffee and set aside some browsing time whilst you make your final decision. I chose the Clash Watermelon, Navy and Orange and I'm so pleased I did, it's so vibrant and fun.

Getting Acquainted
The Hammamas arrived well packaged and neatly folded up in its own zip up wet sack – clever thinking! I was instantly sold on the colour/design I had chosen, it's totally 'me'. Taking it out of it's bag, the sceptic in me raised her eyebrows. What I held in my hands looked and felt like an oversized tea towel, the sort you get given when people come back from holidays abroad. I wasn't convinced BUT I knew I had to keep my thoughts open.
I read the label which came with the towel and it suggested that you wash the towel before use. It actually states that the towel will become softer and more absorbent the more it is washed. Having a mountain of washing to get through from our first camping trip, I decided just the one wash would suffice for now.
When it came out of the washing machine, I hung it out to dry on a relatively warm day with a gentle breeze and when I popped back to check on it after around 20 minutes, it was dry. So far, I was impressed.
Beach Ready?
On our second camping trip, this time with Daddy and Curly, we went again to Norfolk. The first day of our holiday was blazing sunshine so we decided to hit the beach at Brancaster. What a beautiful beach!! It was a popular beach with Windsurfers so there was always plenty of action to watch and the sand made for good sandcastle building so we were set. I even dared to wear my swimsuit, it was THAT hot!
The Beans requested that I join them for a paddle in the sea and being a bit of a wuss I tried to get out of it but they were having none of my excuses. So I held my breath as I entered the water (screaming inside) but actually it wasn't too bad. We had lots of fun splashing around but when lunchtime called it was time to dry off and that's when my Hammamas was put to the test. It was SUPER absorbent but didn't feel all cold and heavy like a normal beach towel would. After drying off I hung it on our beach shelter and it dried superfast. Little Bean used it to snuggle up in when she was cold and afterwards I wore it as a sarong over my swimming costume. It was so versatile and a really good size too. When it was time to go home I didn't fancy doing the towel juggle trying to get my costume off and my clothes back on so I tied the Hammamas up and around my neck to form a beach dress – perfect!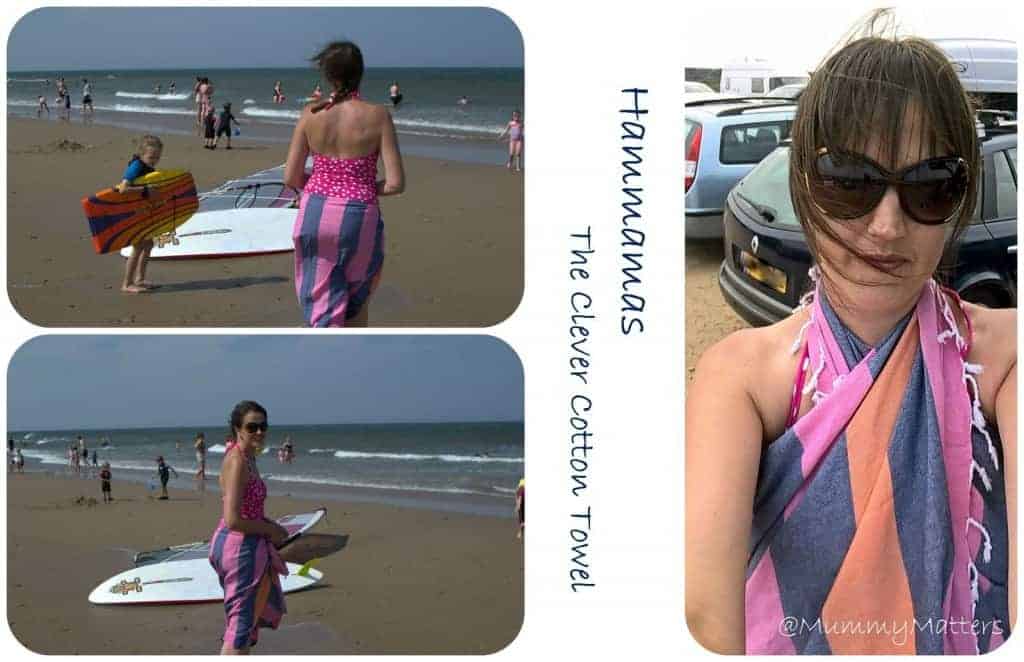 So Versatile
After our trips to the beach had finished and the weather turned a little less 'Summer' and a little more 'Autumn' I discovered more uses for the Hammamas on our camping trip. Evenings in the tent could turn a little chilly but I just wrapped my towel around my legs like a sarong but over my jeans to keep my legs warmer and then at bedtime I wrapped myself in my towel before climbing into my sleeping bag. Snug as a bug in a rug!
The only problem . . .
There was only one problem I found with the Hammamas. I was so impressed with it that I have decided I need to invest in one each for the rest of the family so my bank balance might howl a little but I know it will be worth it when I see how much space I have saved in our family suitcase with six of us to pack for!!
DISCLAIMER: I received my Hammamas Towel free of charge for the purpose of this post. All words and images are my ow and may not be copied without my permission. I have not been instructed what to write.