GREAT GIFTS FOR CYCLISTS YOUNG AND OLD THIS CHRISTMAS
By Catherine Ellis, Hill & Ellis
Cycling is booming! It's estimated that 1.3million Brits bought a bicycle during the first lockdown and cycling has increased by 200% as many of us turn to our bicycles for both casual exercise and the work commute. This now offers up a range of ideas for the perfect Christmas present, and something they will actually want.
I cycle every day and as part of running Hill & Ellis, I have seen many brilliant products launched at trade shows and cycling events in the last two years. So, this is a unique gift guide from one cyclist to another, there isn't any bicycle shaped tat here but just brilliant gifts that will be treasured and used. From luxury to stocking fillers, from the urban cyclist to the tourer and hill climber, this is the ultimate guide for unique, treasurable cycling presents this Christmas.
FOR THE KIDS
Ring the Christmas bell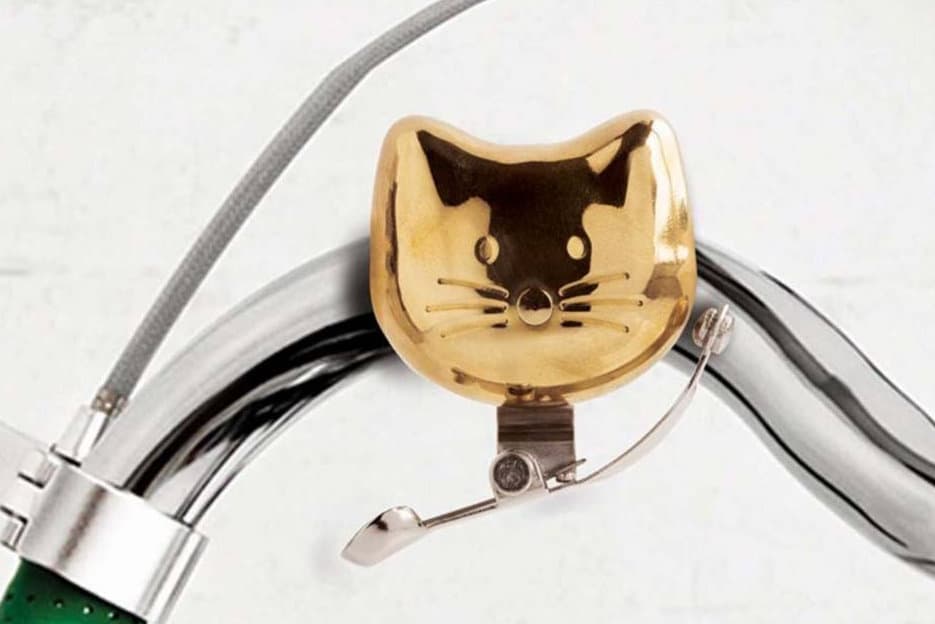 Kids need a bell on their bike, especially as most of the time they will be riding on the pavement, but bike bells don't need to be boring. These cat-shaped bells from Not On The High Street, are adorable and perfect for kids stocking filler.
Bespoke Baskets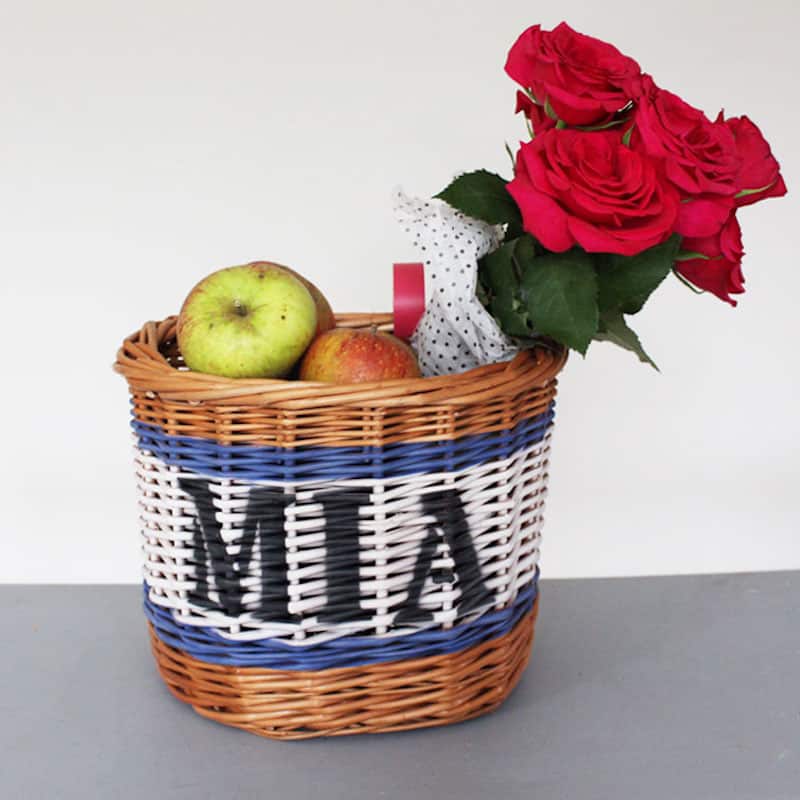 Just launched, these unique wicker bike baskets will win you the top prize for originality and your kids will love them. Handmade by artisans in Portugal with natural, non-chemically treated, wicker these baskets can be personalised with your initials, nickname or inside joke slogan. As well as the lettering, you can also choose the colour of the go-faster stripes and the leather buckle straps. So there won't be another bike basket like it. Adult baskets are also available.
Give 'em a Smile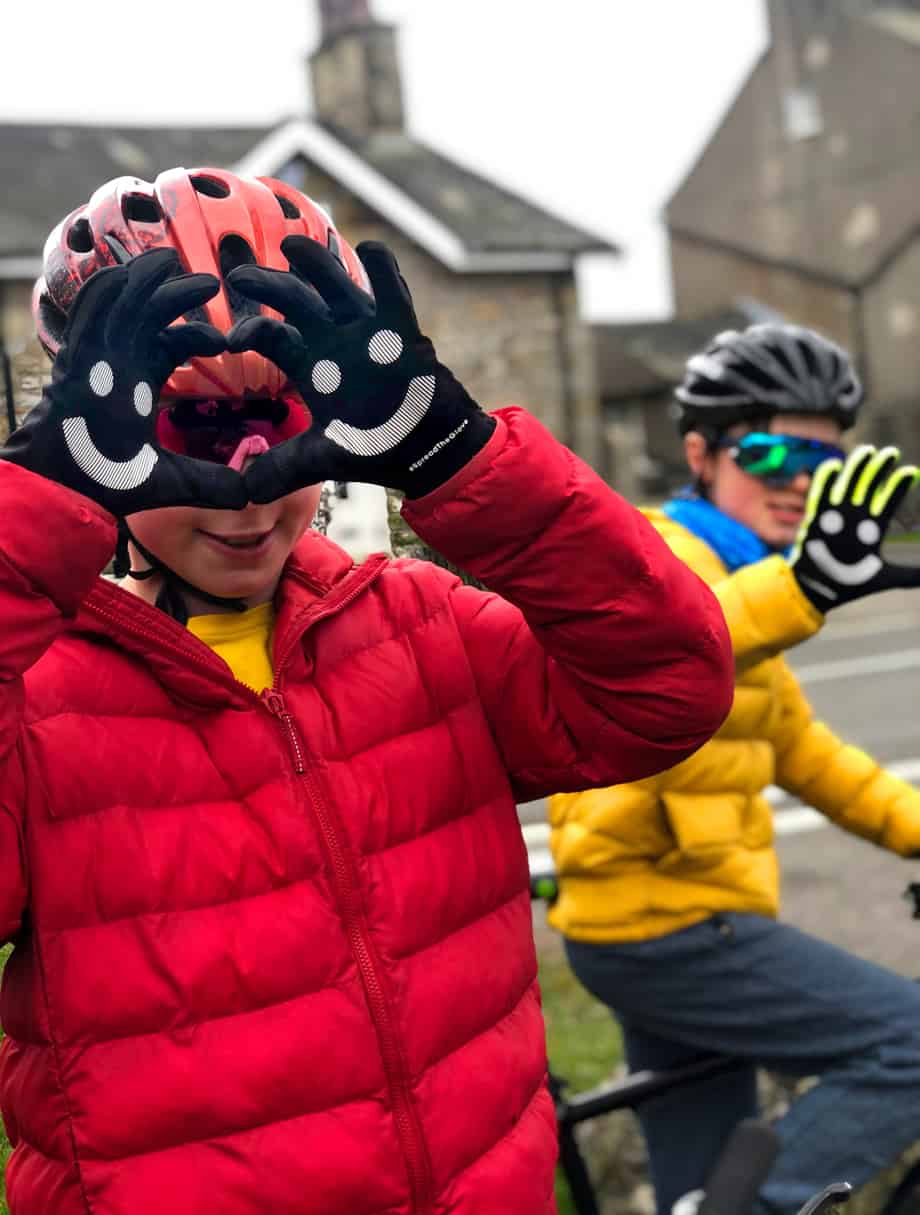 These gloves are a joy! Launched in 2017 Loffi, designed these gloves to encourage cyclists and drivers alike to smile, they have a reflective smile on the outside so whenever the cyclists signal left or right or just wave, the driver behind will be greeted with a smile. As well as gloves for kids, they also have a range for the grown-ups too!
FOR THE URBAN CYCLIST
The Shoes
I firmly believe anyone can go anywhere with good hair, a good bag, and good shoes. And cycling is no exception. These beautifully crafted shoes by Tracey Neuls are made in reflective fabric – in daylight, they are a smoky grey but they glow as soon as they are picked up by the headlights of traffic. Perfect for cycling, and clubbing!
The Bag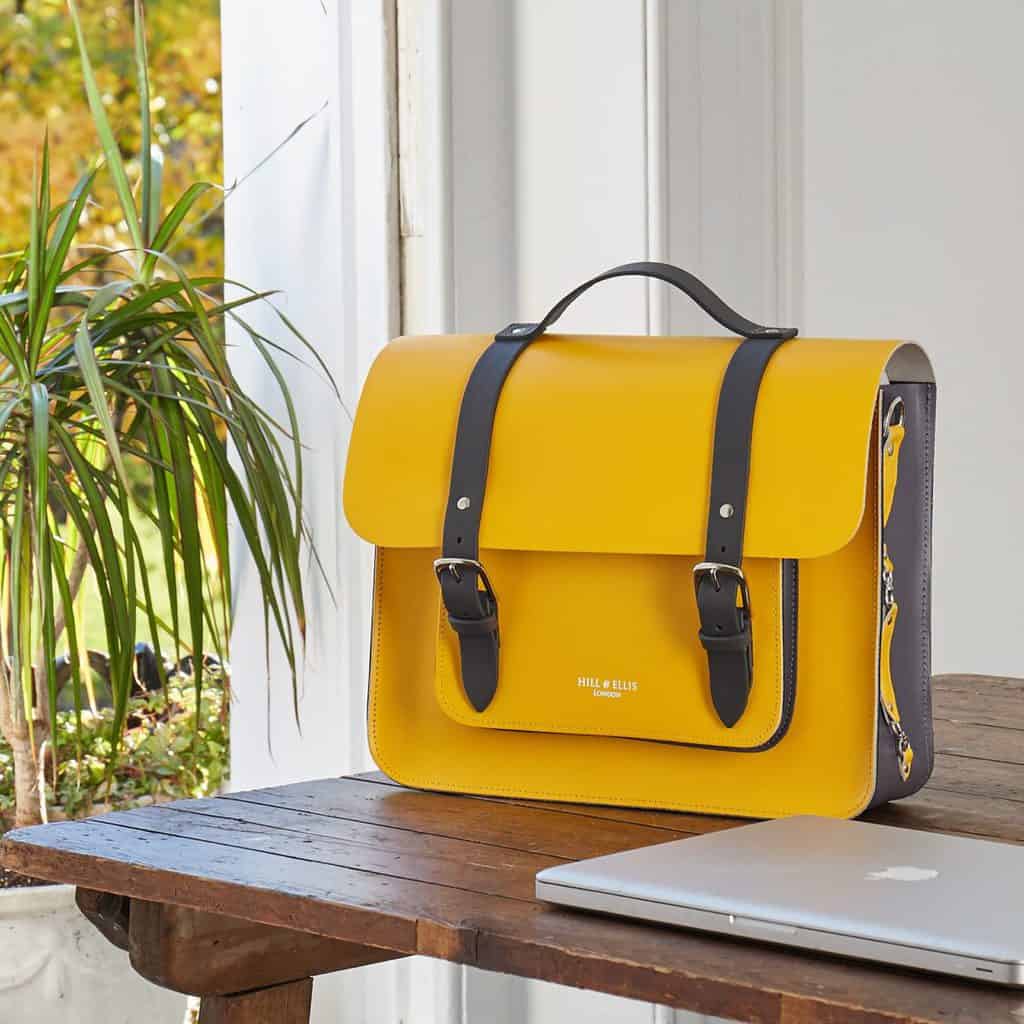 I might be slightly biased, but all the Hill & Ellis Pannier Bags look great and work brilliantly on the bike, making them perfect for the cycle commute. There is a range of canvas bags, and British made leather bike satchels that can be embossed with your loved one's initials. I have personally cycled with these panniers for over seven years and they are perfect for everyday life on the bike.
Hill & Ellis also uses recycled and recyclable packaging and for every bag sold online, a tree is planted.
The Jeans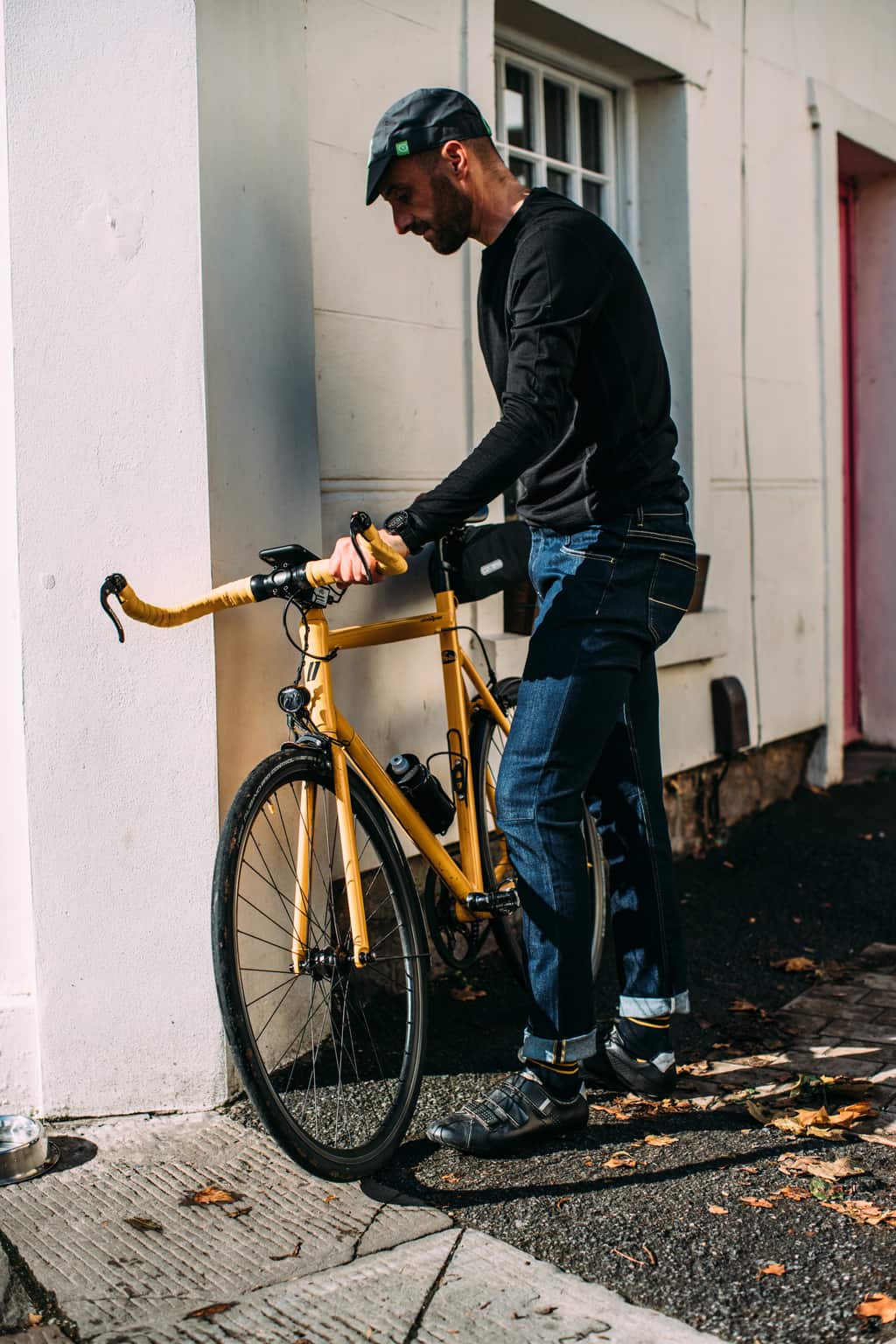 Sure, you can cycle in regular jeans but cycling jeans from Vulpine are just that extra bit forgiving. More flexible around the waist to avoid the bike version of builders' bum, with knee darts to help with movement, they also have reflective features on the upturned hem to help you be seen. Plus, importantly they have a diamond-stitched gusset for both men and women – if you know, you know!
Helmets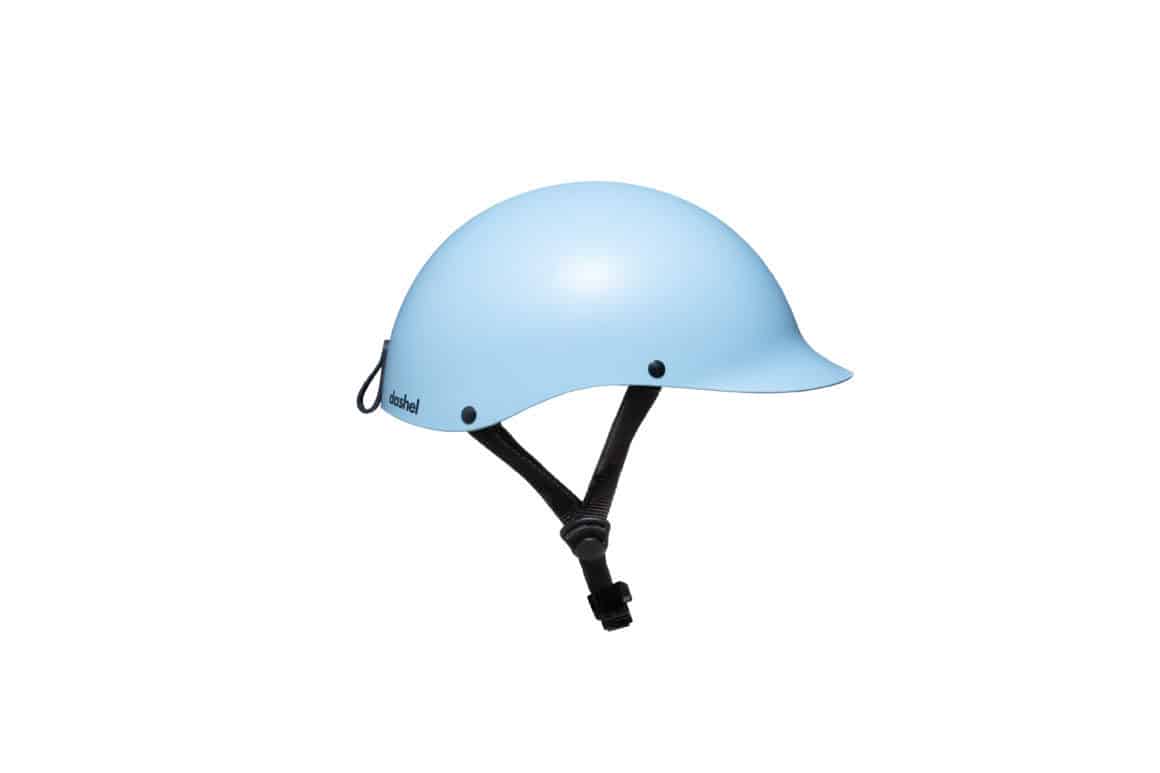 I have always loved the chic design and modern colours of British helmet brand Dashel. They all have a retro style that is worthy of wearing inside the office as well as on the bike. All their helmets are made in the UK, they have a stunning carbon fibre helmet and their latest range of ReCycle helmets can be recycled into another helmet. Their latest limited edition colour – Sky Blue has just launched for Christmas.
FOR THE ADVENTUROUS
The Route Finder
If your loved ones don't have a great sense of direction, you can always help them cheat. Beeline has designed a GPS system that tells you the direction you need to head, so you can take the back streets without losing your way. This system isn't a prescription route planner like a Garmin, but instead tells you the general direction you need to take to get to your destination, enabling a sense of adventure without getting painfully lost. It's a great gift for a cyclist with a love of exploration (and terrible navigation skills).
For The Climber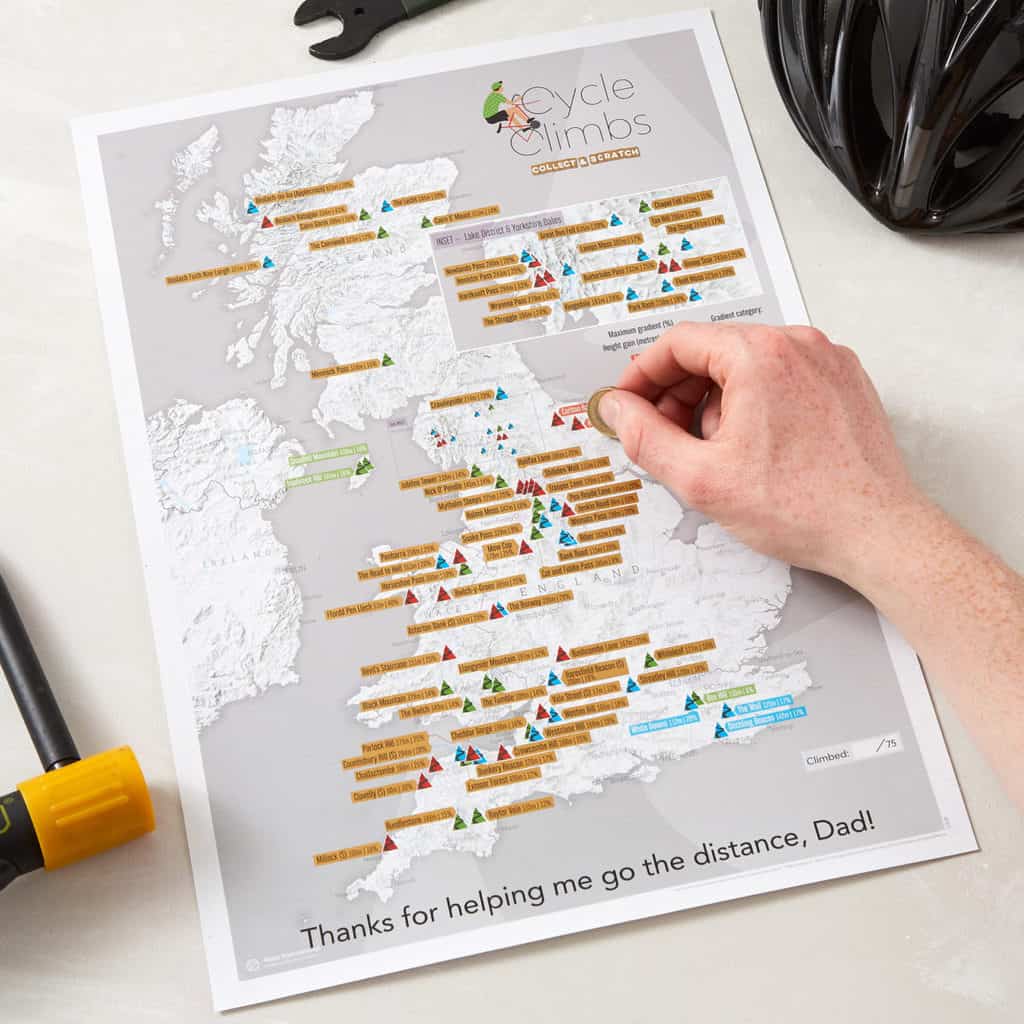 Married to a lycra-wearing cyclist? Chances are they have their sights on some of the best cycle climbs in the UK. With this artwork-style map from Maps International, they can scratch off the hill climbs as they complete them. Allowing for total bragging rights next Christmas Day. 
For The Tourer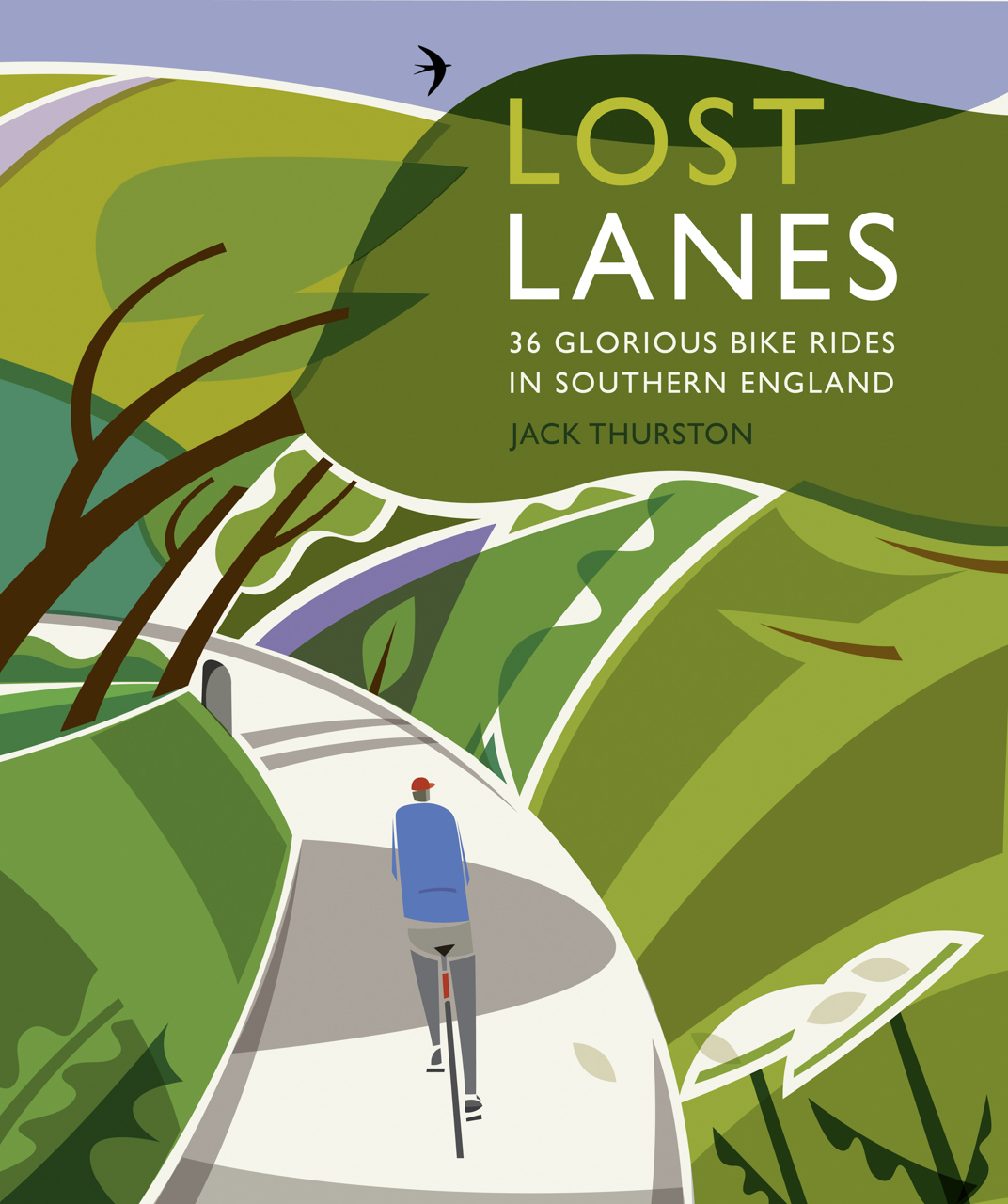 The beautiful and practical Lost Lanes collection of books by Jack Thurston are an absolute must when it comes to touring. They list the highlights (including pub stops and cafes) of the best rider in the British Isles. Jack has explored most of the country from Cornwall to the Highlands so there's bound to be a trip in his books exploring your local countryside. And if you buy direct, he will write a handwritten note in the book for your loved one. Perfect.
STOCKING FILLERS
Get Writing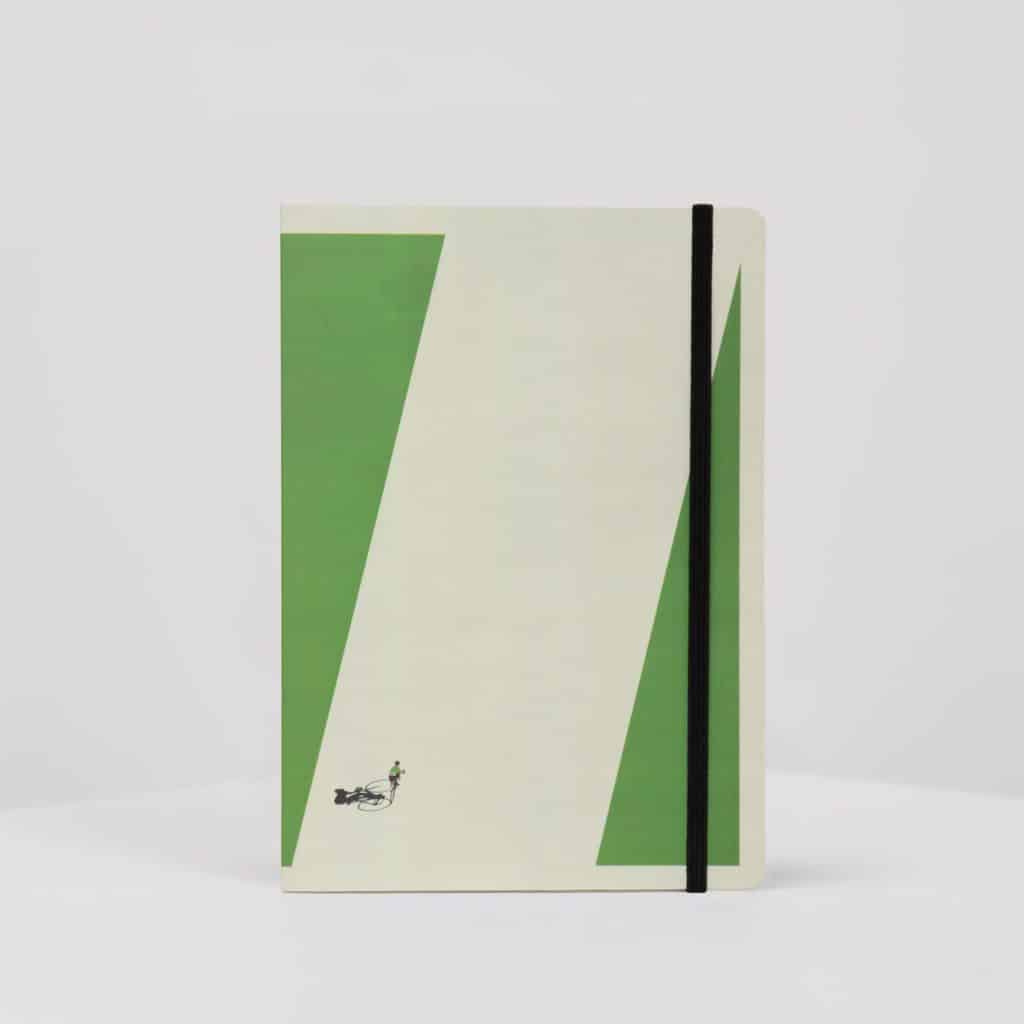 I absolutely love these prints by the Handmade Cyclists, they have a way of capturing the tour perfectly. Now they have made their beautiful prints into notebooks. Three UK printed notebooks are £32, enough to last at least until the next Tour.
Pimp My Ride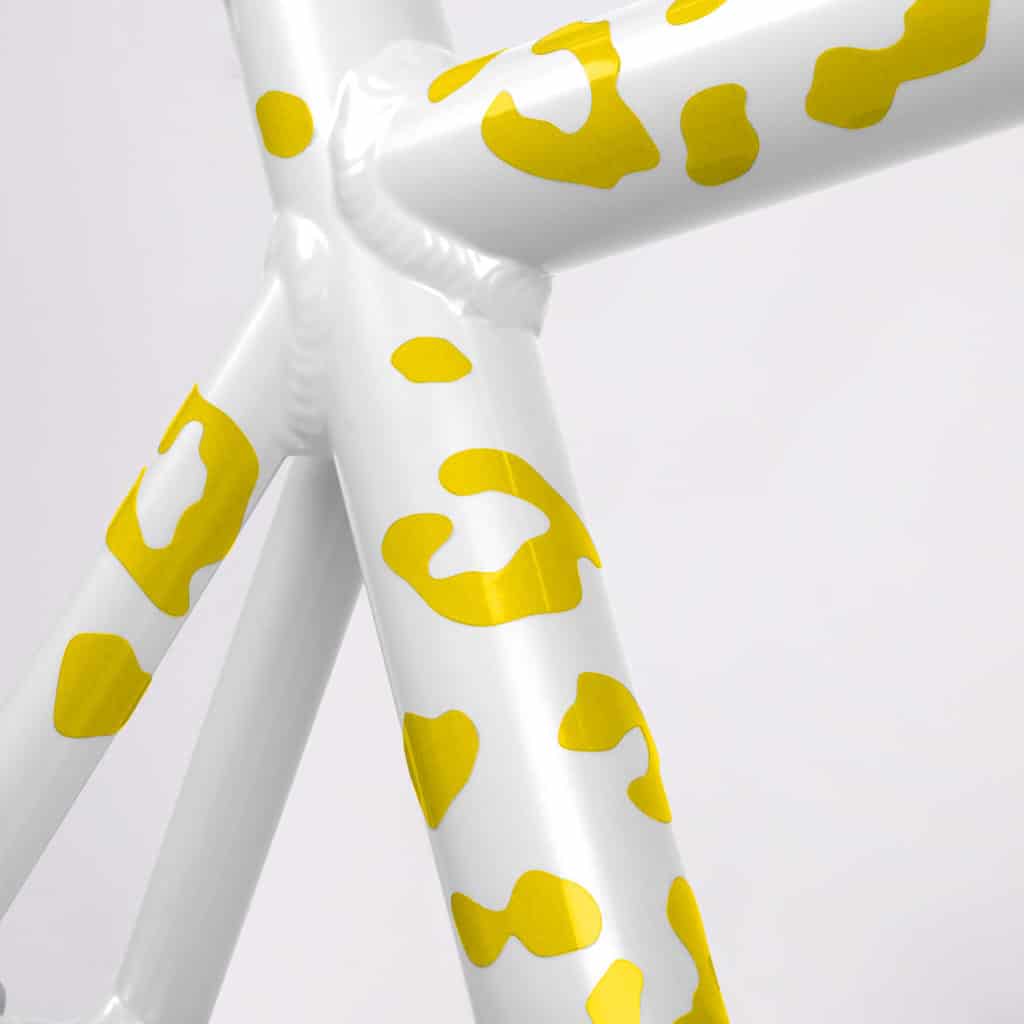 Is there anything that doesn't benefit from the addition of leopard print? Of course not! These adorable reflective bike stickers from Bookman are leopard print shaped and can be stuck on the bike frame to make you more visible to traffic – and other wild cats. Available from Bookman.se and Amazon.
Cycle Maps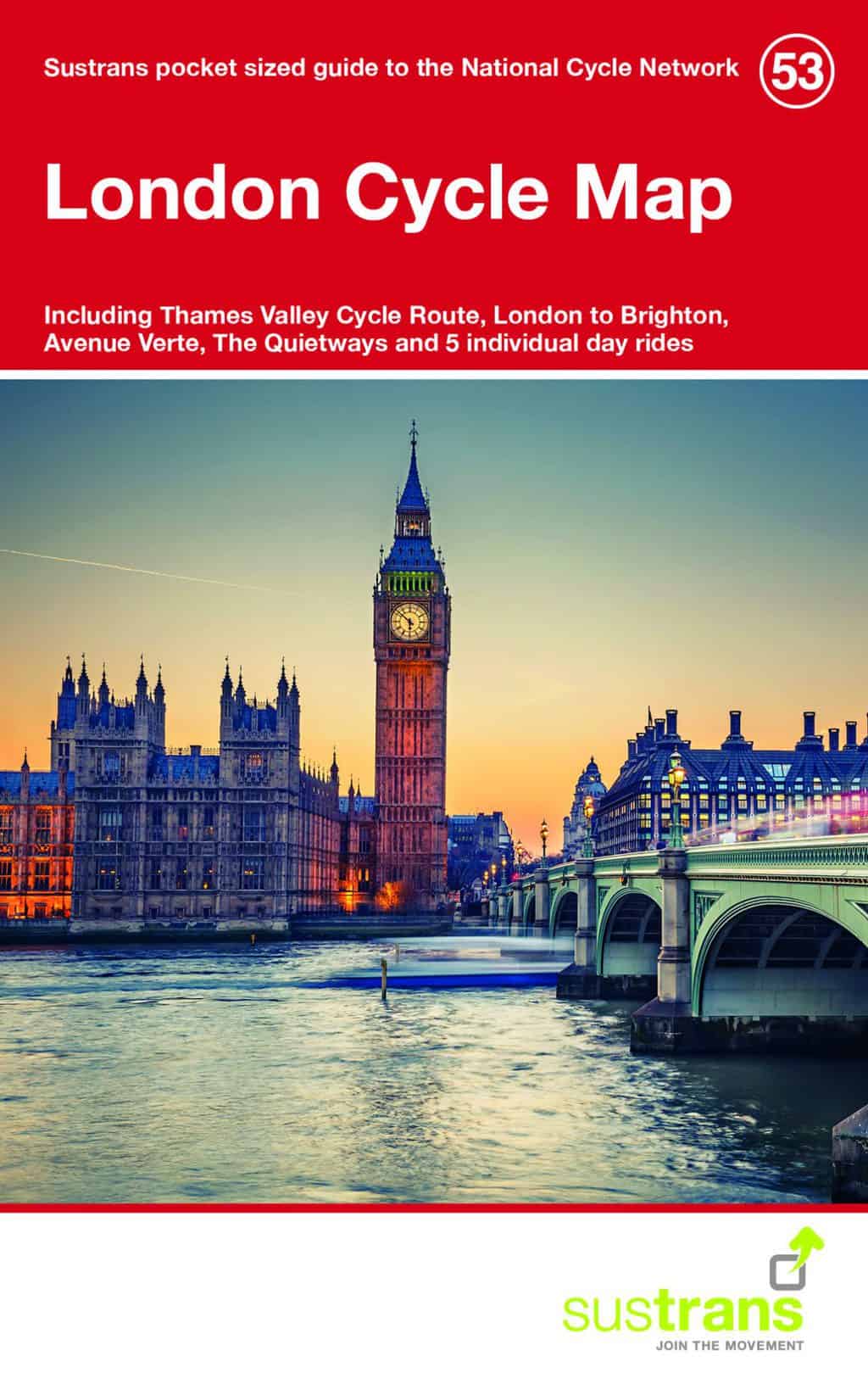 Genuinely useful – you can purchase printed maps with all the best cycle routes on them for the local area, helping your loved one get out on the bike, and explore on two wheels. You'll also be supporting Sustrans which is an amazing charity helping everyone fall in love with cycling and keep the National Cycle Network open and maintained.
Top Trumps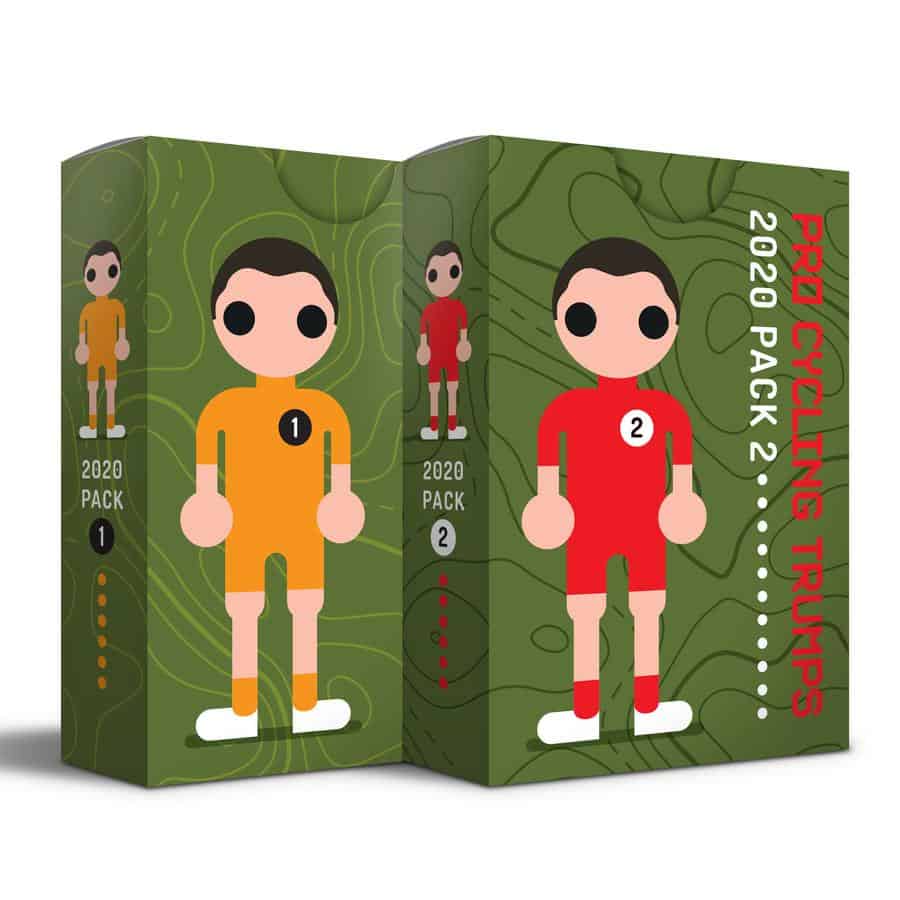 I love top Trumps and cycling so this game is a no brainer. Cycling Top Trumps is the perfect stocking filler. All the pros you know and love, and some you will need to pretend you have heard of to save face. These top trumps are updated every year and now have the female pros too.
Edible Treats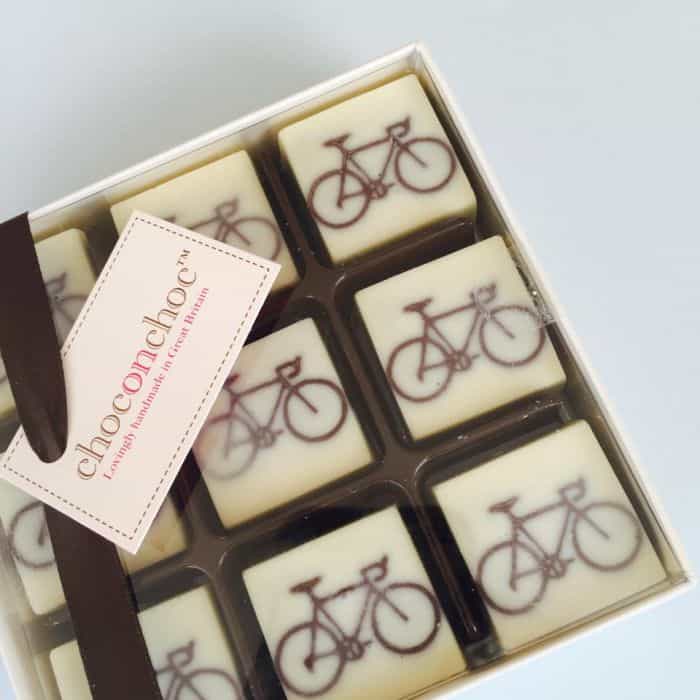 I know I said no bicycle shaped tat, but these are chocolate, so they don't count.
These cute chocs are delicious (yes, I have tried them) and have a bike on them, so perfect for any cyclist. There are also enough to share so you will get your hands on one too.
With so much to choose from you could probably solve all your Christmas gifts in one go! Happy shopping.
ABOUT THE AUTHOR
Catherine Ellis is the founder of Hill & Ellis, which produces a range of high quality, stylish cycle bags. Each bag, designed in the UK, is created to transition perfectly from home to bike to boardroom to bar. They are functional, fashionable and hard-wearing.  There's plenty of space inside for a laptop and other essentials, and each bag comes with patented pannier clips that fit almost any bike, allowing you to clip the bag on and off quickly and easily. They have a climate positive workforce and plant a tree for every single bag sold online.