Geomag Wheels Police Chase Triple Pack
"Geomag is an ingenious magnetic construction system with magnetic rods and chrome spheres. The Geomag Wheels Police Triple pack it the ultimate crime-fighting set. Build and rebuild the Police Helicopter, the Police car and exclusively to this set the Police 4×4. Cover the roads, sky and even off-road! Connect the helicopter to either the 4×4 or car to deploy the ultimate crime-fighting team anywhere! For Ages 5+"
Geomag Wheels Police Chase
When I was asked if we would like to review the Geomag Wheels Police Triple Pack I thought this would be a toy which Curly would love, he quite enjoys building things and he has always had a thing for magnets so this seemed like the perfect toy for him. Admittedly it is aimed at age 5+ and he is 10 years old but we didn't see that would be a problem for him.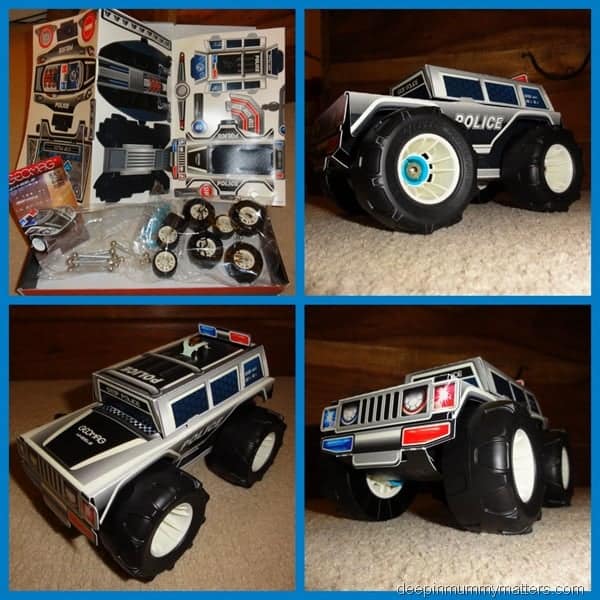 Patience is necessary
Curly isn't always the most patient of children it has to be said so he wasn't overly keen on popping out all of the plastic pieces from the sheeting and I was worried that he would end up pulling off an important piece in his frustration so Hubby and I helped by popping them out for him. Despite feeling quite flimsy at first all the pieces came out without any problems and were much tougher than I expected them to be.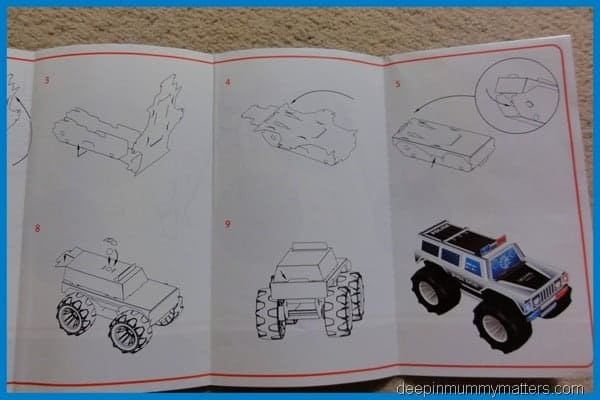 Police Truck
Curly decided he wanted to build the Police Truck first and so he pulled out the instructions ready to get started. Being a lover of Lego sets Curly is quite adept to reading instructions on how to build things but unfortunately, the instructions weren't quite as straightforward as he would have liked. They are all in picture format but it wasn't always clear which piece slotted into which hole so Hubby had to help out more often than not to save Curly's blood pressure.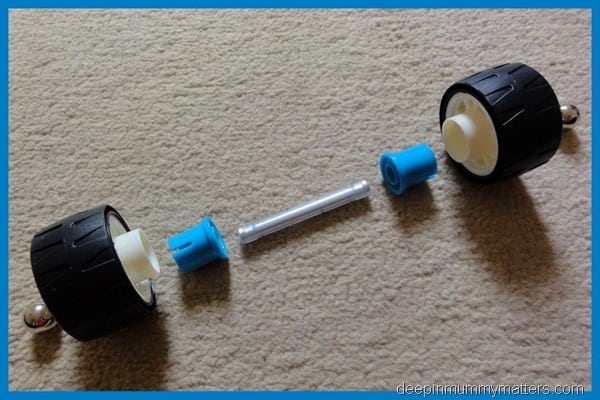 A bit of parental help
Once the main body of the truck was constructed with a bit of help from Hubby, it was time to put on the wheels and this was where the frustration really began. The idea is you slot the magnetic rod through the holes in the body of the truck and then attach the wheels using these blue clips and ball bearings. Unfortunately no matter how much he tried the wheels just kept falling off, Hubby tried a little brute force but still, they would not stay on and this was about the point that Curly declared enough was enough and abandoned the rest of the project, not even wanting to try the helicopter or police car.
Hubby persevered a little longer and managed to get the wheels to stay on long enough for a photograph but as soon as we tried to push the car along the carpet the wheel fell off and then I discovered where Curly had inherited his lack of patience from as Hubby too declared enough was enough.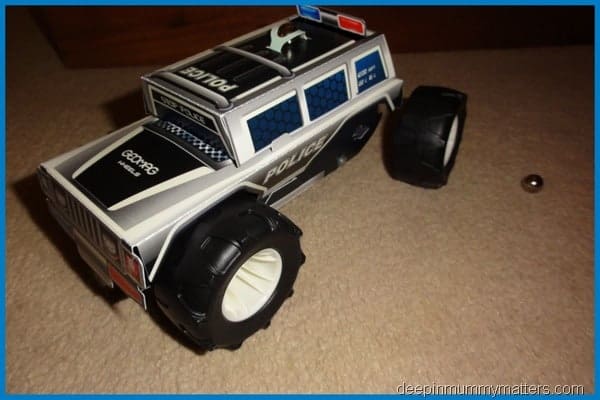 Sadly this set was not a hit with the Mummy Matters household which is a shame because once built they do look impressive but perhaps the metal rods need to be slightly longer and the instructions made a little more clear as they don't actually show you what to do with the blue clips in the wheels at all. This is a toy for a determined child with lots of patience, just not mine.