Yesterday saw the release of a new film which will be released on DVD on 3rd September 2012 and is sure to put smiles on the faces of little girls all over the country.  My Mum and I took Little Bean and Beanie Boy to the cinema to see the first showing at 10.30am, I wasn't sure what Beanie Boy would think to it as he had never been to the cinema before but despite his initial dislike of the dark, the moment the film started and the music began he was off his seat and dancing in the aisle.  It's such a shame that I couldn't take photographs of the two of them because Little Bean's face lit up like the sky on Fireworks Night when the film began.  Mum and I were a little unsure what we would think to the film ourselves, we're not exactly into Barbie these days but we both really enjoyed it too.
The story follows Victoria 'Tori' the Princess and Kiera the Popstar who both dream of living the others' lives as an escape from their own.  Tori is a lively prank-playing Princess who struggles with the pressures of how a Princess 'should' behave and Kiera feels the fun has gone out of her music career now that she has become a big success.  When the two girls meet during a tour of the castle they discover that they are able to use their magical accessories to make themselves look like one another.  It starts out as a bit of innocent fun but they soon realise it's more difficult living the other's life than they first thought.
When a magical plant is stolen from the castle garden, the two girls join forces to save the kingdom and find the power of their own true voice . . .
To make the day even more magical, we were sent a special Barbie Princess and Popstar Doll which I presented to Little Bean to give her a clue as to where we were going.  She was over the moon as she loves Barbie and thought this doll was amazing because she transforms her looks from the Princess to the Popstar with a flick of her dress and a twist of her hair.  When you press the magic heart on her necklace she will even sing two of the songs from the film to you – she has become Little Bean's new best friend and even came to the cinema with her.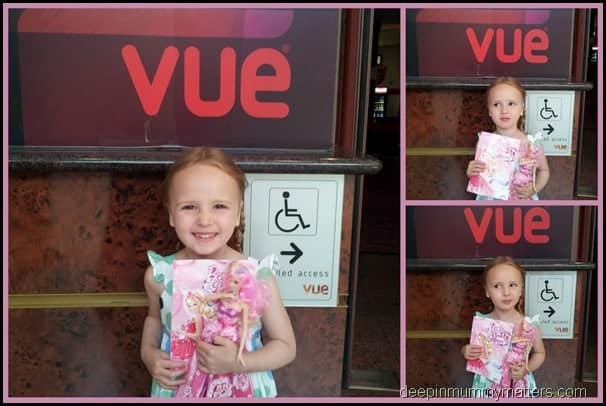 DISCLAIMER: We were given complimentary tickets to see this film at our local Vue Cinema for the purpose of this post.  All words and opinions are my own and unbiased.   You are not permitted to copy any or part of my work.