Gifts for Gadget Lovers: Gravita, the Levitating Lamp
Every family has a few gadget lovers. And as the holidays approach, we're all looking for the trendiest new device.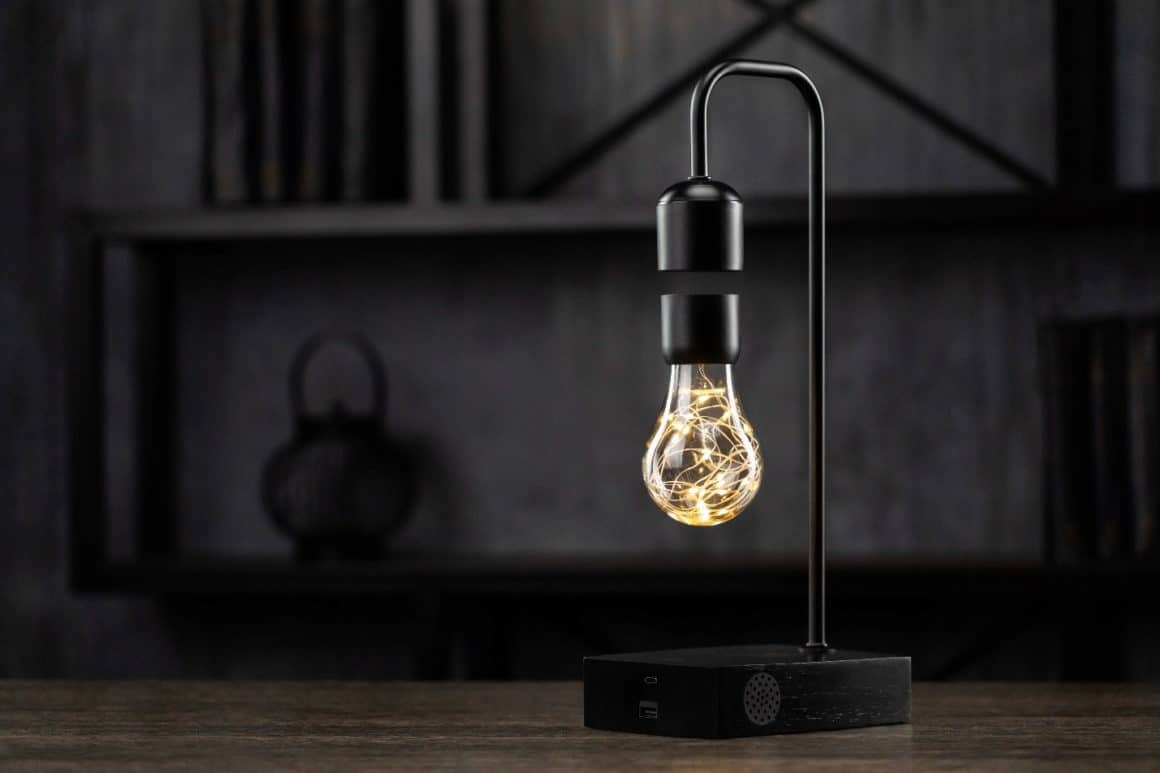 We can't afford the new iPhone 12 or 4K TVs, but there is a new gadget that fits our lifestyle and our budget. It's called Gravita. It's a 3-in-1 levitating lamp, and it's got everything that makes gadget lovers go crazy.
Gravita is a real levitating lamp. Its bulb hangs in mid-air with no strings attached. How cool! But that's not all it does. Gravita is also a wireless charging dock and a Bluetooth speaker. That means you can charge your phone just by setting it on the dock (no charger needed!), and you can pair Gravita to any device to listen to your music or watch videos.
Gravita is the best kind of gadget there is. It looks amazing, it's useful, and it's under £100! Well, it's under £100 if you buy before the pre-order window closes. Don't worry, there's still time. And, they will ship by Christmas!
Let's take a closer look at this new gadget for tech lovers and their families.
Gravita Really Levitates
Gravita is not a gimmick or a magic trick. It really levitates! The lamp base and the bulb each contain electromagnets. When electricity passes through the magnets, it creates a magnetic field that suspends the bulb in mid-air.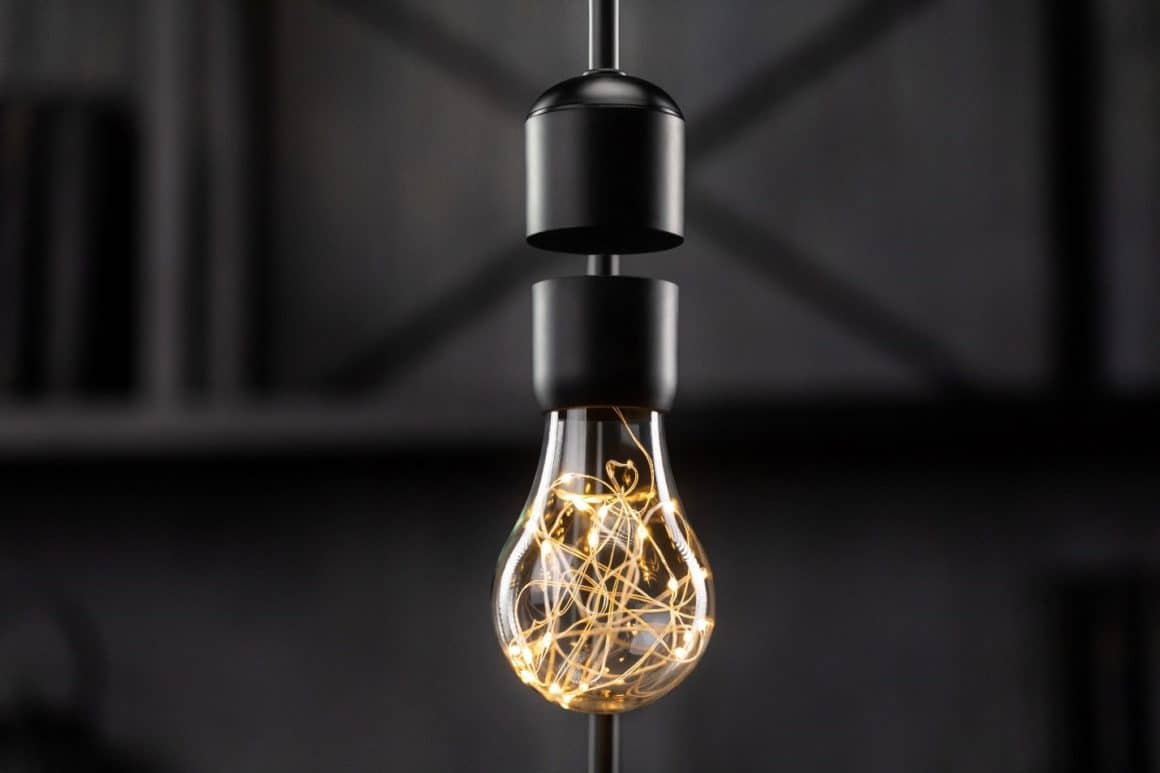 You can actually feel the levitating force when you touch the bulb. The kids love it, and it's fun to set the bulb in place together. All you have to do is plug in the lamp and hold the bulb under the lamp neck. Once it's in the magnetic field, the bulb starts to feel lighter and you can move your hand. The levitation is so strong that you can spin the bulb and watch it whirl in zero gravity!
Warm and Relaxing
Watching Gravita levitate is super relaxing. And it's hypnotic for the kids. If I need them to take a nap, I just plug in Gravita and they're out like a light in minutes!
Gravita has this effect because it was designed using colour temperature theory. This theory says that different colour and light tones can affect our moods and even make us feel warmer or cooler.
Gravita's colour temperature measures 1700K, which is between a sunset and candlelight. It's bright enough for reading but dim enough to make a great nightlight. It's also perfect as a desk lamp, as the warm glow promotes mental clarity.
Inspiring for Kids
How often do your kids ask questions about science? They will be asking them all the time once Gravita makes an appearance. Gravita lights up little minds like no other gadget we've got.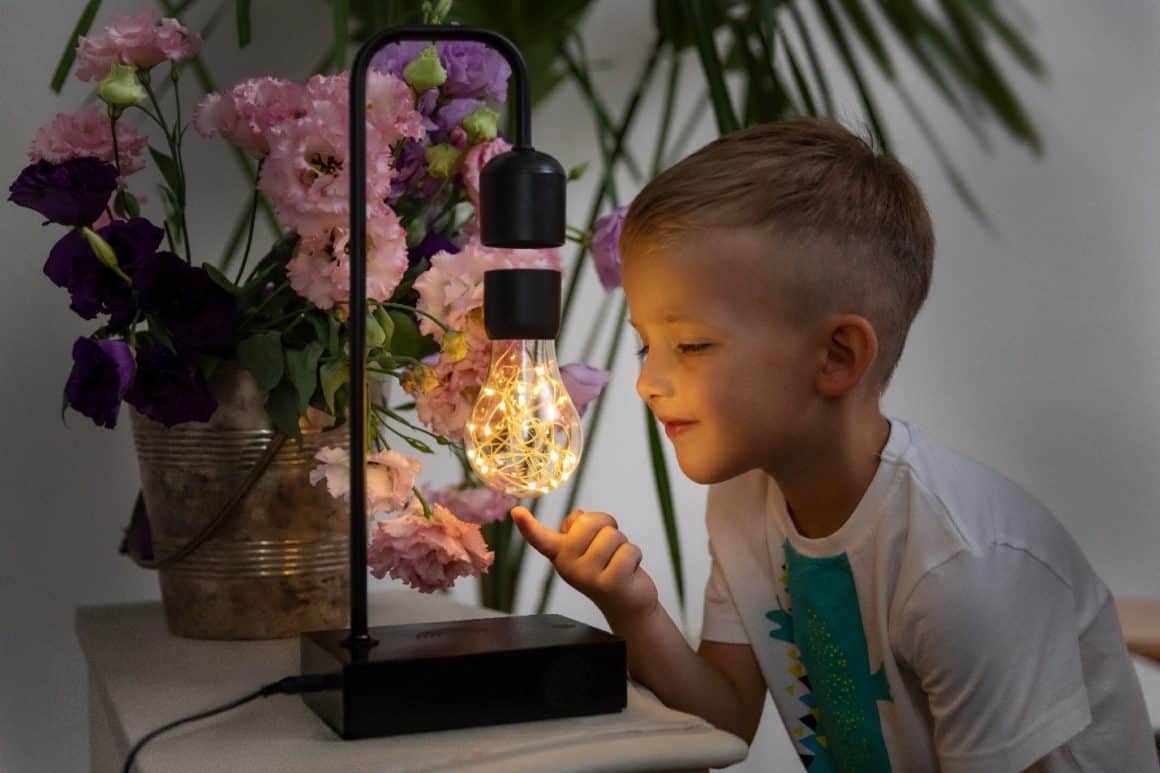 Smartphones, tablets, TVs—they never wonder how those things work. But with Gravita, they're always asking "how this?" and "why that?"
There are plenty of interesting topics for kids packed into the lamp. Levitation is obviously their most ardent obsession, but there are also questions on electricity, magnets, and more. Who knows? You might have a little scientist at home without even knowing it!
Charge your phone without wires
How often do you lose your phone charger? In our house, it's a daily occurrence. But with Gravita, we don't have to worry about hunting for that charger anymore. Gravita has a wireless charging dock built into its base.
When your phone battery gets low, you can simply set it on Gravita, and it will start to charge automatically. When you pick it up again, it will stop charging.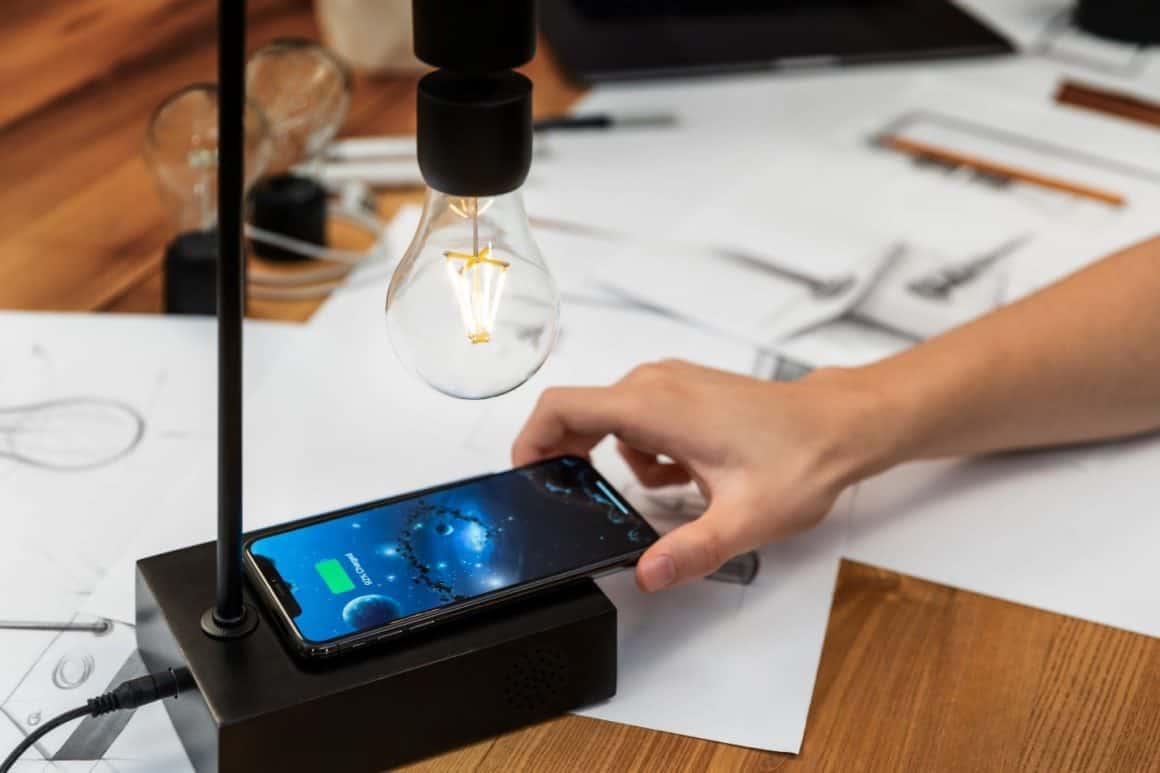 Gravita has two additional charging ports in its base if you need to charge the traditional way. It has one USB-C and one USB-A port, so you can charge just about anything.
Want to listen to music while you read or improve your computer audio at your desk? Now you can do it without clunky external speakers and tangled wires.
Gravita has a built-in Bluetooth speaker. You can pair any device to Gravita to listen to music, watch videos, make calls on speakerphone, and more.
Gravita can pair with anything up to 3 metres away, and the sound quality is quite good. It also has a decent volume range. It easily projects to a large living room. We like to pair it with a tablet and watch movies in bed.
Safe and durable
Gravita is safe for families, and it's built to last a long, long time. It comes with a shatter-proof bulb, so you won't have to worry about broken glass or other accidents. The bulb is also coated and reinforced for extra protection. It's about 10x stronger than the average light bulb.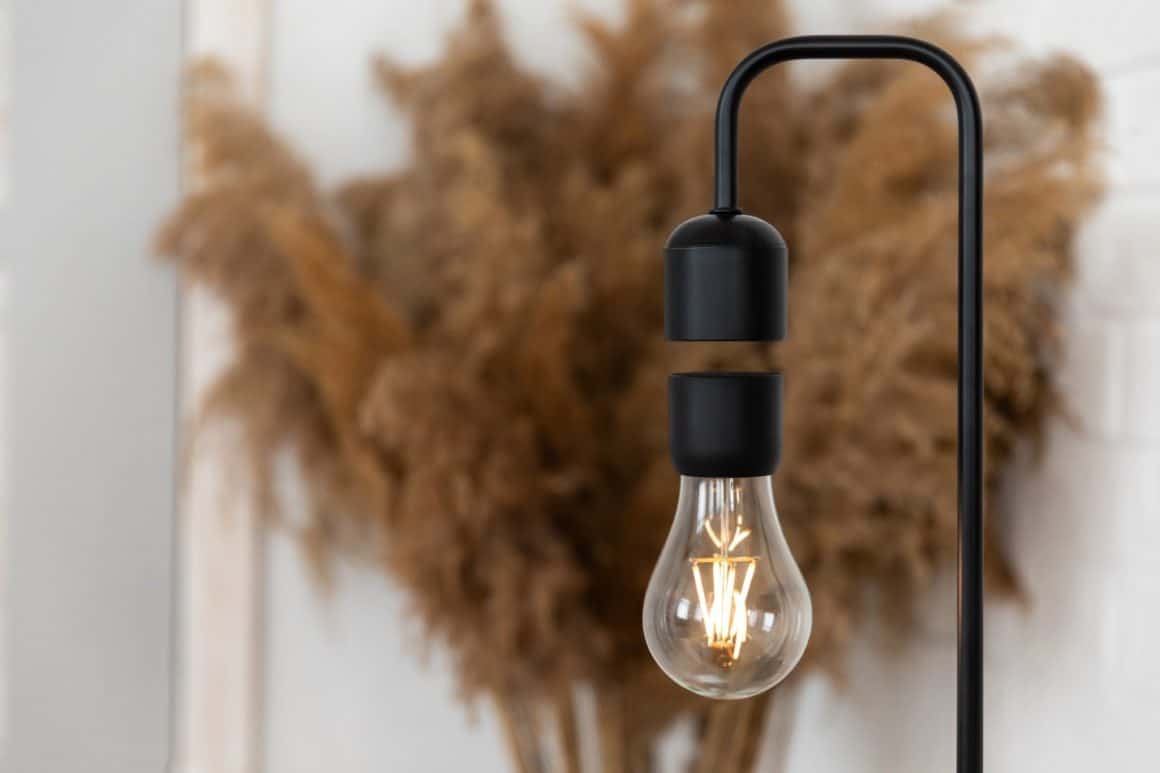 There is a failsafe magnet built-in to protect it from bumps and power failures. If the power cuts or the bulb starts to sway due to a bump (or a clumsy child), a magnet in the neck base will suck the bulb up and attach it to the neck, preventing it from falling.
With all these measures in place, Gravita is destined to last a long time. And that is exactly what it was made to do. Gravita's magnetic levitation should last forever (as long as electricity can power it), and each Gravita bulb has a lifespan of over 20 years. It's made with hardwood and metal materials that are anything but flimsy.
Maybe you'll be using with your grandkids too!
Don't Let Your Gadget Lovers Miss Out on Gravita!
Gravita is the perfect gift for gadget lovers in your family. It's stylish, cutting-edge, practical, and family-friendly. Oh, and it's 50% off if you pre-order in time!
Pre-order your Gravita now and save over £100. Pre-orders will ship by Christmas, so you'll have yours before it's time to open presents. Not only that, but everyone else who orders after the pre-order sale will have to wait until 2021 to get there lamp. That makes it an extra special gift!
Get your Gravita before it's too late and bring a little light to your gadget lover's life!