The Day That . . . I found the perfect gift!
This is a review post, all words, images and opinions are my own. I was sent the framed print free of charge for the purpose of this post.
I'm a bit of a sentimental old fool, I have kept every ticket and every receipt from dates, days out and holidays with my Hubby and our children, I keep them all in a box and every now and then I go through them and the memories come flooding back. For me, life is about creating memories with those that you love, that's one reason I take so many photographs, I want visual reminders to look back on in years to come in case my memory doesn't serve me so well (you never know!).
Other than my photographs, I have another little obsession; anyone who has ever been on holiday with me will tell you that I am obsessed with sunsets (sunrises are just as beautiful but I'm not much of a morning person I have to admit so I rarely get those kinds of shots). I have walked for miles at sunset just to capture that perfect photograph to remind me of a holiday I have loved.
The Day That . . . offer the perfect gifts to commemorate a significant day in your life. Each day their photographers wake up before day break and take photographs of the dawn skies. The photographs can then be mounted, framed and hand-inscribed with your own personal message to make a treasured reminder of a specific day. These photographs would make the perfect gift for a birth, christening, wedding or anniversary gifts.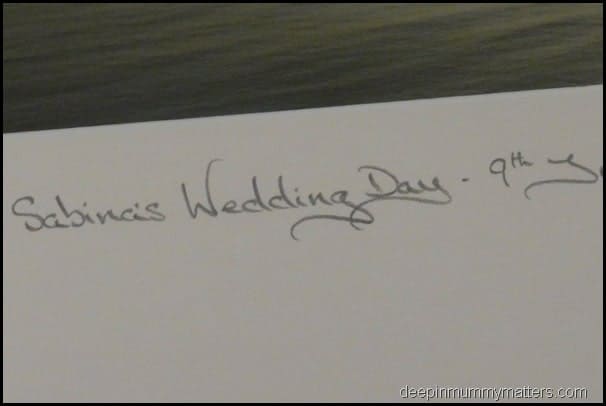 This year as Hubby and I celebrated our 5th Wedding Anniversary we chose an image from the dawn of our wedding day and it now takes pride of place in our bedroom so that each morning we can wake up and look at the sunrise and imagine it is the first day of the rest of our lives together again (well until one of the children screams or yells that is!).
Ordering couldn't be more simple, just log on to www.thedaythat.co.uk to view the images of your chosen date (search back to 2005), then choose the size and style of the frame, add a personalised message and wait for it to be delivered, which doesn't take long at all. When ours arrived I was very impressed by how well it was packaged and I was rendered speechless (that doesn't happen often) when I saw our print for the first time, it is truly stunning and I know we will cherish it forever.
Special Offer for Mummy Matters' Readers
If you would like to get your very own personalised photo, The Day That have a fantastic offer just for you, where you can get a mounted, unframed print absolutely free with every framed print you order. To claim your free print, or just to find out more about them, phone The Day That directly on 01736 758109 and tell them I sent you. Their personal customer service is second to none, and they'll be absolutely delighted to take your call!