Our favourite first Counting and Alphabet books
Before Little Bean started school I was wary to do too much 'learning' with her at home with regards to her ABC's and Counting because a friend of mine had done exactly that with their little boy and then when he started at school he was bored because he already knew so much and had to wait for his classmates to catch up. That's not to say that I didn't do things with her to stimulate her and yes some learning but I didn't make a big thing of it. I was very much guided by Little Bean and what she was interested in.
With Beanie Boy, perhaps it's because he hears Little Bean talking about school and how she is learning to read and do math but Beanie Boy is really keen to learn. We read the same books over and over and over and over and over again because he tries to memorise them so that when he sits on his own with a book he can almost 'read' it to himself, it's lovely to watch. Beanie Boy is also keen to do his ABCs and 123s and in some ways it worries me as he won't start at Primary School until September 2015 which seems a whole lifetime away.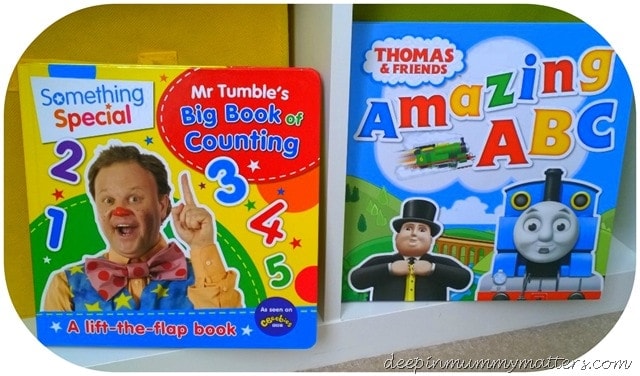 Beanie Boy has two favourite counting and alphabet books at the moment which I would like to share with you;
Thomas & Friends Amazing ABC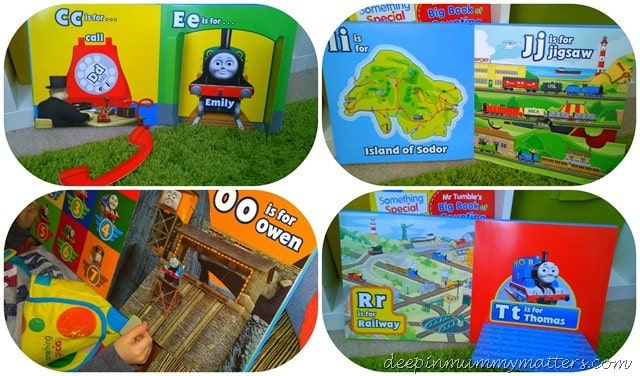 This is a beautifully illustrated book featuring the children's favourite characters from Thomas & Friends in a fun and interactive way. Each letter is represented by a page which does something to help cement the idea of the letter into their minds. C for Call and D for Dial are represented by a picture of a telephone where they can lift the receiver to answer the call or turn the dial to make a call. Often it is the action of doing something which gives the child a way to remember things.
Beanie Boy is a very long way off knowing his ABCs by sight but he is certainly on the right 'track' and I think Thomas & Friends ABC will be the one to help him progress further.
RRP £12.99
Mr Tumble's Big Book of Counting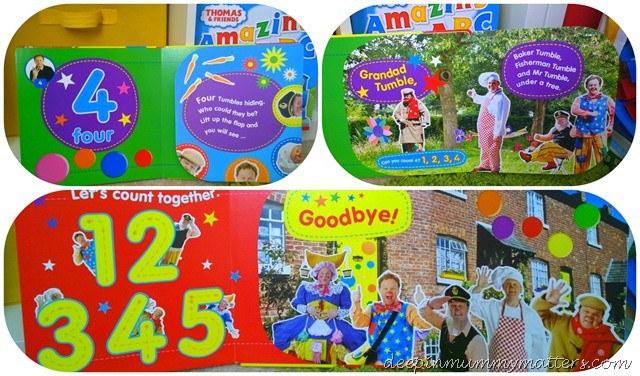 I think you would be hard pushed these days to find a preschooler who doesn't love Mr Tumble/Justin Fletcher. Even Jelly Bean gets excited when he sees him on the TV or gets his hands on his cuddly Mr Tumble toy so it makes perfect sense to have learning books featuring Mr Tumble to encourage the children to open the book and learn with him.
Mr Tumble's Big Book of Counting is a starter book covering 1-5 and as you would expect from the Something Special range is brightly coloured and features the Tumble family. Each number shows a large number with dotted lines for children to trace with their fingers to learn the shape and formation of the number, then you lift the flap and count the number of 'Tumbles' who are hiding.
RRP £7.99
DISCLAIMER: We were sent both books by Egmont UK for the purpose of this post. All words, images and opinions are my own and may not be copied without my permission. I have not been instructed what to write.