I LOVE new clothes, Hubby will confirm that by showing you my three wardrobes compared to his one!! So when I am invited to review clothes for my blog I am naturally going to jump at the chance.
I have never been one to particularly follow any trends, I prefer to find my own style and clothes which suit me. If I had my time again I would love to dress more 1950s as I LOVE that style but I think if I were to start dressing like that now people would think I've had some kind of pre-midlife crisis. I spend the majority of my days running backwards and forwards to schools, playgroups and the supermarket, the rest of it cleaning the house, crawling around on the floor after my little munchkins or preparing food in the kitchen so I need clothes which are practical but still comfortable and 'my style'.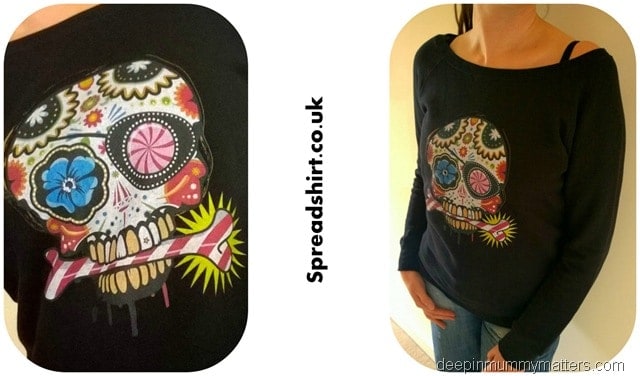 I was recently asked if I would be interested in reviewing the service provided by Spreadshirt. Initially I thought the name was a little odd but I had a look around on the site and I liked what I saw (which probably wasn't even half of it). Spreadshirt's concept is fab and their design choices are mahoosive!!!! So it basically works like this, you select the product that you want to purchase from the 180+ products to choose from, anything from cool t-shirts to hoodies, sweatshirts, bags or baby gros; then once you have selected that you can either find a design that you like on the site and position it on your selected product, resize the logo/design to suit your taste and click order. Simples! Now if you're feeling creative then you can upload your own designs and get this, if you want you can even sell your designs on Spreadshirt so that other people can look as good as you!
I am quite into my Skulls at the moment and fancied one of the ladies boatneck sweatshirts so I searched for AGES through all the skull designs I could find and narrowed it down to around 5 that I particularly then called in the reinforcements (Hubby) to help with my final decision. I placed my order and was amazing when I received an email the very next day to say that my order had already been dispatched.
The sweatshirt arrived well packaged but smelling very much how new clothes smell when they have been bagged up (a bit fishy) so I popped it in the wash to freshen it up and was happy at how well it weathered the washing machine. The sweatshirt is REALLY soft and fleecy lined, I LOVE the boatneck as it's very flattering and I'm impressed by the sizing. I chose  a size Large because I'm still not quite a skinny minnie but the best thing for me is the length of the sleeves. I have loooong arms and often struggle with sleeves but these fit me perfectly, even after a wash. My only slight grumble is that the white on the skull isn't as 'true' as I would like it to be but that's probably because it is printed on a black top. It looks ok in the photographs but up close it's a little more 'grey'. It won't be putting me off though, I shall be back on Spreadshirt soon finding my next new top!! I have worn my top a couple of times and have received LOADS of compliments about it followed by "where did you get it?" well now you know!
DISCLAIMER: I was given a credit code to purchase my sweatshirt so that I could review the whole Spreadshirt shopping experience. All words, opinions and images are my own and may not be copied without my permission. I have not been instructed what to write.
Latest posts by Sabina Green (see all)